You have a list of super-relevant trends and technologies for your business but not yet an efficient way to select the most strategically valuable ones? In this blog, you'll learn about the power of cross-functional collaboration in trend and technology evaluation and how to improve knowledge exchange between different experts or teams.
Once you've identified key trends and technologies in your environmental scanning process, you need to figure out which of them to pursue further based on relevance and impact on your business. Involving other teams and experts in your trend and technology evaluation process can reduce bias and provide different perspectives, which helps validate findings and increases hit rates.
However, it often requires long meetings, discussions, and extensive documentation to get others on board and to keep track of the evaluation and decision-making process. Wouldn't it be great to have a cross-collaboration tool that can handle all your data, allow users to rate the trends and technologies based on different criteria, and provide feedback whenever required on one platform? In the following, we outline how you can improve cross-collaboration in your trend and technology scouting process using the features provided by the ITONICS Innovation OS.
How to enable and foster cross-collaboration with ITONICS
The ITONICS Innovation OS offers various ways in which you can collaborate with your team to aid your innovation journey. Whether you are a beginner or a well-versed user of our software, these tips can assist you in overcoming organizational silos.
1. Rating of trends and technologies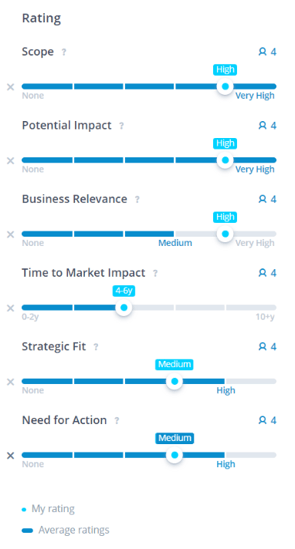 One of the features of ITONICS is the rating of the content on the platform, including trends and technologies. Invite relevant colleagues to the platform and include them in the evaluation of content with the collaborative Rating tool, which helps you to determine the validity of trends and technologies. From rating done by other team members or internal experts, you can estimate how important they think the trends and technologies are for the business, based on specific rating criteria. The software displays the average rating reflective of the team's views on certain trends or technologies.
The pre-defined rating criteria in the ITONICS Innovation OS are different for trends and technologies. Scope, Potential Impact, and Need for Action are the common parameters. For trends, this extends to Business Relevance, Time to Market Impact, and Strategic Fit, while for technologies, Complexity, Technology Attractiveness, and Internal Know-How are added. Besides these available options, you can also define your own ratings depending on the assessment needs. Learn more about how to rate trends and technologies with ITONICS in our rating guide:
2. Sharing ideas between Workspaces
A Workspace in the ITONICS Innovation OS is a place where one or more users can collaborate to create and evaluate content. You can copy trends and technologies from other Workspaces or from the ITONICS Showroom to your Workspace to build up from the existing research. The ITONICS Showroom contains continuously updated content - including trends and technologies - curated by the ITONICS research team.
| | |
| --- | --- |
| | To copy content from the ITONICS Showroom or any other Workspace in bulk, click on the three horizontal dots to the left of the Create icon in the ITONICS Explorer of your Workspace. After clicking on 'Copy from another Workspace', select any available Workspace, select Trends, Technologies, and other content from it, and click on 'Import Content' to proceed. |
| | |
| --- | --- |
| If you need to copy an individual trend or technology (or other content) from a Workspace, go to the Workspace, open the content and click on the three vertical dots under its name and select 'Copy to Another Workspace'. | |
3. Sharing unique search results in ITONICS Insights
| | |
| --- | --- |
| You can build content for your Workspace through the ITONICS Insights tool, which allows you to search Signals from thousands of verified sources. Users can set various filters and combine keywords with Power Search queries to generate a stream of relevant Signals in the feed. This can be shared within the Workspace by saving it as a Preset with relevant names. When you get a desired stream of Signals through queries and filters, click on the ribbon icon next to 'Create Elements' in Insights and select 'Save as New Preset' to save the query. | |
4. Promoting participation and conversations around trends and technologies
All content created in the ITONICS Innovation OS has a comments section. The 'Comment' and 'Like' functions allow you to promote engagement and start a conversation around a topic. Moreover, you can request your colleagues to rate certain trends or technologies by tagging them in the comment section. The functionality can align the ideation process of your team members and make collaboration easy through a single platform.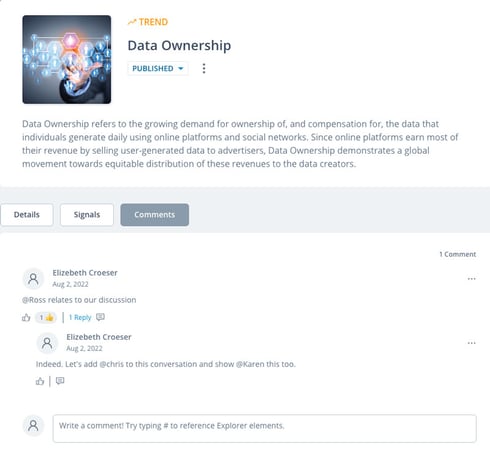 What's next?
The ITONICS Innovation OS can be a powerful platform for your organization to develop an efficient trend and technology scouting process. It enables collaboration and knowledge sharing and promotes engagement and transparency across different departments or business units.
However, collaboration is not only limited to trend and technology scouting in the ITONICS software suite. Use ITONICS Campaigns to create ideation campaigns and find together with internal and external experts targeted solutions for specific problems. Align innovation projects across the organization and keep track of innovation efforts in a transparent and agile manner with ITONICS Roadmap.
If you want to learn more about the features and functionalities of ITONICS to facilitate cross-collaboration, get a free demo!
---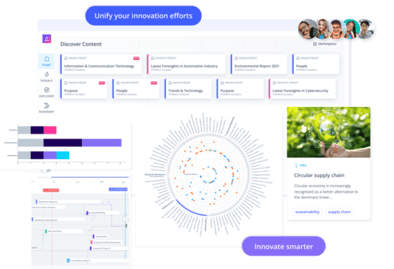 See the ITONICS Innovation OS in action
---
Have more time?