Trends & Technologies Shaping The Future Of The ICT Industry
Digital transformation is imperative to doing business today. It enables organizations to increase productivity, streamline operations, and respond to customers' ever-changing needs. It is becoming a requisite for resilience and success in an increasingly uncertain future and the catalyst for economic growth on a global scale. And integral to this digital transformation is the information and communication technology (ICT) industry.
The imperative for digitalization across all sectors has pushed the ICT industry to develop new technologies, products, and services at an unprecedented pace while attracting new investment, talent, and players to the market. Demand for flexibility, affordability, and accessibility of ICTs continues to rise while there is a persistent need for greater computing power and cybersecurity. These forces drive innovation and new approaches to value chains and business models in the industry. Moreover, with the potential to shape the future of work, bridge the digital divide, and spark economic development, ICT is itself a driving force.
→ Free Download: Game-Changing Technologies for ICT
In this blog, we'll present some of the forces shaping the future of the ICT industry, along with the key trends, game-changing technologies, and practical industry applications, highlighting how organizations are finding and leveraging innovative opportunities.
Forces Shaping the Future of the ICT Industry
1. Digitalization Demands
Demand for ICTs is at an all-time high as digital transformation becomes a requisite for success across industries, especially in the wake of the pandemic. This has created an ICT landscape replete with opportunities for investment, R&D, and M&A. With the industry's seemingly boundless market potential, new players are emerging to challenge big tech firms' collective dominance. With competition from capital-rich startups willing to push tech boundaries and cross-category businesses developing internal digital toolboxes, ICT innovation is increasingly fast-paced and prolific.
The reasons for pursuing digital transformation are varied and compelling. ICTs promise operational efficiencies, greater agility and visibility throughout the value chain, and enhanced customer engagement. These strategic advantages—aligned with trends such as Green and Lean, Automating a Greener World, and Hybrid Engagement—have renewed momentum in light of the pandemic and environmental crisis.
Technologies like 5G Mobile Network, Edge Computing, and cloud provide the infrastructure to enhance connectivity and computational capacity. They facilitate the further adoption of emerging technologies, including Unified Communications Services and Internet of Thinking, to lead the transformation to digital, automated, connected, and data-centric.
Inspiration: Digital reality company Hexagon is providing digital twins of entire cities around the globe, including Munich, Amsterdam, Tokyo, New York, and more. Available as off-the-shelf products, the technology will enable city-level digital transformation. Governments can monitor critical assets, model and manage risks, and visualize new infrastructure projects, ultimately making more insightful, data-driven decisions.

2. The Global Chip Shortage
Supply chain disruptions due to the pandemic have resulted in a global shortage of semiconductor chips. And demand is surging for these essential ICT components that power everything from smartphones and game consoles to automobiles and medical devices. With the chip shortage expected to persist through 2022, manufacturers, large and small, are leveraging their new market power to form lucrative partnerships and expand production. Meanwhile, chip buyers in ICT and several other industries are racing to introduce agility and transparency throughout their supply chains to prevent prolonged disruption.
Against a backdrop of global trade tensions and renegotiations, policymakers worldwide are seeking ways to reduce dependency on overseas chip manufacturers. Tactics include reshoring and Distributed Manufacturing, where partner or subsidiary factories serve regional distribution channels. Technologies like Distributed Cloud and Digital Twins support the conversion to more transparent and agile supply chains.
Big tech companies are taking similar action, investing in infrastructure to develop their own custom chips. In the short to medium term, this move will likely consist of M&A and strategic partnerships with existing chip manufacturers. But as these influential players consolidate power and gain further autonomy, there will be a growing need for Big Tech Regulation.
Inspiration: As early as 2016, EV manufacturer Tesla recognized an opportunity to produce its own in-house chips, reducing reliance on overseas chip makers and improving energy efficiency. Tesla has since explored silicon carbide (SiC) as an alternative to pure silicon, which comprises most chips. This move paid off in 2020, as Tesla managed to maintain sales amidst the global chip shortage and pandemic.

3. The Shift to Hybrid Cloud
More organizations are adopting a cloud infrastructure, drawn to the cost savings, flexibility, and scalability that cloud-based technologies offer. Hybrid cloud strategies, in particular, promise the best of both worlds, with a combination of anything-as-a-service (XaaS) applications and on-premise data centers. Hybrid cloud gives organizations the ability to work across multiple computing environments and manage exponential data growth while also ensuring security, privacy, and compliance. Large public cloud providers are pouring investments into hybrid solutions, and new business models are emerging, such as content-as-a-service, AI-as-a-service, and IoT-as-a-service.
ICT companies are leading this shift, prioritizing cloud-based solutions in their own businesses, followed by on-premise solutions where needed. Hybrid cloud optimizes data management amidst the growing implementation of IoT and other data-intensive systems. Hyper-Converged Infrastructure supports this approach by providing a structured, cost-effective, and secure environment for cloud expansion.
Indeed, as companies shift their operations to the cloud, there is a growing need for integrating end-to-end security and compliance into the entire IT lifecycle. Employing DevSecOps makes security a shared responsibility, breaking down traditional silos between development and security teams and enabling the trend Data Secure by Design.
Inspiration: Tech giant Microsoft joins the Open Infrastructure Foundation (OIF) to help support the shift to hybrid cloud. In addition to committing funds, Microsoft will contribute its expertise around hybrid cloud, cloud security, the intelligent edge, and bridging different cloud environments. It has also pledged to incorporate some of OIF's open-source projects into its Azure product roadmap.

4. The Future of Work
The future of work and the ICT industry have converged. The result is increasingly virtual, remote workforces, real-time operations, and process automation. These are shifts enabled by ICTs like artificial intelligence, IoT, predictive analytics, and advancements in connectivity and computing power. Across industries, there is a drive to build internal ICT capabilities and automate work to keep pace with digitalization. In response, interest is growing in cloud-based XaaS solutions and partnerships with ICT companies to improve workplace operations and resource allocation.
The COVID-19 pandemic forced many organizations to expedite their ICT agendas, urgently implementing the tools and building the capabilities to transition to a digital, automated, and Flexible Workplace. This transition will rely heavily on the ICT industry and applies to processes as well as people and an organization's internal culture.
With greater digitalization and automation in the workplace comes strategic advantages, as well as distinct challenges for human resources. Machine Learning platforms like Self-adaptive Security, Self-writing Software, and Conversational Systems mark the next wave of automation. As a result, however, several sectors in addition to ICT will encounter redundancies and the need to pivot skills and resources.
Inspiration: Cloud computing giant Amazon Web Services (AWS) introduces a new service called IoT RoboRunner. Based on the same technology Amazon uses in its fulfillment centers, the IoT RoboRunner service will now be available to organizations looking to build advanced robotic applications. With this solution, organizations can shift to robotic fleet operations such as autonomous mobile robots and robotic arms.

5. Democratization of Technology
The democratization of technology is underway as the knowledge and capabilities surrounding high-tech platforms become more accessible. ICT tools like low- and no-code platforms, robotic process automation, and open-source AI applications give rise to citizen developers and empower non-technical individuals to design solutions that incorporate their unique perspective or expertise. This helps bridge the skills gap many organizations face as they increasingly digitalize their processes and product offerings. Democratizing technology also creates an environment that supports grassroots innovation, practically and culturally, throughout an organization.
Low-Code No-Code Platforms, API Economy, and AI For Everbody are rapidly changing how organizations deploy ICT applications, allocate resources, and manage teams. These technologies reduce development cycles and time-to-market. Additionally, open-source and modular tech solutions help smaller and varied organizations bridge the gaps in their current ICT capabilities and compete with incumbents.
Tech inclusion also speaks to the trend of Democratization of Education which is driven by the proliferation of global internet access and the steep rise in e-learning platforms due to the pandemic. Growing demand for technical skills to support digital transformation has resulted in more accessible learning channels that cater to personalized needs—specific topics, tech applications, or ICT roles.
Inspiration: Co-working and edtech company Talent Garden acquires Hyper Island—referred to by some as Europe's "Digital Harvard." Hyper Island specializes in industry courses for UX, game design, and other creative digital disciplines. Through this acquisition, Talent Garden, which itself offers several business training courses, aims to bring digital skills training to more markets.

6. Issues of Digital Parity
Despite many ICTs becoming more accessible, the effects of digital parity are sharper than ever. These are the tools that enable digital transformation—and without them, businesses, economies, and society are at a disadvantage. Enhancing ICT access and capabilities is especially important for developing economies where there are opportunities to leapfrog industrial-age infrastructure. The ICT industry must play a role in investigating new technologies and services that address the digital divide by, at minimum, improving internet penetration and, at best, providing practical hardware, software, and skills training.
Internet-insecure nations with low digital literary rates will benefit greatly from advancements that make ICT infrastructure more cost-effective, scalable, and easy to use. This includes 5G Mobile Network rollout and improved satellite connectivity through low Earth orbit (LEO) and Nanosatellites.
However, achieving Digital Equality is a complex challenge, and solutions must be implemented with an understanding of the economic, social, and cultural factors that have contributed to the divide. For ICT companies entering developing countries, gender-specific education initiatives to encourage more women to access and use the internet are crucial.
Inspiration: Huawei partners with Thailand's Office of the National Broadcasting and Telecommunications Commission (NBTC) to strengthen the country's fiber-based infrastructure and improve access to high-quality broadband. The initiative to create a "Giga Thailand" will help achieve Thailand's goals of becoming an ASEAN digital hub and, most critically, closing the digital divide.
---
Applying an industry lens to the process of environmental scanning helps organizations direct their focus and resources more optimally. And by gaining an understanding of the technological developments and trends that may present future opportunities in their industry, organizations can equip themselves with the innovation intelligence needed to take decisive, strategic action and, ultimately, gain a competitive advantage.
Get started by exploring the ITONICS Teaser Technology Radar and Teaser Trend Radar, displaying the elements that are most relevant for the ICT sector.
TECH RADAR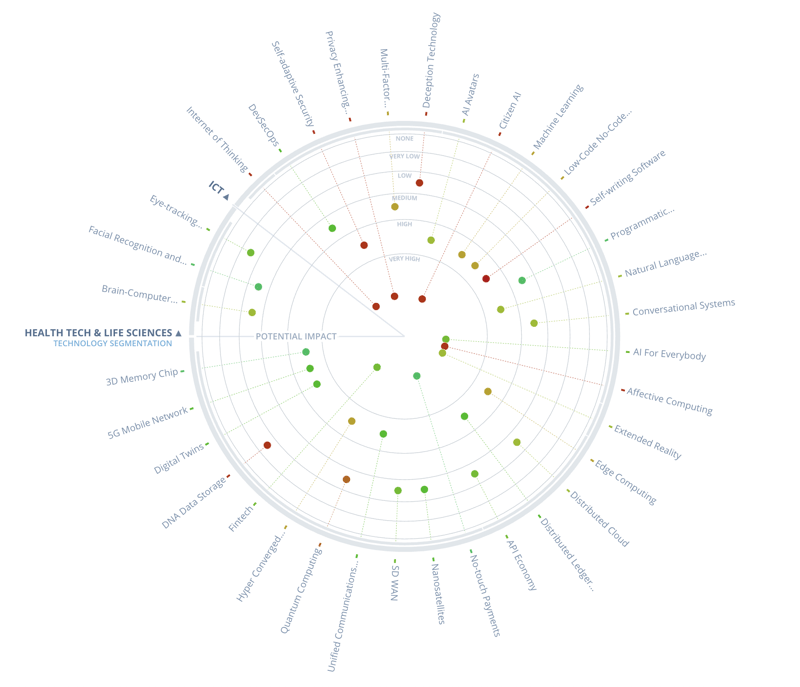 Game-Changing Technologies for ICT
TREND RADAR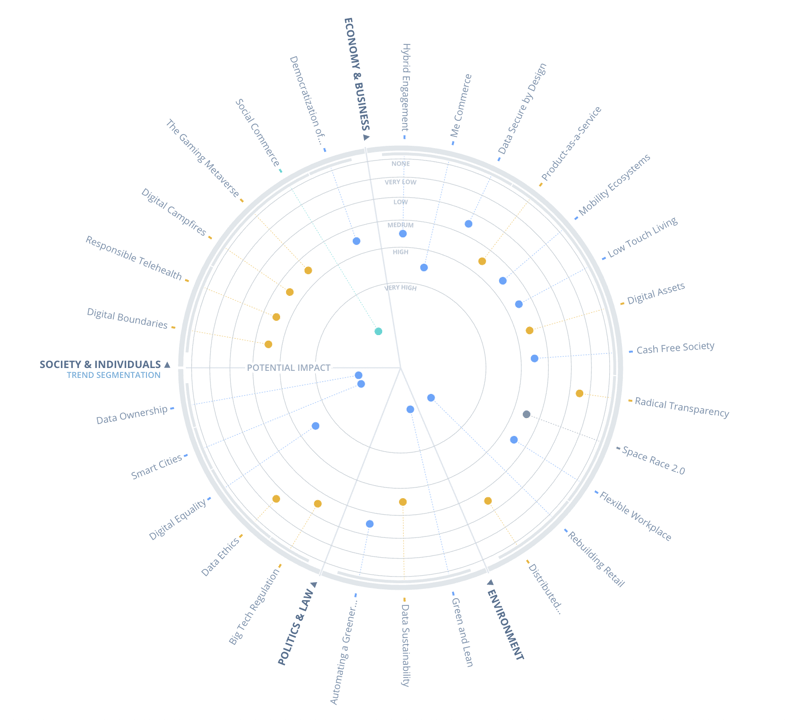 Key Trends for ICT
Download our latest report, Where to Play: Game-Changing Technologies for ICT, which showcases some of the exciting possibilities and key solution drivers set to usher in unprecedented growth for the ICT sector. The report is interlinked with the ITONICS Innovation Platform to help organizations better connect the dots between these drivers of change, anticipate the most rewarding opportunities for the future, and gain strategic advantage.

Have more Time?