In our monthly innovation updates, we provide you with an overview of the most relevant insights, best practices & tools from the innovation cosmos.
1. Gartner® Hype Cycle™ for Innovation Management Techniques, 2021


For the first time, Gartner has published a Hype Cycle specifically around innovation management techniques. According to Gartner: "Innovation management techniques are always evolving and maturing year over year. Executive leaders should study this Hype Cycle to understand the trends in techniques and approaches that can help maximize the value and impact of their innovation programs across the organization."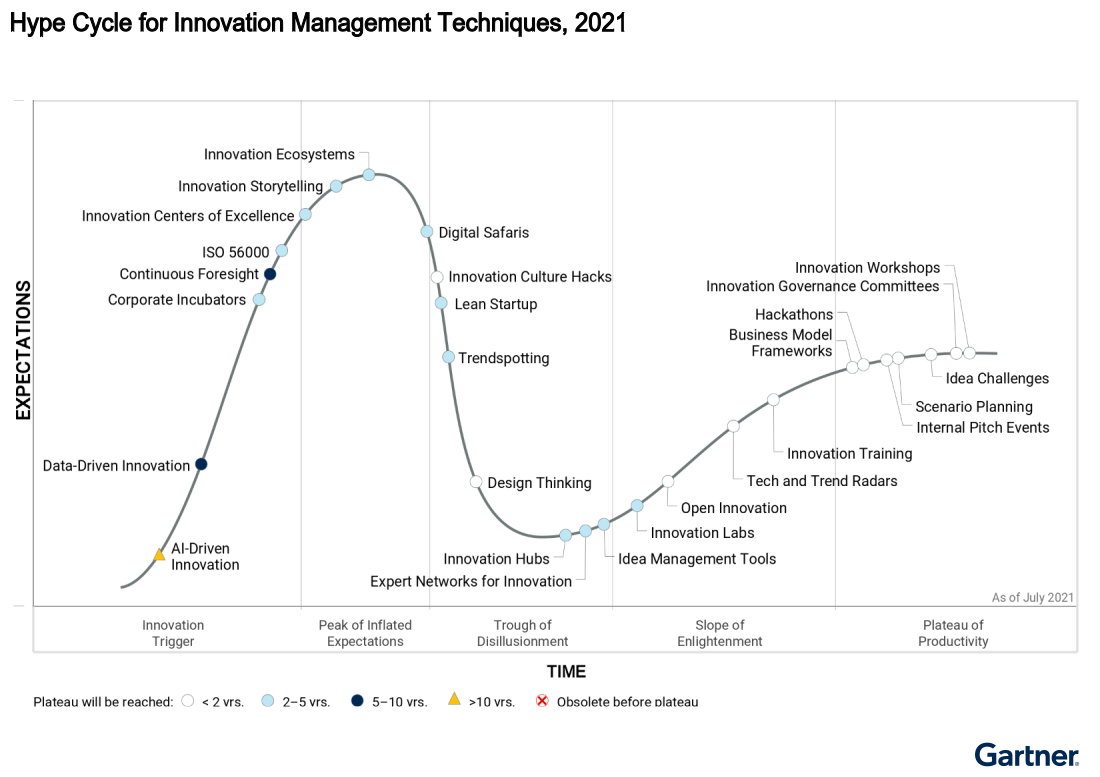 Widely recognized as the leading authority on technology maturity, this Gartner Hype Cycle provides executives with a graphical representation of the maturity, adoption, and societal application of technologies and techniques. This methodology is most commonly used to project the evolution of a technology or application and guide its use in the context of specific business objectives.
This Gartner Hype Cycle covers the techniques around:
Organizing for innovation: Corporate incubators, innovation centers of excellence, innovation ecosystems, innovation hubs, innovation labs, open innovation, innovation governance committees
Improving the innovation process and culture: AI-driven innovation, International Organization for Standardization (ISO) 56000, innovation culture hacks, innovation training
Strategy and opportunity identification: Data-driven innovation, continuous foresight, innovation storytelling, digital safaris, trendspotting, tech and trend radars, business model frameworks, scenario planning
Idea generation: Expert networks for innovation, idea management tools, hackathons, internal pitch events, idea challenges, innovation workshops
Evaluation and experimentation: Lean startup, design thinking
The ITONICS end-to-end innovation management platform addresses most of the techniques evaluated in the Hype Cycle and is seen as a relevant vendor by Gartner's analysts.
Get Your Free Copy!

Download the Gartner Hype Cycle for Innovation Management Techniques, 2021, today and gain more insights into these exciting areas or find promising innovation techniques for your business.

2. How Communication Can Sabotage Innovation

Communication is an essential factor on the way to achieving your innovation goals. Insufficient communication has the potential to sabotage your ability to innovate. A recent article in IM Weekly highlights four communication landmines you should avoid.
When communication is not structured properly, it can cause dysfunction, disengagement, and a lack of ownership and creativity within a team or organization. You should be aware of the following landmines to avoid communication sabotage:
The Purpose Landmine
The "why" behind your innovation efforts always has to be clear to employees, executive teams, stakeholders, and customers to achieve engagement and commitment.
Provide answers to questions like "Why this idea?", "Why now?" to clarify the purpose; otherwise, you may not get the required management support, funding, or employee engagement.
Adapt your communication style to the individual groups of people.
Instead of using statements like, "Do this because the boss says so" or "Do that because the competition did it", you should convince people of the opportunities and the importance of their role in overall success.
The Inclusivity Landmine
If you exclude relevant stakeholders from conversations, you run the risk of disengagement and dysfunction.
Give strategic thought to who should be part of the different conversations around your initiatives and at what stages of execution.
Consider who has the skills, behaviors, and motivators needed to achieve the goals in different stages of innovation.
The Expectation Landmine
Over-promising can derail your project if results are delayed, expectations are underachieved, or not met at all.
You don't have to downplay enthusiasm for a project, however, recognize that successful innovation is iterative and set expectations that are informed through learning and experimentation.
Communication is key for sharing new insights and helping all stakeholders adjust their expectations throughout the process.
The Leadership Landmine
Asking employees for ideas but then not taking the time to follow up on them can lead to a loss of trust and commitment.
It requires a responsible (and right) leader for each phase of the innovation process, ensuring appropriate communication of the respective goal - this can't be just one person.
In order to drive innovation projects successfully, you need to consider (and avoid) all of the four landmines mentioned above and ensure effective communication.
Also see this article: How To Communicate Strategic Innovation Activities
3. Our Tech of the Month: Computer-Aided Drug Discovery
Computer-Aided Drug Discovery (CADD) supports the rapid and efficient design of new drugs and repurposing of approved drugs (e.g. in the case of COVID-19 treatment).
This technology incorporates a multi-target drug design approach by combining the knowledge of complex disease networks and the chemical and physical characteristics of existing drugs and biological receptors. Computational methods are used to create interactions between molecules and targets to predict binding affinities. The accessibility of supercomputers, parallel processing, and advanced software has propelled the technology forward. Leading pharmaceutical companies and research groups are employing it to utilize more extensive information in modeling innovative drug candidates against various diseases.
CADD can speed up the discovery and preclinical stages by a factor of 15. And given the current fail rate of 9 in 10 drugs after clinical trials, it can also increase the accuracy of predictions on the efficacy and safety of drugs, resulting in massive savings. Still, the future of CADD is even more promising as scientists apply other technologies to enhance and automate existing CADD methods.
Medical research charity LifeArc is developing a full suite of VR-driven drug discovery tools to transform the way diseases are identified and treated. With its immersive and collaborative tools, the UK-based organization aims to give researchers a way to explore the inside of a protein, its shape, and its features. This extended reality experience will enable a better understanding of complex disease mechanisms for accelerating drug discovery.
Additionally, quantum computing (QC) could overcome several of the current scaling challenges to CADD. QC enables researchers to screen massive computational libraries of compound and target interactions in parallel, thereby increasing the chances and speed of identifying the best drug candidates.
Forecast to surpass $7.9 billion by 2028 (at a CAGR of 15%), the global market for CADD services holds great promise for the future of the healthcare & pharmaceutical industry.
4. Fact of the Month: 100 Trends to Watch in 2022

Last month, Wunderman Thompson Intelligence published their annual forecast of 100 trends to watch in the coming year. "The Future 100: Trends and Change to Watch in 2022" report offers a snapshot of the most compelling trends across 10 sectors to keep on the radar. These are some highlights from the report:
Culture | Unbounded optimism: brands are projecting a progressive and positive outlook for 2022, encouraging playfulness and creativity.


Tech & Innovation | Virtual teleportation: technologists are opening up digital portals into a new virtual dimension that offers more intimate, close-to-reality in-person interactions.


Travel & Hospitality | Meditative travel: meditative integrations are making every journey a mindful one.


Brands & Marketing | Brandalism: vandalism for good is hijacking ad space and exposing brands' missteps - demanding they do better.


Food & Drink | Liquid immunity: wellness aficionados are quenching their thirst while supercharging their immune systems.


Beauty | Acidic care: skincare brands are homing in on the benefits of acidic ingredients.


Retail & Commerce | Virtual flagships: digital flagship stores are taking over e-commerce storefronts.


Luxury | Sonic luxification: luxury brands from fashion to auto are investing in audio hardware, luxifying the listening experience.


Health | Emotional health: recharge zones for emotions are emerging in public spaces around the world.


Work | Metaverse recruits:

from virtual material designers to creatives across the board, companies are hiring for a metaverse workforce.

5. Your Monthly Dose of Innovation

If you don't already, we highly recommend you to follow us on social media to get your daily dose of innovation! Become part of our growing Innovation Rockstar community and never miss new blog posts, new podcast episodes, or innovation tips & best practices.
---