The Gartner® Hype Cycle™ for Innovation Practices, 2023, provides in-depth insight into the evolution of innovation tools, methods, and approaches available to innovation teams and organizations. It equips executives with the information required to identify the most appropriate context for use, efficiently allocate resources, and derisk innovation investment decisions accordingly.
This article aims to provide a synopsis to this Gartner report, define the set of innovation practices mentioned therein, and offer enriched guidance for how to best use the Gartner Hype Cycle to find promising innovation practices for your business.
Widely recognized as a leading authority on technology maturity, the Gartner Hype Cycle provides executives with a well-established framework and graphic representation of the maturity and adoption of innovation practices. It helps to identify those innovation practices most likely to deliver value along the entire innovation cycle.
The Hype Cycle methodology is most commonly used to project the evolution of a technology or application and guide its deployment within specific business goals.
TL;DR: A summary of the 2023 Gartner Hype Cycle for Innovation Practices
Considered a relatively mature discipline, innovation management adopts a wide range of well-established techniques and practices to manage innovation processes effectively alongside organizational change.
According to Gartner, "Executive leaders should study this Hype Cycle to understand the trends in practices that can help organize and execute innovation to maximize the value and impact of their innovation programs across the organization."
→ Get your exclusive report copy of the 2023 Gartner® Hype Cycle™ for Innovation Practices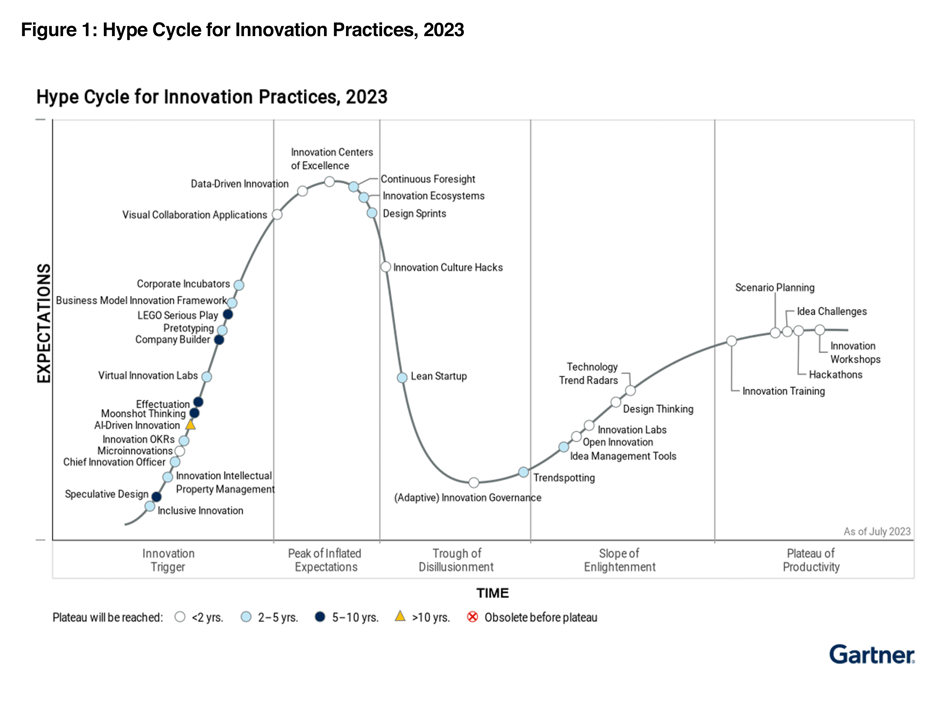 Several themes can be identified in studying the Gartner Hype Cycle for Innovation Practices:
Organizing for Innovation
Emerging practices such as the function of a chief innovation officer, corporate incubators, company builder, and innovation IP management are all areas of interest that focus on structured approaches to innovation. As innovation management advances, organizations are increasingly interested in accelerating the efficiency of the respective processes they have come to establish.
With a plethora of new technologies available to drive such productivity, there is a new opportunity to create a conducive framework for innovation by adopting these approaches early on.
Improving the Innovation Process and Culture
Techniques such as AI-driven innovation, effectuation, innovation culture hacks, innovation training, and inclusive innovation advocate standards in practice and break down silos. This adoption indicates the increasing need innovation teams have to effectively disseminate relevant information and share knowledge, enhance transparency, and, most importantly, drive constructive collaboration to reduce risk while maintaining a competitive advantage.
Strategy and Opportunity Identification
To mitigate the risk of innovation failure, defining the innovation strategy aligned with overall strategic goals as well as identifying innovation opportunities, should be at the beginning of each innovation program.
Emerging practices in this field are speculative design, moonshot thinking, business model frameworks, microinnovations, and data-driven innovation. Proven and established practices are technology trend radars, trendspotting, and scenario planning.
Idea Generation
It is understood that good ideas do not—for the most part—originate from an individual perspective. Instead, organizations and innovation teams have increasingly acknowledged the value of diverse views.
As the practice of innovation management has evolved, enhancing the means and practicality of collaboration has been prioritized. As a result, innovation practices such as hackathons, idea challenges, and innovation workshops have become mainstream.
Idea management tools further improve collaboration by removing inefficiencies experienced in these techniques by offering unbiased evaluation and clear phase gates. As a result, this technique is seen as being in the Slope of Enlightenment and will become more fully embedded into broader management practices and business-as-usual activities.
Evaluation and Experimentation
Enterprises are striving to validate the direction of their product at every step, as startups do. This enables early "pivoting," rather than requiring the organization to wait until the end when change is too hard or too late. Design thinking has become an established method to enhance the probability of successful innovation through an iterative and feedback-centric approach to product development.
Emerging practices that enable large enterprises to respond to changing circumstances faster are prototyping and visual collaboration applications.
How to use the Gartner Hype Cycle for your business context
Gartner Hype Cycle reports and Priority Matrices offer executives a snapshot of the relative market promotion and perceived value of technologies and/or innovation techniques.
Each Hype Cycle graph is divided into 5 key phases:
Innovation Trigger
Peak of Inflated Expectations
Trough of Disillusionment
Slope of Enlightenment
Plateau of Productivity
These five phases, and the analysis of the technologies and techniques therein, guide decision-makers by establishing the expectation that most innovations, services and disciplines will progress through a pattern of overenthusiasm and disillusionment, followed by eventual productivity.
We believe, taking a look at a graph created for a practice or domain you are interested in may help strategists and planners by evaluating the market promotion and perception of value, business benefit, adoption rate and future direction of innovations.
To separate hype from an actual commercial promise and reduce risk in strategic decisions, innovators can further explore analysis by Gartner. In addition to the five phases, a full perspective of each respective area of interest includes:
A clear definition of each practice
Analysis of the practice's relative importance to the market,
The potential business impact it holds
Drivers of adoption
Obstacles that need to be overcome, and
User recommendations
By understanding the speed at which each innovation practice is progressing through the Hype Cycle, alongside the potential benefits and pitfalls of each method or approach respectively, decision-makers are equipped with reliable information to best select what to invest in now for future benefit and competitive reward.
ITONICS mentioned in the 2023 Gartner® Hype Cycle for Innovation Practices
In this vast innovation landscape, ITONICS shines through, supporting global giants such as adidas, Intel, Johnson & Johnson, and KPMG with our holistic innovation management software. The platform is designed to proficiently identify emerging trends, technologies, and market opportunities, and then adeptly translate them into robust growth strategies.
ITONICS has been named as a Sample Vendor in three areas within the Gartner® Hype Cycle for Innovation Practices, 2023: Continuous Foresight, Trendspotting, and Technology Trend Radars.
Continuous Foresight
As per Gartner, "Continuous foresight leverages the best practices of strategic/corporate foresight and futurism to continuously assess and evaluate business models and strategies, and determine how to adjust either or both to create future success".
Continuous foresight prioritizes ongoing, collaborative efforts to spot and analyze external change and disruptions, proving essential for agile strategy formulation in volatile settings. Explore how ITONICS is pioneering continuous foresight.
Trendspotting
Trendspotting involves the identification and assessment of trends with potential organizational impact. Trends, which embody external forces like technological or social shifts, reflect market dynamics largely steered by evolving consumer behaviors and needs.
ITONICS stands at the forefront, enabling businesses to adeptly scout for these weak signals and decode shifting consumer landscapes. Delve into how ITONICS is revolutionizing trendspotting.
Technology Trend Radars
Gartner states, "A technology trend radar is a custom visualization that shows when technology trends are expected to impact and potentially disrupt the enterprise".
Such radars empower enterprises to foresee future implications, prioritize initiatives, and break down informational silos. Explore the ITONICS' Trend and Technology Radars and learn how to create your customized radar.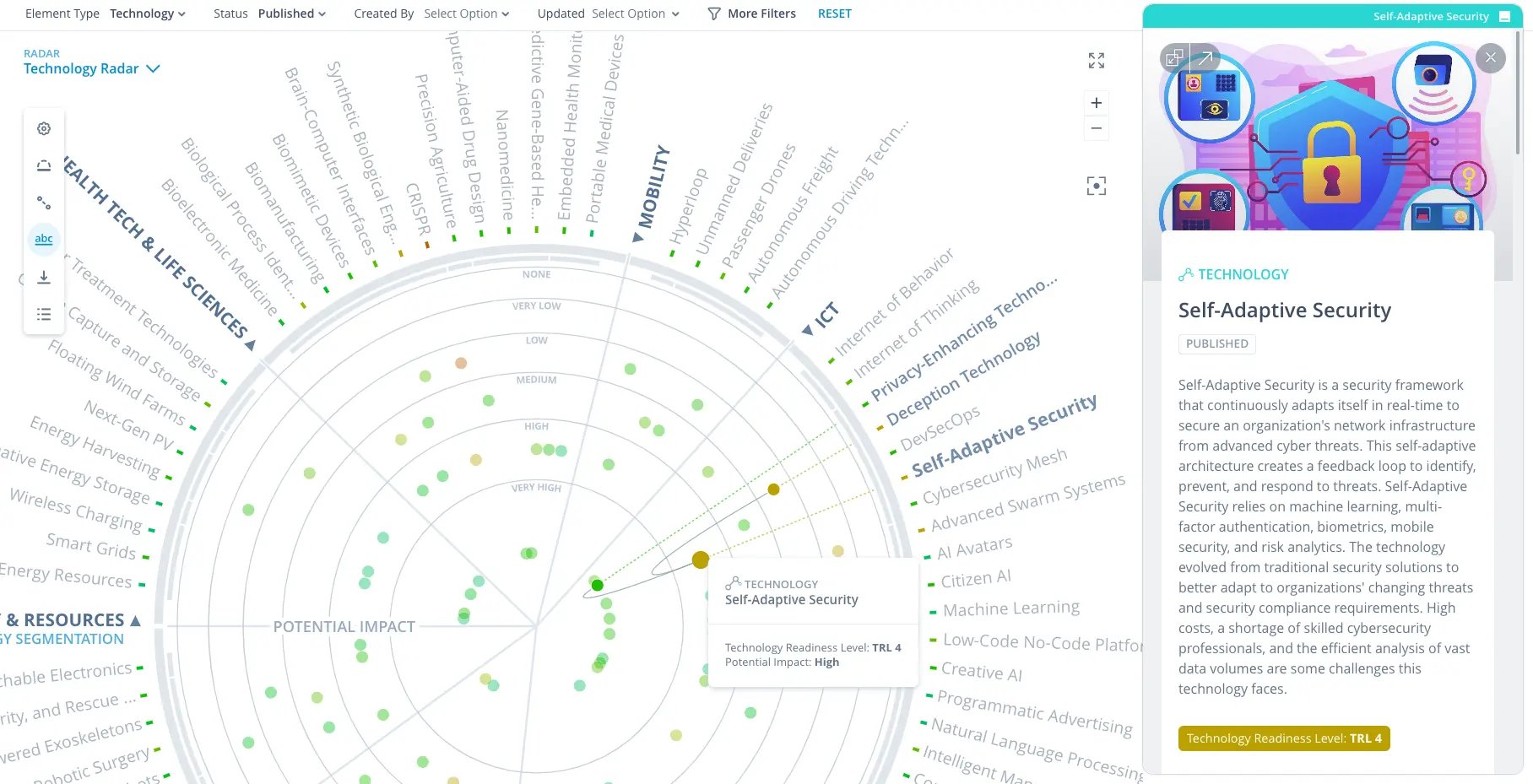 ITONICS provides the #1 Innovation Operating System (OS) for organizations seeking to operationalize innovation and drive growth systematically. Unlike traditional innovation management software, the ITONICS Innovation OS seamlessly connects foresight, ideation, and portfolio activities with your strategic goals in one collaborative system. Centralize your innovation intelligence, break down information silos, align efforts, and steer decision-making to move from strategy to execution with speed and agility.
---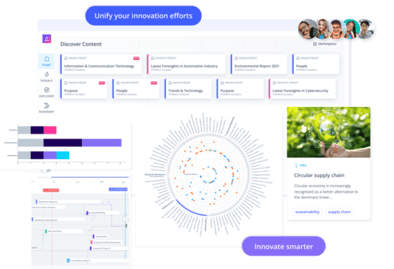 See the ITONICS Innovation OS in action
---
Disclaimer
Gartner, Hype Cycle for Innovation Practices, 2023, Peter Skyttegaard, David Cearley, Tsuneo Fujiwara, Gunjita Mundeja, Christian Stephan, 24 July 2023
Gartner is a registered trademark and service mark and Hype Cycle is a registered trademark of Gartner, Inc. and/or its affiliates in the U.S. and internationally and are used herein with permission. All rights reserved. This graphic was published by Gartner, Inc. as part of a larger research document and should be evaluated in the context of the entire document. The Gartner document is available upon request from ITONICS.
Gartner does not endorse any vendor, product or service depicted in its research publications, and does not advise technology users to select only those vendors with the highest ratings or other designation. Gartner research publications consist of the opinions of Gartner's research organization and should not be construed as statements of fact. Gartner disclaims all warranties, expressed or implied, with respect to this research, including any warranties of merchantability or fitness for a particular purpose.