Communicating information to the management through reports and graphs can be a daunting task, as many vital insights can get lost in the process. But there are powerful charts that can be used to simplify complex information about organizational needs, ultimately helping to achieve your innovation objectives. This article will help you to understand how you can enhance the communication of insights to gain your management's buy-in for innovation efforts.
The support of management and executives is crucial for the success of innovation projects and the improvement of a company's competitiveness. Innovation managers often find it challenging to unify their research, resulting in missed opportunities. Although some innovation efforts have the potential to strengthen the competitive positioning of a company, management may find it difficult to support innovation initiatives without a clear vision of key outcomes.
Accurately visualizing and reporting relevant data plays an important role in convincing management to invest in innovation efforts. It helps aggregate information and packages it in a way that makes relevant insights and opportunities for a business evident. The ITONICS Innovation OS provides easy-to-understand visualizations and charts to communicate insights in different phases of your innovation process. In the following, we present five tools and outline how they help you convince your management to take strategic action and make informed decisions.
Five visualizations in the ITONICS Software that support strategic decision-making
1. Trend and technology radars to identify strategic fields of action
Communicating the relevance of particular trends, technologies, risks, startups, and competitors to stakeholders can be difficult. The ITONICS Radar visualizes complex information in a way that is easy for stakeholders to understand.
Being able to visualize trend and technology data in a manner that allows specific views, filtering, linking, and relating of different data to each other provides a helpful perspective on opportunity spaces and threats. By using the filter function you can understand related trends and technologies for a specific industry. The radar places the dots based on their potential impact, scope, and other ratings so that you can visually identify the most urgent trends, technologies, risks, and opportunities in view.
You can present your radar to relevant stakeholders either on the ITONICS platform directly or by exporting it as a PDF.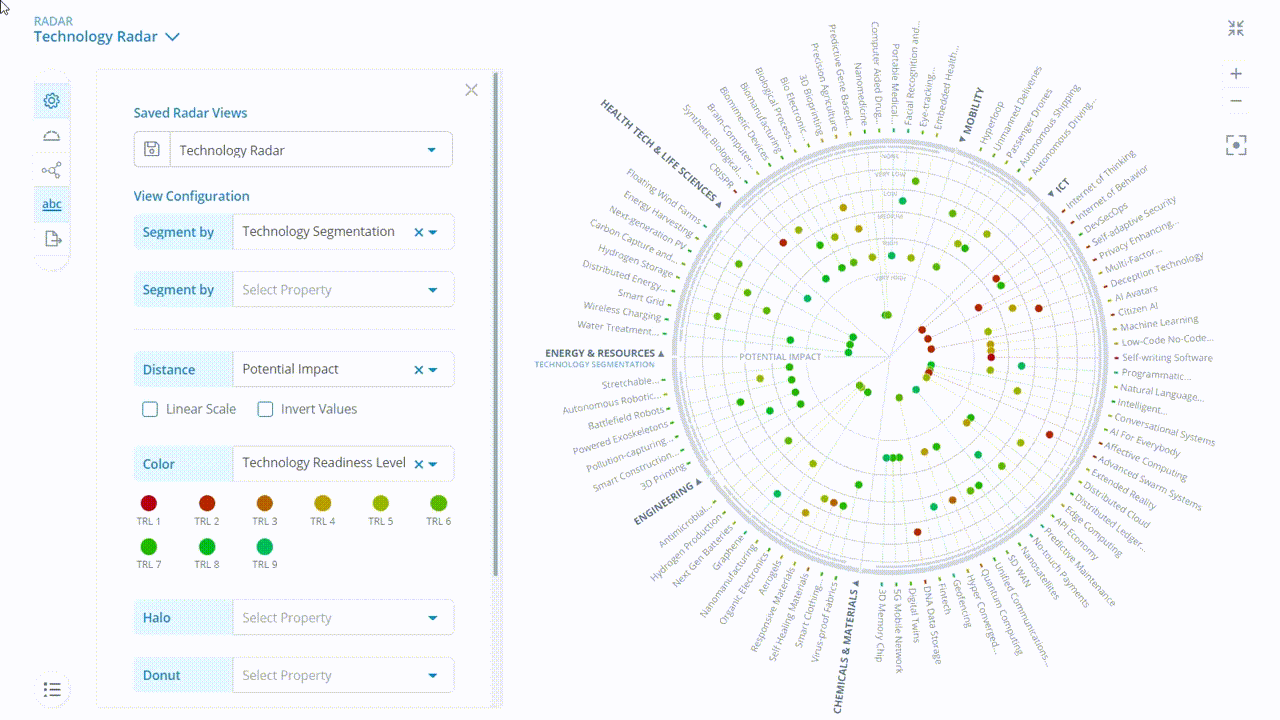 2. Timeline and World Map visualizations to monitor trend and technology developments
The ITONICS Insights tool helps you to scan multiple verified sources, such as news articles, patents, and RSS feeds, in real-time. By using the presets available in the software, you can save content and allow your team to centralize research efforts. The tool enables you to quickly compare, track, and monitor drivers of change and observe developments over time through Timeline visualizations.
You can also compare and contrast the development of particular trends and technologies in terms of geographic regions, through World Map visualizations. This may reveal high levels of activity within your own region so that you can convince management to intensify innovation efforts. Alternatively, it could provide the basis for the business to expand to other regions.
ITONICS Timeline visualization

ITONICS World Map visualization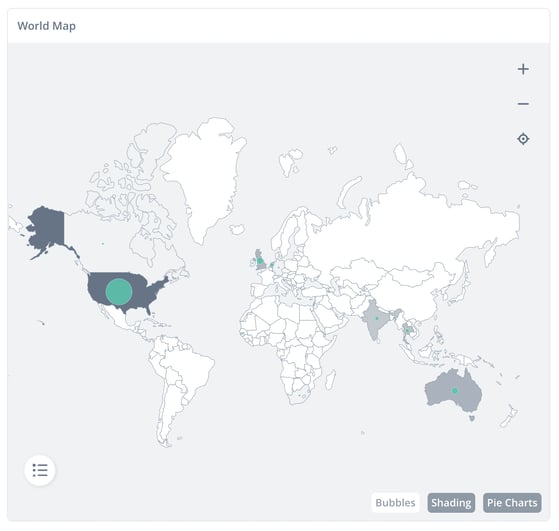 3. Dashboards to track innovation projects
The displayed data in the Dashboard are specific KPIs selected by you, which are graphical representations such as project workflow, innovation degree, project health status, and more. The power of the dashboard charts is the visual representation of the data. Knowing the goals of active projects will help you create a follow-up plan to meet the objectives. For instance, when you become aware that 10% of all your active projects are in a "critical" state, you can take action accordingly to achieve a better balance.
As you should be aware of recent developments in innovation projects, to navigate the process correctly, you require quick reporting systems and configurable dashboards to help you to create reports in real time. The ITONICS Dashboard includes seamless reporting functions, which help you communicate project progress to management using visuals such as pie charts and line graphs. Opportunities and derived measures can be discussed with the top management to achieve buy-in and willingness to invest. These dashboards are perfect for monitoring and reporting on innovation efforts. In addition, they serve as a streamlined system to support decision-makers, as they help you to regularly update stakeholders on the project status by using the charts in newsletters or links to the dashboard page.
Learn more
about how to create ITONICS Dashboards for quick innovation reporting.
4. Opportunity space matrix to steer portfolios
The ITONICS Matrix helps you display the potential impact of particular drivers of change, by plotting them on the X and Y axis based on your selected criteria.
For instance, when you want to compare the innovation potential and market volume of a concept such as "Circular Economy", the opportunity matrix illustrates that this is a trend with high potential impact and high scope. Your organization may then decide that strengthening innovation efforts surrounding this particular trend is urgent. The Matrix tool helps you take your reporting a step further by simultaneously communicating information such as potential, urgency, and whether the trend or technology aligns with the company's core ambition.
The Matrix tool can also be used to understand competitors in your particular industry. The Company Matrix tool illustrates information about various companies. You could, for instance, convince management to increase innovation efforts by contrasting your company with a competitor.
In the example above, adidas stands out as a company with comparatively high disruptive potential and a medium degree of innovation. In addition, the color labels indicate the business relevance of competitors.
5. Roadmap visualizations to execute projects
Your team should constantly be aware of the progress and development of innovation portfolios to align with the strategic objectives. The ITONICS Roadmap is a useful visualization tool that helps to keep track and illustrate the progress of innovation efforts. As it structures individual innovation steps of a project, you can utilize it for strategic planning to foresee possible uncertainties and develop solutions for the longer term.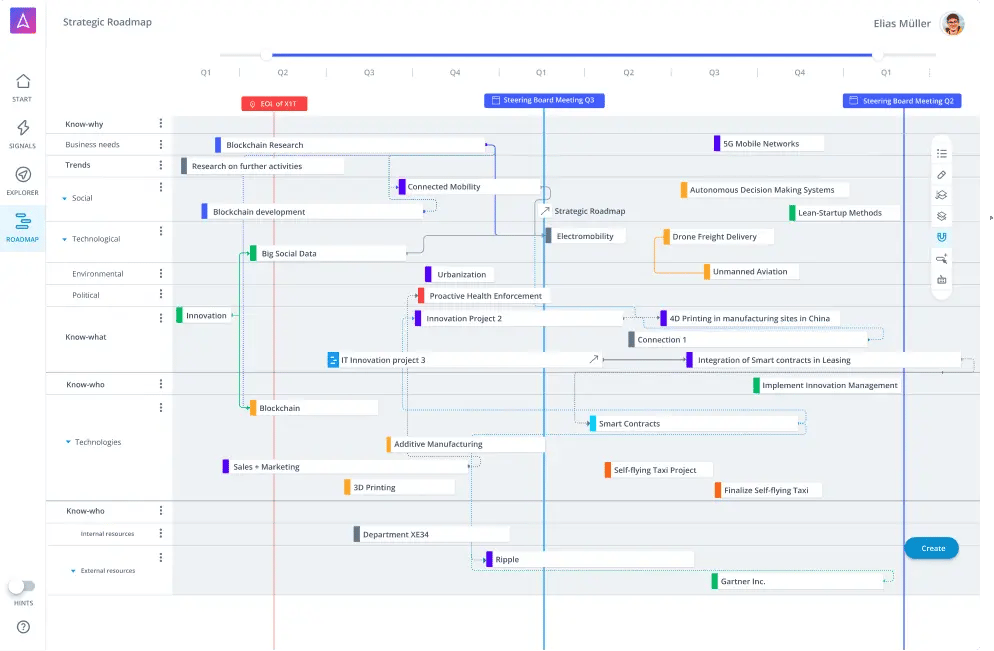 An innovation roadmap consists of four levels: market, product, technology, and resource. You can zoom in or out into specific timelines, projects, teams, and activities. It is useful for innovation reporting and visualizing relations, dependencies, teams involved, and more. The ITONICS Roadmap can be used by a global team to stay informed on project timelines or progress.
How ITONICS scales your innovation efforts
Ready to radically upgrade your processes and capabilities? The ITONICS Innovation OS is designed to systemize all activities from strategy to execution, at scale. The various visualization features available help you to save time and increase efficiency when reporting innovation insights and results. In addition to that, our innovation management software has tons of features to streamline your efforts, including:
Real-time signals feed from patents, news, scientific publications, and reports to stay on top of market developments
Collaboratively rate trends, technologies, startups, and other drivers of change with your teams and experts
Customizable Radar views to understand the potential impact of drivers of change at a glance
Customizable ideation campaign templates to get started quickly
Capture, evaluate, and prioritize ideas from internal and external sources
Manage innovation projects, portfolios, and roadmaps
Monitor and track project progress and performance
Reports on innovation metrics and KPIs
Don't leave your organization's innovation success up to chance (or spreadsheets). Focus on what really matters: driving growth for your business. Get started with a free demo today.