Being able to visualize relevant trends and emerging technologies in a manner that allows specific views, filtering, linking, and relating of different data to each other provides a helpful perspective on opportunities. In the following, we outline how to create your trend or technology radar with ITONICS in four simple steps.
In innovation management, trend and technology radars help you visualize current and future trends that can impact your business. On a technology radar, each dot represents an emerging technology. In comparison, the dots on a trend radar do not necessarily indicate material things but societal changes. An overview of these dots, which represents drivers of change, enables you to quickly make sense of the information.
Collecting, evaluating, and structuring the latest trends and emerging technologies can be a major challenge. In addition, to understanding new trends and technologies, intelligent insights must be mapped onto the appropriate organizational environment to be truly useful.
A lack of proper structure might leave teams confused and unable to find the right information to take impactful action. Moving from intelligence to action requires evaluation, interrogation, and opportunity identification. Trend and technology radars are among the most powerful tools in foresight. They are easy to digest, make foresight work tangible, and improve collective decision-making and reporting to management.
What to know about radars before you begin
A shape represents a piece of content (Element) on a radar. In the ITONICS Innovation OS, content is represented by dots. In this example, the content can be either trends or technologies, but the content can also include startups, competitors, risks, or partners.

The location and appearance of dots indicate specific information. The dot's distance from the center and position within specific segments is informative. Generally, you will want to give more attention to Elements closer to the center, while Elements positioned in the outer rings are less relevant now.

Relevancy is ascribed through collective ratings. You can invite suitable experts from within or outside your organization to rate the trends and technologies that hold the most promise.

Here you can read more about ratings and how to use this feature within ITONICS to assess drivers of change.

When experts rate your drivers of change, in this instance, trends and technologies, they need easily accessible information on what they are rating. Explain each trend or technology in a way that clearly communicates what it is and why it is important within your industry, geography, or business landscape. It is also helpful to add additional material for those who want to dive deeper before they do the evaluation.

Dynamic and interactive information encourages participation. By providing the means for teams to discuss and communicate, you can ensure well-considered ratings. The purpose of your radar is to focus your strategic outlook on the future and to inform decision-making. Collaboration and participation from the right teams and individuals will improve transparency and align efforts.
Four steps to creating your trend and technology radar with ITONICS:
Import content
Rate your content
Decide on your segmentation and dimensions
Gain perspective. Perform easy reporting.
1. Import content
The ITONICS Radar can be quickly populated with content, in this instance, trends and technologies, using the content from the ITONICS Showroom. More than 185 trends and technologies curated by our analysts come as part of the ITONICS software and allow you to quickly kickstart your environmental scanning activities. By selecting the most relevant and interesting trends and technologies from the Showroom, you can easily import these to your workspace to create your radar.
The ITONICS trends and technologies are created using a unique combination of human and machine intelligence. Our global team of analysts uses the ITONICS Insights tool to
spot and analyze new trends and technologies
. With the team's diverse perspectives, critical analysis, and intuitive vision, we provide you with access to deep trends and technology foresight. Grounded in reliable evidence, trends and technologies are carefully evaluated through essential criteria respective of whether it is a trend or technology.
Should you choose to use content outside of the ITONICS Showroom to create your radar, you can easily find interesting signals using ITONICS Insights. You can also manually import existing content you may already have. To identify interesting signals:
Define your search field and search for relevant Signals.
Filter down search results to get to the most relevant Signals for your area of research.
Create Elements from Signals. In ITONICS, Elements are the content building blocks that allow you to create a radar while also being usable in the following stages of your innovation process. Elements may be trends, technologies, startups, competitors, risks, and others.
Once you have created Elements

, you will have to evaluate them to create meaningful radar visualizations.
2. Rate your content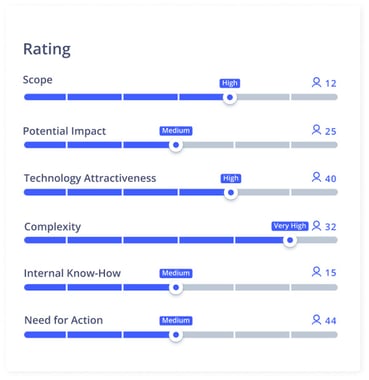 Using the ITONICS Showroom trends and technologies allow you to quickly get a radar view as these Elements have been pre-rated by ITONICS.
To create a radar view with other content, you first need to rate your content:
Select the trend or technology you want to rate from the Explorer view.
Navigate down to the section "Ratings" and use the rating sliders to assess your content.
Pro Tip
Ask your team and other experts to rate trends or technologies to reduce bias and get an aggregated rating. To gauge your confidence in a rating, you can see the number of users who have added a rating for each criterion.
3. Decide on your segmentation and dimensions
Your radar provides information based on the segmentation and distance dimensions of the content (Elements) on the radar. ITONICS comes with best-practice templates you can choose from to decide on the segmentation and distance dimensions quickly. Templates come with different segmentation and dimension options relevant to the content type.
The radar displays Elements of a particular type (e.g., trends, technologies, projects) according to the average ratings given by experts. The rating criteria are visualized via different radar dimensions:
Distance from the center
Color
Size
Primary radar dimensions are segmentation and distance, and secondary dimensions are color, halo size, and donut shape.
Pro Tip
To keep the radar readable and allow your colleagues to concentrate on the most critical information, consider using only one of the secondary dimensions at any time, e.g., use color when you want to show a secondary categorization such as the market a trend is especially relevant for, or halo to represent a rating criterion such as scope or risk.
Once you've found a radar configuration that suits your needs and conveys an insightful message (e.g., highlighting high-impact and low-effort technologies), save it as a radar preset for you and your team to monitor the trends and technologies continuously.
If you want to add custom segmentations or custom rating criteria that fit your use case better, you can do that through Element Configuration at a later stage.
4. Gain perspective. Perform easy reporting.
Using ITONICS best practice segmentation and dimensions templates lets you quickly gain insights. Ratings from internal and external experts provide a valuable perspective on how important specific trends or technologies are for your company's future strategic direction.
Save your radar views to easily return to them in the future or share it with your team to improve common understanding and speed up decision-making. Use your radar views in presentations to gain stakeholders' buy-in, and export radar views with one click to include in presentations or on internal platforms.
What's next?
Setting up a radar quickly provides a simple way to gain perspective into your corporate environment. You can share radar views easily with internal teams to communicate insightful information. Monitor specific trends or technologies using ITONICS Insights to stay updated with developments of important drivers of change.
Connecting trends and technologies to ideation campaigns and project roadmaps on one single point of truth empowers streamlined innovation. It allows for better use of company resources, more transparent and strategic decision-making, and better-engaged teams across business units and geographies.
Want to learn more about the features and functionalities of the ITONICS Innovation OS?
Have more time?