How to Define the Right Search Criteria in Trend Scouting
Trends reflect changing consumer needs and behaviors over time. Knowing what trends may impact your business enables you to prepare and adapt to societal change. One of the most important activities in innovation management is the continuous interpretation and evaluation of trends. By understanding the human needs addressed throughout trends, companies can align their products and services to evolving markets.
The ITONICS Insights tool sorts and classifies large amounts of data to give you access to millions of verified sources. It is smart to refine your search to narrow down the results to topics relevant to you. ITONICS Insights is designed with a number of filtering options to assist you in getting more relevant results.
There are three approaches to refine your search. These can be used separately or in combination.
3 ways to refine your trend scouting
1. Casual search
An example of a casual search in trend scouting would be to enter a term such as "micro-apartments" to explore the trend of people choosing to live in small urban living spaces. Imagine your objective is to understand this trend in order to develop innovative solutions for this particular demographic.
A casual search typically involves simple search terms. In the ITONICS Innovation OS, pieces of content that are used across the different modules of software are called Elements, short for Elements of Change. They can be created and managed in the ITONICS Explorer and reused in other modules such as Insights, Radar, or Portfolio. In ITONICS Insights, you can also type in the titles of Elements that you've added in Explorer and use that as a search term, e.g. "Outdoors Escapism". If you add additional search terms to the Element, it will narrow the search and decrease the documents in the result set, e.g. "adventure travel" or "off-the-grid houses".

The news articles that appear in the Signals Feed provide information on the different ways this trend is manifesting. You have the option to visualize the search results by clicking on the graph icon in the top right. This will open the Visualize tab, which shows a timeline of the volume of signals related to your search term. This can show, for instance, how news coverage of micro-apartments has increased over time, and to what extent the pandemic has decreased interest in this phenomenon. The World Map visualization shows in which countries the topic is being talked about, giving you a sense of the geographic spread of this trend.
Visit the ITONICS Knowledge Base for more information on the casual search.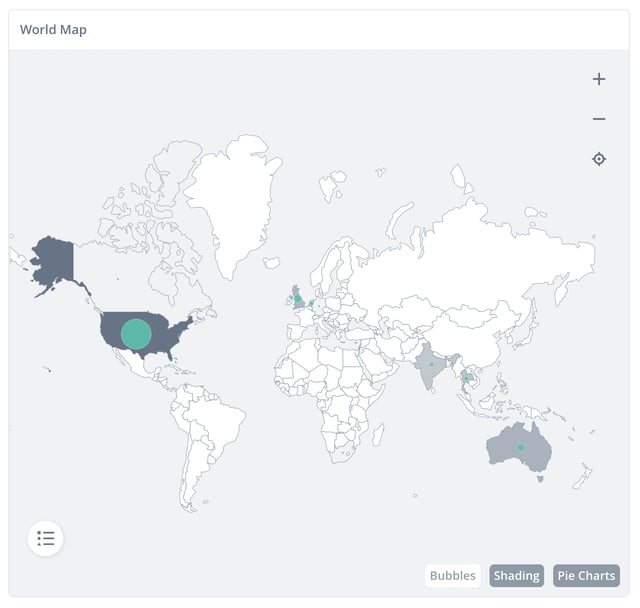 2. Power search
When you want to be very specific about which search terms you want to combine and exclude, a casual search won't do the trick. The power search is more advanced because it allows you to use a boolean query to do complex searches. A boolean query typically makes use of an operator such as AND, OR, NOT. For example, if you wanted to see Signals about Generation Alpha, but not those published in the United States, you could enter this boolean query:
(summary CONTAINS "Generation Alpha" AND NOT country = "US")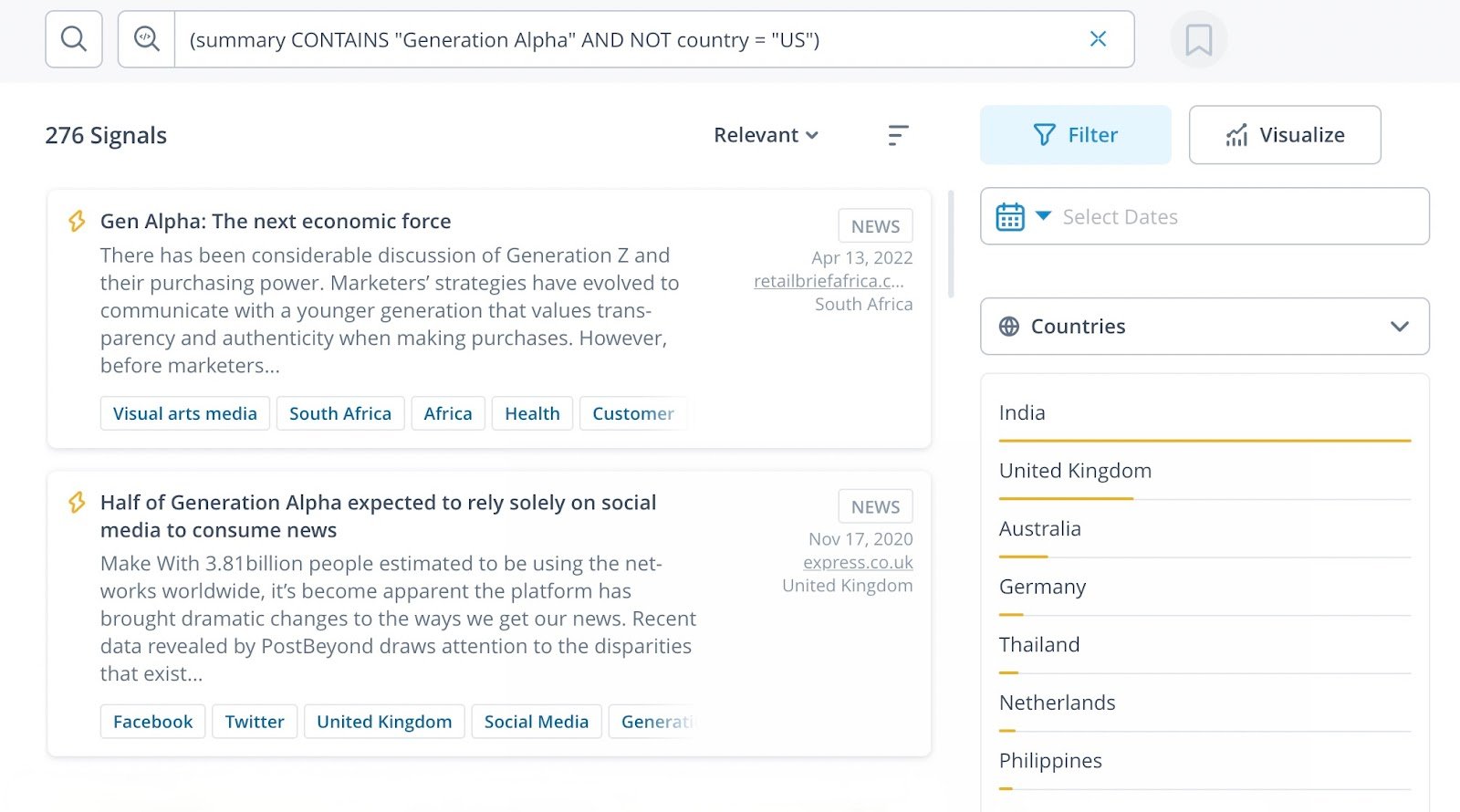 Or, if you were interested in the Cashless Society trend and wanted Signals on that topic that also refer to "World Health Organization", you could enter this boolean query:
(* CONTAINS "cashless" AND * CONTAINS "World Health Organization")
The asterisk symbol in the query above acts as a catch-all for all properties that exist on a Signal. The query will search for that term in all properties, including the ​​title, summary, or extended description of Signals. The power search may seem very technical if you don't feel comfortable with boolean queries. For more guidance on what operators and properties you can use in a power search, see this three-part article series about power search on the ITONICS Knowledge Base.
3. Filters for refined trend search
ITONICS Insights has a number of filtering options to assist you in narrowing down your search results to increase the ratio of relevant signals.
For instance, if you are interested in the Biophilic Design trend and want to see filed patents related to it, enter "biophilic" as a search term. In the Filter tab on the right, tick only the Signal Types you require, in this case, "Patent". You can then refine the search even further, by selecting which field or industry you are interested in. Do this by viewing the options in the Tags dropdown menu, hovering over your preferred field such as "Cosmetics" and clicking on the "ONLY" button to narrow the search to that topic.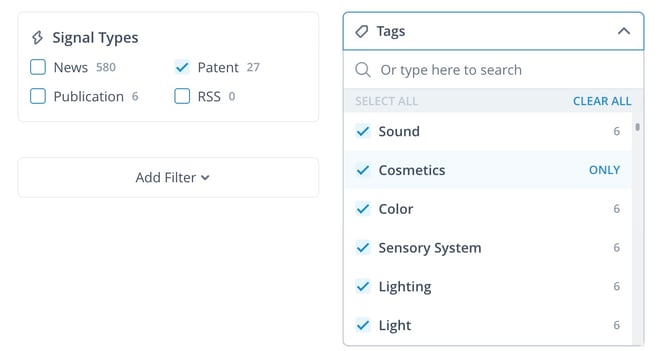 The Filter Tab contains many more properties that you can use to refine the signal results.
If you wanted to see examples of companies working in the Metaverse before October 2021, search for "metaverse" and then select an earlier date range under the Filter tab. To see a list of top-mentioned companies, click on the gear icon in the top right and tick "Companies" to add this as a filtering property. You will then see a list of companies with bar graphs, arranged according to the number of signals there are mentioning that company and the Metaverse. The "Companies" property is just one of many properties that aren't displayed by default in the Filter Tab, but which you can add via the Customization Settings to suit your needs. Read this ITONICS Knowledge Base article on more ways to use the Filter tab.
Build a trend scouting framework
Software-driven trend scouting helps you identify opportunities faster, because you can harness machine intelligence to gather and categorize data at scale. A unified innovation platform should also make it easier to connect the dots between trends and turn the findings into actions for your organization.
The ITONICS Innovation OS is a valuable toolbox for teams that want to radically upgrade their innovation capabilities. Scout for upcoming trends and "hot" topics in your industry, market, and vertical with ITONICS Insights. Then leverage our Radars with access to +2,500 pre-rated and constantly updated trends, technologies, and inspirations. Use this understanding of your business environment to steer your innovation portfolios on the ITONICS platform. We have the end-to-end solution to manage, coordinate, and scale your innovation activities with your entire team. See it for yourself by trying our Innovation OS for free or book a demo.

Have more time?