Keeping up with trends and emerging technologies is essential for any business that wants to stay competitive. An effective trend and technology scouting process is key to keep an overview of drivers of change and spotting innovation opportunities at an early stage. This blog provides four steps to scan, scout, and monitor trends and technologies efficiently.
By understanding what new products and services are being developed, businesses can identify opportunities for innovation. Additionally, environmental scanning helps businesses anticipate market changes and adapt accordingly. For example, the rise of mobile commerce has been a significant trend and disruptor in the retail sector, and companies that were slow to embrace this trend have struggled to keep up.
With vast amounts of information feeding into the business environment today, how do teams identify relevant trends and emerging technologies that drive competitive advantage through innovation?
4 steps to stay up-to-date with trends and emerging technologies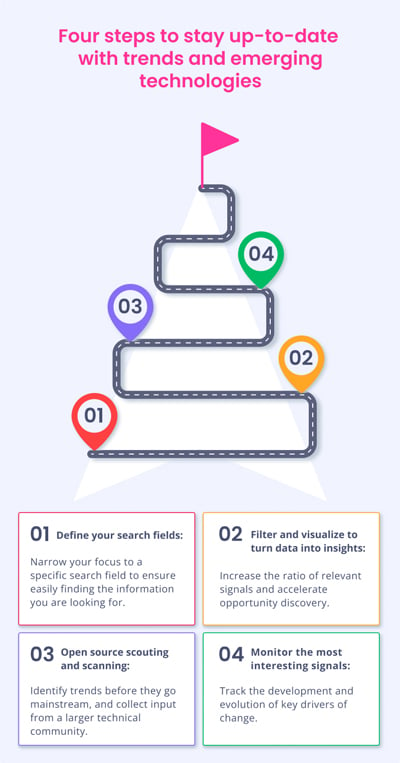 Scanning and scouting activities require time and resource commitments. Large amounts of data need to be processed to enable data-driven decisions that fit your business goals. To identify relevant drivers of change that drive competitive advantage through innovation, teams need to have an effective system in place for environmental scanning. This system should keep track of trends in both the marketplace and in emerging technologies.
Use the ITONICS Innovation Management Software to reduce human effort and provide data-driven insights. The software delivers the latest data from RSS feeds, news, patents, and scientific publications allowing your teams to process large amounts of up-to-date data. The sensemaking process relies on a combination of machine and human intelligence by drawing on data that has already been tagged and categorized through automation.
ITONICS Insights scans over thousands of verified sources in real-time and filters according to your preferences.
1. Define your search fields
A search field is a specific area of focus within a search system. When you scout trends and emerging technologies, you are looking for new information on a particular topic. This could be anything from new products to changes in customer behavior. By narrowing your focus to a specific search field, you can more easily find the information you are looking for. For example, if you're scouting trends in the fashion industry, you might search different sources than if you're scouting trends in the tech industry. Ultimately, a search field helps you get the most out of your scouting efforts by zeroing in on the most relevant and useful information.
Search fields should cover the specific interests of an organization and are derived from its strategy or core value chain activities. Once you identify your search fields, use Casual Search or Power Search in ITONICS to provide real-time results from thousands of verified sources.
2. Filter and visualize to turn data into insights
ITONICS Insights has several filtering and visualizing options to assist you in narrowing down your search results to increase the ratio of relevant signals and accelerate opportunity discovery.
For example, you and your teams have identified 'the metaverse' as a relevant driver of change, and you would like to identify important signals around this topic. First, you would search for "metaverse" in ITONICS Insights, where the AI-driven signals feed will produce a large number of signals. Filtering your search results will help narrow down the results to what is actually important for you.
The following properties are available for filtering in ITONICS:
✅ Published Date
✅ Signal Types
✅ Countries
✅ Tags (Topics)
✅ Categories
✅ Sources
✅ Languages
✅ People
✅ Organizations
✅ Places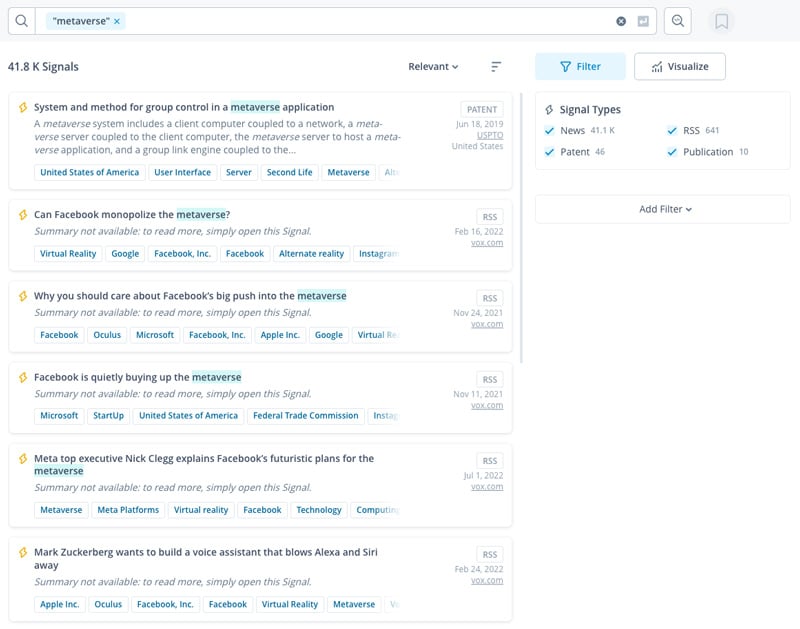 You could, for example, select 'Patents' and 'Publication' from the Signal Types filter option to only view signals relevant to your interest. You could also filter it down, for example, by country to quickly see where the topic is most prominent.
Visualizing your data provides an overview of what you are researching and can also offer quick comparisons. For example, use the Timeline visualization in ITONICS Insights to see how your topic evolved over time.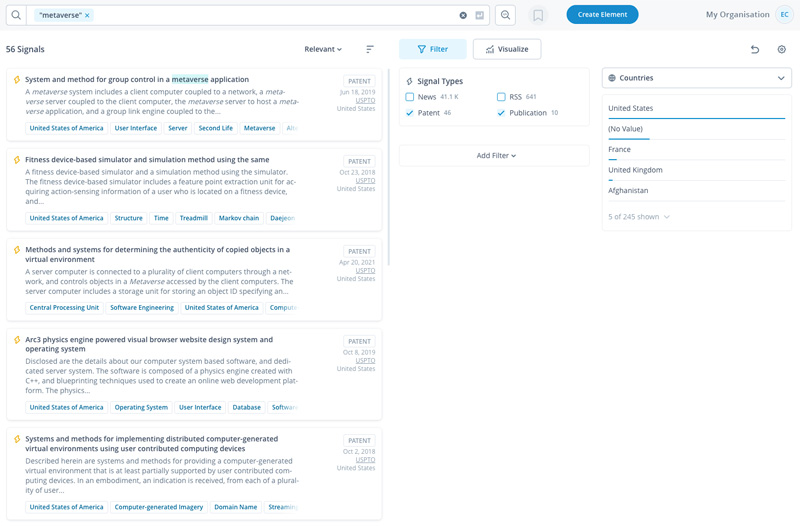 By visualizing your trend or technology data on a radar, you can filter, link, and relate different data to each other. This provides a helpful perspective on opportunity spaces. Use the ITONICS Radar with pre-defined categorization criteria to help visualize thematic segmentation, relationships, ratios, potential value, impact, or maturity levels.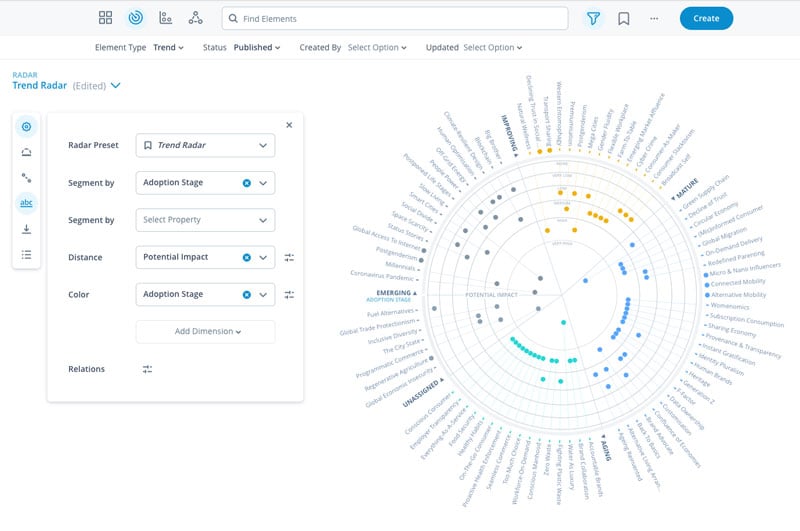 3. Open source scouting and scanning
Open source scouting is a community-driven approach to identifying trends and tracking emerging technologies. By scanning a variety of sources and getting submissions from external innovation communities, open source scouting can help you identify trends before they go mainstream and collect input from a wider technical community.
By engaging with an external community, you can get a pulse on what people are talking about and what new projects are in development. Gathering submissions from external sources can also pave the way for future collaborations that drive your organization's strategic goals.
To collect submissions from external sources, use the ITONICS External gateway to set up scouting submission campaigns and collect submissions. Configure an external form to retrieve information from users outside your ITONICS ecosystem, accessible to submitters via a link. The site can be integrated into other web pages, for example, your company homepage. The design of the External Gateway can be freely customized using HTML, CSS, and inline Javascript to match your corporate design.
4. Monitor the most interesting topics
Staying up-to-date with trends and emerging technologies, by itself, is not enough. Once you and your team have identified which topics have the most potential for future opportunities, it is crucial to monitor the development of these drivers of change.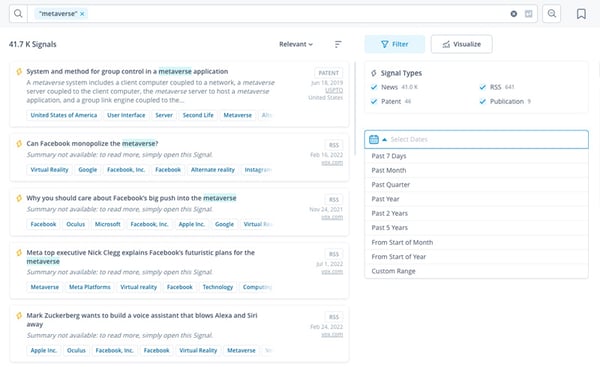 Monitoring means regularly tracking key drivers of change to see how they develop and evolve over time. This helps businesses make adjustments to their plans as needed. In ITONICS Insights, you can select the time periods you want to view signals for. This means you can easily stay up-to-date with the latest developments around your topic by deciding how often you want to monitor drivers of change and selecting time periods accordingly to the system.
You can also use the Timeline visualization and Worldmap visualizations to monitor how the drivers of change are developing over time and across geographies.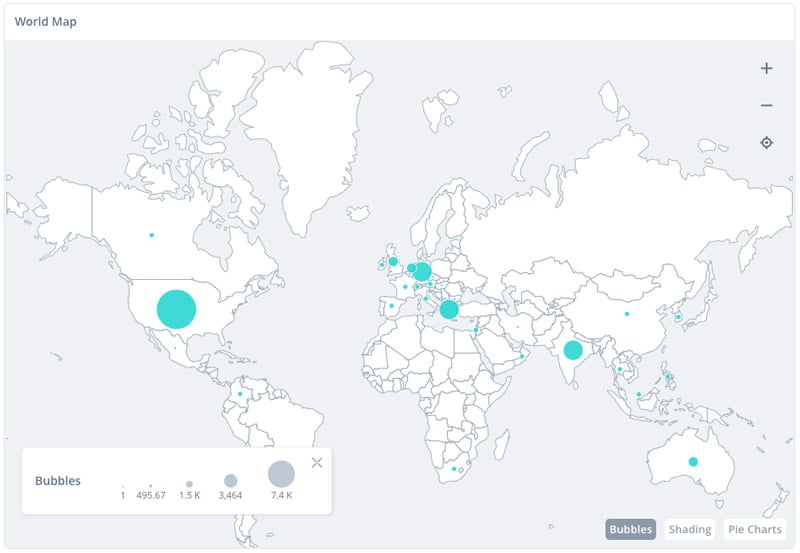 In closing
As anyone who has been involved in trend or technology scouting knows, there is a lot of data to keep track of. The process of scanning and scouting can be time-consuming, so it's essential to have a way to aggregate results. Aggregating scouting results can help identify patterns and trends that would otherwise be missed. Aggregating data on one platform ensures that your scouting activities are scalable.
Digital scouting platforms provide a single point of truth to connect your scouting activities and get rid of distributed spreadsheets and documents. Collaborative scouting is made easy, and data can quickly be translated into information and then action. Connect your scouting activities on ITONICS Insights and allow global scouting communities to work transparently on one platform. Use the results from your scouting activities in ITONICS Radar to get a quick perspective on areas of opportunity and risk.
See it for yourself by trying our software tools for free.
Connected and integrated continuous foresight with the ITONICS Innovation OS

Successful innovation management requires an interlinked way of working. Continuous foresight with the ITONICS Innovation OS connects environmental scanning to strategy and execution plans.
---
Have more time?