Trends & Technologies Shaping The Future Of The Retail Industry
Retail is an industry accustomed to reinvention. Modern history has seen the evolution of retail from independent specialty shops to one-stop-shopping in department stores, malls, and big-box chain stores. In the pursuit of sourcing cheaper and raising margins, supply chains have gone from local to global while the dot-com boom of the 90s signaled the birth of e-commerce as we know it with the founding of Amazon and eBay.
Perhaps never before, though, has the retail industry been so reliant on technology and innovation as the tools to navigate yet a new phase of reinvention—one shaped by a set of forces that have been building over the past several years, and have now been accelerated and amplified as a result of the pandemic.
In this blog, we'll present some of the forces shaping the future of the retail industry, along with the key trends, game-changing retail technologies, and practical industry applications, highlighting how organizations are finding and leveraging innovative opportunities.
→ Free Download: Game-Changing Technologies for Retail
6 Forces Shaping the Future of the Retail Industry
1. Accelerated Disruption
The threat to conventional brick-and-mortar retail has been building for some years due to the disruptive nature of e-commerce. However, the pandemic has accelerated the permanent digital reform of the retail landscape and forced retailers to reimagine the true merit and potential of the shopfront. As a result, customer experiences (CX) that are immersive, low-touch, and digitally integrated with e-commerce have emerged as the ultimate priority. These initiatives will consolidate technologies such as automation, robotics, AI, and IoT to elevate CX.
Related trends that speak to consumers' desire for enhanced CX include Transformation Economy and Hybrid Engagement. Both seek to provide value above and beyond conventional one-way and transactional brand engagement. Going forward, the survival and success of brick and mortar will hinge on retailers' ability to merge in-store, e-commerce, and virtual elements into seamless, omnichannel, and meaningful experiences.
Extended Reality and technologies like Machine Learning, Internet of Behavior (IoB), and predictive analytics enable brands to craft and scale these more memorable and hyper-personalized experiences.
Inspiration: Beauty company Lancôme has partnered with ByondXR to power its UK virtual pop-up store. Brought to life with photorealism, the store offers customers an immersive 3D e-commerce experience complete with exclusive bundles, games, consultations, and beauty panels with influencers and experts. The virtual store has reported a 350% increase in customer engagement time since launching in early 2021.
2. Consumer Choice
E-commerce has enabled the rise of increasingly discerning consumers who demand more for less and are willing to do their research before making a purchase. They have the ability to control nearly all aspects of their purchase journey, choosing from a host of omnichannel conveniences like on-demand delivery, curbside service, and free returns. Rather than being sold to or channeled towards certain purchases, consumers have the power to dictate their terms when it comes to CX and value—which is especially important for price-sensitive consumers who have experienced changes to their disposable income.
Retail is moving progressively from a B2C to a C2B model. The balance of power is shifting to consumers. Yet, there remains a need for more varied and accessible channels to obtain information, engage with brands, and play a more participatory role in the retail value chain. This touches on trends such as Me Commerce, Inclusive by Design, and Facilitated Co-Creation.
Conversational Systems, augmented by Natural Language Processing, hold immense potential for enhancing two-way communication while reducing operational costs. Access to 24/7, multilingual, and personalized support through chatbots and virtual sales associates can serve as a critical differentiator for consumers spoilt for choice.
Inspiration: Skincare startup HelloAva launches a chatbot that asks customers a series of questions, similar to what a dermatologist may ask, to determine their skin type and needs. After categorizing the customer as one of 30 different skin types, the chatbot recommends specific skincare products. HelloAva has partnered with a subset of beauty brands in order to build its inventory and checkout experience.
3. Supply Chain Resiliency
The COVID-19 pandemic continues to impact global retail supply chains as major manufacturing countries across the Asia-Pacific region experience factory shutdowns, and ocean freight prices are at record highs. As a result, retail brands are pouring resources into fortifying their supply chains. Strategies range from reshoring and distributed manufacturing to optimized and digitalized workflows. The sustainability of supply chains is also a growing imperative, with consumers demanding good corporate citizenship, transparency, and the ability to trace goods to origin.
It is becoming evident that Green and Lean supply chains are resilient supply chains, and that this is a requisite for navigating a future characterized by increasing disruptive drivers of change. Retailers must leverage smart technologies that improve resource efficiency along the entire supply chain—from Localized Production and sourcing to Value-Driven Delivery.
Distributed Ledger Technology ensures supply chain traceability and integrity, removing the margin for error or fraud. Additionally, Unmanned Deliveries are a key solution for making the final leg of the supply chain—last-mile delivery—affordable, scalable, and sustainable.
Inspiration: California-based robotics company Nuro is making strides on the regulatory and technology front with its fully-autonomous, electric delivery vehicles. With permission to operate on public roads, and several lucrative partnerships with leading e-commerce companies in the works, Nuro is investing in infrastructure to build tens of thousands of its delivery robots.
4. Data Security and Privacy
The dominance of e-commerce currently relies heavily on advertising technology (adtech) and the ability to track online users as they move from site to site using third-party cookies. However, even while consumers enjoy the benefits of data sharing—such as omnichannel engagement and personalization—they are demanding an end to involuntary data surveillance. With more countries enacting data privacy regulations and an impending end to third-party cookie tracking, retailers will need to rethink their Programmatic Advertising strategies. This means emphasizing contextual targeting and more creative, diverse ad content.
Emphasizing first-party data in lieu of third-party cookies will require retailers to establish Quality Content Channels. These channels and platforms must provide customers not only with compelling and authentic content, but also reassurance that their data privacy and security are safeguarded. Brands that embrace Radical Transparency regarding their data policies and usage—and that can demonstrate tangible value in exchange for opting in—will win favor amongst increasingly data-conscious consumers.
Inspiration: Online retailer Asos is monetizing its media space and first-party data through programmatic advertising. With e-commerce surging and brands looking to reduce their reliance on third-party cookie tracking, Asos has built a team of programmatic executives to manage campaigns with strategic partner brands.
5. The Sustainability Imperative
With greater consciousness of environmental and social issues, retail is forced to respond to the sustainability imperative. The effects of mass consumerism and exploitative business models like fast fashion are evident, and as a result, consumers are spending their money more intentionally. This translates to a greater focus on local retail, supply chain transparency, shared value, and circular practices like product resale, repair, and rental or subscription models. Brands are under increased scrutiny to embody the values associated with sustainability—to go beyond mere messaging and take real, meaningful action that resonates throughout the value chain.
Consumers are seeking Easy Ethics when it comes to their retail purchasing behavior. They value brands that not only follow through on sustainability pledges and promises made, but that provide them with means of contributing to and participating in different initiatives themselves. This is linked to the Recommerce Revolution in which more mainstream retailers are getting involved, as well as the switch to Packaging Substitutes in the fight against the Plastic Pandemic.
3D Printing is emerging as a key technology to improve the environmental footprint and sustainability of retail manufacturing. By employing 3D assets and digitalizing the design-develop-produce workflow, retailers can localize production, minimize waste, and extend the life of products.
Inspiration: California-based furniture company Model No. repurposes agricultural waste into its 3D-printed products. The brand has developed a nontoxic polymer derived from plant-based materials like sugarcane and corn husks to render eco-friendly and contemporary furnishings. Customers can also return their products to the factory to be recycled into new products, thereby creating a circular value chain.
6. Data Prowess
The ability to collect, analyze, and act on relevant data is essential for retailers to remain competitive as their industry faces widespread disruption. Building data analytics capabilities allows retailers to predict and react to changes more efficiently and effectively—from delivering greater personalization and omnichannel engagement to anticipating fluctuations in demand and improving inventory management. As retail business models progressively shift towards digital-first platform ecosystems, those retailers that can seamlessly embed data analytics throughout their end-to-end value chain, from planning and production to customer touchpoints, will gain strategic advantage.
Together, Edge Computing, Internet of Behavior, and Geofencing allow retailers to capture the right audience at just the right time—for instance, when they are in proximity of a physical store. Shoppers can receive personalized messaging and promotions based on their location, patterns, and preferences.
Inspiration: US-based fabric and craft retailer Joann has undergone an omnichannel transformation in response to the pandemic. This includes leveraging geofencing technology to power its low-touch curbside pickup option, which automatically notifies Joann employees when a customer has arrived to collect their order.
---
Applying an industry lens to the process of environmental scanning helps organizations direct their focus and resources more optimally. And by gaining an understanding of technological trends and developments that may present future opportunities in their industry, organizations can equip themselves with the innovation intelligence needed to take decisive, strategic action and, ultimately, gain a competitive advantage.
Get started by exploring the ITONICS Teaser Technology Radar and Teaser Trend Radar, displaying the elements that are most relevant for the retail industry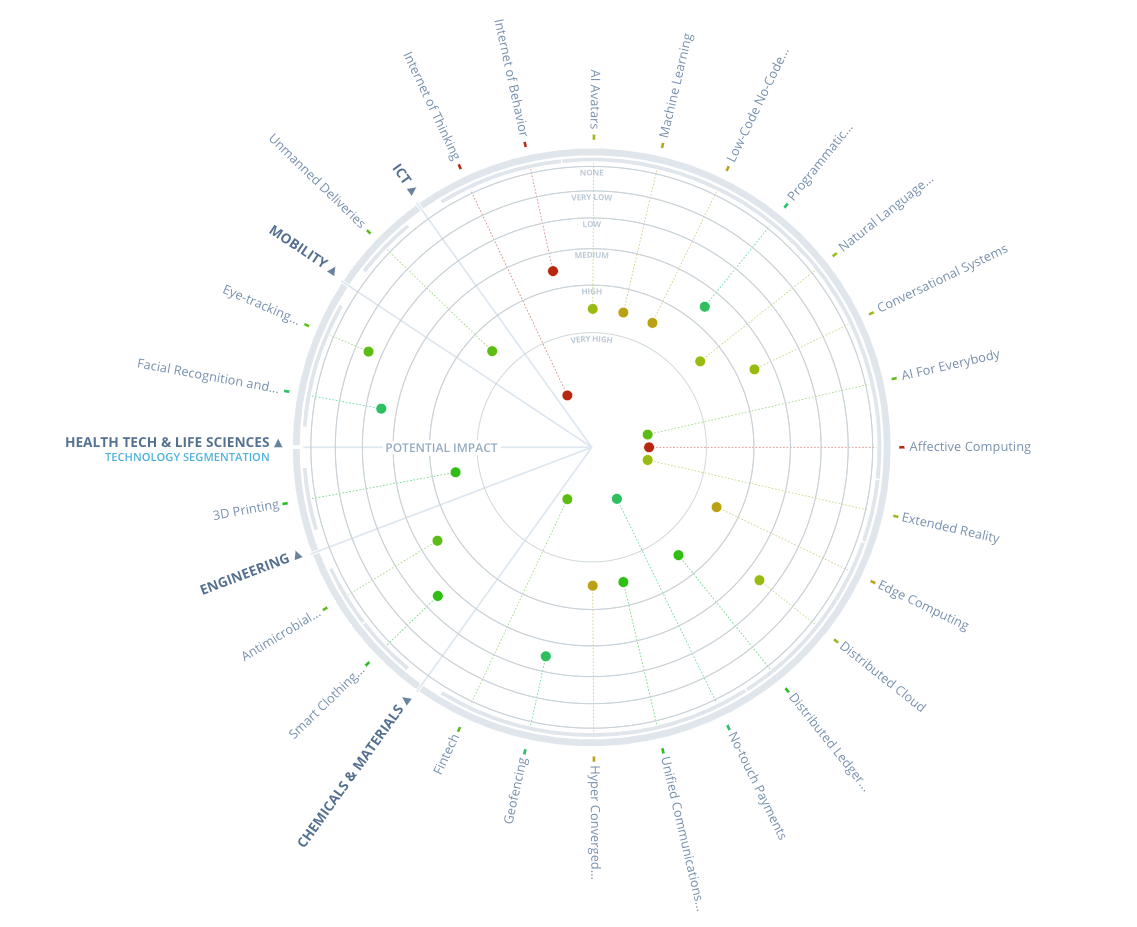 Game-Changing Technologies for Retail


Want more? Download our Where to Play: Game-Changing Technologies for Retail report to read more about how these forces are influencing the landscape of technologies in the industry. Embark on your organization's technology scouting by exploring the technologies that hold the most potential for impactful innovation in the industry.


---