The energy sector is in the midst of a massive transition: COVID-enforced lockdowns led to long-term effects in energy demand and supply, decarbonization efforts are accelerated, and global conflicts have led to a significant push to renewables.
The ITONICS portfolio of 170+ trends and emerging technologies demonstrates how end-to-end innovation requires thorough environmental scanning as a critical starting point. Identifying the pertinent trends and technologies impacting your business environment can act as a blueprint for optimizing operations, deriving value for customers, and, ultimately, gaining strategic advantage.
Organizations that understand and build the capacity to navigate the forces shaping the future of energy will be well-positioned to meet rising energy demands and comply with the transition to renewable energy.
In the following, we present six forces shaping the future of the energy sector.
Forces shaping the future of the energy industry
1. COP27 and a strategic transition to decarbonization
An imperative in the energy sector is devising strategies for transitioning to decarbonization without sacrificing financial targets. Technologies in the ITONICS Innovation OS, such as Carbon Capture and Storage are seen as temporary solutions to help reduce greenhouse gas emissions and convert carbon for other uses in the interim as full decarbonization strategies take root. Technological advancement is needed to make renewable energy cost-effective and scalable. Moreover, a smooth and successful transition relies on buy-in from those most affected, decisive governmental policy, as well as intersectoral cooperation.
COP27 held in Sharm El-Sheikh, Egypt, in November 2022, was pivotal in the move towards decarbonization and renewable energy use. Discussions between key United States and Chinese climate change negotiators indicate future corporations between the two superpowers on climate change bilateral agreements.
Other COP27 outcomes revealed plans by the World Bank to explore reforms that allow for taking on more risk and engaging in more money lending. The hope is that private investors will enter the fray and assist fund innovations related to moving away from fossil fuels and allocating funds to R&D on renewable energy.
2. The renewable energy race
Expect jockeying from global superpowers as to which nation will be the go-to renewable energy provider, especially for the growing demand from developing and emerging economies. Data indicates that China could win this race as they are currently responsible for nearly 50% of the available renewable energy. While India, the US, and key EU member states attempt to catch up, success in the renewable energy race will depend on the ability to harness adjacent technologies such as Green Hydrogen and Distributed Energy Resources.
The Alternative Energy Transition ITONICS trend highlights that energy products need to be developed with SDG goals as a priority. Research findings from COP26 in 2021 revealed that around 26 billion metric tons of greenhouse gasses need to be cut annually to meet that gold-star metric of limiting global warming by 1.5 degrees Celsius by 2030. The ESG targets will lead to significant players making major headway in providing renewable energy. However, political tensions and economic interests will play a prominent role in the renewable energy race.
3. Consumer-led shifts
Energy consumers—encompassing all sectors, organizations, and individuals who use energy feedstocks—have a pivotal role to play in smoothing the energy transition. Increased demand for decarbonization will help commercialize low-carbon technology and renewable energy. Energy companies and policymakers must address the barriers to clean energy adoption, including availability, cost, and reliability. Additionally, while it is inevitable that global energy demand will increase, more sustainable consumption behavior can be influenced by increasing environmental awareness, emphasizing financial benefits, and offering greater efficiency.
The ITONICS trend of Beyond Compliance reflects the confluence of consumer demands and ESG regulations requiring companies to set benchmarks, create deadlines, and collaborate with other organizations that can optimize decarbonization strategies.
Inspiration:
Tesla has secured a contract to build a second battery system in South Australia. Referred to as 'The Big Tesla Battery,' the battery will have a capacity of 100 MW/129 MWh—providing grid services comparable to gas peaker plants with quicker energy delivery and zero emissions.
4. Proactive renewable energy investments
Oil and gas companies that have long relied upon and profited from the status quo will need to develop new strategies to integrate renewable energy into their business models. This also requires a transition period to change systems and acquire the enabling capabilities, including technology and talent. Incumbents must take proactive measures rather than passively await forthcoming ESG regulations. Their future success will rely on strategic investments and M&A opportunities, as well as their ability to help generate the demand for renewables within the next decade.
Proactive Renewable Energy Investments speak to the ITONICS trend of Diversified Value whereby companies need to forge mutually beneficial partnerships to ensure resilience and retain relevancy amid disruption. The advent of ESG Investing will enable M&A both through progressive policies and incentive creation. In addition, technologies such as blockchain and IoT will help organizations achieve the traceability, transparency, and accountability needed throughout ESG-compliant supply chains.
5. Circular Operational Models
Circular practices will be critical to organizations aiming to transition from fossil fuels to renewable energy. Expect governmental and ESG regulatory pushes for organizations to examine their supply chain and give a second life to fossil fuel-based infrastructure. Industry behavior suggests that circularity in the energy sector could kick-start innovation and develop new business models in the next decade. This could range from repurposing oil fields as carbon storage units, converting pipelines, and recycling electric vehicle (EV) batteries to meet the growing cobalt demand.
Trends in the ITONICS portfolio, such as Circular Economy, reflect that infrastructure and processes within the energy sector will need to reduce waste, increase product lifespan, and repurpose existing infrastructure to strive for net positivity.
6. Contingency plans to Russian energy
The Russian-Ukraine conflict must be understood primarily as a humanitarian crisis. The conflict will critically affect energy affordability, security, and the environment, known as the Energy Trilemma. The conflict has spurned democracies and global superpowers to find alternatives to Russian oil and gas. Following the dip in electricity consumption during COVID-19, global energy demand rose by 4.6% in 2021—a year-on-year increase that surpassed pre-pandemic growth rates. As developing and emerging nations experience economic growth, demand for affordable energy is expected to increase further. The British government announced its intent to build 8 new nuclear plants by 2030 as a counteractive measure to present-day reliance on Russian oil and gas. The EU has approved nuclear activities as part of the EU Green Taxonomy in green financing, adding to the momentum in nuclear adoption. Expect other nations' dependent on Russian resources to be scrutinized, leading to acquisitions, innovations, and other pivots in energy consumption.
Finding innovation opportunities in the energy industry
Get started by exploring the ITONICS Energy Technology Radar and Energy Trend Radar, displaying the drivers of change that are most relevant to the energy sector. Here you can deep dive into the implications for innovation associated with each driver, compare drivers across different rating criteria, and view related examples of real-world innovation that address emerging needs and provide novel solutions.
If you want to evaluate further the impact and relevance of these trends and technologies for your business, kick-start your innovation journey on the ITONICS Innovation OS today.
---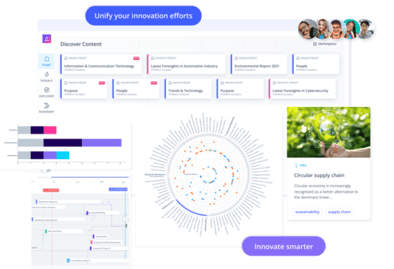 Get started with the ITONICS Innovation OS
---
Have more time?