Trends & Technologies Shaping The Future Of Banking And Finance
The banking and finance industry, like so many others, is navigating a new set of driving forces creating change across social, technological, economic, environmental, and political spheres. Moreover, the financial uncertainty fueled by the pandemic will shape investments, businesses, and consumers for years to come. The fallout has meant acceleration on some fronts—with an increased focus on fintech and digitalization—as well as the rethinking of conventional systems to better address mounting social and environmental imperatives.
These so-called forces shaping the future significantly influence the landscape of trends, technologies, and main players in banking and finance. Understanding this network of forces is the starting point from which to embark on your organization's environmental scanning as you aim to answer the fundamental question, Where to Play.
Here we'll present some of the forces shaping the future of the banking and finance industry, along with key trends, game-changing technologies, and evidence of how organizations are finding opportunities amongst change.
→ Free Download: Game-Changing Technologies for Banking & Finance
Forces Shaping the Future of Banking & Finance

1.
Distributed Systems

will democratize and disrupt Financial Markets.


Distributed systems like decentralized finance (DeFi) continue to build momentum, with massive growth in cryptocurrencies and more affordable and automated investing solutions. Together, DeFi and the availability of financial knowledge and resources are gradually redistributing the global balance of power. It is shifting from traditional banks and institutions to a new cohort of fintech startups alongside more tech-savvy, financially literate individuals seeking agency over their financial health. However, this promise of a more inclusive and accessible financial future hinges crucially on emerging governance structures and regulations.

Related Trends that speak to distributed systems include Inclusive Finance and Financial Literacy. Both seek to empower previously marginalized individuals and mark a shift in control from centralized powers of finance and wealth—primarily large institutions in Europe and the U.S.—to individuals, previously excluded segments of society, and emerging economies.

Fintech is a key technology that is enabling inclusivity in banking and finance due to its ability to provide affordable, scalable, and customized solutions to the underbanked. Expect greater investment in Fintech startups that address complex social challenges and gaps in the finance landscape, including a lack of access to tools and knowledge.

Inspiration: India-based fintech firm Finivis Pvt. Ltd is making banking hardware more accessible. It has launched a white-label micro-ATM to cater to the needs of rural communities. As part of the Reserve Bank of India initiative to promote financial inclusion, the easy-to-install and self-service Mego ATM is half the cost of bank ATMs with zero maintenance costs.

2. Digital Acceleration will continue to shape the Landscape of Competition.


While digital transformation in the banking and finance industry has long been underway, the pandemic quickened the pace tremendously, pressed by necessity rather than convenience. With customers unable or unwilling to visit branches and as competition from neobanks increases, many financial service providers expanded their online and contactless services, calling into question the role and future of brick-and-mortar branches. In the race to provide an omnichannel presence and enhanced customer experience, traditional financial institutions are innovating through fintech collaboration.
As digital acceleration advances, so too will the transition to a Cash Free Society. This is partly driven by the economic and behavioral shift toward Low Touch Living due to the pandemic and further facilitated by the availability and adoption of No-touch Payments.
However, in order for economies to fully realize the benefits of a cash-free, digital-first society, governments, banks, and other financial institutions need to cooperate to improve Digital Equality. Innovative solutions and the roll-out of key technologies like 5G Mobile Network are needed to provide underserved communities with affordable and sustainable access to the internet and other digital tools that have the potential to improve financial health.
Inspiration: The National Payments Corporation of India has launched a prepaid, no-touch digital payment system called e-RUPI. The system allows government agencies and corporations to make one-time payments to beneficiaries via SMS or QR code, removing the need for internet or bank accounts to access funds.


3.

Open Finance will empower People to take Control of their Financial Health.


Open finance—the sharing of one's financial data with trusted third parties—is on the rise as more consumers and businesses discover the benefits. Open finance allows for access to a wider range of financial products and services, including more tailored and affordable offerings. Open finance can provide personalized financial dashboards. Here, all pertinent customer data, such as cash flow, savings, insurance coverage, and investments, is centralized and displayed alongside product features and prices. This transparent solution makes it easy to understand and improve one's financial position.

Open finance is based on the principle of Data Ownership—i.e., customers own and have control over the data they generate and provide to financial service providers. It will rely on the formation of partnerships between banks and third parties outside of the finance industry, including technology providers.

By leveraging the API Economy, organizations can create Diversified Value beyond conventional industry boundaries. API integration will drive new business models and revenue streams through banking-as-a-service, modeled after Product-as-a-Service offerings.

Inspiration: Switzerland-based financial infrastructure provider SIX enters the open banking space, launching its 'bLink' platform that uses APIs to connect banks and third-party providers. The app will enable rapid integration of new functionalities into their offerings to continuously support innovation and provide its end-customers a unique banking experience.

4. Security & Privacy will be Key Differentiators for Financial Service Providers.

With increased digitalization comes the need for enhanced security in financial systems to protect users against cyber-attacks escalating in frequency, reach, and sophistication. Satisfying users' expectations and emerging data protection regulations around the globe requires security to be embedded into a brand's DNA. Central to this is the need for transparent data privacy policies, improved software architecture frameworks, and data obfuscation technologies such as encryption and tokenization. As a result, there is a growing demand for security expertise and upskilling across the industry.
Clear that more stringent security and privacy policies will be imperative for growth in banking and finance, organizations will benefit from adopting a Data Secure by Design approach. This entails Data Ethics—including how data is collected, used, disclosed, and protected—becoming integral to the design and execution of every facet of the business, both internally and across customer touchpoints.
Advancements in Privacy Enhancing Technologies (PET) are helping banking and finance organizations comply with emergent data regulations and meet their customers' demands for increased security and privacy. This includes Multi-Factor Authentication and Facial Recognition and Biometrics for identity verification.
Inspiration: Ireland-based security startup Evervault provides encryption through API integration. Primarily targeting developers at companies that deal with sensitive personal data and intellectual property, Evervault's encryption-as-a-service solution allows developers to embed security into their apps and platforms as they are designed.

5.
Responsible Investing

will influence future Corporate Success Metrics.



Environmental, social, and governance (ESG) criteria are increasingly important considerations for investors and financial services providers. There is growing evidence that integrating ESG goals into capital markets not only leads to more sustainable markets and better societal outcomes but also makes sound business sense from a financial perspective. Institutional investors are increasingly establishing ESG mutual funds and exchange-traded funds to appeal to younger investors who place greater importance on issues of sustainability and good corporate governance.

ESG Investing is on the rise. Consumers are putting their money where their morals are and demanding that organizations do the same. While once regarded as merely corporate philanthropy, going Beyond Compliance and ensuring that investments result in a net positive effect (socially and environmentally) now holds financial relevance as a means of gaining competitive advantage.

Central to ESG compliance is the need for Radical Transparency throughout business practices and value chains. One way in which this can be achieved is with the use of Distributed Ledger Technology (DLT) to enhance transaction transparency and supply chain traceability. DLT is also powering the growing interest in "impact tokens," which can serve as proof of a delivered positive impact in connection with a particular investment.

Inspiration: Singapore fintech firm Hashstacs Pte Ltd (STACS), which focuses on ESG finance and high-quality carbon credits, has joined Mastercard's new global startup engagement program Start Path. Through the program, STACS will aim to make blockchain and digital asset technology for ESG safer and more accessible to adopt.

6. Algorithmic Finance will power the Future of Financial Services.
Banking and finance are getting "smarter" with the widespread adoption of artificial intelligence. AI technologies such as Natural Language Processing (NLP) and predictive analytics are enhancing customer engagement and workforce productivity for financial service providers. Financial institutions are building AI solutions that detect anomalies in transactions or communications that point to potential threats, assisting in regulatory reporting and compliance. Meanwhile, algorithmic trading systems are becoming both more sophisticated in their ability to anticipate emerging market trends as well as more accessible to private investors.
While automated investing solutions and robo-advisors facilitate Accessible Investment and promise greater financial independence for the average consumer, Big Tech Regulation is a prerequisite to ensure bias-free algorithms and robust data privacy.
Many of these functions will rely on Machine Learning algorithms which are capable of tackling problems beyond the computational capacity of traditional algorithms by extrapolating conclusions from data and forming their own sets of rules.
Inspiration: German SaaS startup Taktile believes that many of the challenges facing the financial services industry can be solved by connecting, augmenting, and governing data. Through Taktile's machine learning platform, made up of auto-scaling microservices, businesses receive actionable insights to inform better decision-making.
---
Applying an industry lens to the process of environmental scanning helps organizations direct their focus and resources more optimally. And by gaining an understanding of the technological developments and trends that may present future opportunities in their industry, organizations can equip themselves with the innovation intelligence needed to take decisive, strategic action and, ultimately, gain a competitive advantage.
Get started by exploring the ITONICS Teaser Technology Radar and Teaser Trend Radar, displaying the elements that are most relevant for the banking and finance industry.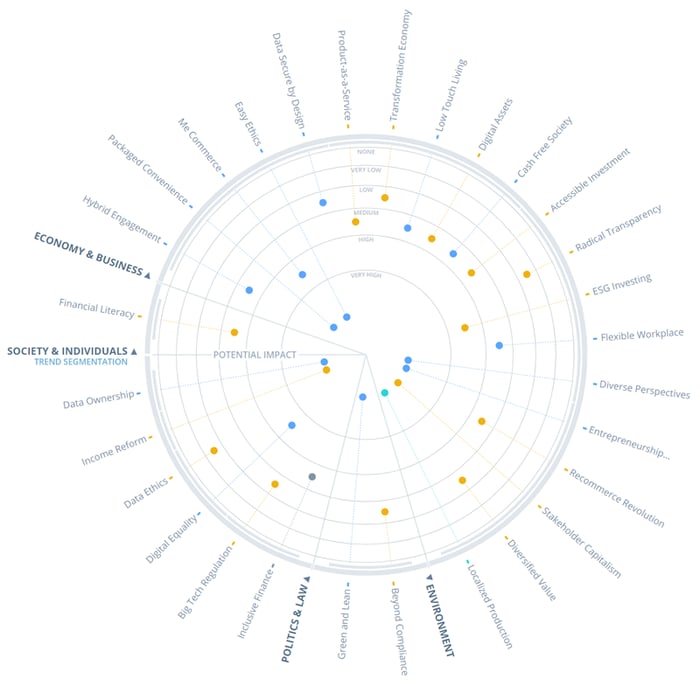 Game-Changing Technologies for Banking & Finance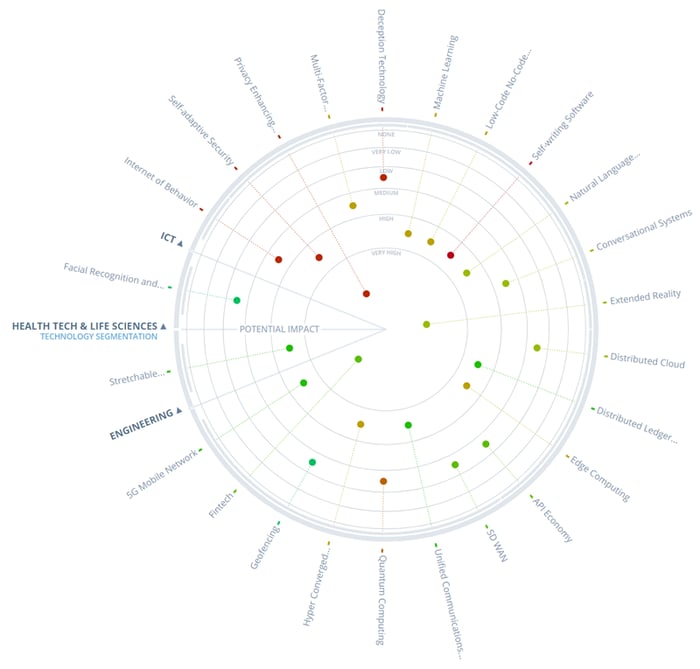 Key Trends for Banking & Finance

Want more? Download our Where to Play: Game-Changing Technologies for Banking & Finance Report to read more about how these forces are influencing the landscape of technologies in the industry. Embark on your organization's technology scouting by exploring the technologies that hold the most potential for impactful innovation in the industry.

Have more Time?