In this article, we discuss how innovation roadmaps can be used to achieve alignment between innovation efforts and business strategy according to Gartner, briefly explaining how the ITONICS Roadmap tool could be your one-stop shop for creating effective innovation roadmaps.
In order to drive higher business value with innovation, Gartner recommends that executive leaders should, "identify compelling strategic business objectives to initiate innovation roadmap development by working with cross-functional peers to align innovation programs and initiatives with the business strategy." Gartner further states: "Define the key elements of scope for innovation roadmaps by establishing clear business goals related to the chosen business objectives."
How to select the right innovation activities
As per Gartner, "A thorough understanding of the organization's specific objectives, goals and strategies is the first step to inform the selection of innovation activities most likely to yield the best result among the significant space of innovation options." Also, "every innovation program design has two important dimensions: Actions to organize the innovation program (that is, to plan the innovation initiatives), actions to execute and deliver the outcomes of specific innovations. Determining the optimal composition of both sets of activities for each is challenging." Gartner mentions three guidelines for the selection of activities for both these dimensions:
1. "Ensure the innovation program/initiative is focused on valued business outcomes with the right scope — timing, size of effort, measures of progress, and success."
2. "Ensure the innovation activities can address situational challenges and innovation will be executed within the established business guardrails."
3. "Ensure the best application of existing innovation resources and provide for efforts to improve innovation abilities to deliver the targeted business outcomes."
The customizable innovation framework by Gartner "provides a way to frame key decisions about what innovation success will look like and guidance on how to navigate greater than 100 innovation activities, identifying those most likely to lead to success."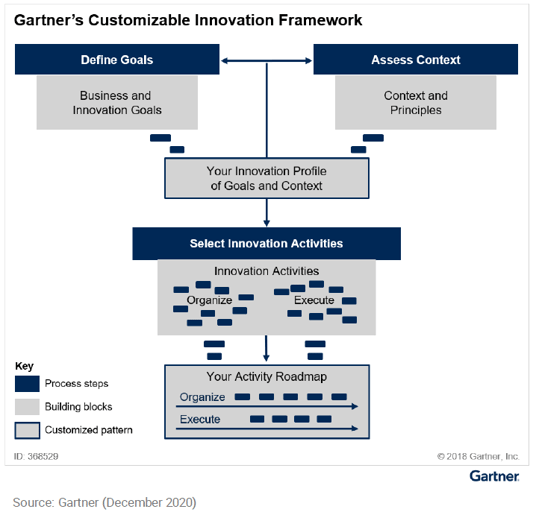 Executing innovation programs with roadmaps
A roadmap is a set of deliverables required to take an organization from its current position to a future position over a specific time period. Innovation roadmaps take into account the type of innovation journey being undertaken, relevant trends and technologies, and resources available to help innovation managers create a clear timeline and develop practicable milestones.
According to Gartner, the most effective innovation frameworks and roadmaps begin with clear alignment between strategy-defined objectives and goals. The three steps to achieve alignment are:
With cross-functional peers, identify the business objectives requiring an innovation approach/strategy and use them to commission innovation planning.
Identify clear and SMART business goals to guide innovation-scoping decisions.
Establish innovation performance goals to expand on strengths and to address capability gaps or execution constraints."
When creating roadmaps, one of the first things you must consider is the level of granularity and planning horizon. This has a role to play because the roadmap is a liaison between strategic goals and innovation activities. By empowering businesses to plan future product developments, understand resource needs, detect time inconsistencies, and raise company-wide alignment, these innovation roadmaps help executive leaders to execute innovation efforts that are aligned with strategy-defined objectives and goals.
How ITONICS supports innovation roadmapping
ITONICS Roadmap is a tool designed to assist organizations in plotting their strategic planning of products, markets, technologies, and resources. It allows you to correlate emerging technologies and trends with your innovation objectives, hosting these across a timeline on dynamic, collaborative, interactive software.
Through integrating different business units, the ITONICS Roadmap tool can aggregate roadmaps distributed across multiple departments into one overarching, integrated roadmap, enabling a top-down and bottom-up analysis of strategic planning for a specific period of time.
Furthermore, the visual and collaborative nature of roadmaps implemented in a convenient digital tool facilitates alignment and open communication across different departments. Consequentially, you will gain improved cooperation of business stakeholders, better ranking of ideas as well as prioritization of business objectives, leading to the desired level of strategic alignment.
To learn more about the features and benefits of ITONICS Roadmap to help you achieve your innovation goals, get a free demo or try our software for free!
---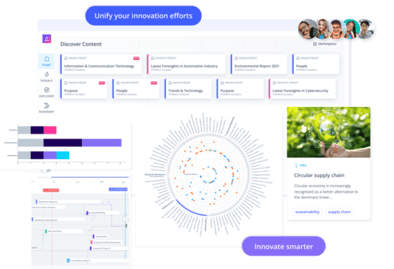 See the ITONICS Innovation OS in action
---
Have more time?
Disclaimer
Gartner, Leverage Enterprise Strategy Objectives and Goals to Focus Your Innovation Efforts, Darren Topham, Peter Skyttegaard, Refreshed 4 May 2022, Published 3 December 2020
GARTNER is a registered trademark and service mark of Gartner, Inc. and/or its affiliates in the U.S. and internationally and is used herein with permission. All rights reserved.
This graphic was published by Gartner, Inc. as part of a larger research document and should be evaluated in the context of the entire document. The Gartner document is available upon request from ITONICS.