Reducing organizational silos is a persistent goal of many companies. The larger a company is, the more difficult it becomes to maintain transparency and align ongoing and planned innovation projects across the organization.
Scaling innovation initiatives can be difficult without a systematic approach implemented throughout the company's operations. Therefore, connecting internal structures, procedures, and tools is vital to establishing a single point of truth for innovation activities.
Innovation management software helps organizations create that single point of truth with well-documented processes, reliable data, and easy collaboration. The ITONICS innovation OS is based on an end-to-end approach, supporting every single stage of your organization's innovation process. From environmental scanning to idea and portfolio management to roadmapping – our software is designed to allow for transparent collaboration between different teams and functions to increase information sharing.
In this blog, we showcase several ways how you can foster company-wide collaboration and communication for streamlined innovation activities with the different tools and features available in the ITONICS Innovation OS.
1. Aggregate trend and tech scouting activities
The ITONICS Innovation OS is equipped with features that enable a quick and efficient scanning of sources around emerging trends and technologies that support your innovation initiatives. Moreover, you can easily share the information gathered with other teams or individuals to foster transparency and knowledge exchange.
Gathered information on one platform
The ITONICS Insights tool allows you to scan thousands of verified sources such as RSS feeds, news articles, or patents in real-time and communicate your search results to others by saving them as presets. To do that, simply click the icon and save content by clicking on the Save as New Preset button. This enables a centralized research effort to build a unified insights ecosystem. In ITONICS Insights, you also have several features for refining your search. With simple and boolean search queries, the tool enables advanced filtering to foster mass navigation of information.
Click here to learn more about creating search presets.
Accelerated information sharing
ITONICS Inspirator is a mobile application that allows you to record your spontaneous market observations, remarks on competitors' activities, and take notes or ideas that come to you suddenly. You can collect these inspirations in photos, videos, or text message formats. With the app, you can collect and create content offline and synchronize it with your ITONICS platform. You can also push your campaign instantly to your global team of trend and technology scouts. The scouts can browse through the campaign and already submitted inspirations and add new content on the go. In addition, the Inspirator app also allows you to track your campaigns and the performance of your scouts in real-time. The like and comment features let you interact with your colleagues' inspirations directly over the smartphone and further enhance the synchronization.
Another tool helping you to share information quickly is the ITONICS Web Clipper. It's a browser extension that enables you to discover and clip inspirations from the web and add them directly to your ITONICS platform. Click the clipper symbol on your browser, and a small box will appear. Click on the Clip button, and the inspiration is immediately uploaded to the ITONICS platform, which can be accessed later by your teams globally.
The Web Clipper tool is designed to automatically create the inspiration for you, filled with an image, a title, and a page summary. You can also manually edit and tag these inspirations for better structuring. Moreover, you can link these clipped content to your trend, technology, or idea to build an innovation storyline.
2. Evaluate innovation opportunities collaboratively
With the ITONICS Innovation OS, you can look at the information gathered in your environmental scanning process collaboratively with your global teams. Our features enable you to interact and work alongside your peers to identify the most impactful areas to innovate for your business.
Configurable ratings of content
When you come across an article in the Signals Feed that could be a relevant resource or insight for your innovation initiative, you can save it with the Create Element option. In the ITONICS Innovation OS, pieces of content used across the different features in the software are called 'Elements,' short for Elements of Change. Based on the type of your innovation initiative, you can create different types of Elements, including Scenario, Trend, Technology, Risk, Opportunity, Project, Inspiration, and Idea. Elements can be created by and are visible to all team members on the platform, thus enhancing a mutual understanding of the content relevant to your initiatives.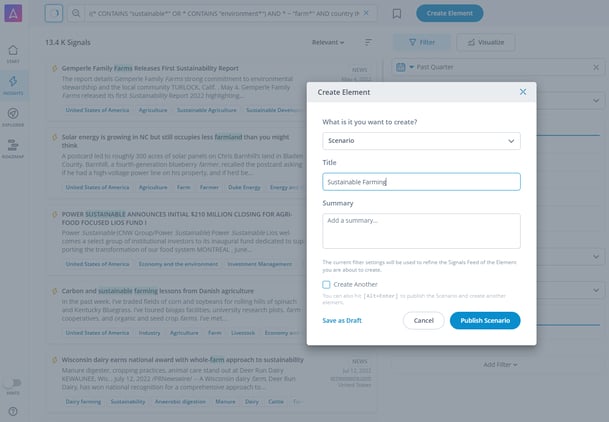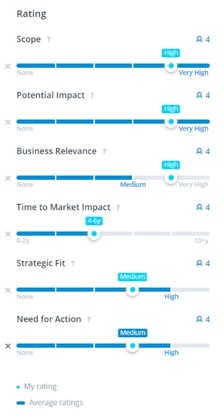 Furthermore, you can rate identified trends, technologies, or startups collaboratively with other experts or teams in your organization in order to evaluate the relevance of your data. There are pre-defined rating criteria on the platform such as Scope, Potential Impact, or Need for Action. You also have the option to define your own ratings depending on your needs. Including different perspectives from other teams not only increases the validity of your scouting activities. It also supports a common alignment on relevant trends or technologies for certain innovation initiatives and helps overcome organizational silos.
Interaction with peers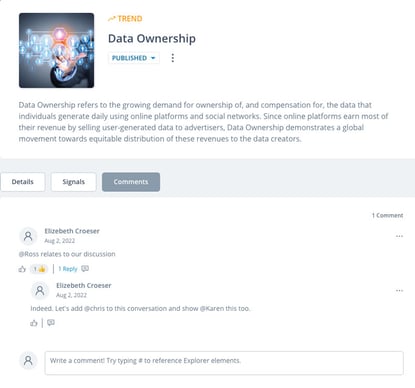 The ITONICS Innovation OS is equipped with features that promote more interactive participation and collaboration within your global teams. Users can comment on content in the software, follow and react to their colleagues' ideas and activities, and tag relevant experts to start conversations around a topic. This helps for quick information and knowledge sharing with other teams.
3. Create transparent overviews and align innovation projects
To synchronize innovation activities in your company, it is vital to have an overview of all ongoing and planned initiatives in one place. ITONICS Portfolio and ITONICS Roadmap are tools supporting you in this. They provide various features that enable agile project management and steer projects to execution by prioritizing, aligning resources, and establishing synergies.
Agile innovation portfolios
In the following, we highlight three ways that help you maintain an overview with innovation portfolios:
The ITONICS Kanban boards highlight blind spots, critical projects, investment peaks, and
strategic options. The tool comes with various colors, columns, and swimlanes for an organized overview of your innovation portfolio. While the columns visualize the workflow states, the swimlanes denote different work streams, and the colors denote the status of your projects. You can also structure your portfolios by adding and moving projects across sections. These boards allow you to aggregate and track project KPIs and budget considerations. You can also save your modified Board view and share it with colleagues or even export your Board as a PDF.

The ITONICS Workflow feature enables you to move your project information through different stages to streamline your innovation efforts. The tool is designed with call-to-action buttons that ask users to complete specific tasks before the project can be moved to the next phase within the pre-defined process. Workflow dependencies can be configured to ensure that Workflows adhere to your company's requirements at each stage of the process.



For a visual display of your data, use ITONICS Dashboard

that consolidates all the data input to enable a quick reading, comparison, and analysis. With the Dashboard tool, you can create compelling overviews to understand the data and generate valuable insights for your innovation journey. Visualize your portfolio data to identify gaps and redundancies in your portfolio. You can also build custom Dashboards by using the wide range of charts, customized data groups, and filters available in the tool. This helps to get transparent views on projects and enables easy reporting to other stakeholders.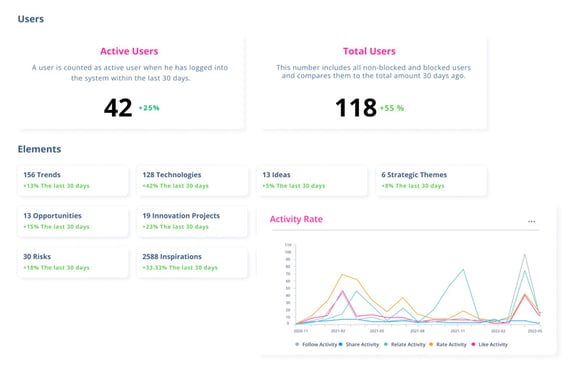 Innovation roadmaps
With the ITONICS Roadmap tool, you can plot strategic planning of products, markets, technologies, and resources for your innovation initiatives. Innovation roadmaps are an ideal planning tool to visualize dependencies in innovation implementation and to connect projects and tasks. It lets you detect time inconsistencies and synergies in strategic planning early on. Moreover, innovation roadmaps help you to synchronize innovation efforts with capability, resources, and business strategy.
It helps you correlate trends and technologies with your innovation objectives, hosting them across a timeline on dynamic, collaborative, interactive software. The visual and collaborative features of the tool facilitate alignment and transparency across your teams.
Learn here how to create your innovation roadmap in the ITONICS Innovation OS.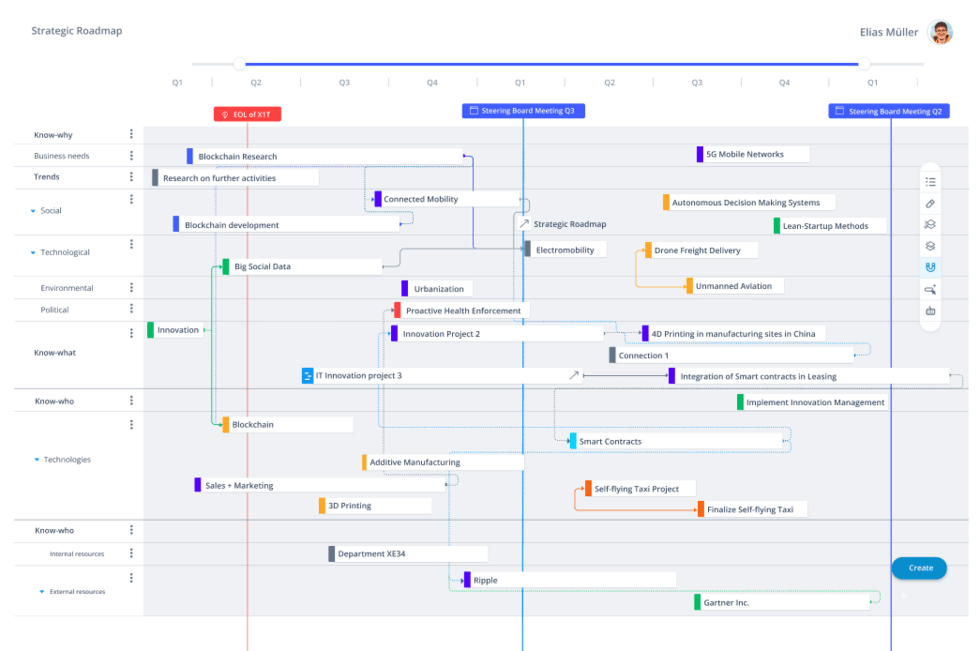 What's next
The various tools and features available in the ITONICS Innovation OS help you to improve transparency. Supporting knowledge exchange along the innovation process and aligning certain activities helps you avoid that different teams work on the same things and eventually increase innovation success and accelerate time-to-market.
The ITONICS Innovation Big Picture shows all the activities that are relevant in a holistic end-to-end innovation management process. It provides guidance on how to systematically apply processes, methodologies, and tools in the various steps.
Get started today and bring your innovation management to the next level. Try our tools 30-days for free, or if you want to learn more about how you can use the ITONICS Innovation OS in your company, get a free demo!
Have more time?