To unlock growth, organizations must draw on the vast pool of knowledge and ideas that exist beyond their own walls. Open innovation offers organizations the ability to generate many ideas from many different perspectives, aiding and accelerating solution discovery. But how do organizations effectively identify promising ideas in a fast-changing world?
Let's look at why this is necessary first:
Today's most pressing issues are global challenges that know no physical borders and cannot be tackled single-handedly. Addressing increasingly urgent concerns about, for example, sustainability, the future of work, food security, and digital transformation depends on more effective innovation and new forms of international collaboration. The evolution of business requires inclusive input that aptly addresses these challenges and offers solutions that speak to a complete ecosystem of stakeholders.
Open innovation creates exceptional opportunities for organizations to break free of narrow internal perspectives. This approach leverages skills and knowledge outside the business to offer more holistic solutions and opens up opportunities for more cost-effective innovation by partnering and collaborating.
The importance of the right timing
Two decades ago, smartphones didn't exist. Four decades ago, no one owned a computer. The steam engine took 80 years to move from development to mainstream adoption. Electricity took 40 years, information technology 20 years, and Artificial Intelligence about 10 years to move from invention to adoption. Computer scientist and futurist Raymond Kurzweil wrote, "we won't experience 100 years of progress in the 21st century—it will be more like 20,000 years of progress (at today's rate)."


From ITONICS Insights, we see an increase in patents filed globally (Figure 1) and in Germany, USA, and China (Figure 2) from February 2018 - July 2022
Innovation is happening faster, and it is crucial that organizations prepare for change and can leverage advancements and shifting consumer behavior to keep ahead of the curve. Acting at the right time can mean that your innovation initiatives benefit from existing momentum, and you can ride the wave powerfully to success.
Getting the timing wrong could mean that you are watching from the shoreline as your competitors ride the waves of success. Many variables play into getting the timing right for innovation. Startups are often quicker to market due to the freedom and flexibility to experiment and make decisions quickly. It demands a lot of effort to get a big ship into unchartered waters, but for smaller players like startups, these initiatives are often less risky and can be executed faster.
Challenges to identifying the right ideas at the right time
There is seldom a lack of ideas, especially when organizations perform open innovation that leverages the power of collective intelligence and creativity and engages potential partners and startups to submit ideas. But how do organizations process large numbers of ideas to get to the most feasible and lucrative ones fast? And how do ideation and innovation teams structure idea submissions to ensure that no good ideas are lost, no duplication takes place, and synergies are exploited?
"So many ideas slowly die in organizations as they don't have a structure or processes for taking ideas forward."
Craig Linton
Unstructured processes, decentralized tools, and strenuous collaboration are some of the most common obstacles to distinguishing valuable ideas and partnerships through open innovation processes. As open innovation aims to collect many different ideas from many different perspectives, the sheer amount of submissions and the management of these can already take a lot of time.
In addition, it can be tempting for teams to approach ideation from the perspective of 'solutions that work for us' rather than 'solutions that work for our customers.' But let's dive into some mechanisms and tools to help you mitigate the risks of missing the right ideas.
Filtering through the clutter: Mechanisms and tools to help you identify valuable ideas fast
1. Understanding change early on
Open innovation collects ideas and solutions submissions from a wide variety of people outside your organization. For startups, partners, customers, and experts to be able to propose valuable concepts, you need to know which opportunities and challenges your submitters should aim to solve.
By having a finger on the pulse and knowing well in advance which opportunities and challenges will impact your industry and organization, you are able to request ideas early on. This affords you time to select the best ideas and develop and implement these to disrupt or stay ahead of your competition.
Identify possible opportunities: Use out-the-box trends, emerging technologies, or industry and megatrend filters to kickstart your environmental scanning.
Leverage expert perspectives: Get internal and external experts to evaluate your drivers of change to identify what is most important to your organization short, mid, and long term.
Make sense of your information: ITONICS Radar helps you map, understand and decide what to focus on.
Monitor your drivers of change with ITONICS Insights to understand developments and adjust your open innovation campaigns to leverage developments and mitigate risks.
2. Connect open innovation campaigns to streamline your ideation
Set up your open innovation platform in an engaging, clear, and enticing way. Once you start receiving submissions, you will need to structure and manage submissions in a way that allows you to identify the most appealing ideas quickly.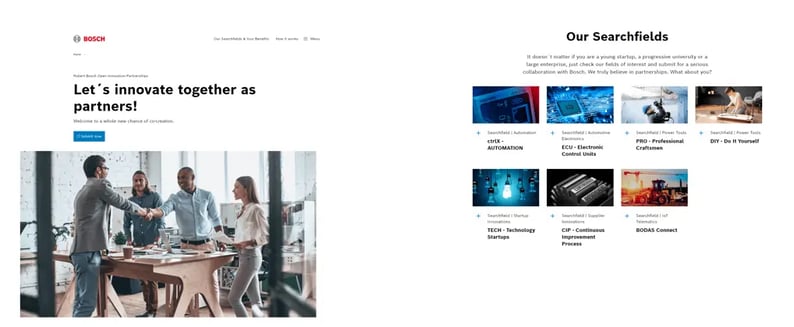 One example of an engaging open innovation platform from the German multinational company Bosch.
Open innovation with ITONICS enables all submissions to connect to your ideation platform within the system automatically. This means you can easily organize ideas and move them through a workflow to accelerate the process of identifying the most lucrative concepts or the most promising startups to partner with.
Set up a stage gate process to ensure that ideas move through a funnel effectively. You could specify that submitters need to add specific information before the idea moves to the next stage. This allows you to filter incomplete and vague ideas in the early stages.

Get your internal or external experts to rate ideas to move certain ideas into certain stages quickly.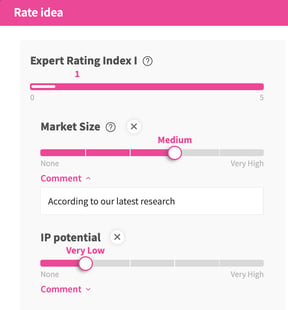 Get a quick overview of the stages that your ideas are in. This will help you identify whether you have a balanced idea funnel with ideas in different stages.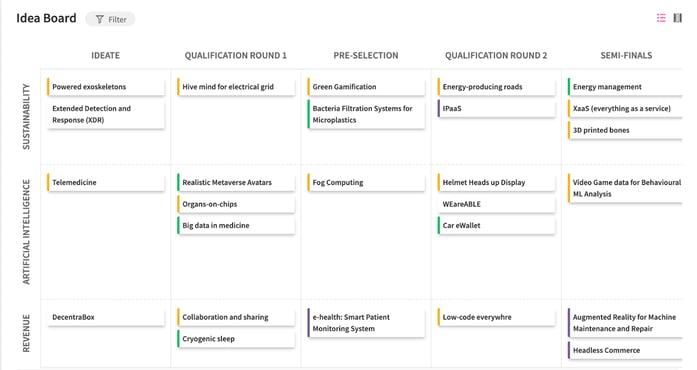 Use the collaborative features in ITONICS to discuss ideas, link them to existing trends, technologies, or other drivers of change, and send newsletters from the system to highlight what ideas have already been selected to move to subsequent phases. This can help engage and inform your submitters to ensure more and better quality submissions.
3. Align teams and accelerate decision-making
Having to align teams and stakeholders across units and geographies using decentralized tools can slow down the process of identifying the best ideas. Organizations that are able to scale their open innovation activities will reap the benefits by being able to pinpoint the best ideas fast.
Use ITONICS Radar to get a clear view of your ideas based on their collective ratings from your experts. You and your teams can quickly see the strategic value or disruptive potential of ideas or how many ideas you have in certain categories.


Present your idea radar to stakeholders by embedding an interactive radar view into your intranet or website. Share the right information across your organization to inform collaborative decision-making.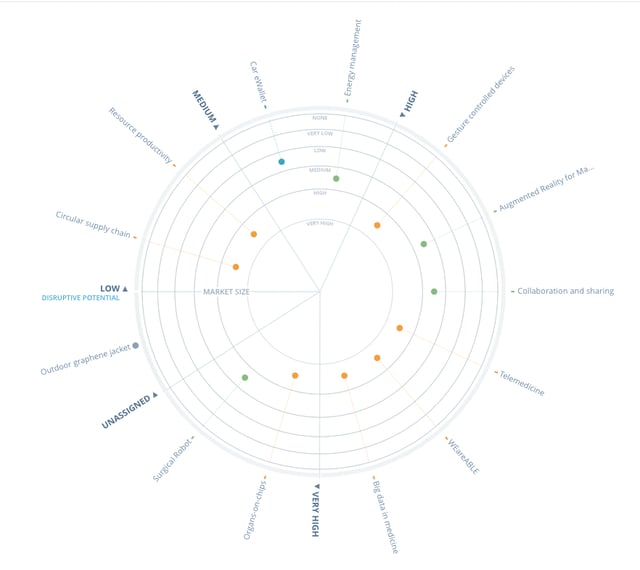 Visualize idea relations in the Network Graph to quickly see overlaps and synergies and avoid duplication.
What's next: Balancing your portfolio of initiatives
Once you and your teams have selected the best ideas to focus on and develop further, your next step would be to turn ideas into innovation initiatives that drive growth. Knowing which initiatives to prioritize requires an analysis of the potential impact of the initiatives mapped against factors like internal know-how, capabilities, and urgency to act.
ITONICS Portfolio enables you to compare, monitor, and evaluate your innovation portfolios in an agile way. Analyze, prioritize and plan your resources and capacities. Provide visibility of your company's innovation portfolios on one digital platform. Make better strategic decisions and enable teams to view, understand, and act upon actionable intelligence easily.
Want to learn more about the features and functionalities of the ITONICS Innovation OS to unlock open innovation in your organization? Get a free demo!
Have more time?