How Companies Can Innovate And Scale
When it comes to innovation, we too often focus on the importance of the individual within the process. In business, we usually identify good innovators and foster their ability to develop creative practical solutions to new problems. Less attention is paid to the structures and organizational patterns that can promote and scale a culture of innovation and thus the whole enterprise. We often have similar discussions with our clients who are concerned about the same issues: How can I generate and implement more ideas? How do I get better ideas faster?
Here, the question is not so much about being more effective and efficient about ideas, but to create a system that allows the business to scale up without the need to add resources proportionally. We have defined six steps that will help you to innovate at scale.


→ Free White Paper: Innovation Framework & Innovation KPIs
#1 Ideators vs. Implementors
Are you working "in" your business or "on" your business? Are you still working on ideation or are you actually building an innovation ecosystem supporting the management and the entire company to scale up? When it comes to proper innovation management, we see more elements in the process than effective and efficient ideation.
We give you good advice: Get rid of yourself in the innovation process. Scaling is not about eliminating yourself as an individual. However, if you want to scale your innovation efforts, find out if you are still needed inside the process as someone responsible for innovation. And if so, create a system that finally works by itself so you can concentrate on new things.
But how do you find out where you are right now and where to head in the future? You might want to take a step back.


#2 Understand the Four States of Disruption
A good starting point to better understand your industry and the opportunities it offers are the Four States of Disruption. The matrix offers an index measuring an industry's current level of disruption and susceptibility to future disruption. It also defines where innovation management in certain industries may go in the future and can help you to think of strategic actions to take next.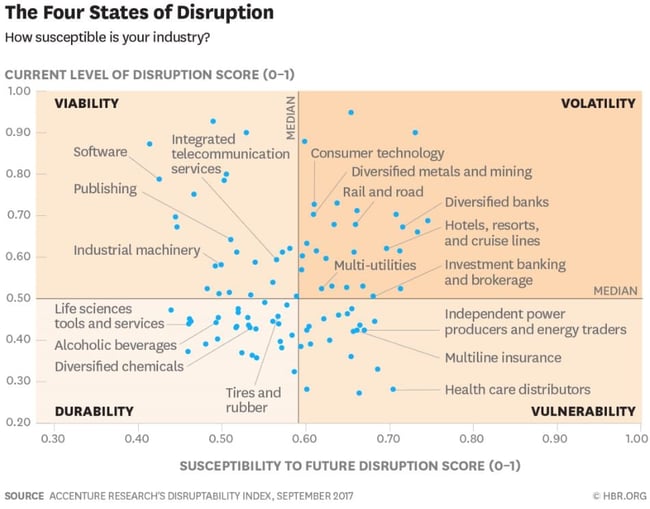 Durability. In this state, not much disruption is going on and we mostly find traditional and mature industries (e.g. tires and rubbers, truck and bus industry).
Vulnerability.

Due to high barriers of entry, established companies currently benefit from low competition. Still, consumer expectations are starting to increase and newcomers are entering the market with new technologies and smarter solutions putting pressure on the industry to improve efficiency and performance.
Viability. This field is the playground for new industries that have undergone significant change in the short term. Disruption is a well-known component and no longer occurring as quickly and unexpectedly as before.
Volatility. The heat is on in this quadrant. Companies are confronted with a high level of disruption and are going to encounter even more changes in the near future. Industries such as consumer tech, hospitality, or investment banking are located here.
For the quadrants, we suggest different impulses to focus on in your innovation management and strategy development.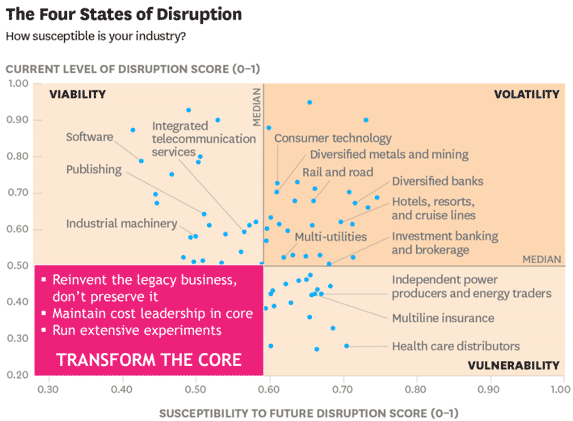 Transform the core.

Reinvent the legacy business, don't preserve it. Maintain cost leadership in the core. Run extensive experiments (you have the money and the people). Don't make big shots yet.
Scale the new. The speed will pick up quite soon in the future. Address productivity challenges in legacy business and get in shape for future innovations (get the right capabilities and people on board).
Grow the core.

Improve what you are good at. Embrace strategies that keep the business in a constant state of innovation.
Pivot wisely.

The only chance to survive in the volatility quadrant is to pivot wisely. A lot of disruption is going on and changing the current course is the only way to survive. Innovate or die!

#3 Create Balanced Innovation Portfolios
When you know where you are and where your industry is headed, think about defining your innovation ambition. This involves all innovation projects, activities, and stakeholders needed in the innovation process. How do you successfully invest in the right activities? Which projects should you select? Which programs should be started? Which skills and knowledge must be acquired?
Innovation is key to sustained competitive advantage in a dynamic global marketplace. An organization's strategy determines what kind of innovation is required based on its customer value proposition. The aim is to establish a balanced innovation portfolio so that, in the event of a disruptive change in the market, the company already goes through a systematic process of creating new innovations, while at the same time maintaining current cash cows and reducing declining business.
Managing the innovation portfolio is about balancing risk and return. Innovation is synonymous with risk, so it is important that the total sum of all innovation projects doesn't exceed the risk appetite of the organization. Also, since many innovation projects result in failure, the portfolio should contain a mix of projects across the strategic spectrum to ensure alignment.
There are three horizons that can be differentiated: Protect, Expand, Transform. Depending on where you are you can now start to have different investments either into the core, adjacent, or transformative projects and activities.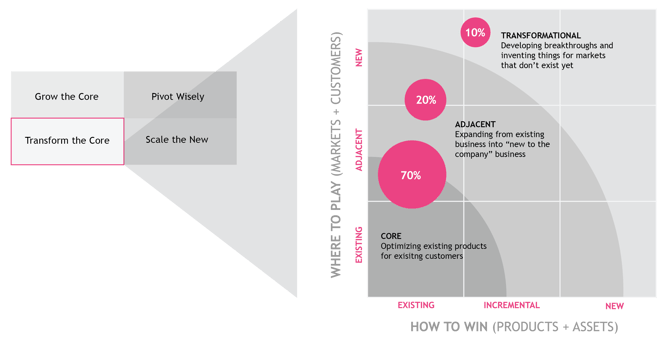 A golden ratio for a future-oriented innovation project portfolio can be expressed with the 70-20-10 rule. 70 % of a company's portfolio and budget allocation should be aimed at protecting and maintaining the core business. Innovation efforts regarding "new" projects count for around 20 % of the company's portfolio. Only 10 % are recommended to be of a transformational character and completely new to the market.
The ratio mentioned is just an example as seen in some companies and in some industries. Based on your specific case, it will be necessary to adjust the ratio according to your prevailing context and risk appetite.

#4 The Table of Strategic Elements
After you find out about the speed and the direction of change in your company, you can decide how and where to invest to accelerate innovation activities.
With the Table of Strategic Elements (based on Cisco's innovation approach), you finally bring together all of your single information into one easy visualization. The table shows you the most important topics going on in your industry, same for relevant technologies and business models.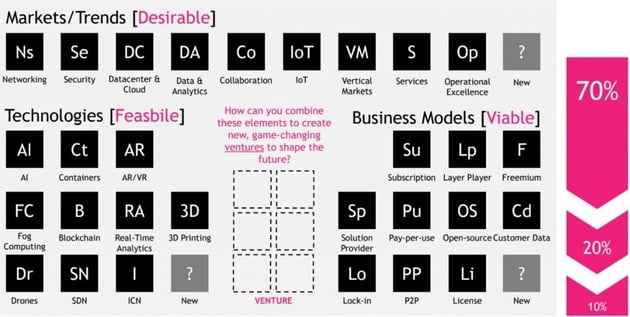 The Table of Strategic Elements will help you to convince people to invest in your project. It offers a perfect combination of your innovation initiatives being desirable (markets and customer needs), feasible (technologies), and viable (fitting into the business). The elements of the table can again be distributed via the 70-20-10 ratio. 70 % of your trends, technologies and business models are already known pretty well and belong to the core business. 20 % are new to your company and 10 % are completely new to the market.
Balanced breakthroughs that take into account relevant markets, technologies, and business models can help you set the guarding rails of your innovation projects and move with your overall strategy.


#5 The Five Ways to Create New Innovation Opportunities
So far you should have noticed that the whole process is not about ideation, e.g. running an ideation challenge can be just a small piece of the big picture. It can also be about collaborating with partners or startups or even buying new skills and capabilities from an external company. After you defined your opportunity spaces (we call it: Where to play?), there are five ways that can help you come up with innovative and disruptive solutions (we call it: How to win?).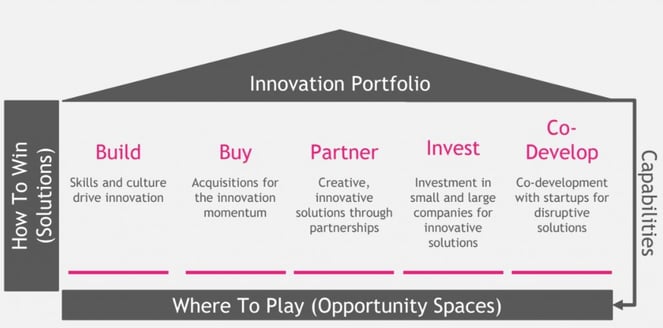 Build

refers to the ability to drive innovation from the inside of a business. This could work out through internal innovation challenges, innovation hubs, or centers.
Buy

basically means to bring innovation inside and gain innovative power in relevant verticals by the acquisition of other leading innovators and their key talent.
Partner

is about engaging with other technology and service companies to bring innovative solutions to life.
Invest

is about putting funds into companies with technologies that might be of benefit for the industry's or your own growth and that might also evolve into partners in the near future.
Co-develop

means prototyping disruptive solutions together with startups or within the scope of academia or internships. In return, the startups or scientific institutions get access to market knowledge, mentoring, and corporate networks.


#6 Proper Automation Will Bring Innovation to the Next Level
You don't have to do the whole work all alone. Proper automation (e.g. machine learning, text analytics) can help your innovation management to scale. What is going on in certain trends, what is going on with specific technologies? Where can you detect weak signals in your corporate environment? You don't have to work yourself through thousands of news articles, scientific publications, or patent data. You can also use proper automation to discover internal experts with relevant skills to scout, monitor, assess projects, technologies, and trends.
Automation can help you to build up a huge data and knowledge base within your innovation community including subject matter experts, trends, technologies, activities, and startups.


Have more time?