Big corporations more and more seek ways to team up with startups to get a competitive edge and embrace the "digital native" way of working. Partnering with technology-driven startups makes corporates more agile, innovative, and able to respond quickly to market changes.
Startups, as an integral part of the company's external innovation sources, are also increasingly looking to cooperate with big companies for bigger market access, increased visibility, and reputation, as well as wider distribution networks, etc. These relationships can open up other channels of important financial resources, such as corporate venture capital.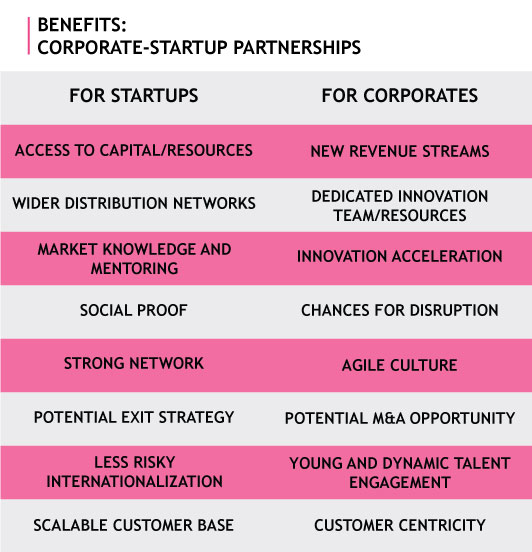 That being said, corporate-startup collaboration does not always work. On the one hand, many large incumbents struggle to collaborate on mutually beneficial terms. On the other hand, startups often find their experience of working with corporates to be ineffective and time-consuming.
This is why running effective Startup Relationship Management (SRM) is crucial for turning expectations into actionable plans. SRM is a methodology for maintaining a company's relationships with the startup world and building a powerful and effective interface to partner with the newcomers. Usually, corporate SRM aims at maintaining and automating startup scouting, visualizing relevant startups on a Startup Radar, as well as at improving the quality of startup recruitment.
Automate Startup Scouting
Startup scouting is a decisive element for bringing external innovations to your organization. At the scouting stage, companies try to spot the startups that might disrupt their industry or business model and startups that use new technologies to address existing challenges. Avoid resource-intensive desk research with appropriate automation. The collection of different data points on a single platform in a short time requires a lot of resources unless the system has a built-in AI and intelligent data handling mechanisms.
Software-supported scouting on a single platform and the connection to industry-specific databases (e.g. Crunchbase or Craft.io) speed up the process of finding the startups of interest. And this gives more time for collaborative assessment and selection by the members of your Innovation Community.
Visualize

the

Findings

on a Startup Radar
The findings from the scouting phase, including recent technologies and patents, emerging trends, inspirations related to a company's business environment, are evaluated and visualized through a Startup Radar. Leverage the benefits of using a Startup Radar to identify the most promising startups to build future partnerships with.


Find the Right Startup Partner
A growing proportion of corporations seek flexible partnerships with startups in which both sides take a risk and share in the rewards. Before investing millions on an acquisition, it is important to make smart startup recruitment in the first place. Initial contacts with startups and 'open doors' have become a common thing.
The ITONICS SRM tool gives every business unit in the company - from strategy, business development, innovation, R&D, purchasing to finance a single platform to collaboratively evaluate and select startups for future recruitment and partnerships. The tool allows you to
filter large data with only two or three clicks to find the most important startups in the area of your search
make decisions about the right investment mix and match investments to innovation objectives
store data such as contact information, startup funding status, geographic location, etc
spot collaboration opportunities and potential partnership avenues
make all startup data and sources accessible across all involved business units
Choose the Right Partnership Strategy
After deciding who to work with, companies should figure out the best strategy to engage and partner with the startups. Also, it is time to decide how to integrate those startups into the company's innovation framework and methodology. We differentiate five pillars to choose from:

Build: Startups typically serve as inspirations for larger companies to build next-generation products and services on their own, become more agile and leverage the latest technologies. This is why big corporates should be on the constant lookout for the next big thing.

Buy: companies are able to internally develop a given product or service, but are missing the expertise, they can acquire or make direct investments to hire an external team of experts. This does not typically mean acquiring a startup, but rather certain services or skills offered by the startup.

Partner: More and more companies run startup initiatives. Companies like Daimler, DZ Bank or adidas monitor the startup environment consistently. The selected startups then pitch their projects, run hackathons or work together to tackle mutual challenges.

Invest: Companies invest in promising startups working on the latest technologies potentially beneficial for their industry or their own growth.

Co-develop: Companies want to co-develop products with startups leveraging their expertise in a specific aspect of interest, be it a technology, methodology, or business model. In return, the startup gets access to market knowledge, mentoring, and corporate networks.
SRM will bring radical changes in how corporates and startups collaborate, by creating a win-win situation, where each side is equally invested in the other's success. Moreover, for many innovators, SRM is an imperative part of the corporate innovation toolkit.
To learn more about the Startup Scouting Process and build a sustainable Startup Relationship Management,
contact us
for a one-to-one demo presentation.