Creating a product roadmap is a critical step in developing a successful product or service. It provides a clear direction for your team and helps you communicate your vision to stakeholders. In this blog, we highlight key considerations for creating a product roadmap that sets you up for success and walk you through four essential steps to set up your roadmap with ITONICS.
What you need to know about product roadmaps
A product roadmap is an essential tool to steer product development. It is a visual representation of a product team's strategy and plans for delivering a product, set of features, or new service. It provides a high-level view of the activities the team plans to work on, the timeline for their delivery, and how they align with the overall product strategy.
Product roadmaps are typically used as a communication tool to share the product's direction with stakeholders such as executives, customers, and development teams. They can also help the product team prioritize their work, decide what to develop next, and ensure everyone is aligned on the product's goals and vision.
The increased visibility of how, when, and where the implementation is taking place, as well as changes and progress, are reflected in the roadmap.
4 things to consider before creating a product roadmap
If you want to build a successful product roadmap, it is beneficial to take specific steps beforehand. To future-proof your roadmap with evidence-based market intelligence and customer insights, we recommend the following steps (supported by the ITONICS Innovation OS):
1. Identify key strategic goals and opportunities for your product or service
The first step is to define the product strategy by setting goals and asking how the product or service supports the overall business objectives. It is also essential to determine the target customers, what needs the product or service should address, and what technologies you can use, which will be reflected in your product roadmap. Scanning for new trends, competitor and startup activities, and identifying risks can further strengthen your knowledge of what to do or avoid.
With the ITONICS Insights tool, you can scan and monitor millions of data points from verified sources, including RSS feeds, news articles, patents, and scientific publications, in real-time for specific search fields. You can filter the results according to your preferences to refine your search.
Learn more about how to use ITONICS Insights to keep up with trends, emerging technologies, competitors, and startups.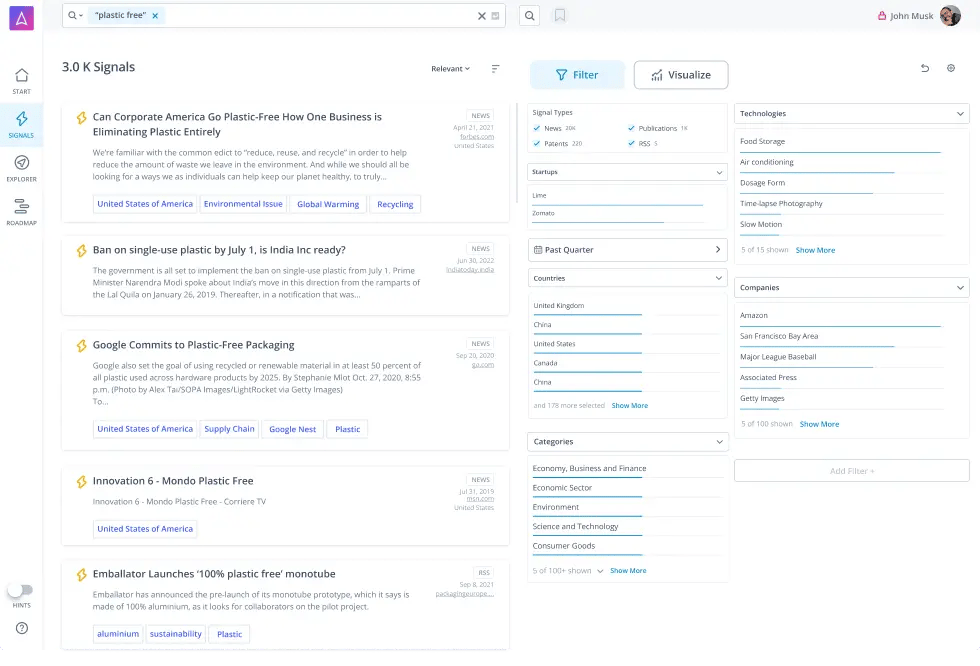 After identifying relevant drivers of change, including trends, technologies, and startups, in your environmental scanning process, you can visualize the data on a radar. With the ITONICS Radar tool, you can rate trends, technologies etc., based on specific criteria, connect and map them on one central platform. The dynamic radar visualization helps you better understand the potential impact and gives you and your team a helpful perspective on opportunity spaces.

Learn more about the steps to quickly create your trend or technology radar.
2. Prioritize innovation opportunities
After you have identified potential opportunities, you need to prioritize them to focus your innovation efforts. It helps you avoid the risk of investing time, money, and resources into developing a product or service that is not aligned with your organization's strategic objectives or internal capabilities and to allocate resources effectively.
The collaborative rating of interesting drivers of change based on criteria such as potential impact, business relevance, or internal know-how can be a good starting point. By aggregating various people's perspectives, you can reduce bias and build collective intelligence. ITONICS Radar allows you to aggregate the ratings of your team or internal experts. To gauge your confidence in a rating, you can see the number of users who have added a rating for each criterion. The more opinions are collected, the clearer becomes the collective view of your organization on a trend or technology. This helps you prioritize opportunities and make informed decisions about new products or services.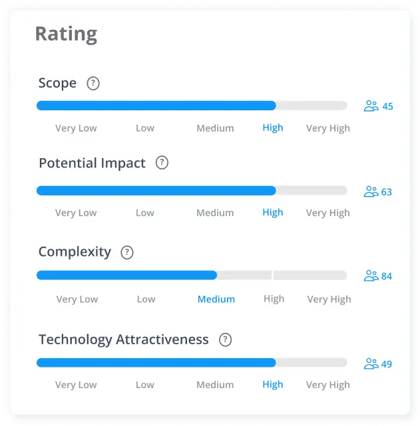 Moreover, ITONICS provides the Matrix tool to prioritize drivers of change, which can impact the direction of your product. To get started quickly, ITONICS offers best-practice templates for evaluating portfolio risk and potential. Users can easily adjust their views by selecting options from the drop-down menus on each axis to find the most suitable combination for their business needs. Additionally, the tool can be configured to aid internal alignment and reflect company-specific terminology. Custom category labels can be applied to each quadrant for easy analysis, and your modified Matrix can be saved to view later and shared with your team.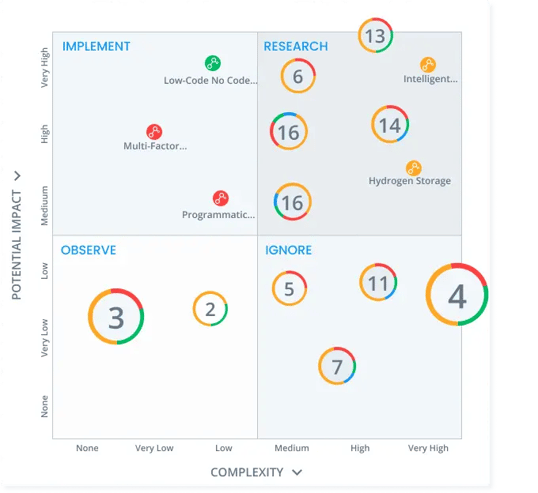 Apart from trends and technologies, you can also prioritize ideas, opportunities, or scenarios with ITONICS Matrix to identify where to focus on and how to adapt your innovation portfolio accordingly. This will help you set realistic milestones and deliverables.
3. Define timelines, milestones, and deliverables
Delivering innovative products or services requires creating an action plan for each step of the execution process. By defining timelines, milestones, and deliverables, your teams can focus on specific tasks at specific times to eliminate bottlenecks and increase efficiency.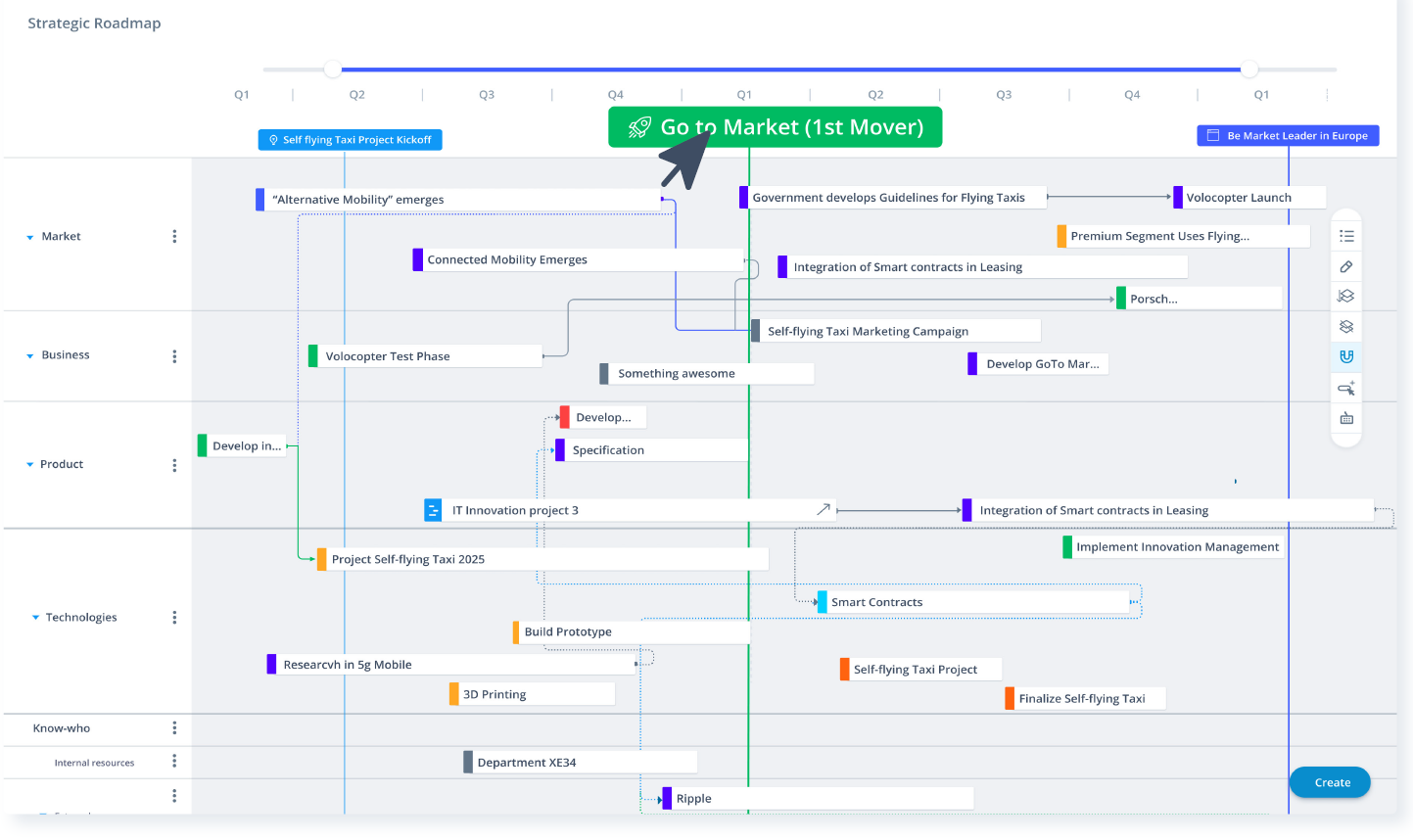 The ITONICS Roadmap tool allows you to visualize the activities and milestones needed to achieve a goal. The x-axis in the roadmap represents time or milestones and marks where important checkpoints or achievements are present. Milestones can be used to plan, track and report on progress toward an important goal, such as product demonstration. The y-axis comprises layers of required actions grouped together by company department or work area for ease of use.
You can link Activities with each other, Milestones, and other Elements with colored connectors based on the Activity Type. You can enhance your product roadmap visualization by adding another layer to define the connectors. For instance, the green connector from "Develop Entertainment System" to "Finalize Self-driving Taxi" indicates the fluidity of the process, giving more clarity for the way forward.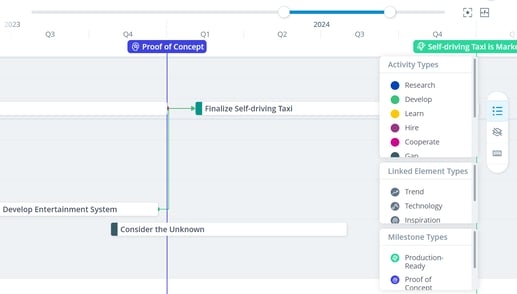 Overall, teams stay aware of the current status of the product development as well as the short- and medium-term goals and expected results.
4. Communicate, regularly review and update your product roadmap
A static roadmap may not be of much help value to your team. If you deviate from the initial plans, which cannot be avoided if you are seeking rapid innovation, regularly reviewing your roadmap is imperative to respond to changes in an agile manner. You can use roadmaps to help your team easily analyze critical paths and prioritize the right activities. Also, you can synchronize and optimize execution by easily understanding what factors affect progress on innovation.
Review and update your roadmap to track the progress of your project and ensure it is still in line with your goals and addresses changes in the market or industry.
Moreover, a digital product roadmap helps you foster transparency on the project status and gain stakeholder support directly through the software. Your roadmap can be the convergence point of your organization's current growth initiatives and act as a single point of truth for communicating progress to relevant stakeholders.
How to set up your roadmap with the ITONICS Roadmap tool
Creating your digital roadmap gives the flexibility of editing the elements and activities on the go with a few clicks and drags. You can create Activities with a defined Date Range under Layers and SubLayers to keep similar groups together. This can help you to visualize decisive sections together clearly. Similarly, you can add Milestones for major task completions like demos and launches, allowing teams to prioritize time and focus resources. Also, other roadmaps can be added to the existing Roadmap, which gives you the flexibility to merge disconnected different scatter activities into one, allowing you to create one visualization as a single point of truth.
1. Creating a new roadmap
You can create a new Roadmap in the ITONICS Innovation OS by either using a blank document or selecting one of our best-practice templates to get started quickly. Select from the most common roadmap types used in various industries, including templates for Product Planning, Strategic Planning, Knowledge Asset Planning, Program Planning, and Service & Capacity Planning. You also have the freedom to change the layers to match your company's terminology.
The Product Planning template is one of the most common types of technology roadmaps. The template enables product developments to be linked to planned technologies and gives a more detailed insight into the interaction of the two. Developing a strategic roadmap before the product planning roadmap is recommended to ensure that the right products and technologies are tied together.
The two layers of the Product Planning template are
Product (What?): This is the top layer in the roadmap that focuses on the current and planned activities in the product and service development process. The layer can be further broken down into sub-layers to visualize complex activities on different product components. For example, the product roadmap of a self-driving car can have hardware, software, and design as sub-layers.
Technology (How?): The Technology layer can represent the current and future technological resources which are the enablers of the product or service development. This layer can have different sub-layers representing R&D departments, technological fields, and more.
The product layer represents the demand drivers based on what the customers want or what trend the market follows. The technology layer, on the other hand, focuses on the solution drivers that address the needs of the product through the use of emerging technologies. Planning the two together gives a clear view of how to steer the product journey most efficiently.
An example of a roadmap created on the Product Planning template is shown below. The roadmap was created for the development of self-driving taxi services. Here, you can see how the achievement of each milestone is affected by factors such as skilled workers, progress in research, and availability of resources.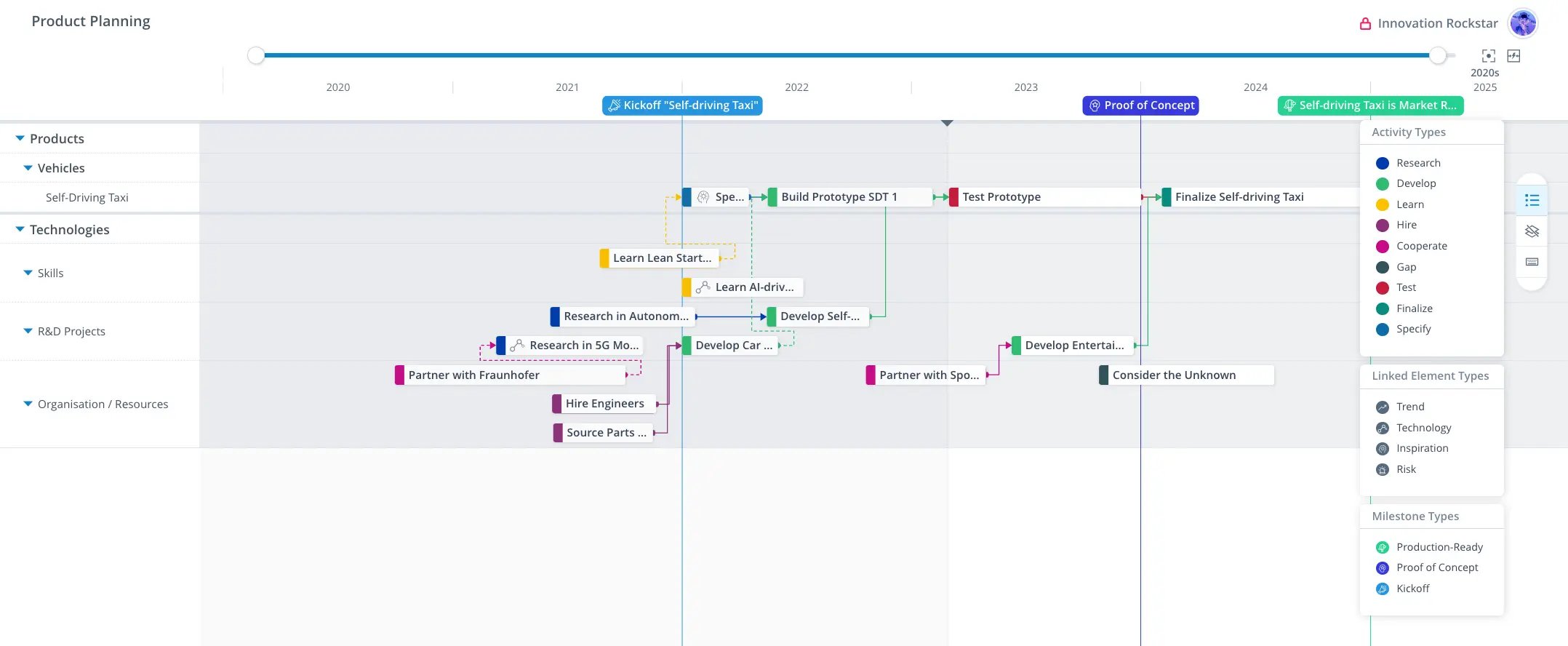 2. Creating a New Activity on the product roadmap
If you are creating a roadmap, for example, for the self-driving taxi service, and want to add a New Activity (any event in the roadmap with a start and end date representing a goal to be achieved), you can do so by selecting "Create Activity" from "Create" in the lower right corner. You can then fill out the required fields, including the Date Range, the Layer where it resides, and the Activity Type.
Additionally, you should create milestones for your product roadmap. You can easily set up the defined milestones, such as "Kick-off", by hovering on the "Create" button in the lower right corner and clicking on "Create Milestone". Then, a dialog box appears where you can set the date, title, and milestone type as needed.
3. Creating product roadmap layers
Layers are the building blocks of a roadmap that help you to separate a set of Activities. You can create Layers or Sublayers to an existing roadmap and draw connectors between Activities. For instance, for the roadmap of the self-driving taxi service, you can add "Vehicles" and "Technologies" as layers to clearly segregate your product roadmap by hovering on the "Create" button in the lower right of your roadmap visualization screen. Similarly, segregate specific activities or ideas as Sublayers, such as Skills, R&D Projects, and Organization/Resources, by clicking on the three dots appearing in the layers.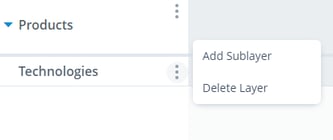 4. Combining different product roadmaps
Another helpful feature in the ITONICS Innovation OS is adding roadmaps to other roadmaps or placing roadmaps on other roadmaps to create a single point of truth for different or all your innovation activities.
By combining roadmaps, you can create a higher-level innovation management view that can guide strategic planning and decision through a holistic approach. Placing roadmaps onto other roadmaps is a feature that can be used to manage innovation activities by making a condensed view that different teams can share and implement.
Hover over the "Create" button and click "Add Roadmap" from the menu to merge your desired Roadmap. Continuing on the example of the innovation manager of a self-driving taxi company, you can add another product roadmap that helps you to clearly show a realistic timeline, significant milestones, and required deliverables. For instance, consider the "Technologies" and "Product" layers different roadmaps for different departments within your organization. You can now merge the two Roadmaps to align both departments in your organization and bring the project up to speed.
ITONICS Roadmap: Your central tool for strategic planning
Traditionally, roadmaps are created in rigid tools such as Microsoft Excel, PowerPoint, or Visio as standalone planning documents which are not linked to other parallel activities within an organization.
ITONICS Roadmap is a dedicated roadmap software to plan, map and track all growth activities in your company and ensure all teams move in the right direction. Use our roadmap tool to:
Plan product development to capitalize on market trends
Recognize what technologies to develop in what time frame
Supervise the implementation of tasks and know whether your company's timeline commitments can be met
Integrate innovation projects to plan capacities and allocate resources
Expand innovation beyond the R&D department by enabling cross-departmental collaboration
Present your company's overarching strategic vision to management
To further systemize all your innovation activities from strategy to execution, the ITONICS Innovation Management Software is your solution. It can be your single source of truth for environmental scanning, continuous foresight, ideation, open innovation, portfolio management, and strategic planning.
---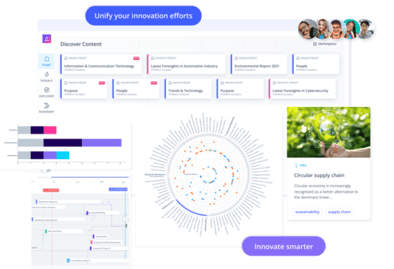 Get started with the ITONICS Innovation OS
---
Have more time?