Technology innovation leaders and enterprise architects must create roadmaps that communicate strategy and inform better decisions for business and IT. Such roadmaps must have the right granularity and planning horizon and must connect strategy with implementation to ensure that desired outcomes are achieved.
Defining Innovation Roadmaps
A roadmap is a visual representation of the milestones and deliverables required to manage the transition from the current state to a future state over a specific time period. An innovation roadmap, however, is much more than a simple visualization instrument. Companies use it to link business and technical capabilities and communicate internally the transition from what the company has today and aspires to achieve in the future. Thus, an innovation roadmap becomes instrumental in reaching consensus among various stakeholders and supporting future business capabilities and outcomes. Four main characteristics yield the maximum efficiency from the innovation roadmap, namely:
Simplicity: when developing one, address it to someone with little knowledge of the company's strategy or general approach so that this person can understand it immediately and with little effort;
Collaborative nature: make the roadmap development a team exercise. Do not develop in isolation but rather welcome the perspectives and involvement of a wide variety of stakeholders;
Goal-oriented approach: always think of what the target audience of the innovation roadmap should think or do to see it.
Alignment: ensure alignment across the needs and wants of the stakeholders so that the innovation roadmap reflects what the company is trying to achieve strategically.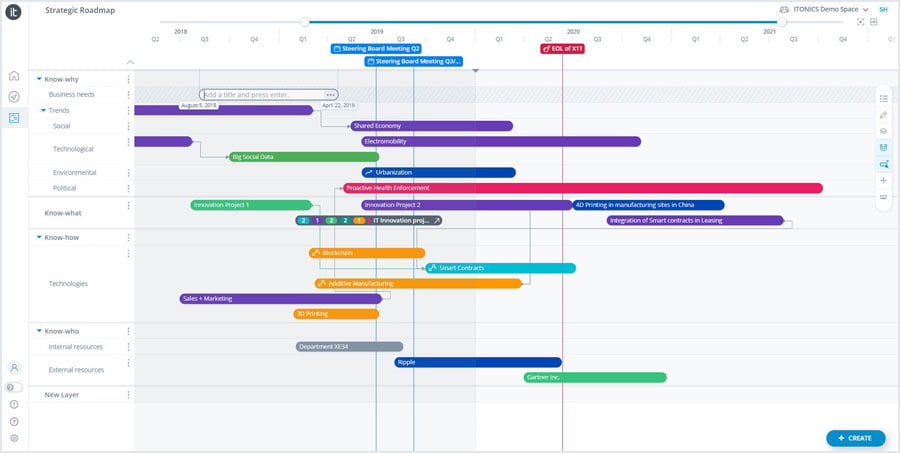 Determining Key Stakeholders and Their Engagement
Being of such importance to strategic alignment across the organization, innovation roadmaps have their users and stakeholders. The latter include anyone related to either business or technical function. The former usually comprises enterprise architects (EA) and technology innovation leaders creating roadmaps to better communicate strategic vision and make well-informed technical and business decisions. Companies that skip the creation of roadmaps will miss opportunities to engage a variety of stakeholders in the development of a shared vision for the realization of business outcomes.
There are, however, several challenges innovation and enterprise architecture experts face in pursuit of well-crafted and efficient innovation roadmaps. First of all, EAs often experience difficulties developing roadmaps that resonate with and properly inform stakeholders whose support is ultimately needed for the investment or business decisions. Secondly, technology and innovation leaders fail to adapt roadmaps to changing business environments and priorities, thus leading to losses and waste of business leaders' resources. Thirdly, EA teams find it difficult to structure roadmaps so that they convey business value in proper business terms.
How to display internal business alignment?
Where are the company's main investments directed to?
What are the gaps and overlaps?

Developing Powerful Innovation Roadmaps
There are quite a few recommendations for the relevant EA teams and other stakeholders when it comes to the creation of efficient innovation roadmaps. One of the first things to consider is the level of detail or granularity and planning horizon. This has a role to play when thinking of the roadmap as the liaison between strategic goals and implementation activities. Keeping in mind that the development of roadmaps is a challenging activity and that there is no single right roadmap that suits every company, strategy, and stakeholder, we have prepared some recommendations on establishing a decent roadmap and maintaining it relevant and agile.
Clearly show the transition to the future state from the current state keeping in mind that any visualization on the map should be easy to understand.
Assign broad time horizons to business capabilities and outcomes but link the concrete business milestones to weeks and days thus creating traceability.
Combine strategy and execution artifacts into a cohesive visual story to ensure the connection between strategy and its implementation.
Address the roadmap to the primary and secondary audiences to cover the needs of all stakeholders but also keep the focus on the key aspects. It helps to write down the primary audience on whatever canvas is used to create the roadmap.
When working continuously with roadmaps, EA teams and technology innovation leaders should:
Connect plans with ongoing projects and map out the interdependencies, interrelationships, and business outcomes;
Continuously involve stakeholders through a visualization of the stage of change relative to plans, current projects, and existing assets with consideration of strategic objectives and strategies as such;
Capture change and windows of opportunities for innovation to the status quo business environment and thus support leadership and their decision-making processes.
Using Roadmapping Software
Creating and updating roadmaps is a time-consuming, large data collection requiring activity. Not only the creation of roadmaps but also the maintenance of roadmaps are often referred to as a time-consuming activity. Roadmaps are usually created in rigid documents in Microsoft Excel, PowerPoint, or Visio. That's why such roadmaps remain detached from current corporate planning and development and quickly become obsolete. This is why roadmapping software solutions come in help. Dedicated software solutions, such as ITONICS Roadmap combines markets, products, technologies, and resources in a web application to enable holistic forecasts for future technology and product developments. The visual and collaborative nature of roadmaps implemented in an easy-to-use digital tool enhances alignment and open communication among functions in and across organizations. This results in improved cooperation of business stakeholders, better ranking of ideas as well as prioritization of business objectives and thus ultimately to the desired level of strategic alignment.