Challenge: Identifying Gaps and Opportunities in the Innovation Portfolio
The times when a solid business model worked for decades are also over in the banking sector. The new customer expectations of financial service providers in the digital age pose new challenges for the innovation work in banking. Customers long for banking integrated into their life situation, comprehensible, comparable, and personalized products, sufficient security, and immediate service availability.
The existence of new digital competitors (Fintechs) in recent years is also threatening and changing all areas of the value chain in the banking business. So how does a major bank manage to become an innovative mastermind?
Since April 2016, the DZ BANK Group is successfully using a software platform, the so-called "DZ BANK Innovation Radar", to link trend and technology management (external perspective) with its own innovation activities (internal perspective) and thus gain an overview of the company-wide innovation portfolio (see also: Innovation Blog DZ BANK).
Innovation at DZ BANK
Decentralized organizational structure leads to inefficiencies & duplicate work
Innovations not initiated & controlled centrally but by various divisions & Group companies
Numerous innovation activities at all levels of the DZ BANK Group
Looking for cooperation instead of confrontation with new fintechs
Objectives
Transparency: making innovations accessible across different departments and fostering collaborative assessment
Interconnection: identifying relevant trends and technologies and covering them with the own innovation activities


Solution: All Trends, Technologies, and Innovation Activities on one Innovation Platform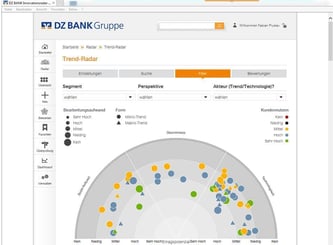 Scout and link
Collaborative scouting and linking of trends, technologies, and innovation activities on one innovation radar platform
Evaluation of trends
Strategic evaluation of trends with regard to the own business area on the basis of ten criteria (e.g. customer benefit, earnings potential, suitability for the mass market)
Interconnection and evaluation of activities


Visualization of all trends, technologies, and innovation activities according to evaluation criteria in the innovation radar and identification of strategic relevance

Observing the market environment


Research of (fintech) startups and transparency about cooperations in additional fintech radar

Result: Monitoring of Innovation Activities and Fintechs Based on Collaborative Innovation Radar
Visualization of all innovation activities of the various banks and departments, their contacts, and relevant trends and technologies are mapped on a central innovation platform

Over

120 employees

from various business divisions and Group companies of the DZ BANK active on platform

Identification of gaps in the innovation portfolio

by linking all internal and external information

Integration of a fintech module for

cross-departmental monitoring

of the market environment

Creation of a transparent and company-wide overview of all

fintech cooperations
| | | |
| --- | --- | --- |
| employees active on platform | and more displayed innovation activities | and more scouted fintechs |
DZ BANK AG Deutsche Zentral-Genossenschaftsbank, headquartered in Frankfurt am Main, is the central institution for around 900 Volksbanken Raiffeisenbanken and has over 30,279 employees. As a central bank, its mission is to support the business of the many independent local cooperative banks and to strengthen their competitive position. The range of services extends from traditional and innovative products through structuring and issuing to trading and distribution in the equity and bond markets.
Additional Sources: