Gartner states: "Every innovation program needs well-developed objectives and goals to improve specific innovation ability and leverage innovation capabilities." This article looks at how you can define and establish these goals and objectives, closely examining the "Composition of a SMART Business Goal" according to Gartner®.
A major reason for innovation program failure is incomplete guidance. Executive leaders are often working with objectives and no goals, or goals and no objectives. Leaders can improve the likelihood of success for innovation initiatives by designing goals that "inform the innovation process on the outcomes of importance leading to focus, give a timeline that enables the right selection of innovation activities and determine the resources and competencies needed for success." Also, "executive leaders should leverage the enterprise strategy to identify key objectives and goals to initiate innovation planning and establish the scope of innovation programs and initiatives."
1. Why you need innovation objectives and goals
According to Gartner, "A thorough understanding of the organization's specific objectives, goals, and strategies is the key first step to informing the selection of innovation activities most likely to yield the best result among the significant space of innovation options."
These goals increase the potential that your innovation efforts have a high business value and impact while mitigating the risks of going in the wrong direction. "Establish innovation performance goals to expand on strengths and to address capability gaps or execution constraints — that is, ensure the innovation program or initiative can deliver the business outcomes needed".
2. Defining objectives and goals to measure innovation performance
Gartner further states, "The most effective innovation frameworks and roadmaps begin with clear alignment between strategy-defined objectives and goals." Business strategies indicate the most important choices made by the organization. Therefore, when initiating your innovation plans and establishing their scope, you have to "translate both the business objectives and goals in a compelling way to demonstrate the importance of the innovation effort and define the reasons any given employee/team should participate".
Business objectives to guide innovation program planning
As per Gartner, "Business objectives are the key source of guidance to determine the focus and enable the innovation program to be planned and organized." Depending on the type of innovation approach — top-down or bottom-up — "leaders should make key choices of innovation program design, from the innovation style to the resources."
Furthermore, Gartner states, "Well-established business objectives and well-organized innovation initiatives will center around the following desired outcomes:
Expand revenue opportunities: Increase sales (for nonprofits, this could be measured as the benefits provided to stakeholders).
Improve cost structure: Increase productivity to reduce the costs needed to deliver value/benefits.
Increase asset utilization: Use available capital/assets more effectively in producing value.
Enhance customer engagement: Strengthen engagement, expand relationships, and enhance customer experience.
Improve management effectiveness: Improve critical management processes to more effectively operate the organization and/or to differentiate from competition."
Business goals to set key elements of scope for innovation projects
For a well-guided innovation process, Gartner recommends framing your goals using the SMART approach: specific, measurable, actionable, realistic, and time-bound.
The Gartner Composition of a SMART Business Goal (Figure 2) portrays a well-framed goal, illustrated with a practical example. According to Gartner, "Goals that do not include all these elements will likely misguide the innovation process, possibly driving too large a scope or disestablishing the timeline."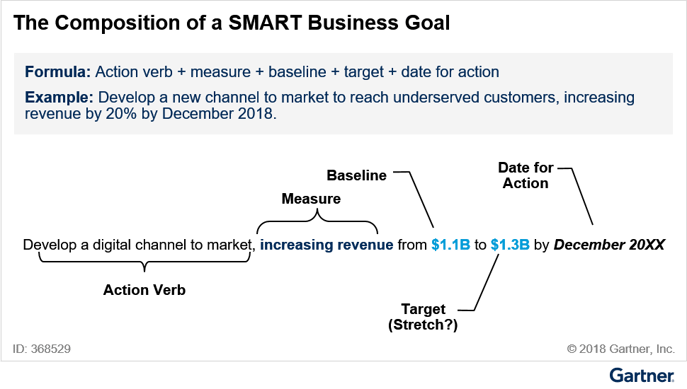 From strategy to execution with the ITONICS Innovation OS
ITONICS supports clients like adidas, Intel, Johnson & Johnson, Cisco, or KPMG with an end-to-end innovation management platform that addresses the challenges and approaches outlined by Gartner.
Together with our clients, we shape the future by providing a systematic framework and single point of truth to steer innovation efforts. In doing so, we remain dedicated to staying at the forefront of innovation management, integrating emerging technologies and methodologies on the fringe of what's next into our offering to empower everyone to innovate.
As the world's leading innovation management system, ITONICS provides organizations the flexibility to radically upgrade the way they innovate. Get started today with a 30-day free trial or a free software demo.
---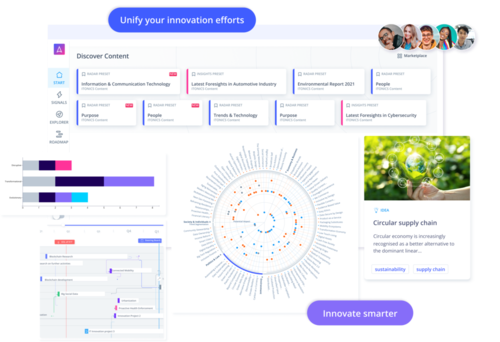 See the ITONICS Innovation OS in action
---
Have more time?
Disclaimer
Gartner, Leverage Enterprise Strategy Objectives and Goals to Focus Your Innovation Efforts, Darren Topham, Peter Skyttegaard, Refreshed 4 May 2022, Published 3 December 2020
GARTNER is a registered trademark and service mark of Gartner, Inc. and/or its affiliates in the U.S. and internationally and is used herein with permission. All rights reserved.
This graphic was published by Gartner, Inc. as part of a larger research document and should be evaluated in the context of the entire document. The Gartner document is available upon request from ITONICS.