Many innovation teams face the challenge of constantly tracking and monitoring the drivers of change, emerging trends and technologies, and other early signals relevant to their business. In the following, you'll learn some essential steps that will help your team identify innovation opportunities and risks faster to stay ahead of the curve.
Reacting to recent and rapid changes alone is not enough for a business to stay competitive. Companies must take a proactive approach to remain relevant in the long term. Being proactive means learning to spot weak signals, respond to them, and make necessary strategic corrections as soon as possible. Businesses need to monitor these weak signals and their evolution and understand their connections and broader shifts they represent. But, identifying weak signals can get tedious if you need to manually sift through countless news articles, academic journals, or patent data. To swiftly identify these weak signals, innovation teams can utilize AI-driven software to scout, scan, monitor, and streamline the process.
In this blog, we discuss how you can identify weak signals in real-time to scale your innovation opportunities with the features in the ITONICS Innovation OS.
What are weak signals?
Weak signals are fragments of information that suggest potential shifts in the foreseeable future. They represent emerging scenarios that can affect your company's operations, business strategy, or competitive landscape. Companies that can quickly identify these weak environmental signals and react to them before the competition gains a decisive competitive edge. However, innovation teams can miss opportunities when they do not have a systematic approach to identifying these signals and integrating their findings.
3 steps to kickstart weak signal detection with ITONICS
The ITONICS Innovation OS delivers up-to-date data from RSS feeds, news articles, patents, and scientific publications. Our machine learning algorithms reduce the human effort to help you identify weak signals in real-time in three simple but effective steps:
1. Start with your Signals Feed
Identifying weak signals begins with generating a Signals Feed on a topic area whose weak signals you want to keep track of. You can start by defining your topic of interest on the 'What do you want to look into' search bar.
The ITONICS Insights tool has two different levels of search functionalities. A casual search, typically involving simple search terms, allows you to enter any term or keyword and explore the newest, most relevant articles surrounding it. For instance, you can perform a simple search by entering the words "sustainable" and "farming" to explore more about the new developments in the sector. However, when you want to be very specific about the keywords you want to combine or exclude, the power search is just the tool for you. The power search is more advanced as it allows you to use a boolean query to do complex searches using an operator such as AND, OR, NOT. You can enter the following boolean search articles around sustainable farming practices published in the US.
((* CONTAINS "sustainable*" OR * CONTAINS "environment*") AND * ~ "farm*" AND country = "US" )
To further narrow down your results and generate the most relevant Signals, you can use the filtering options available in ITONICS Insights, including countries, tags, sources, signals, etc. Once satisfied with the Signals Feed, the next step is to save the search using the 'Create Element' option. In the ITONICS Innovation OS, pieces of content used across the different features in the software are called 'Elements,' short for Elements of Change. Based on the type of your research or project, ITONICS allows you to create different types of Elements, including, Scenario, Trend, Technology, Risk, Opportunity, Project, Inspiration, and Idea.
When creating an Element, you can enrich it by adding some textual information. This textual information could be the title, summary, and tags. Our machine learning algorithms use the textual information of the Element to generate the Feed. Please note that the conciseness of the textual information directly impacts the quality of the Feed generated.
The image below shows a Signals Feed generated by the boolean search we mentioned earlier and an Element that is created of it as Scenario: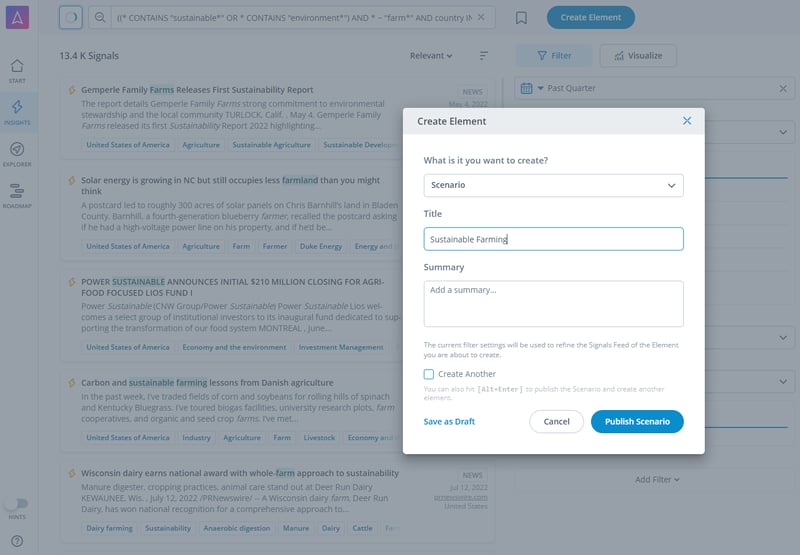 2. Monitoring the Elements
Once you create your topic area as an Element, identifying weak signals under the area is just a matter of monitoring their development from their individual Signals Feed. Yes, it is really that simple with ITONICS.
For every Element in the Explorer, there is a Signals Feed, which obtains data from our constantly-updated information pool comprised of thousands of verified sources like news, patents, scientific publications, and RSS feeds. Since ITONICS updates the Signals Feed constantly, you can always be on top of the game regarding the changes in the area. Dedicate a few minutes of your daily schedule to revisit your Elements and scan its Signals Feed to see if new articles or developments hint towards a potential shift.
3. Build your Element further
Creating your Element and evaluating its Signals Feed is in itself a complete process to identify weak signals. However, you can take it a step further and add 'Relations' to your Elements for a more well-rounded approach to evaluating your topic area. By creating these Relations, you can study your Element more holistically as you will see the hindrances, the driving forces, what it is comprised of, and other similar questions at a glance.
First, select a relevant article from the Signals Feed generated for your Element, and click the 'Create Signal from Element' button. The next step is to relate them to your Element. Do this by scrolling down to the Relations section and choosing the right Relation to your Element. There are various other options for you to decide on the right kind of Relation, including Comprised Of, Drives, Hindered By, etc.
The first image below shows how the user selected the particular article for the Scenario "Sustainable Farming" and created it as an Inspiration by clicking the 'Create Signal from Element' button.

The image below shows how to relate the Inspiration to the same Scenario under Drives.

Next step: create your workspace
To further streamline your process of weak signal detection and monitoring their evolution, the ITONICS software suite enables you to create different workspaces for different projects and groups of your company.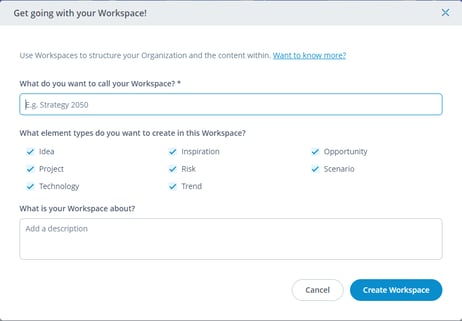 The workspace is like your personal playground where you can explore your topics of interest more effectively. Also, since you can create numerous workspaces, you can monitor more than one Element simultaneously. To make it even more convenient, the software allows you to import any Element from another workspace to your workspace and even add comments for other team members to see, which fosters a collaborative effort in scouting and identifying weak signals.
Scale your scouting activities with ITONICS
The ITONICS Innovation OS enables you to process significant and large amounts of data points with minimum human effort. You gain instant access to thousands of verified sources by using the tools available in the software. You can efficiently monitor, identify and evaluate the shifts in the area of your interest.
Further enhance your scanning and scouting activities with ITONICS: Keep track of drivers of change, trends, and emerging technologies relevant to your organization and turn your data into actionable insights. For instance, by visualizing your search results on the ITONICS Trend or Technology Radar, you can filter, link, and relate different data to each other and get a helpful perspective on opportunity spaces and risks.
See: How to Keep Up with Trends & Technologies: A Simple (but Powerful) Guide
If you want to learn more about the features and functionalities of ITONICS to scale your innovation activities, get your free demo.