3 Key Takeaways from the 2022 Gartner Hype Cycle for Emerging Technologies
Emerging technologies are vital in transforming and modernizing industries and organizations in a world driven by digital solutions. Staying informed about rapidly changing business environments and the factors influencing change is of paramount strategic importance.
Accelerating technological developments continue to impact the bottom line through increased productivity and efficiency. Looking to the future, the democratization of technology is set to change the business landscape, while technologies such as cloud sustainability seek to support organizations in improving their sustainability posture.
This article explores some of the key takeaways from Gartner report for technology innovation leaders, CTOs, and CIOs.
The Gartner Hype Cycle for Emerging Technologies
The 2022 Gartner® Hype Cycle™ for Emerging Technologies features emerging technologies that will greatly affect business and society over the next two to 10 years. These technologies help enterprise architecture and technology innovation leaders expand immersive experiences, accelerate AI automation and optimize technologist delivery.
As per Gartner, "The Hype Cycle for Emerging Technologies is unique among Gartner Hype Cycles because it distills insights from more than 2,000 technologies and applied frameworks that Gartner profiles each year into a succinct set of "must-know" emerging technologies. We used a variety of internal and external data sources to help select the technologies on this Hype Cycle for their potential transformational benefits and their broad impact across business and society."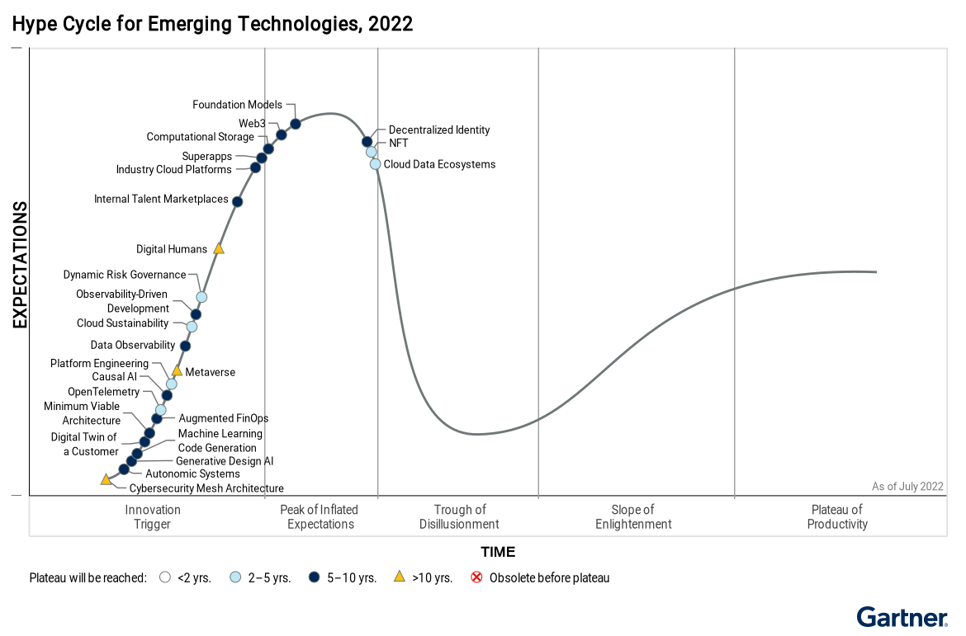 Three key takeaways from the Gartner report
1. Democratizing technology
A notable trend that emerges in the report is the democratization of technology. Emerging technologies such as generative design AI and machine-learning code generation, we believe, signal another opportunity to reimagine work as digital capabilities in design and development become more accessible to more people and no longer the domain of skilled experts.
Though still in the embryonic phase, Gartner recommends generative design AI users to "transition the role of humans in the design process from production-level creators to strategic curators ", With a 5–10-year estimate for mainstream adoption, we believe generative design AI and machine-learning code generation are set to impact the business landscape in terms of productivity through automated design and development processes.
The ability of generative design AI to design an online store, complete with product templates, shopping cart, and brand identity, on-demand, which we believe will undoubtedly empower increasing numbers of entrepreneurs and creators to participate in the digital economy.
Further supporting the democratization of technology are a host of emerging technologies focused on minimal viable architecture (MVA) and cloud-based developments such as automated FinOps and cloud sustainability that we believe promise greater efficiency. According to Gartner, cloud sustainability services "offer great potential to produce sustainability benefits because of their ability to operate at scale using a shared services model."
2. Causal AI on the rise
Causal AI, currently in the emerging maturity phase, is another exciting technology that shifts the focus from predictive analytics to prescriptive analytics, unleashing various benefits for organizations and their customers. In terms of usage, Gartner cites causal AI as beneficial "when you need more augmentation and automation in decision intelligence when AI is needed not only to generate predictions but to understand how to affect the predicted outcomes." Gartner recommends, "Use causal AI when you need more augmentation and automation in decision intelligence when AI is needed not only to generate predictions but to understand how to affect the predicted outcomes. Examples include customer retention programs, marketing campaign allocation, and financial portfolio optimization."
3. Metaverse mentioned in the Hype Cycle
With the tremendous hype that has erupted around the Metaverse this year, it is little wonder that immersive experience technologies also claimed their raison d'être in the Hype Cycle. Gartner has even identified evolving/expanding immersive experiences as one of three macro themes for the next 2 to 10 years.
Although immersive experiences are not entirely new to the Hype Cycle (AR and VR have been part of it since the early 2010s), we believe this year's plethora of technologies clearly shows the importance Gartner attaches to the trending developments.
While it will take time for most technologies in this space to reach their peak and become well-developed, we believe it's a key sign that Gartner categorizes immersive experiences as more and more disruptive for business and society.
From trends and emerging technologies to action
Feeling inspired by the insights? Why not boost your innovation management activities with the ITONICS Innovation OS where you can do broad environmental scanning to identify opportunities, focus areas, and potential risks? With the machine intelligence of ITONICS Insights, you can enrich trend and technology developments with weak market signals. ITONICS Radar allows you to evaluate, discuss, and visualize trends and technologies with other internal experts. Our Innovation OS is designed to empower collaborative and continuous innovation management and ensure your business is competitive in the future.
Have more time?
—
Disclaimers
Gartner, Hype Cycle for Emerging Technologies, 2022, Melissa Davis, Gary Olliffe,25 July 2022
Gartner and Hype Cycle are registered trademarks and service marks of Gartner, Inc. and/or its affiliates in the U.S. and internationally and are used herein with permission. All rights reserved
This graphic was published by Gartner, Inc. as part of a larger research document and should be evaluated in the context of the entire document. The Gartner document is available upon request from ITONICS.