Preparing your business for the year ahead requires a look back at this year's results, clear and quantifiable short- and long-term goals, and an understanding of the internal and external drivers of change influencing your business environment. In this article, you learn how to kickstart your environmental scanning for 2023 in just a few clicks.
Foresight is essential to strategic planning and determining 'Where to Play' in the year(s) ahead. While it is a practice that relies on continuous environmental scanning and trend and technology management, there is no better time to focus and recalibrate your foresight activities than when you are planning for the year ahead.
Reduce the complexity and effort of environmental scanning and trend and technology management with ITONICS' ready-to-use trend and technology radars. Updated with new insights and future projections, these interactive radars allow you to easily visualize, filter, and evaluate information that holds the greatest relevance and potential impact on your future growth.
Preview to 2023+: Discover our portfolio of trends and emerging technologies in the ITONICS Innovation OS
In the following, we explain key considerations for effective foresight and what you can expect from our collection of emerging technologies and trends.
What to consider for effective foresight
Everyone wants a magic button to reveal precisely the opportunities worth pursuing and threats for which to prepare. It is tempting to want to skip ahead to these outcomes, relying on business acumen and past experience to determine what will be significant to your business in the future.
However, this singular approach to foresight makes it easy to miss important signals of change, base decisions on unvalidated assumptions, and settle for business as usual. And what is clear is that business as usual in 2023—with a projected broad-based economic slowdown, a resulting cost-of-living crisis, unfolding debt crisis, and impending climate crisis—will not be enough to ensure success.
Engaging in systematic foresight builds the critical innovation capabilities to help your business navigate these increasingly turbulent times. It is, therefore, the actual process of activities like environmental scanning, as much as the outcome, that holds the magic.
Inherently a divergent exercise, environmental scanning trains us to expand our worldview and imagine multiple possibilities for the future. In addition, a continuous scanning program, as opposed to project-based scanning, sets your business up to better detect and respond to rapidly evolving changes.
Environmental scanning also takes into account a holistic context of change. It prompts you to consider: In which macro-environmental spheres, industries, and markets is an observed change occurring? What is the pace and trajectory of the change? How do trends, technologies, and other drivers influence one another? And how could they influence our business, products, and customers?
Involving cross-functional teams and subject-matter experts in foresight activities further strengthens the process and outcome. It provokes discussion, fosters collaboration, and raises strategic alignment.
Taking a divergent, continuous, holistic, and collaborative approach to foresight ensures that you do not miss weak signals on the periphery and horizon of your environment. It nurtures open-mindedness, fresh perspectives, and the internal capabilities needed to anticipate, prepare for, and shape possible futures.
What you can expect from ITONICS Trends and Technologies
Our collection of nearly 170 emerging technologies and trends, thousands of inspirations, various thematic presets, and preconfigured radars available in the ITONICS Innovation OS will help you kickstart your continuous foresight for the year ahead.
Continuously monitored and updated trends and emerging technologies
New trends and technologies do not emerge overnight. They are not fast-spiking, fast-fading hypes. Nor are they flashy novelties—many of which are currently on the chopping block as tech companies cut back on speculative projects and prioritize those that are both profitable and genuinely valuable to customers, according to The Wall Street Journal.
Instead, drivers of change are anticipated by signals that, when collected over time and systematically organized, can reveal meaningful patterns of change. This information prompts our analyst team to investigate gaps, overlaps, tensions, and synergies arising in the trend and technology landscape.
We are continuously scouting for new drivers of change and monitoring the evolution of our existing trends and emerging technologies. The result of this continuous monitoring over the past year is an updated collection of foresight intelligence comprising:

What's new? Updated emerging technology and trend descriptions, implications for innovation, future projections, and new inspirations.
Evidence-based trend and technology ratings
Evaluating emerging technologies and trends and applying comparable, evidence-based ratings are essential in foresight. It helps teams prioritize the most relevant, impactful, and potentially transformative drivers of change for their business. It helps guard against internal biases by considering external, empirical data alongside organizational knowledge. Undertaken as a collaborative exercise, reviewing and attributing ratings helps build the consensus, diversity, and commitment needed in a successful innovation journey.
Our analyst team attributes predefined ratings to each emerging technology and trend on the ITONICS platform based on various criteria (e.g., Potential Impact, Adoption Stage, Technology Readiness Level). We track the criteria using data acquired from the ITONICS Insights tool and incorporate best practice methods from Gartner and NASA. Our trend and technology radars are preconfigured based on these ratings to help you easily visualize, compare, and evaluate.
Read more about how our emerging technologies and trends are rated in our blog: How To Identify Relevant Trends And Technologies For Your Organization.
| | |
| --- | --- |
| | |
| ITONICS predefined trend ratings | ITONICS predefined technology ratings |
What's new? New predefined rating Technology Attractiveness accounting for the interest an emerging technology attracts in terms of patents and funding.
Industry and megatrend presets
The ability to connect the dots and see the big picture is essential in innovation. It is why many startup founders are generalists, acquiring and relying on a broad base of knowledge across many topics. And it is why, in foresight, generalists are just as important as specialists.
Generalists are well equipped to drive the divergent, holistic thinking needed to not miss weak signals, important connections, and the broader context of change. Specialists are great at deep diving into these areas and investigating questions like the quantifiable impact and technical, practical implications of responding to, or not responding to, a driver of change.
The challenge with a generalist mindset is minimizing the noise in order to determine a field of relevance and direct the specialists in the team where to deep dive.
To help refine your scope without narrowing your vision, you can apply various lenses to our collection of emerging technologies, trends, and inspirations. These exist as presets in the ITONICS Innovation OS to help you quickly filter down information that has greater relevance to different industries and megatrends. With these industry and megatrend presets, we have performed the role of the generalist for you, to help you better focus your foresight efforts.
The presets available in ITONICS include:
Industries

Aerospace & Defense
Automotive
Banking & Finance
Chemicals & Materials
Energy
Food & Drink
Healthcare & Pharmaceutical
Information & Communication Technology
Retail

Megatrends

Digital Transformation
Future of Work
Sustainability Imperative

What's new? Megatrend presets to quickly filter down and access the emerging technologies, trends, and inspirations that hold the greatest relevance to your strategic goals.
3 steps to kickstart your environmental scanning for 2023
To get started, create an account in the ITONICS Innovation OS. You can sign up with a free 30-day trial. Now you are ready to set up your technology and trend radars in just a few clicks to kickstart your environmental scanning for the year ahead.
Refine your scope
In the ITONICS Innovation OS, you can apply one of our industry or megatrend presets to refine your scope and focus your foresight efforts. These presets open up a view of the emerging technologies, trends, and inspirations that have greater relevance to the industry or megatrend in which you are interested.
Overlay presets to see the interplay between industries and megatrends. And apply additional filters based on interest and strategic goals. You can filter by keywords and content types to identify the emerging technologies and trends you wish to add to your radar for further evaluation and monitoring.
Create your radar
Once you have identified the drivers of change worth investigating for possible opportunities, you can simply copy them over to your workspace in ITONICS. Your custom technology and trend radars will automatically be populated with these emerging technologies and trends, respectively.
Also see: How to Create Your Trend and Technology Radar in 5 Minutes
In your workspace, you can change the predefined ratings, add internal ratings, and invite others in your team to rate each emerging technology and trend. An understanding of internal capabilities and strategic goals, as well as specialist knowledge, are extremely valuable in this evaluation process to help you prioritize what intelligence to act upon.
Continuously monitor
Each emerging technology and trend in the ITONICS Innovation OS has a machine-generated signals feed. This pulls signals from the Insights software, which is fed by top-trafficked news sites, curated RSS feeds, European and U.S. patent databases, and scientific publications.
You can search and pin signals of interest in the signals feed of an emerging technology or trend. Or refine this feed in Insights, where you can adjust filters across several categories and use timeline and world map visualizations to detect broad patterns. Create a saved Insights search field for an emerging technology or trend on your radar to easily monitor developments over time.
Also see: How to Monitor Drivers of Change to Maintain Competitive Advantage


---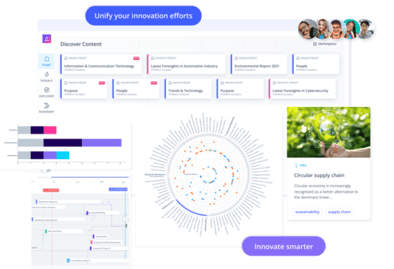 Get started with the ITONICS Innovation OS
---
Have more time?