The innovation landscape is ripe for change. As outlined in the Gartner® report, "A Chief Innovation Officer Is Needed to Lead Innovation Effectively," by Tsuneo Fujiwara and Mordecai, organizations that appoint a chief innovation officer have a sufficient budget and demonstrate a genuine commitment to innovation. They are poised to thrive and positively impact business growth through innovation.
In this article, we delve into some key findings and recommendations, exploring the inherent importance of a CINO's role in corporate growth and the advantages of using innovation management software, such as the ITONICS Innovation Operating System (OS).
The innovation paradox
Innovation is the driving force behind growth. It fuels corporate reinvention and differentiation, positioning businesses at the forefront of their industries. Gartner states, "Organizations lack leadership in this area, with only 19% of organizations effectively fostering innovative talent and a focus on general innovation activities not proving effective."
While companies are keen to label themselves as 'innovative,' the truth is that simple declarations or company-wide slogans do not equate to a culture of innovation. This shallow approach often obscures the path to genuine innovation, leading to disconnected efforts that do not align with overarching business goals.
Innovation is not a nice-to-have but a must-have. Organizations that proactively embrace disruption, rather than resisting it, are more likely to thrive in today's fast-paced business environment.
The critical role of the chief innovation officer
Amongst high-growth companies, about 70% are currently experimenting with new business ideas or models. Armed with the right tools, the CINO can effectively guide this exploration, accelerating the creation and implementation of new ventures.
The report suggests a robust 'Innovation Leadership Framework' to effectively orchestrate innovation. "Leading innovation out of the silo requires the CINO not as a "new idea" facilitator, but executive-led implementation." By creating such a framework across the enterprise, the CINO guides the mission, organization, and business needs of innovation by providing key touch points and clear functional disciplines. They help ensure that innovation efforts align with business objectives and are not relegated to short-term or siloed projects.
Recommendations for driving innovation
Below, we present a three-pronged strategy for leaders seeking to prioritize innovation and disruption.
1. Appointing a CINO to lead innovation
The CINO acts as the architect of innovation, setting out strategic blueprints that invite all business units to actively participate in ongoing initiatives and potential future ventures. This approach instills an innovative mindset throughout the organization, without compromising the focus on delivering results.
"By nature, every CINO is the leader of what's next and new, not as an entrepreneur-in-residence or boardroom sideshow, but by leading innovation touchpoints across the business with a clear and structured framework focused to the future of the business."
Responsibilities of a chief innovation officer:
Strategic direction: The CINO is instrumental in shaping and directing the organization's innovative course. They are entrusted with developing an innovation strategy that aligns seamlessly with the overarching business strategy and objectives. Beyond this, they are also responsible for promoting awareness of innovation at the board level, ensuring that the leaders of the company understand its importance and are actively involved in driving it.


Innovation culture: Another pivotal responsibility is to create and nurture an organizational culture that actively encourages and rewards innovation. CINOs need to foster an environment that invites employees to present new concepts, assuring them that failure is not a setback but an opportunity for learning and growth.


Balancing incremental and disruptive innovation: A CINO holds a pivotal role in striking the balance between incremental and disruptive innovation. While incremental innovation involves consistent enhancements to existing processes, products, or services, disruptive innovation transforms existing markets or creates new ones through revolutionary change. Both are crucial for a company's growth, and it is the CINO's responsibility to ensure that there is a healthy balance between the two.


Stakeholder engagement: A CINO's role extends to active engagement with an array of stakeholders—both internal and external—to amplify innovative thinking across the company. This engagement spans employees at all levels, customers, business partners, and even the wider community. By harnessing the collective intelligence and insights from these diverse groups, a CINO drives the creation of robust, innovative solutions that align with market needs and propel the organization forward.


Financial management and reporting: A vital component of a CINO's role involves overseeing the financial aspects of innovation initiatives. This includes managing investments, allocating funds appropriately, and ensuring their effective use. They are responsible for reporting on key innovation metrics and demonstrating the return on investment (ROI) of innovation endeavors. This quantitative representation of the impact of innovation on the business's bottom line is crucial for justifying continued investment in innovation and for fostering trust among stakeholders about the value that innovation brings to the organization.
→ Free Poster: The CINO in the Center of the Innovation Management Job Universe
2. Creating an Innovation Leadership Framework
The 'Innovation Leadership Framework' was designed to lead innovation effectively and create more engagement across the organization. Innovation leadership is seen across three pillars:
Support on the organizational level (education, inspiration, resources, challenges)
Ownership on the business level (new products/services, new verticals, acquisition)
Management on the team level (best practices, tech solutions, idea generation, partners)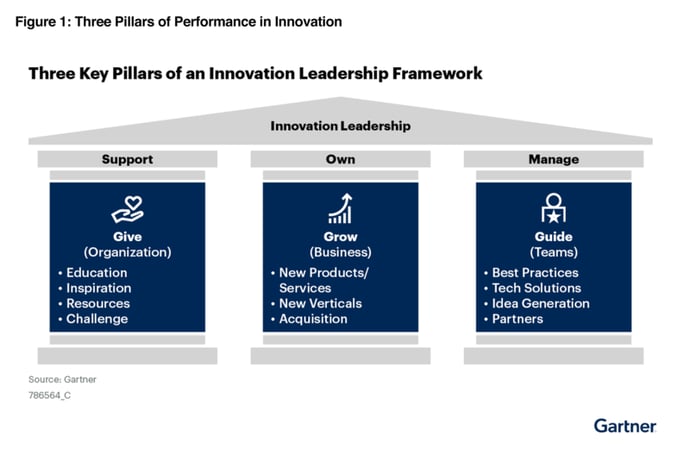 The team level focuses on creating collaborative and cohesive teams that can effectively innovate together. Key components of this pillar include fostering trust, encouraging diverse perspectives, and promoting open communication. Effective innovation often requires teams to challenge existing norms and assumptions, and this can only happen in an environment where different perspectives are encouraged and valued. This level also emphasizes the importance of creating multi-disciplinary teams, combining different skills, knowledge areas, and perspectives to spark innovation.
At the business level, the goal is to nurture and grow the company through new products or services, exploring new verticals, and considering acquisitions. This pillar extends to the broader organizational culture, strategy, and structure to create suitable conditions for innovation to flourish. It's important to establish a culture that supports innovation, aligns the organization's strategic objectives with its innovation initiatives, and builds structures and processes that enable and streamline innovation. This could mean implementing an innovation project management framework, designing effective systems for rewards and recognition for innovative efforts, or investing in tools and technologies that aid the innovation process.
At the organizational level, the focus shifts to providing support and resources to the organization's members, inspiring them to innovate, and offering them educational opportunities. This pillar acknowledges that organizations do not function in isolation but are part of a broader ecosystem inclusive of partners, suppliers, customers, and even competitors, emphasizing the need to build robust relationships with these external stakeholders. This can lead to joint innovation efforts with partners, co-creation activities with customers, and opportunities to learn from the innovative practices of competitors, thereby addressing challenges head-on.
3. Aligning the CINO's budget with business targets
Much like other chief executives, a CINO bears significant financial responsibilities, including meeting earnings targets, managing the budget, and identifying growth opportunities. Being accountable for the returns on innovation can enable a CINO to mitigate risks associated with innovative ventures and avert impending failures. The report underscores "ensure a CINO's budget is focused on revenue and business targets, by providing a clear path to accountability via key growth metrics and bottom-line deliverables."
Best practice: Innovation growth boards at Moody's
Moody's Analytics, a global leader in providing financial intelligence and analytical tools, has embraced a company-wide innovation growth board to identify common challenges and facilitate collaboration across teams and accelerated growth. The growth board is responsible for ensuring that the entire organization maintains a balanced portfolio of innovation and growth initiatives—across all innovation horizons. This includes innovation initiatives for core and adjacent business, as well as for new, transformative, and disruptive areas. The approach has been crucial in building greater agility within the business, informing decision-making, and mitigating risk in early-stage projects by implementing a metered funding approach at the resource allocation phase. This approach not only supports innovation but also mitigates the risk of over-investment in unproven concepts.
ITONICS: Powering chief innovation officers with innovation management software
As businesses increasingly realize the value of appointing a CINO, there is an accompanying demand for tools and resources to support this leadership role. Here, innovation management software like the ITONICS Innovation OS comes to the fore.
ITONICS provides a comprehensive suite of tools that assist in tracking and managing all innovation activities, from strategy to final execution. It ensures that the CINO's strategic roadmap is tracked, measured, and refined, enabling a data-driven approach to innovation.
Using the ITONICS Innovation OS, chief innovation officers can:
Anticipate future challenges and opportunities to help the organization adapt to changes in the marketplace.
Empower teams to gather and assess potential opportunities and projects for innovation.
Examine, map out, and prioritize opportunities and projects, ensuring resources are allocated optimally.
Institute well-defined and effective processes to qualify and manage innovation projects, providing clear guidance for teams.
Oversee and control the progress of ongoing projects within the innovation portfolio, facilitating real-time adjustments and strategic decision-making.
Aggregate and analyze data to report on developments and outcomes of the innovation portfolio, enabling transparent communication and evidence-based evaluations of innovation performance.
See it for yourself and learn more about the benefits and functionalities of the ITONICS Innovation OS in a free personal demo with one of our experts.
---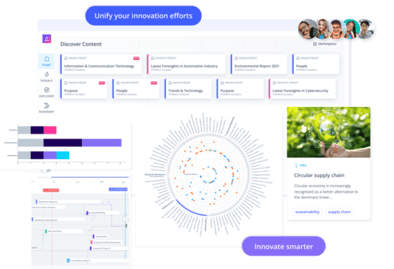 See the ITONICS Innovation OS in action
---
Disclaimers
Gartner, A Chief Innovation Officer Is Needed to Lead Innovation Effectively, 3 April 2023, Mordecai, Tsuneo Fujiwara

GARTNER is a registered trademark and service mark of Gartner, Inc. and/or its affiliates in the U.S. and internationally and is used herein with permission. All rights reserved.
Have more time?