In our monthly innovation updates, we provide you with an overview of the most relevant insights, best practices & tools from the innovation cosmos.
1. How to Manage Your Innovation Portfolio


At the beginning of the year, managers should be clear about their innovation ambitions and objectives to be achieved. This includes a balanced innovation portfolio. An evergreen Harvard Business Review article deals with how to strike and maintain the right balance. One method highlighted in the article that has already been adopted by many organizations is the 70:20:10 model.
Companies with comprehensive innovation management, invest simultaneously on three levels of innovation - core, adjacent, and transformational innovation - and ensure a balance between these levels. The 70:20:10 model suggests that 70% of your resources should be allocated to core innovation, 20% to adjacent innovation, and 10% to transformational innovation.


Core innovation

means to

improve current products and services that align well with the organization's strategy (

incremental innovation

). 70% of resources should be allocated to tested, low-risk, core activities that have proven to work in the past.

As core activity-focused innovation usually covers the existing processes and target groups, the costs for increasing production and adoption tend to be lower. For this reason, the most innovative companies like Google and Apple mainly focus on improving the existing product portfolio.


Adjacent innovation has characteristics of both, core and transformational innovations. It means expanding the existing business into markets that are new to the company.

You need diversity in your portfolio to reduce risks and reach a balance. This is why next to core activities, companies start to explore adjacent markets and capabilities. However, focusing too much on adjacent opportunities could be riskier than focusing on core innovation projects. Thus concentrating on adjacent innovation should only take about 20% of your resources.


Transformational innovation refers to

new offers or even whole new businesses to serve new markets

.



Innovative companies allocate 10% of their resources to develop breakthroughs and invent things for markets that don't exist yet (disruptive innovation

). This entails focusing on transformational initiatives that concentrate on creating something completely new.
The main idea of the 70:20:10 model is simple: you have to focus on your core responsibilities to get the company running, but if you do that all the time, you'll have a hard time evolving or gaining a competitive advantage.
Although it is useful to apply this model as a guideline to effectively manage your innovation resources and portfolio, it is just a rule of thumb, not a rigid model. The right balance varies across companies and depends on a number of factors, for example, the industry.
2. Why Accelerating Innovation Should be a Priority this Year

In a recent article by BCG, experts were asked about the C-suite's priorities in 2022. Besides topics such as understanding the full potential of artificial intelligence (AI) and developing a deep tech strategy, accelerating innovation should be at the top of the agenda. The reason pointed out by BCG's Managing Director and Senior Partner Karalee Close is simple:
Every major challenge companies face today boils down to the need to innovate quickly.


Considering organizations' major challenges, such as achieving net-zero emissions, transitioning to the future of work, or adapting to technological changes, the answer to these challenges is rapid innovation. To gain an advantage, a pressing priority for this year should be to achieve a higher innovation velocity than the competition.
The article highlights that the COVID-19 pandemic already showed that not only startups are capable of innovating fast, but also established organizations. The circumstances led managers to rethink and break down traditional barriers, work across functional silos to drive innovation, and use data and AI to anticipate and respond to changes in the external environment. As the world has become even more digital today, CEOs should now ask themselves how they can learn from these experiences to innovate faster and create a winning innovation engine.
A critical factor in accelerating innovation is digital capabilities:
Companies with leading digital capabilities gained more than five percentage points of market share over the past two years than those with lower maturity.

These businesses achieve higher performance in areas such as top-line growth, efficiency, and time-to-market because they continuously drive innovation. The key is that they are bringing together modern approaches to technology and data (such as the use of AI) and changes in processes and ways of working.
What sets these digital leaders apart from other companies, according to BCG, is their "innovation flywheel". By collecting the right data, developing insights and opportunities, and validating customer demand, they get faster from idea to innovation.
To follow these leaders, you can start simple: Equip small agile teams with the required resources, like a "minimum viable" operating model and tech stack, and let the teams work on a real innovation challenge. Not to be neglected is the development of leadership, talent, ways of working, and technological capabilities through cross-functional teams on a common platform to support innovation across the enterprise from the inside out. Finally, the operating model should be embedded in the entire value chain of your company.
BCG's expert emphasizes that "digital transformation is an ongoing process". However, making it a priority in 2022 will pay off.
Also see: Shaping the Digital Transformation
Announcement of the Month: KPMG has joined our growing community of Innovation Rockstars!

ITONICS is the new innovation management solution to help accelerate innovation and growth across KPMG globally. Read on!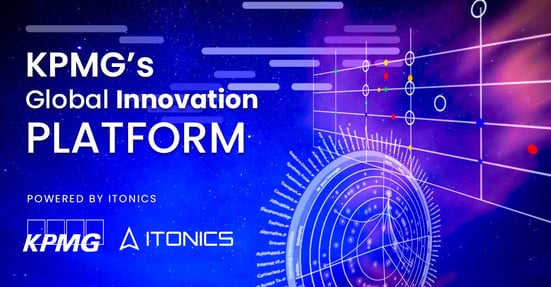 3. Our Trend of the Month:
The Gaming Metaverse

New year, new me. Boundless, fantastical, virtual me.
It's all infinitely possible, in The Gaming Metaverse, a global virtual third-space where participants not only engage in gameplay and immersive experiences but can just "hang out" and enjoy immense freedom of personal expression.
2022 is shaping up to be the year of the metaverse with brands rushing to establish their presence in these virtual worlds. From sportswear, fashion, and beauty to automotive, entertainment, and food—brands across industries and markets are recognizing the massive opportunity to build a persistent, global presence. Perhaps most anticipated is Facebook, Inc.'s campaign to create a metaverse and its renaming as "Meta."
As a result of these developments, the metaverse has quickly gone from an abstract gimmick to a highly lucrative channel. With no raw materials and minimal labor, profit margins on virtual goods are huge, and luxury brands are already bringing in millions of dollars. Dolce & Gabbana's first NFT (non-fungible token) clothing collection recently made $5.7 million when sold at auction. However, the metaverse's future market value remains difficult to pin down. Projections vary widely, from $800 billion by 2024 according to Bloomberg Intelligence to multi-trillion dollar potential talked about by investment authorities like Morgan Stanley and Grayscale.
What is certain is that the metaverse will continue to make headlines this year. Decentraland will hold its first fashion week in March 2022 as the business of virtual clothing gains traction. The metaverse platform is teaming up with UNXD, a luxury marketplace built on the Polygon blockchain network, which itself hosted the NFT clothing collection from Dolce & Gabbana.
Avatar-based dating is also heating up in what many see as an obvious progression in online dating. Match Group, under which Match.com and Tinder fall, as well as Bumble, are currently working on applications in the metaverse.
President of Bumble, Tariq Shaukat, says about the metaverse:
This is something that is going to evolve. We want to make sure we're setting the technical and engineering foundation for whatever emerges in the metaverse and in the Web 3.0 world.


And therein lies the driving forces behind the metaverse's surging hype. It is evolving. Quickly. And companies, not wanting to be left behind and scrambling to catch up, are investing effort, time, and resources into what may be the next internet revolution.
To view more trends and inspirations, explore the
ITONICS Trend Radar
.
4. Fact of the Month: The 5 Biggest Tech Trends in 2022

According to Forbes, these are the five biggest technology trends in 2022 that you should know about:
Artificial intelligence
While "smart" in the past just meant that devices were connected, today it increasingly refers to something being powered by AI that can enrich our daily life in innovative ways.


Everything-as-a-service & no-code revolution
Making skills and tools needed for technology-enabled innovation available to as many people as possible, regardless of their expertise or experience is the aim of an entire industry, which has emerged in recent years.


Digitization, datafication and virtualization
In 2022 and beyond, the concept of the "metaverse" will become increasingly relevant to our personal and working lives.


Transparency, governance and accountability
Due to the mistrust that many have towards AI, the idea of transparent and explainable AI has gained popularity in recent years. The EU's proposed Artificial Intelligence Act shows that also governments have recognized the need for a legal framework.

Also see: AI became a better innovator than you - and it just got started (by Dr. Chris Mühlroth)


Sustainable energy solutions
While the use of non-renewable energy decreased during the pandemic, the use of renewable energy significantly increased. Investment in the generation of energy from renewable resources is expected to rise in the coming years.

5. Your Monthly Dose of Innovation

From 21 - 22 February 2022, the largest German-speaking industry event on the topic of Innovation & Disruption 4.0 in manufacturing and engineering takes place in Berlin & online - and ITONICS will be there! The DTIM - Disruptive Technologies & Innovation Foresight Minds is the leading event for innovation, technology, product, and R&D managers.

Good news: You can use our exclusive discount code PARTNER@DTIM22 and save 25% on the standard price!
---