Innovation Updates in July

Our monthly innovation updates provide you with an overview of the most relevant insights, best practices & tools from the innovation cosmos.
1. How to Select the Right Innovation Instruments


Too many innovation projects fail not because the idea was bad, but because they were dealt with the wrong instrument.

There are many instruments that teams can choose to drive innovation projects: Innovation labs, intrapreneurship programs, open innovation, venture clienting, or accelerators, to name a few. So how do you decide which is the right one? Dirk Ploss, Senior Innovation Manager at Beiersdorf, found an answer to this question and developed a new framework he recently introduced at the Innov8rs Unconference.

The Instrument Selection Framework (ISF) aims to simplify the innovation decision process and help teams and managers select the best-suited 12 innovation instruments for specific projects. How does that work?

The main difference between existing innovation instruments is the time horizon and the topology (inside-out vs. outside-in approach). For instance, basic research and innovation labs have more an inside-out orientation, while open innovation or corporate venture capital (CVC) have an outside-in one; but all of them follow a long-term approach. Whereas intrapreneurship programs or venture clienting, for example, have a rather short time span.

The Instrument Selection Framework suggests that you first define the topology, and then decide at each node of the flowchart where to go.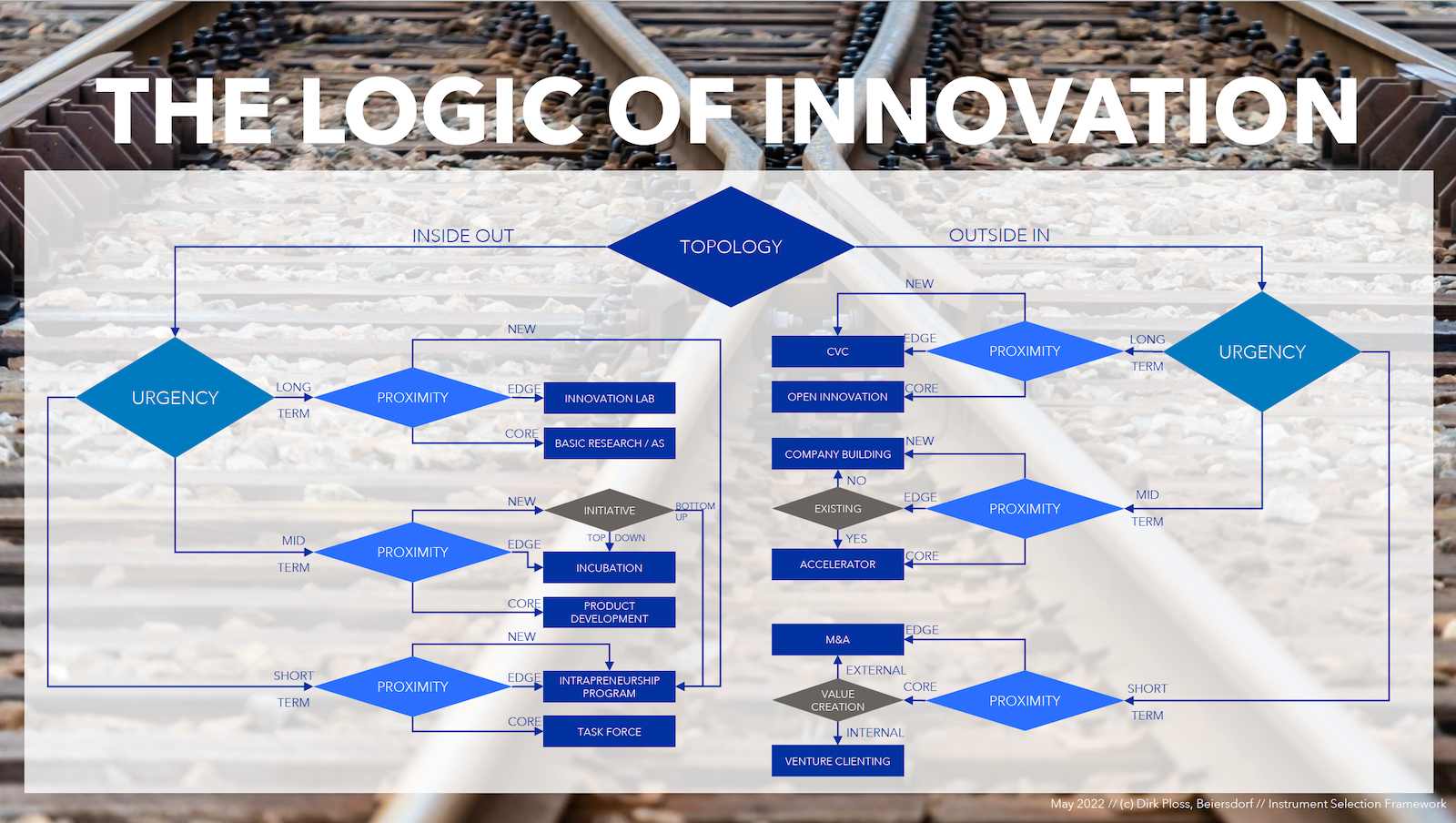 The decision process should be guided by the following considerations:
Can we do it internally? If yes, then go on the inside-out branch.
How urgent is this innovation project or initiative? Decide the time horizon accordingly.
How close is this to the core business? If it's inside the core business and has a mid-term horizon, then product development would fit best - because, most likely, it would be an incremental innovation that enhances your current solution. If it's edgier, go into incubation. On the other hand, if you're on the outside-in branch and the innovation has a long-term horizon (and it's urgent), then you should choose CVC. If it's very short-term, then you would go with M&A or venture clienting, depending on where the value creation happens.
The framework can help teams in every single industry to make specific and best decisions depending on different situations, but of course, you need to consider whether certain outcomes fit to your company's needs (e.g. in terms of budget or culture) and adjust accordingly. The flowchart can also help you identify the second (third, etc.) best choice since it also sorts the instruments by order of relevance.
2. Four Steps to Keep Up with Trends & Emerging Technologies


Keeping up with trends and emerging technologies is essential for any business that wants to stay competitive. However, anyone who has been involved in trend or technology scouting knows, that there is a lot of data to keep track of. Compiling relevant information and identifying the most important insights can be challenging.
Scanning and scouting activities require time and resource commitments. Large amounts of data need to be analyzed to enable data-driven decisions that fit your business goals. Teams need a trend and technology scouting process with an effective system in place that helps keep up with drivers of change and spot innovation opportunities at an early stage.
We'll outline four essential steps that will help your company not miss any relevant trends or technologies:
1. Define your search fields
When you scout trends and emerging technologies, you are looking for new information on a particular topic. This could be anything from new products to changes in customer behavior. By narrowing your focus to a specific search field, you can more easily find the information you are looking for. Search fields should cover the specific interests of an organization and are derived from its strategy or core value chain activities. Once you identify your search fields, gather all the relevant data.

2. Filter and visualize to turn data into insights
Filters and visualizations help you narrow your search results to increase the ratio of relevant signals and accelerate opportunity discovery. To refine your search to what is actually important for you, you can filter your results, for example, by "published date", "signal types" (patent or publication), "countries" (to see where the topic is most prominent), "tags" (topics), "categories", "sources", "languages", "people", "organizations", "places".
Visualizing your data provides an overview of what you are researching and can also offer quick comparisons. For example, a timeline or world map visualization helps you to see how a topic evolved over time or across geographies. By visualizing data on a trend or technology radar, you can filter, link, and relate different data to each other and make thematic segmentation, potential value, impact, or maturity levels visible. This provides a helpful perspective on opportunity spaces.
3. Open source scouting and scanning

Open source scouting is a community-driven approach to identifying trends and tracking emerging technologies. By scanning various sources and getting submissions from external innovation communities, open source scouting can help you identify trends before they go mainstream and collect input from a wider technical community.
By engaging with an external community, you can get a pulse on what people are talking about and what new projects are in development. Gathering submissions from external sources can also pave the way for future collaborations that drive your organization's strategic goals.
4. Monitor the most interesting topics
Staying up-to-date with trends and emerging technologies, by itself, is not enough. Once you and your team have identified which topics have the most potential for future opportunities, it is crucial to monitor the development of these drivers of change. Monitoring means regularly tracking key drivers of change to see how they develop and evolve over time. This helps businesses make adjustments to their innovation strategy as needed.


The process of trend and technology scouting can be time-consuming, so it's essential to have a way to aggregate results in order to identify patterns and trends that would otherwise be missed. Aggregating, analyzing, and monitoring data on one platform ensures that your scouting activities are scalable.
The ITONICS Innovation OS offers features for all the steps mentioned above. Accelerate your scouting process and try our software tools for free! If you want to learn more about the features and functionalities of ITONICS, get in touch with one of our experts and book a free demo.
Learn more: How to Keep Up with Trends & Technologies: A Simple (but Powerful) Guide
Download: Discover how to keep track of trends and technologies with ITONICS in our How-To Guide!
Enhance your scouting, scanning, and monitoring process with ITONICS Insights.
3. Our Tech of the Month: DNA Data Storage
Humans produce about 1.145 trillion megabytes of data daily, and magnetic tapes used to store digital data need to be replaced every ten years. As the amount of data generated by human digital activity increases, scientists are promoting DNA storage as a potential means of preserving important data. The "DNA-Data Storage of Things" (DoT) uses objects with immutable memory to develop storage architecture that ensures the long-term preservation of significant amounts of texts and digital resources.
Experts say that one gram of DNA could store all the petabytes of new data the world generates each day. The number one factor driving the expansion of the DNA data storage market is the increased demand for DNA-based data storage. Due to the expanding internet era and its accompanying technologies and platforms, the data storage dilemma has reached its worst stage. The International Data Corporation projects that by 2025, the amount of data that needs to be stored globally would increase from 33 zettabytes to around 175 zettabytes (175 trillion gigabytes). As a result, the current storage capacity cannot keep up with the demand for digital data storage.
Although the level of DNA synthesis and sequencing prevents this from being useful, this technology is advancing quickly because of developments in the biotech sector. At the Wyss Institute, researchers have developed a DNA storage method that utilizes template-independent de novo enzymatic DNA synthesis to produce numerous short pieces without needing a preexisting strand of DNA. They are also developing an integrated DNA information storage device in which programmable enzymatic DNA synthesis can be achieved in a highly multiplexed fashion.
Researchers from the University of Illinois Urbana-Champaign have even gone so far as to expand the capabilities of DNA data storage. The team achieved this by adding more letters to its alphabet. They created an encoding scheme relying on 11 different bases, which gives the synthetic DNA a much higher data density than a system of just four bases. Adding synthetic chemistry to natural biological storage mechanisms could be the key to unlock functionally unlimited data storage. The team believes that this system could potentially double the data density of DNA.
The 2021 market value of DNA Data Storage Market was projected at USD 55.94 Million and is expected to reach USD 1926.7 Million by 2028 with a CAGR of 65.8%. However, the high cost of DNA synthesis could restrain the technology's market growth. Nevertheless, innovations along with expanded research and development to support DNA data storage may present greater chances for further market growth.
4. Fact of the Month: New European Innovation Agenda

At the beginning of July, the European Commission presented a New European Innovation Agenda. It is designed to position Europe at the forefront of the new wave of deep tech innovation and start-ups. The new agenda sets out 25 dedicated actions under five flagships:
Funding Scale-Ups: Improve access to finance for European start-ups and scale-ups, for example, by mobilizing untapped sources of private capital and simplifying listing rules.


Enabling innovation through experimentation spaces and public procurement: Improve the conditions to allow innovators to experiment with new ideas, e.g. through regulatory sandboxes, test beds, living labs, and innovation procurement).


Accelerating and strengthening innovation in European Innovation Ecosystems across the EU: Support the creation of "regional innovation valleys" that will strengthen and better connect innovation players throughout Europe, including in regions lagging behind.


Fostering, attracting, and retaining deep tech talents: Attract and retain talent in Europe, for example by training 1 million deep tech talents, increasing support for women innovators and innovating with start-up employees' stock options.


Improving policy-making tools: Improve the policy framework through clearer terminology, indicators, and data sets, as well as policy support to the Member States.

5. Your Monthly Dose of Innovation

September is event month at ITONICS!
If you cannot attend our AI-enabled Tech Foresight Summit in Berlin on September 23, you may be interested in our Innovation Brunch in Amsterdam!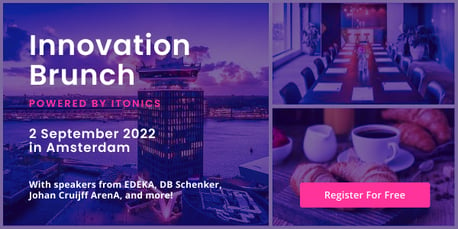 Join us on September 2 and discuss innovation approaches, challenges, best practices, and tools with other innovation executives from various industries.
---