By staying abreast of new trends, technologies, startups, risks, and competitor developments, you can identify where to act. These six ITONICS features enable teams to keep up to date with constant changes in any industry.
1. Use pre-researched, validated, and curated trends and technologies
ITONICS provides access to a curated collection of trends, emerging technologies, and inspiring real-world examples of innovation. Our analyst team has researched, evaluated, and updated this collection so that you can use it to kickstart your own environmental scanning. Explore these trends and technologies, then enrich them with your team's opinions to make them relevant to your business.

2. Monitor your drivers of change with ITONICS Insights
New trends and technologies do not emerge overnight. Use ITONICS Insights to search for Signals and indicators of potential future change. Signals point to new developments, implications for innovation, and possible opportunities or threats. The Signals feed is a collection of the latest news articles, patents, and scientific publications sourced from thousands of verified online sources. Search and identify Signals relevant to your business, then link them to trends and technologies in the system.
3. Share specific views
When you want to get input from your colleagues and collaborate in innovation management software, you need to be able to look at the same information across the system. Users in ITONICS can save filtered views that they've configured to their specific interests. They can then get back to it quickly at any time and share the saved view with colleagues to strengthen common understanding. Shared views facilitate collaboration between team members, allowing them to discuss and evaluate developments and ensuring that decisions are based on timely information.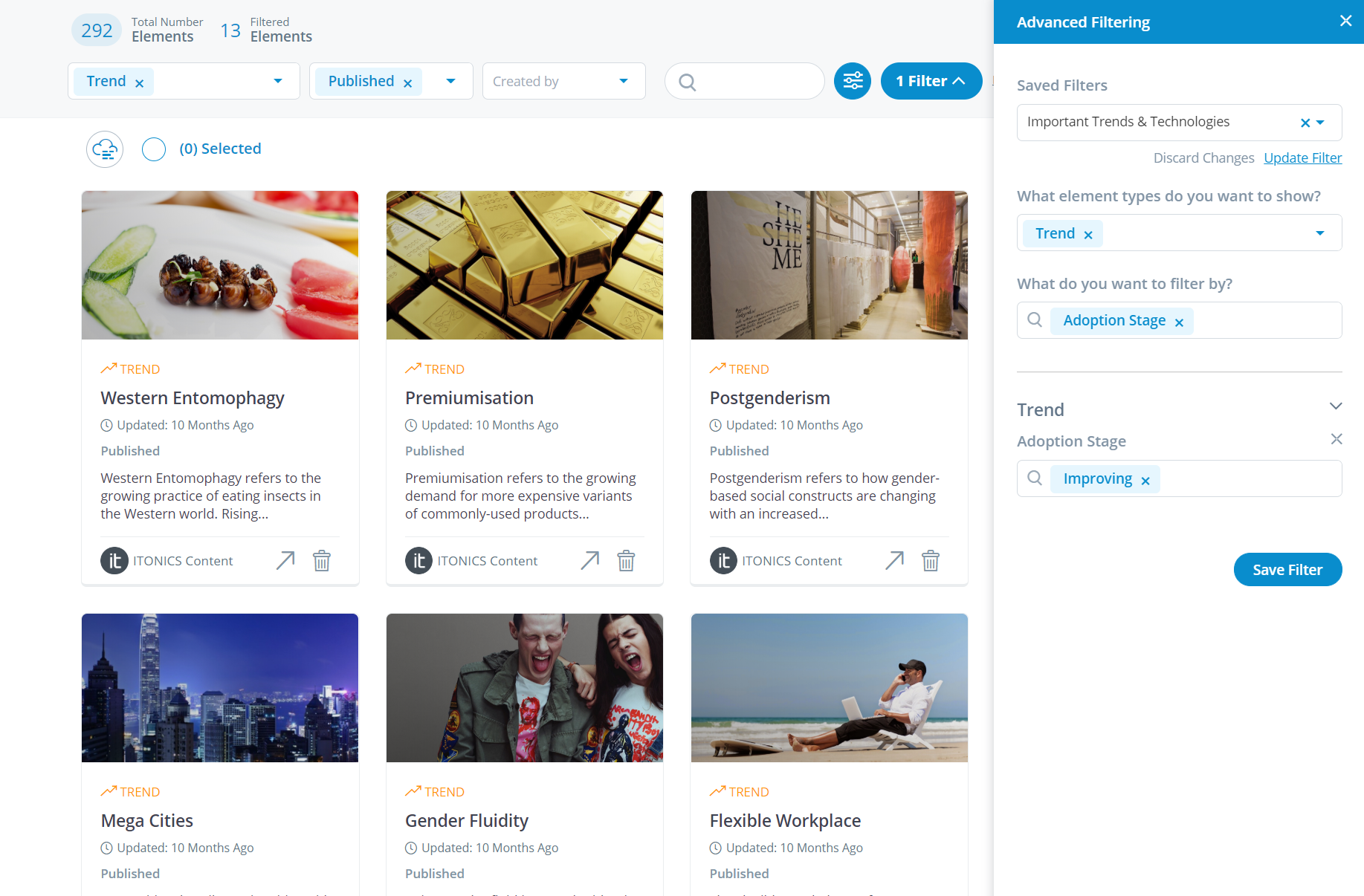 4. Explore hidden gems and connect the dots
The Network Graph visualization in the ITONICS Explorer shows connections between elements. It can reveal hot topics and hidden gems based on the strength of their links to each other. This is a useful method to reveal unknown knowns when doing environmental scanning.

For instance, if you want a new perspective on the connection between trends, risks, and technologies, select multiple element types and configure the Network Graph to use shared tags as the basis for links. The elements now rearrange in the graph based on the number of tags they share and can be valuable to understand connections between developing technologies, risks, and trends.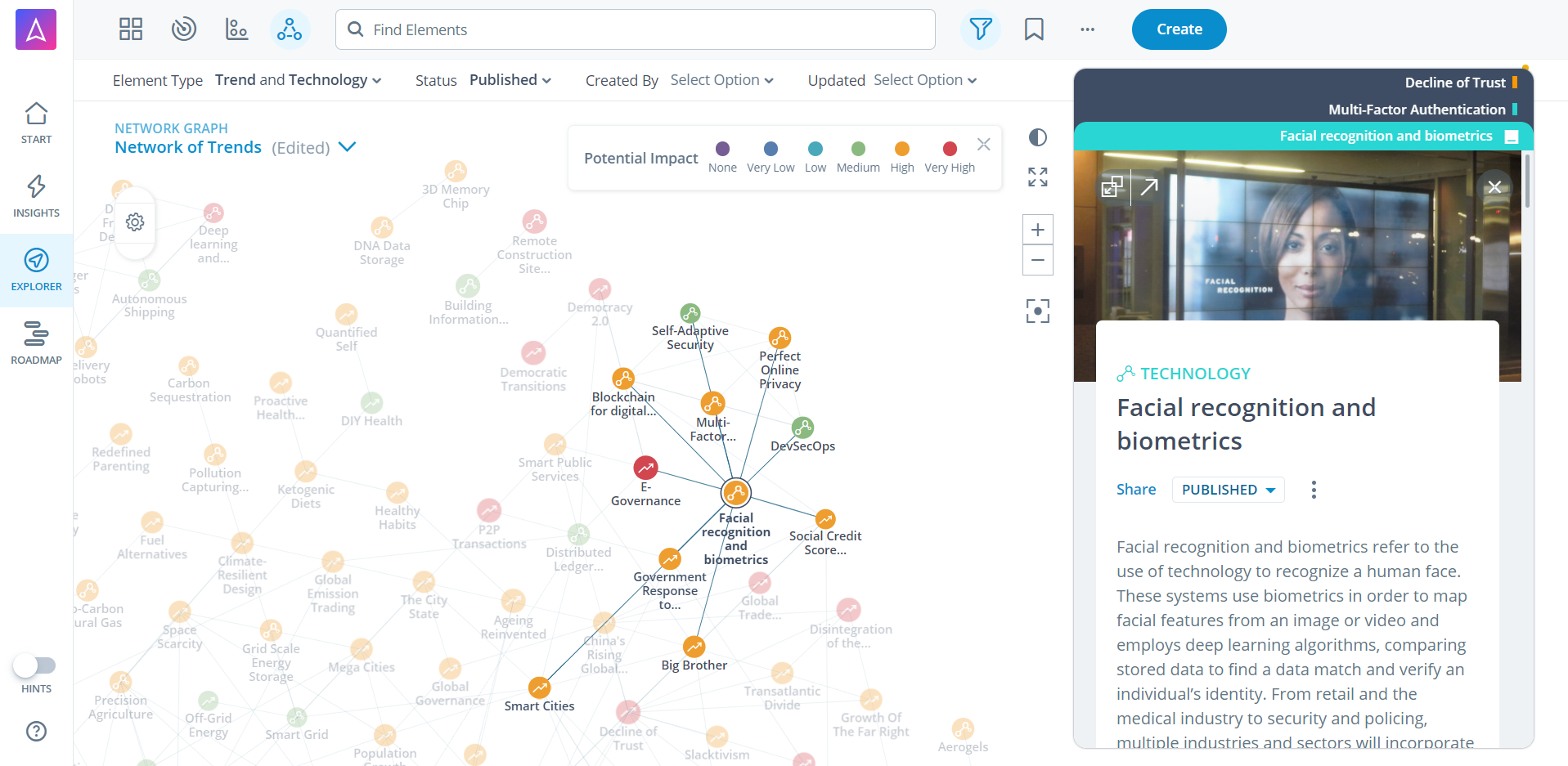 5. Watch elements
ITONICS keeps you in the loop on your team's contributions to the platform with the watch elements feature. It is designed to help users stay up to date on the progress and development of elements they are interested in. Choose an element you want to follow, then you will get email notifications when something changes on the element, such as a new rating, status change, or new comments.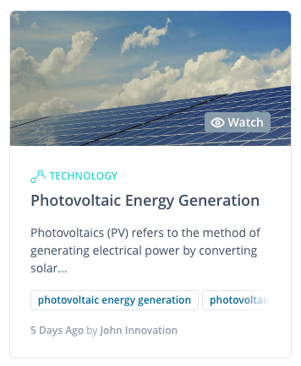 6. Leverage the power of the crowd to stay in the know
Tap into collective intelligence to highlight areas, ideas, and developments that you may not be aware of. With ITONICS Ideation, you can invite colleagues or experts to submit ideas through the platform, and users can evaluate their relevance with ratings.