Sven Taubert about the Sustainability of the Aviation Industry at Lufthansa Technik.
The future of air travel has been widely discussed in the context of environmental sustainability and innovation. Aviation also forms a significant part of logistics industries, and great strides have been made to innovate the aerospace business. Sven Taubert, Head of Corporate Foresight & Market Intelligence at Lufthansa Technik, has been a part of these innovations since the inception of the innovation department that serves a large portfolio within the Lufthansa Group. Chris Mühlroth from ITONICS and Sven dive into what innovation means in air transportation and travel.
Having the right tools to manage innovations, technologies, projects, and opportunities is vital to acting on your organization's sustainability strategy in an increasingly uncertain and dynamic world.
Efficiency
The TRL (Technology Readiness Levels) methods were among the first practices that Sven did when he started his innovation career. The TRL method is used widely across industries to measure technology maturity levels, and at ITONICS, we use the TRL measurements as part of our evaluation processes for new technologies on the ITONICS Radar. According to Sven, as world leaders in the MRO space (maintenance, repair and operations), it was essential to set up processes for innovation and foresight. Efficient innovation requires methodologies that answer to different criteria, and for the aviation industry, one such benchmark is meeting sustainability goals.
In the last decade, much progress has been made in prioritizing the sustainable business agenda. Though the transition has been slow, there has been a remarkable shift in mindset.
Companies are facing regulatory and consumer pressure to make their operations more resource-efficient beyond carbon offsets by adopting measures that improve energy efficiency, promote responsible water use, and reduce emissions across the board. In aviation, fuel efficiency is integral to sustainability discourses, and Sven points out that within the Lufthansa Group, their usage of jet fuel is among the most efficient currently available. He says that to initiate the next level of sustainability, technology would have to change.
Intermediate steps in the quest for sustainable solutions will include hybrid approaches, and at Lufthansa Technik, they are currently researching exploring artificial fuels. But what happens if the technology has to catch up to enable further steps to sustainable futures?
Simply tracking ESG metrics for the sake of compliance is not enough. Businesses that holistically integrate ESG efforts into their business strategy and innovation efforts, going over and beyond the benchmarked goals, will gain a competitive advantage by being ahead of the curve.
As much as technology has enabled addressing critical challenges and enabling solutions, there are cases where technologies need to be further developed to permit increased sustainability and scalability. Innovation and sustainability do not, however, begin and end with technology. Environmental scanning, knowledge management, and continuously crafting an innovation portfolio are important pillars for developing sustainability road mapping.
Scalable Intervention
Innovations to progress sustainability must be scalable, and on this topic, Sven points out that not all sustainable solutions are truly scalable. Proper research, exploration and prototyping need to take place to comprehend whether the solution is entirely scalable. Sven also points out that the immediate future of sustainability innovations will probably include several different methods and techniques.
Continuously interrogating whether innovations make sense both from business and ecological perspectives will help us determine their scalability. In addition to employing several different strategies, Sven also points out that many sustainable innovations are happening within the land transportation industries. Knowing what these are and understanding the impact on aviation is valuable to help plot future scenarios.
Mobility in the future will be heavily judged on its environmental impact by consumers, as we have already seen by the attention Greta Thunberg has brought to the concept of Flygskam or "flight shame". In the ITONICS Innovation and Sustainability report, we discuss how travel is being impacted by increasingly adapting to meet sustainability requirements.
Changes in mindset, operating models, processes, and tools will be needed to integrate systems thinking into decision-making.
The Importance of Diversity within Innovation
Successful innovation in 2021 involves paying attention to social, environmental, economic, and technological issues and suitably creating solutions for these issues. This is something that Sven understands as he describes the diversity of his team. The make-up of their innovation department consists of strategy, R&D, market intelligence and foresight, and Sven ascribes the team's success, in part, to being diverse, which results in being able to tap into many different perspectives. Diversity in knowledge, says Sven, is fundamental to being able to serve customers globally. Through his diverse team and interests in various fields across the group, an extensive network contributes significantly towards mapping what is practically possible. It is also beneficial to include wider teams in discussions and feedback during the early stages of planning and development and get diversified expertise to contribute to innovation.
Strategic Foresight Processes
Sven expresses the importance of documenting all innovation journeys, even if projects do not make it through the funnel to implementation. Documented evidence of past achievements, limitations, successes and failures can be extremely valuable for future innovation journeys, and being able to analyze past processes and aligning them with present realities and new developments can be very useful for innovation. This process is also valuable when evaluating new technologies and the progress of technologies.
Conducting a sustainability assessment of the planned innovation will help to embed feedback loops into technology development.
To gain perspective on innovation possibilities, teams must continuously assess new developments, legislation, shifting consumer sentiment, behavior, and technologies. Other innovation processes that Sven and his team engage with are scenario planning, the use of the ITONICS tool that enables them to document and communicate innovation processes effectively and keeping a finger on the pulse by attending conferences and consuming relevant information that may help them on their innovation journeys. Sven describes going to conferences as being about much more than attending. He says that much of the value lies in conversing with the diverse people who attend these conferences. Having the opportunity to get information from a vast network of professionals is both inspiring and invaluable.
In the end, Sven says, mapping the future and innovations that align with future scenarios is a delicate balance between business cases, evidence, research and a gut feel. Reliable processes and quality tools will help you tremendously, but there is also a gut feeling that guides one in making the right innovation decisions.
Innovation teams must embed good stewardship as a fundamental practice to product and service design to discover new avenues to create business value while being good for the environment and society.
On what comes next in the aviation industry, Sven points to using more diverse technologies that meet specific needs in terms of range and capacity of flights. He also adds that there might be more variety in the way aircrafts look to meet efficiency and sustainability expectations. Peripheral services and products like airports will also have to adapt and become more flexible in their processes, and he uses digitization as an example to illustrate the need for innovations that speak to our present and future complexities.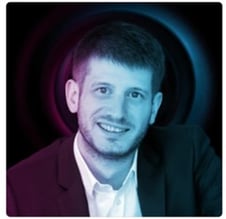 Sven Taubert has several achievements that he recognizes as invaluable during his career at Lufthansa Technik, but he also adds that he is continually looking forward, so he sometimes misses these important moments. No doubt we will see many more noteworthy achievements coming from Sven and his team in the future.
Many thanks to Sven Taubert for this fantastic interview.

The full Innovation Rockstars Interview is also available as a podcast on Spotify and Apple Podcast or as Video.