The Gartner® Hype Cycle™ for Innovation Management Techniques, 2021, provides in-depth insight into the evolution of both technologies and approaches available to innovation teams and organizations. It equips executives with the information required to identify the most appropriate context for use, efficiently allocate resources, and derisk technology investment decisions accordingly.
ITONICS defines Innovation as "the process of turning an idea into a product or service which addresses a certain problem and creates value for the organization and the customer." The management thereof requires executives to understand and select the Innovation Management Techniques most appropriate to their organization to maximize the value and impact of their innovation programs. As the practice of Innovation Management evolves, new techniques and technologies continue to emerge with bold promises. Therefore, executives must discern productive and commercially viable options from the hype.
Widely recognized as a leading authority on technology maturity, the Gartner Hype Cycle provides executives with a "graphical depiction of a common pattern that arises with each new technology or other innovation". This methodology is most commonly used to project the evolution of a technology or application and guide its deployment within specific business goals.
The Gartner Hype Cycle for Innovation Management Techniques, 2021, offers a snapshot showing the relative positions of the set of innovation approaches available to executives as they enter 2022. This article aims to provide a synopsis to this Gartner report, define the set of Innovation Management Techniques mentioned therein, and offer enriched guidance for how to best use the Gartner Hype Cycle to find promising innovation techniques for your business.
TL;DR: A Summary of the Gartner Hype Cycle for Innovation Management Techniques, 2021
Considered a relatively mature discipline, innovation management adopts a wide range of well-established techniques to manage innovation processes effectively alongside organizational change.
According to Gartner, "The techniques included on this Hype Cycle are the ones that generate recurring interest from clients to Gartner's expert inquiry service.".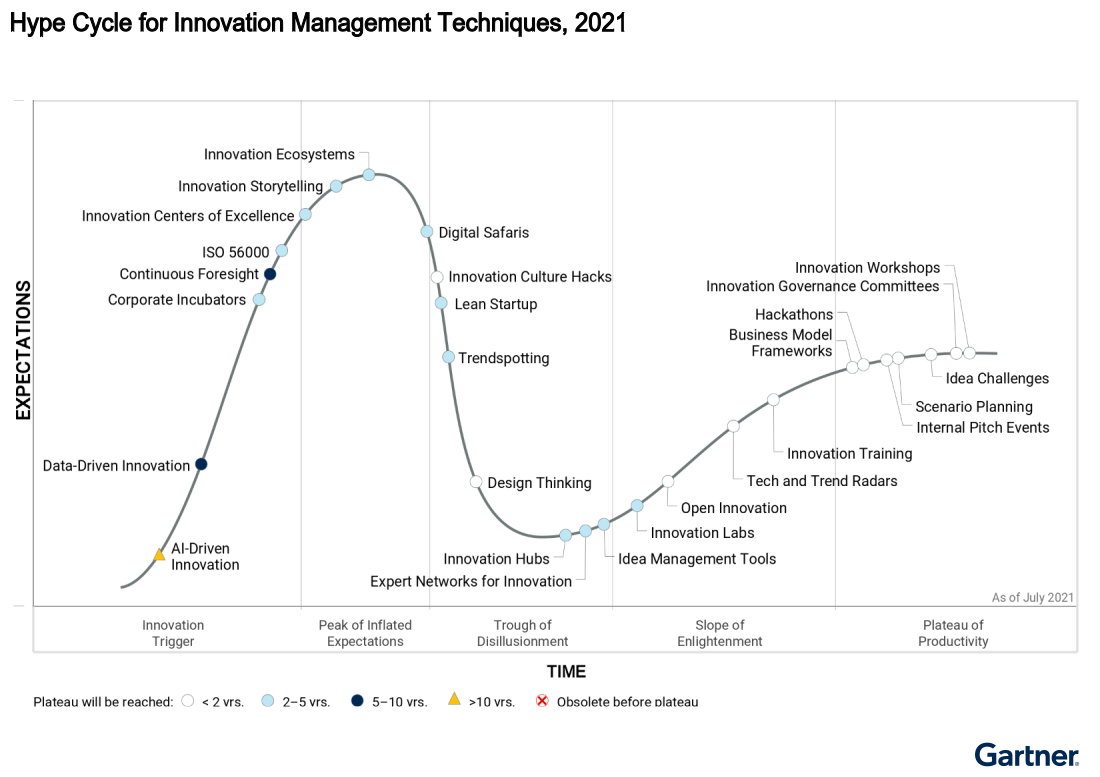 Several themes can be identified in studying the Gartner Hype Cycle for Innovation Management Techniques:
Process Optimization
Nascent principles such as AI-Driven Innovation, Data-driven Innovation, Corporate Incubators, and ISO 56000 are all areas of interest that focus on structured approaches to enhancing the performance of innovation processes. As innovation management advances, organizations are increasingly interested in accelerating the efficiency of the respective processes they have come to establish. With a plethora of new technologies available to drive such productivities, there is a new opportunity to leapfrog competitors by adopting these approaches early on.
Risk Mitigation
While many innovation management techniques are not necessarily new, several underused approaches have seen a sudden popularity increase. Innovation Centers of Excellence, Innovation Storytelling, and Innovation Ecosystems are all examples of this as they reach the Peak of Inflated Expectations in Gartner Hype Cycle.
Organizations that haven't taken advantage of them in the past are now seen to be applying such techniques to advocate standards in practice, break down silos, and leverage the benefits of new partnerships. This adoption indicates the increasing need innovation teams have to effectively disseminate relevant information, enhance transparency, and, most importantly, drive constructive collaboration to reduce risk while maintaining a competitive advantage.
Downsizing Resource Allocations
A clear commonality is evident upon analysis of the innovation management techniques sliding down the Trough of Disillusionment. Digital Safaris, Innovation Culture Hacks, Lean Startup, Trendspotting, Design Thinking, Innovation Hubs, Expert Networks for Innovation all adopt an outside-in approach to ensure the probability for success in innovation.
Heavily research-oriented, we feel, these techniques hold high reliance on feedback and require substantial resources to provide adequate training, coordination, and governance to manage their viability. Competitively under pressure and constrained with time and financial resources, it is straightforward why organizations are moving away from qualitative inputs and towards more reliable and quantitative approaches to improve the probability of success more affordably.
Productive Collaboration
It is understood that good ideas do not—for the most part—originate from an individual perspective. Instead, organizations and innovation teams have increasingly acknowledged the value of diverse views. As the practice of innovation management has evolved, enhancing the means and practicality of collaboration has been prioritized. As a result, innovation management techniques such as hackathons, internal pitch events, idea challenges, and innovation workshops have become mainstream. Idea Management Tools such as Tech and Trend Radars further improve collaboration by removing inefficiencies experienced in these techniques by offering unbiased evaluation and clear stage gates. As a result, these techniques are seen as being in the Slope of Enlightenment and will become more fully embedded into broader management practices and business-as-usual activities.
Also see: Innovation Management Techniques in 2021 Gartner® Hype Cycle™ Defined
A glossary of terms that defines some of the key innovation management techniques available to practitioners.
How to Use the Gartner Hype Cycle for Your Business Context
Gartner Hype Cycle reports and Priority Matrices offer executives a snapshot of the relative market promotion and perceived value of technologies and/or techniques.
Each Hype Cycle graph is divided into 5 key phases:
Innovation Trigger
Peak of Inflated Expectations
Trough of Disillusionment
Slope of Enlightenment
Plateau of Productivity
These five phases, and the analysis of the technologies and techniques therein, guide decision-makers by establishing the expectation that most innovations, services and disciplines will progress through a pattern of overenthusiasm and disillusionment, followed by eventual productivity.
We believe, taking a look at a graph created for a technology or domain you are interested in may help strategists and planners by evaluating the market promotion and perception of value, business benefit, adoption rate and future direction of innovations.
To separate hype from an actual commercial promise and reduce risk in technology or domain-related decisions, innovators can further explore analysis by Gartner. In addition to the five phases, a full perspective of each of each respective area of interest includes:
A clear definition of each technology or technique
Analysis of the technology or techniques relative importance to the market,
The potential business impact it holds
Drivers of adoption
Obstacles that need to be overcome, and
User recommendations
By understanding the speed at which each innovation is progressing through the Hype Cycle, alongside the potential benefits and pitfalls of each technology and/or technique respectively, decision-makers are equipped with reliable information to best select what to invest in now for future benefit and competitive reward.
Get more exclusive insights and first-hand recommendations from Gartner®:
Have more Time?
Disclaimer
Gartner does not endorse any vendor, product or service depicted in its research publications and does not advise technology users to select only those vendors with the highest ratings or other designation. Gartner research publications consist of the opinions of the Gartner Research & Advisory organization and should not be construed as statements of fact. Gartner disclaims all warranties, expressed or implied, with respect to this research, including any warranties of merchantability or fitness for a particular purpose.
This graphic was published by Gartner, Inc. as part of a larger research document and should be evaluated in the context of the entire document. The Gartner document is available upon request from ITONICS. Gartner, Hype Cycle for Innovation Management Techniques, 2021, 12 July 2021, Jackie Fenn et. Al. GARTNER and Hype Cycle are registered trademarks and service marks of Gartner, Inc. and/or its affiliates in the U.S. and internationally and are used herein with permission. All rights reserved.