This article presents the three biggest pain points in effective innovation portfolio management, as cited by industry leaders among our client base, as well as approaches on how they're addressing them.
The challenges highlighted are a lack of oversight, no golden thread, and difficulty balancing flexibility and firmness. Each speaks to the complexity of moving from strategy to execution and maximizing your return on innovation investment.
To help you overcome or prevent these obstacles, we provide solutions and best practice examples for executing your portfolio initiatives efficiently, consistently, and successfully. Read on to find out how different industry leaders are solving the most common portfolio management challenges using ITONICS tools and techniques.
1. Lack of oversight
Lack of oversight is one of the most pervasive challenges in effective portfolio management. If left unaddressed, a lack of visibility can quickly turn into a lack of control and an inability to execute the initiatives within your portfolio.
Oversight allows teams to focus and prioritize critical initiatives for effective resource allocation, R&D planning, and milestone tracking. In addition, it takes a comprehensive portfolio overview to identify potential synergies and overlaps between projects. Spotting these opportunities enables collaboration, resource and capability sharing, and potential cost savings while removing bottlenecks and duplication.
Solving for lack of oversight requires establishing a single point of truth and a clear portfolio governance system. Reporting mechanisms are essential to provide visibility into each initiative's status, progress, and performance as well as a high-level view of overall portfolio health. Teams must define clear roles and responsibilities and appropriately delegate decision-making authority to ensure accountability and effective oversight.
---
Best practice example for strengthening oversight: interactive reporting dashboards
The R&D business unit of a leading automotive company is managing a diverse range of concurrent projects, making it increasingly difficult to effectively monitor, prioritize, and execute its most valuable initiatives at the speed needed to stay ahead of its competition.
The company has turned to ITONICS Portfolio to help update its portfolio management and roadmapping capabilities. It aims to move from an irregular, fragmented, and opaque process to one that is continuous, centralized, and transparent—and as a result, gain oversight of related R&D projects and activities.
Using the ITONICS Innovation OS, the company has built a strategy roadmap that serves as a single point of truth and is easily shared with its entire R&D business unit of around three thousand people.
The ITONICS Roadmap allows the company to break down its strategy into milestones and actionable plans with a complete overview of resources, including costs, FTEs, capital investment, and more.
This ability to oversee everything from strategy to execution and track timelines, progress, and resource allocation has improved the delivery of all R&D projects. With customizable reporting dashboards, each team member can quickly visualize key performance indicators, dependencies, and strategic focus areas.
ITONICS interactive reporting dashboards provide real-time, holistic insights to improve decision-making. Equipped with this level of oversight, the R&D business unit can act quickly to align, adapt, and prioritize its projects depending on changing conditions. As a result, the R&D program has increased its hit rates and improved its productivity to help the company maintain a competitive advantage.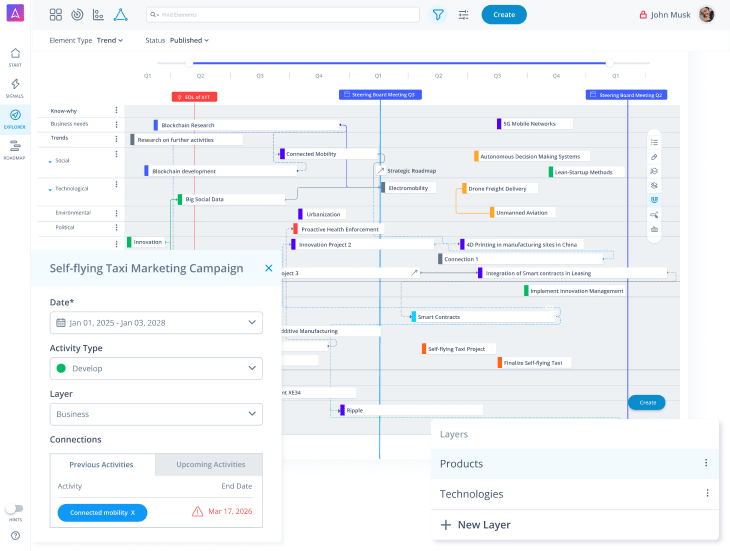 2. No golden thread
The concept of a golden thread refers to the strategic alignment that connects various elements of a company's innovation portfolio to its overarching business objectives and goals. It represents a clear and consistent link between the company's strategic priorities and the projects or initiatives it aims to execute.
A golden thread emphasizes the importance of validating that every innovation initiative directly contributes to your strategic objectives and brings value to your business. It serves as a guiding principle for decision-making, project selection, and resource allocation in the portfolio management process.
To establish and maintain a strong golden thread, companies must have a well-defined innovation strategy that articulates business objectives and desired outcomes. This strategy should guide the selection, evaluation, and prioritization of projects within the innovation portfolio. Regular monitoring and review of the portfolio's alignment with strategic goals are essential to ensure that the golden thread remains intact as business conditions and priorities evolve.
---
Best practice example for establishing a golden thread: collaborative innovation funnel
To maintain its position as a leader in the aerospace & defense industry, a top engineering firm has implemented a new approach for moving from strategy to execution. This approach involves creating an end-to-end innovation funnel. The funnel is intended to take an initial inspiration and systematically develop it into a clearly defined idea. Ideas then go through a review round before the proof of concept (PoC) design stage and eventually project implementation.
Using ITONICS Workflow, the firm has established a custom stage-gate process to support this innovation funnel. At each stage, the funnel relies on participation from different stakeholders. With ITONICS Campaigns and Open Innovation, the company can collect inspiration from its broader community, tapping into its collective intelligence to develop innovative solutions.
When it comes to evaluating ideas and bringing them into the company's portfolio, internal experts are called upon to review and rate each idea in the ITONICS Innovation OS. Configurable rating criteria are based on technical feasibility, market potential, and alignment with relevant trends and strategic goals. This expertise helps filter out unviable ideas, develop stronger PoCs, and prioritize initiatives with the highest potential for success.
As the initiatives progress further in the innovation funnel, where projects are being evaluated for execution, the company again invites the entire team to participate. Each member brings a unique perspective, which can contribute to evaluating resource requirements, risk analysis, and project management considerations.
Expert evaluation early on establishes a golden thread, ensuring that only the most promising and strategically aligned initiatives move forward. Combining this with ongoing involvement of the entire team reinforces the golden thread through regular alignment checks, shared understanding, and continuous feedback. The company has found that this collaborative funnel approach, linking ideation to portfolio management, results in more effective strategy realization.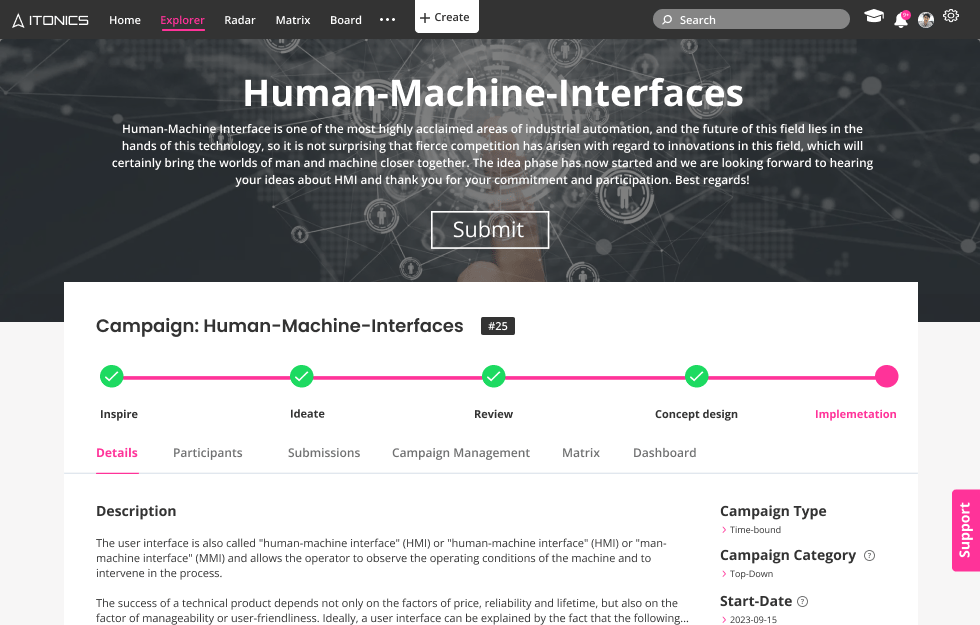 3. Flexible vs. firm
Finding the right balance between adaptability and consistency in portfolio management can be one of the most complex challenges for companies. And the "right" balance" can itself be a constantly moving target based on which innovation horizon you are targeting.
Markets shift, customers mature, and your internal capabilities, goals, and strategies evolve. You need an approach that allows you to keep growth initiatives grounded in strategic priorities with well-defined objectives—yet flexible enough to respond to changing conditions, both internal and external.
An apt depiction of this balance between flexibility and firmness comes from author Stephen S. Bonham. His book IT Project Portfolio Management compares the marketplace to a storming sea in which strategic piers and the ships—or projects—tied to them must bend and bob but not break.
"The methods we choose to keep projects linked with the shifting strategies need to be flexible yet firm enough to see any project through marketplace storms. On the same note, we need to make sure that our strategic piers can hold the ships we choose to tie to them. A project too large, too long, or too populated can rip a strategy to shreds even if the tie ropes are well-strung."
To address this challenge, companies need to design portfolio management processes and governance structures that allow for flexibility while maintaining alignment with strategic objectives. Strong feedback channels, collaboration, and a guiding framework are crucial to achieving this sometimes precarious balance.
---
Best practice example for balancing flexibility and firmness: iterative stage-gate processes
A major financial services provider is running an innovation lab focused on emerging technologies, disruptive business models, and other future-relevant topics. Using the ITONICS Innovation OS, the lab links its gathered foresight intelligence to a dynamic portfolio of experiments, pilot projects, and prototypes that fall within horizon three (of McKinsey's Three Horizons Framework).
Horizon three innovation focuses on exploring transformative new business and investing in longer-term initiatives to shape the future. Horizon three innovation is more exploratory, occurs over a longer time horizon, perhaps only producing results in 5-12 years, and is subject to high uncertainty. Therefore, the need for flexibility here is greater than in horizons one or two, which focus on core business and adjacent growth.
To achieve this high level of flexibility, the lab has configured a custom workflow using ITONICS Kanban Boards. It follows an iterative stage-gate process broken into four distinct stages: explore, ideate, validate, and execute. The process defines rapid feedback loops for continuously experimenting, refining, redesigning, and aligning. The lab can then quickly decide what to prioritize, kill, or adapt based on changing conditions.
While flexibility takes precedence for this innovation lab, it must also operate within a structured and stable framework to ensure that its initiatives continuously align with the company's long-term goals, vision, and core values.
By systemizing and professionalizing its end-to-end innovation process in the ITONICS Innovation OS, this team of innovators can establish boundaries, align strategic priorities, allocate resources, and manage risk without losing the agility to seize and act on disruptive opportunities.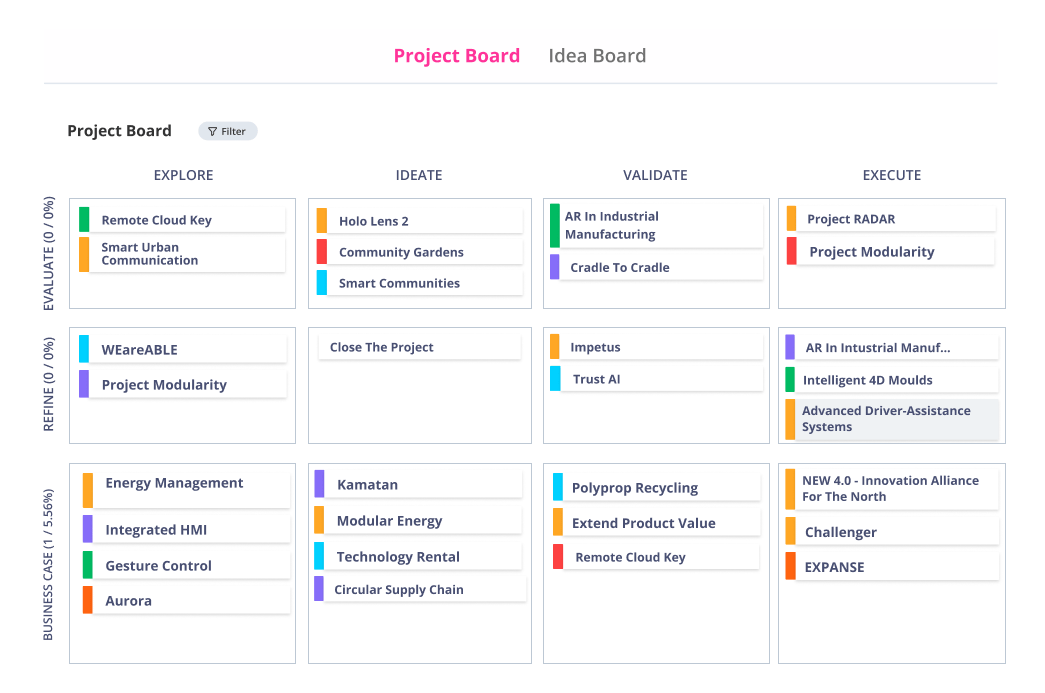 Solving portfolio management challenges with ITONICS
ITONICS offers a comprehensive solution that empowers industry leaders to overcome the challenges of lack of oversight, no golden thread, and striking a balance between flexible and firm. With one platform, you can centralize, monitor, and report on all your innovation intelligence and initiatives; build cohesive and collaborative innovation funnels for effective strategy realization; and maintain agility and focus with iterative stage-gate processes. The ITONICS Innovation OS helps you establish systematic portfolio management for steering your company's strategy to execution.
Want to solve the biggest challenges facing the successful execution of your innovation portfolio? Get a free demo of ITONICS to find out how easy it can be!