We welcomed Benedikt Heuer from WS Audiology in our Innovation Rockstars Podcast. In the interview, he talked about digital transformation and the conquest of new markets.


Benedikt Heuer on development of technology and processes at hearing aid manufacturer WS Audiology
When talking about "innovation" in the context of "hearing aids", you probably think about developments of new technologies and products. In his role as Innovation Strategy Manager at WS Audiology, one of the world's largest hearing aid manufacturers, Benedikt Heuer shared with us in an interview that there is actually much more to innovation in this field than that.
According to the Federal Association of the Hearing Aid Industry (BVHI), sales of hearing aids in Germany are rising continuously. This increase is also visible on a global scale. An increasing competitive pressure is unavoidable; consequently, an ongoing development of existing services and product portfolios is crucial for companies to stay ahead of the competition. In our Innovation Rockstars interview, Bene Heuer shared with us how WS Audiology is working to expand its competitive position in the field.

The whole podcast episode (only in German) can be found on Spotify and Apple Podcast or watched as video.
Different Challenges Require Different Solutions
For those requiring a hearing aid, there are different regulations and processes for getting one that vary from market to market. In Germany, the value chain is structured quite simply: once a hearing loss has been diagnosed, the process continues at the hearing aid acoustician, who selects a suitable device and adapts it individually to the customer's needs. Owing to the German Health System, this is a relatively smooth process and thus a clearly defined value-adding chain. But this is not the case everywhere.
Let's take a look at the US: even in such an advanced country, not everyone can afford a hearing aid due to the poor health care system. The situation is even more dramatic in emerging and developing markets. It is not only low purchasing power or lack of insurance that present the main obstacle for people, but also the fact that there is simply no access to hearing aids.
China, for example, with its significant purchasing power, prosperity, and increasing demands on healthcare is one of the most important growing markets for WS Audiology. Distribution, however, is a real challenge. One important thing is missing in China, namely the profession of hearing aid acoustician. People with this function are absolutely necessary when it comes to bringing hearing aids to the customer through the company's already established channels. Otherwise, there is simply no direct access to the product. This example illustrates that innovation management in the field of hearing acoustics involves much more than the development of new ideas and products on a purely technological level.
The Right Topics at the Right Time
The innovation team of WS Audiology consists of 6 members. From a global perspective, the core task of the innovation team is to accompany the entire innovation and strategy process. Bene Heuer focuses on new trends and technologies as well as on their potential impact on the company. Strategy and product development go hand in hand: Strategy development is primarily concerned with developing or uncovering trends, future scenarios, and fields of action relevant to the hearing aid industry, in order to set up concrete innovation projects and bring them to the product development stage.
Our main job is to make sure our company always has the right topics in the pipeline.


For the development of future scenarios, the team evaluates trends and technologies important for the next 5 to 10 years and tries to formulate conclusions for its own industry. What will the hearing aids of the future look like? How will the devices reach the customer in 5 years? Or, will there perhaps be a completely new technology in 10 years' time that will revolutionize everything? These are common questions Bene and his team try to find answers to.
Depending on the relevance, impact, and potential of the individual scenarios, the so-called "innovation fields" are derived and transferred into fields of action for future innovation activities. Once the most relevant fields of action have been identified, the second step is comparing current innovation activities with the individual fields of action. This involves checking whether there are already ongoing innovation projects that can be integrated into one or more of the fields of action.
The innovation team is currently working on 7 different fields of action, which are regularly compared with the corresponding project portfolio. This comparison is about keeping an overview of the project volume in the individual areas. If it turns out that too little is happening in individual fields of action, new projects are actively initiated by the innovation team. Typical tasks in this context are setting up, coordinating, and finally transferring the individual development projects into the organization. A very important but completely underestimated aspect here is the persuasive work that Bene Heuer and his team have to do in order to get new projects and ideas off the ground in the first place, as nobody feels responsible for new topics, especially in the initial phase.
Knowing Today What Will Pay Off Tomorrow
To answer how to quantify the individual fields of action, Bene Heuer first has to dig a little deeper. Even if a new hearing aid can be developed within 2 years, it takes considerably longer to bring it to market due to a rather complex control and validation process. Particularly in the case of platform development, i.e. the chips in hearing aids, the entire process can take 5 to 7 years. In order to make a decision today as to which new product ideas are even "worth" implementing, you have to look relatively far into the future, which makes it rather difficult to quantify the individual fields of action. Even if WS Audiology works with assumptions regarding market development in the various areas, it is challenging to make concrete statements e.g. about the value that an innovation might bring that is not entering the market within the next 7 years.
Incremental vs. Radical
When deciding how much time and budget to invest in the individual projects, the innovation team works with a more or less fixed allocation key. The team divides all ongoing projects into incremental and radical. Incremental projects are simpler ones with clearly defined goals. The focus is on small but continuous product improvements. By comparison, the radical projects are oriented further into the future and have a low technology and market level. These can be areas that are important topic wise, but at the same time have to be pushed back on the time axis because the basics are lacking. In the case of very unclear topics, for example, a customer survey is often carried out in order to involve the customer at an early stage and identify the needs that will be incorporated into later product development.

The challenge in allocating resources to project types is to maintain a balance in the individual fields of action. When looking at incremental and radical projects, a distribution key of 80 (incremental) : 20 (radical) is established. Since in practice there are always projects that cannot be classified into one category, the team has defined 4 categories for a more precise classification: The "moonshots" (projects with a more experimental character; approx. 10 %), technology projects (projects which, when implemented, represent enormous progress; approx. 15 %), market innovations (projects which are not necessarily technologically new but representing an innovation for the market; approx. 15 %) and incremental projects (approx. 60 %).
Integrating Existing Know-How into the Innovation Process
WS Audiology works together with various cooperation partners, especially when setting up and implementing new projects. University collaborations have proven to be very successful in the past, as they have been active in research for several years and have thus already made significant contributions to WS Audiology's product development in the past.

Another exciting area in this context is startup scouting. WS Audiology works with a software-supported database to obtain a complete overview of new startups in their own market that bring along technologies. An example of a successful startup acquisition is audibene. With that acquisition, a part of the value chain of WS Audiology has been digitalized. This cooperation helped WS Audiology grow and also resulted in joint product developments benefiting the company's speed and flexibility.
How Disruptive Are You?
When asked whether WS Audiology pursues a disruptive innovation approach, Bene Heuer answers positively. In this context, Bene cites the example of the first TeleCare-Solution, which was launched by Sivantos some years ago. TeleCare enables hearing care professionals to communicate with their customers via smartphone using video chat and to make settings on the customers' hearing aid online during the conversation. Another recent example is the Digital Assistant which came to the market this year. In addition to answering simple questions about the hearing aid and individual functions, the Digital Assistant is able to make adjustments to the hearing aid at the client's request.
Disruption means changing the rules on the market.



However, if you define disruption as a process that completely overturns the existing business model, Bene Heuer believes that disruptive innovation is difficult, especially for large and established companies. In the first instance, this means breaking up long-standing structures and rethinking everything from scratch. Startup acquisitions are great examples of enabling companies to profit from the speed and flexibility of newcomers.

Another possibility is the creation of new departments that are exclusively dedicated to the development of new solutions. An example of such a group is the case of the missing sales channel in the Chinese market. The rapid development of the approach with which WS Audiology today sells its hearing systems in the Chinese market was possible because the team set up specifically for this purpose was able to operate independently of existing structures.

Innovation Means Teamwork
At the end of the interview, Bene emphasizes that all innovation activities at WS Audiology are driven not only by his innovation team. When it comes to the further development of business processes or business models, more colleagues and teams from other departments are involved.
No matter what the focus of innovation management is; you have to build bridges to other teams and act as a communication channel.

Finally, we asked Bene about things that he enjoys most about his job as Innovation Manager at WS Audiology: There is the main task that is about dealing with new topics and asking yourself questions like "What are the new trends?", "How do new technologies work?" and "What impact does this have on our work, our products, our company?" Then there is the challenge of structuring new topics, i.e. determining "where" these topics should ideally be placed, "where" they make most sense and above all, "who" needs to be inspired to do so. And it is exactly this combination of challenges and the everlasting question "How can we best achieve all this?" that will keep Bene Heuer in his role within the innovation team for years to come.
We thank Bene Heuer for this insightful conversation.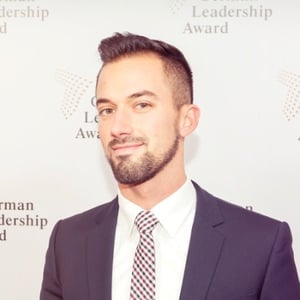 Benedikt Heuer studied mechanical engineering with specialization in medical technology at the RWTH Aachen University. After a research project on innovation processes at Bentley Motors in England, he completed the MBA program at the Collège des Ingénieurs in Paris. In his function as Innovation Strategy Manager at the hearing aid manufacturer WS Audiology, he is currently working on the development and implementation of the innovation strategy. The focus is on the development of new business areas through the use of digital and potentially disruptive technologies.


---