In our monthly innovation updates, we provide you with an overview of the most relevant insights, best practices & tools from the innovation cosmos.
1. Gartner®: How to Successfully Align Innovation with Enterprise Strategy

In the era of digitalization, there is proof from a variety of industries that innovation is a critical pillar to fulfilling strategic objectives and goals. The journey is not without its challenges and obstacles; various factors can impede organizations' innovation efforts. Leaders need to be aware of the best methodology to ensure that innovation projects are seen out and reach the execution stage.
According to Gartner:
Executive leaders should leverage the enterprise strategy to identify key objectives and goals to initiate innovation planning and establish the scope of innovation programs and initiatives.
Gartner has developed a Customizable Innovation Framework (Figure 1) that provides specific guidelines to create impactful innovation projects that help reduce risks throughout every part of the innovation stage gate. As per Gartner, "The framework provides a way to frame key decisions about what innovation success will look like and guidance on how to navigate greater than 100 innovation activities, identifying those most likely to lead to success."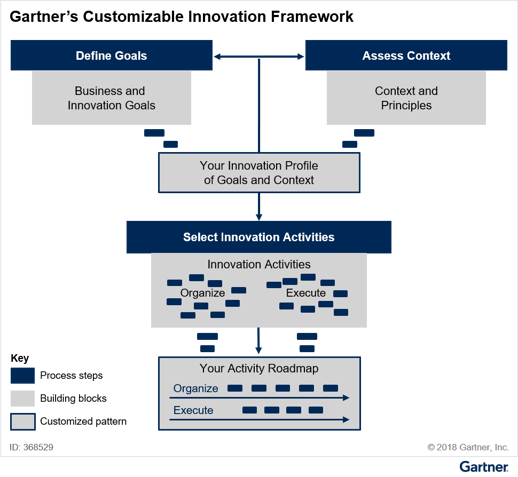 Understanding your organization's objectives and goals is the key first step for planning and executing innovation activities to ensure that they are aligned with the corporate strategy. It increases the potential that your innovation efforts have a high business value and impact while mitigating the risks of going in the wrong direction.
Download the full Gartner report and get first-hand recommendations on how to increase innovation success.
Also read:
How to Define Clear Innovation Objectives and Goals
2. How to Drive Innovation in Small Businesses


Being innovative is one of the most important drivers of success for companies, regardless of their size. No matter whether it's a big corporation or an SME, building strong innovation capabilities and reinventing processes is key to staying ahead of the curve. Especially smaller companies need innovation strategies that set themselves apart from the competition and build brand awareness, to ensure efficient and effective business growth. A recent article in IM Weekly points out five tips on how to drive innovation in a small business:
1. Building an innovation culture

Foster a culture that enables bottom-up innovation. Allow employees to contribute ideas and put innovative strategies into action. They also need to feel like their contribution is acknowledged and taken into consideration. Breaking down the barrier between management and employees and emphasizing continuous cross-departmental communication helps build an innovation culture.
2. Search for innovative employees

To drive innovation in your organization, you need the right people. Find and encourage employees with the right attitude, skilled at coming up with innovative ideas and putting them into action. Moreover, when hiring new talent, keep an eye out for who has an out-of-the-box thinking and innovative attitude.
3. Embrace innovative technology
Successful innovation requires state-of-the-art technology. From business automation to digital software that can be integrated into all processes across different departments, there are many ways you can spark innovation through the use of technology. In any case, it gives your employees the tools they need to achieve innovative goals.
By the way
: the
ITONICS Innovation OS
empowers
everybody
to innovate. We have all the digital tools smaller businesses need to drive successful innovation.

4. Form teams
Allocate resources to create departments and divisions specifically dedicated to innovation. This might seem like a large investment, but it has a long-term impact and can deliver a high ROI. However, be wary of information silos. Innovation today is the responsibility of all employees and should be made available to everyone.
5. Research, monitor, and improve
Last but not least, you need to be able to measure the success of ideas and innovation activities. Monitor innovation KPIs to gain actionable insights. These insights will influence your innovation strategy and drive informed decision-making.
3. Our Trend of the Month: Inclusive by Design
There is a growing imperative to design products, services, spaces, experiences, and messaging to be representative of—and accessible to—all persons of every gender, race, and level of ability. This entails considering diverse needs and perspectives to create inclusive offerings that enable participation and a sense of belonging amongst underserved and marginalized groups; it is an ethos that must be woven into brand DNA.
Approaches include developing solutions that cater to the needs of individuals with social, economic, physical, and non-physical obstacles and other circumstances that may affect accessibility. Genuine inclusivity initiatives foster trust and brand loyalty, especially among younger generations like Gen Z and Gen Alpha, who are highly attuned to issues like social justice and diversity and inclusion.
Inclusivity has to be a core value that informs design. Attempting to make inclusivity decisions in a void can lead to half-baked or ill-considered solutions that aren't truly inclusive or empathetic. Diverse teams, robust consumer research, and feedback mechanisms help brands design offerings that truly address the needs and desires of the groups they are attempting to cater to.
On the technology front, empathy and inclusivity have often taken a back seat to practicality and efficiency. But there is a major shift toward tech tools, apps, platforms, and online spaces that are designed to address real and often unmet needs of a more diverse set of users.
Apple has announced features coming later this year that combine the power of hardware, software, and machine learning to offer users with disabilities new tools for navigation, health, communication, and more. Assistive and customizable features like Door Detection for people who are blind or have low vision, Voice and Gesture Control, and Live Captions are some of the latest advancements.
Twitter's new ALT badge feature improves the global accessibility of its platform, where you can click on or mouse over an image to get text and speech-based descriptions of those images.
Slack is rolling out new options to help team members pronounce each others' names accurately. The app has added two fields to member profiles: one lets users spell out their name phonetically, while the other allows them to upload an audio recording of the exact pronunciation.
And Snapchat is helping its users learn new skills by launching a lens that helps you learn American Sign Language (ASL). Launched in partnership with SignAll, the lens teaches you to fingerspell your name, practice the alphabet and play games that put your new skills to the test.


To explore other trends similar to Inclusive by Design, check out the Product Trend Radar containing 24 trends that examine how organizations will address the value, features, and quality of their offering amidst emerging needs and behaviors.
4. Fact of the Month: 3 Common Questions About AI
In a recent article, Gartner® has addressed the most important questions about Artificial Intelligence (AI). These include the following three common questions:
How can you capture the AI opportunity?
What can AI do for an organization?
How does the future look for AI and AI technologies?

5. Your Monthly Dose of Innovation

Boost your knowledge about AI & Innovation!


Speaking of AI: If you want to learn more about AI and its possibilities, discover the Microsoft AI Business School. Get interesting insights on things like defining an AI strategy, responsible AI, or how to scale AI in your organization.

You can access all learning paths for free! Get started.


---