The ITONICS Kanban Board visually represents projects in your portfolio as cards that you can drag around between columns.
Visualizing your portfolio on the Kanban Board enables you to identify bottlenecks and manage the flow of projects to the next phase and completion. It provides an overview to identify blind spots and balance your innovation portfolio.
1. Use columns for project phases
The Kanban Board offers the flexibility to modify the X and Y axis according to your specific needs for portfolio management. Configure it to reflect the different phases of your process, the responsibilities of team members in each phase, and the criteria for moving projects from one stage to the next. Suppose your objective is to streamline your organization's innovation process. In that case, you may want to outline your team's tasks and milestones by setting the columns to show sequential project phases such as: ideate, refine, business case, prototype, scale, and run.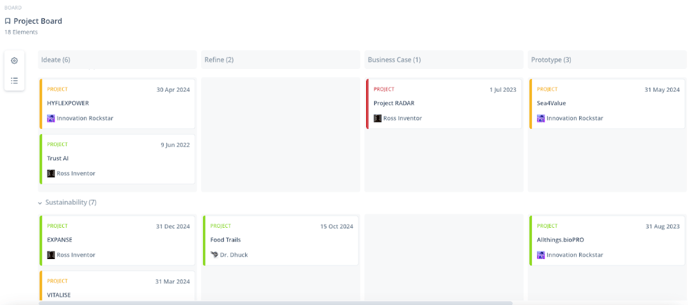 The swimlanes can be segregated according to how they benefit the business: cost saving, process optimization, new revenue, and sustainability. Alternatively, use the swimlanes to categorize initiatives by the person or department that owns the project. Then set the card color to indicate the health status of projects - this makes it clear which initiatives are not progressing and need attention.
Your team can then use the Kanban Board to evaluate why certain priority projects are stuck in the business case or prototype phase and address the bottleneck or roadblock. Teams can analyze if a project is delayed due to a lack of resources and decide whether to reallocate resources to get the project back on track. Alternatively, discontinue the project to align with the goals of your strategic portfolio management.
2. Communicate the status of projects regularly
The ITONICS Innovation OS is designed to be a single point of truth that breaks organizational silos and unifies your company's innovation activities. Use it to centralize your innovation intelligence, communicate project status with your team, and keep stakeholders informed. This will ensure that everyone is on the same page and equipped to make key decisions. Regularly conduct portfolio reviews together with your team, using the Kanban Board to identify areas where the portfolio is performing well and areas to improve. The ITONICS platform can also trigger notification emails for different actions and events to help you and your colleagues to stay on top of what is happening.
3. Enrich information to understand developments
Click a card on the Kanban Board and a preview of that element opens on the right, showing its abstract, status, relations, ratings etc. Open the element in a new tab to see and edit its complete information. Scroll down to see all the element's relations.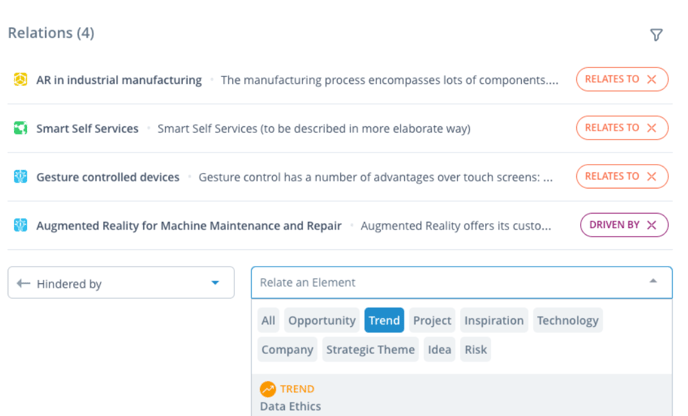 With the relations feature, you can connect different elements to understand the context and forces of change that affect the project. The recommended relations widget displays relevant elements in the same workspace, making it easier for you to enrich and validate your innovation portfolio by adding relevant information. By connecting a project to a trend, technology, or opportunity, your team members can click on it, which brings up all the valuable information added to that element in other parts of the ITONICS Innovation OS, including images, news links, and ratings. This helps identify related information to, for example, highlight overlaps or gaps around topics of interest. It saves your team time finding relevant data, which can enrich existing content, validate research, or uncover overlooked information.
You can even enrich opportunities in your portfolio with evidence from colleagues and external experts. Link projects and ideas with trends, technologies, strategic themes, or opportunities and risks to strengthen concepts and motivate for their timely relevance.
Connect the dots between different pieces of information to grasp the implication of drivers of change for your organization's innovation projects.
4. Know what to focus on
Use collective ratings to evaluate projects in your portfolio to determine which ones to prioritize. Visualize your initiatives on the Kanban Board to get an instant view of how many initiatives are, for example, in a particular goal category, in a specific phase of development, and which initiatives you have across different horizons.