You don't have to see startups as the competition. By partnering with startups, larger organizations can gain momentum in achieving their innovation goals. Startups inspire with their innovative business models, new customer experiences, and experimental use of technology. But how do you discover startups that are relevant to your business context and goals?
Startup scouting is the process of identifying and evaluating cutting-edge startups. This process is necessary to maintain a competitive advantage because many startups have the potential to disrupt your industry by serving your target customers in a new way.
To find these startups, you might search through database websites, physically go to networking events, or rely on consulting firms. Alternatively, you could simply use the ITONICS Insights software tool. It not only helps you search news articles, patents, and scientific publications to stay on top of trends and emerging technologies. It also enables you to discover startups and other key drivers of change for your business. To increase the value of your scouting activities and get more relevant results, here are three tips to refine your search while startup scouting.
3 tips to refine your startup scouting process
1. Combine relevant keywords for startup search
The first step is to define your area of research for startups. You're likely interested in a particular industry or the application of a specific technology to solve a problem. Take this scenario for example: you work in the R&D department at a multinational bank. You're looking for startups that have found unique solutions to "embedded finance", banking-like services offered by nonbanks. Putting in a single keyword such as 'startup' into the casual search of the ITONICS software delivers hundreds of thousands of news articles and patents. But if you enter three relevant keywords such as "fintech", "startup", and "embedded", it narrows down the results to less than a thousand signals. You can immediately gather the names of startup companies from the article headlines.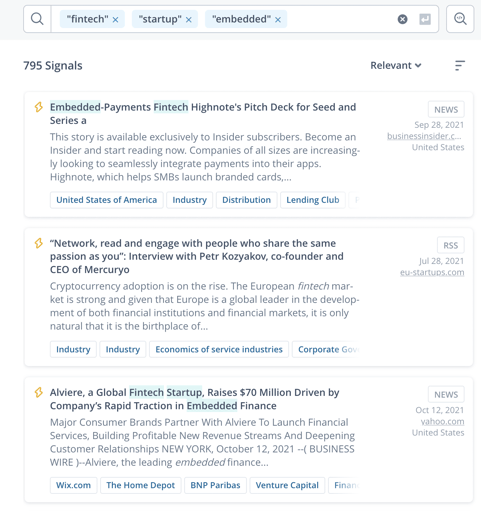 Search results in the Signals feed based on combined keywords
One of the benefits of the ITONICS Innovation OS is that when you find a relevant signal, you can easily save the signal as an "Element" in order to reuse it in other parts of the software. This enables you to rate the Element together with your team or experts within your organization and visualize it with other startups on a Radar.
Pro tip:
Perform outside-in startup scouting through an open innovation approach. Instead of searching for startups, set up an open application channel to encourage startups to submit potential innovative solutions focused on a defined opportunity or challenge. For more information on the benefits of this approach, read Open Innovation: Strategies and Best Practice to Manage Partnerships.
2. Apply filters for a narrowed startup search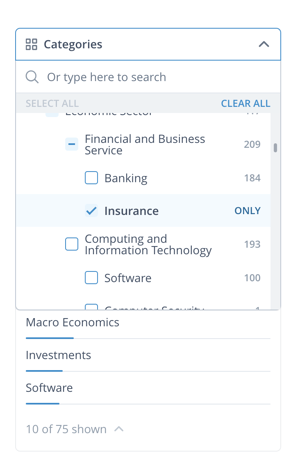 To narrow the results further, you can use the filter functionality in ITONICS Insights. Open the "Filter" tab and click on the "Categories" dropdown. You can untick any categories or industries that aren't relevant to your startup search, such as 'education' and 'transport'. Alternatively, if you're specifically looking for startups involved in selling insurance through embedded finance, hover over the "Insurance" row and click ONLY to untick all the other categories. Return to the Signals feed; the results have now been narrowed down significantly, becoming a manageable amount of information to go through.
Another way to filter out results that aren't relevant to your startup search is by opening the "Visualization" tab, seeing the geographic distribution of Signals on the world map, then selecting the countries where you wish to scout startups. You'll see the timeline graph change as you select different countries, providing a sense of how much interest in the topic has grown over time for those geographies.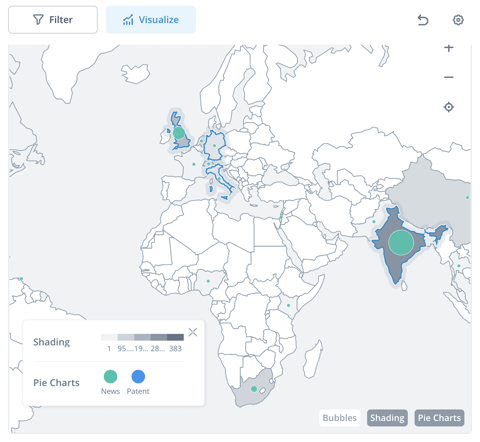 3. Refine your startup search with 'Power Search'
Beyond the casual search bar, ITONICS Insights also has a Power Search option intended for Boolean queries. This allows you to put in specific instructions on how keywords should be combined and excluded. A Boolean query typically makes use of an operator such as AND, OR, NOT. You can learn more different examples and use cases of Boolean queries in this three-part article series about power search on the ITONICS Knowledge Base.
In this particular scenario where you are scouting for startups in fintech, you may have a need to exclude based on a particular technology or trend. So if you want to avoid startups involved in blockchain, you would use the NOT operator to input a query such as this:
(* CONTAINS "fintech" AND * CONTAINS "startup" AND * CONTAINS "embedded" AND NOT * CONTAINS "blockchain" AND NOT * CONTAINS "cryptocurrency")

In this case, excluding "blockchain" removes a quarter of the search results (signals). As you explore the signals and gain further understanding of the unique selling propositions of the different fintech startups, you may find it useful to add or exclude additional terms in your query to get closer to the exact types of startups you're interested in.
The work you put into identifying startups through this search process will be continuously useful to you and your team if you save what you discover as Elements. If you merely saved the information to a document or spreadsheet, it's possible that it won't be revisited on a long-term basis. In contrast, a startup saved as Element on the ITONICS platform can be entered as a search term, saved as a search preset to return to regularly, and processed further with the different features in the software. With shared views on the platform, you are able to collaboratively rate identified startups with your team and internal experts, e.g. on relevance and potential impact, and get consensus. The startup you discover today might go on to a project roadmap a month from now, for instance.
If you want to see these features for yourself, try our Innovation OS 30 days for free or get in touch with one of our experts and book a demo. The ITONICS software could be the solution you need to identify opportunities and accelerate innovation in your organization.
Have more time?