In this blog, you'll learn about the three most significant pain points in effectively executing ideation activities. By explaining how to overcome these pain points, we aim to show that collecting and nurturing ideas can have a tangible impact on strategic goals. As a way to help you overcome these obstacles, this article will also provide solutions and best practice examples for achieving your ideation targets and how the ITONICS ideation tools are key to executing these goals.
At ITONICS, we place a strong emphasis on understanding drivers of change: conducting a thorough, consistent environmental scanning is vital in determining what strategic direction organizations should go in and ensuring there are no surprises in your industry. Drivers of change look externally to the possibilities available as industrial shifts occur, but how can internal ideation strengthen innovation? Teams with different organizational functions hold the potential to provide solutions to the organization's most pressing issues and deliver new business opportunities. This swarm intelligence can immensely benefit organizations' innovation processes when effectively leveraged.
Collecting, evaluating, and acting on these potentially game-changing ideas is a complex task, and organizations serious about leveraging internal innovation intelligence must navigate the critical challenges associated with ideation.
1. Untapped collective intelligence
Large organizations have team members with vastly different perspectives on improving their organizational processes. These teams can range from public-facing marketing teams aware of what the consumers desire to operational teams intimately acquainted with how the products and service offerings work. These teams' vantage points can lead to cross-pollination and allow them to have ideas to optimize business functions and develop innovations.
These ideas can be discussed in water cooler conversations or in company town halls. Ultimately, this does not advance them past dialogue to act towards action and can lead to a dip in employee morale where lip service around new ideas and what happens in practice does not match up.
---
Best practice example for tapping into collective intelligence
A subsidiary of a multinational automotive company based in Europe realized that ideation campaigns were key to optimizing their product development pipeline and manufacturing, marketing, and sales operations.
The organization methodology involves a thorough environmental scanning process to find relevant trends, technologies, and startups and keep a keen eye on competitor activity.
This environmental scanning process is then bolstered by innovation challenges undertaken by different departments. The key for this company is problem-solving; combining the insights from environmental scanning with the operational know-how of various departments enables novel product development, cross-team collaboration, and the harnessing of collective intelligence. The ITONICS OS provides the type of linkages between foresight and ideation tools to complement virtual events where pitches take place of new product proposals take place.
The company utilizes ITONICS tools such as Campaigns and Radar to adequately collect and visualize ideas as the critical first step to evaluating which ideas can move to the next stage.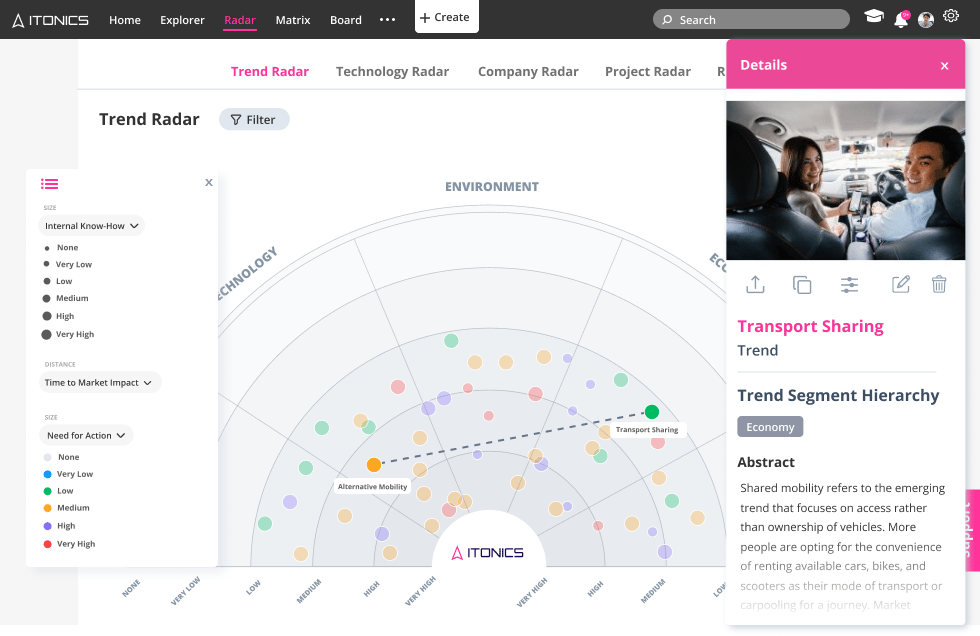 2. Static idea collection
There is a tendency for organizations that are collecting ideas to utilize note applications, word processing applications, and spreadsheets to house ideas. At a glance, the rationale behind this makes sense; a quick way to host ideas from a meeting such that the idea is not lost. The issue emanating from this type of collection method is that ideas risk lying dormant on the collector's laptop or forgotten on a collaborative cloud location.
This static idea collection issue, coupled with a lack of leadership buy-in who do not properly articulate what will happen to the ideas, can cause even the greatest ideas with great potential to wither and fall to the wayside.
---
Best practice example for overcoming static idea collection
A European manufacturing giant needed to develop a structured and transparent idea collection process to evaluate ideas better and move them toward action.
In the organization, all employees can submit an idea, meaning that a steady stream of ideas filters into the organization at any given time. After submission, the ideas undergo a three-pronged approach to scrutiny: engaging the idea, evolving the concept, and finally, evaluating its potential. Different team members in the organization do this analysis.
ITONICS Workflow is the company's tool of choice to undertake this process.
A rating process is undertaken with each idea during the engage/evolve/evaluate stages. Criteria such as technology fit, portfolio fit, sales fit, and strategy fit allow different teams to assess how the idea might align with strategic aims and operational capabilities.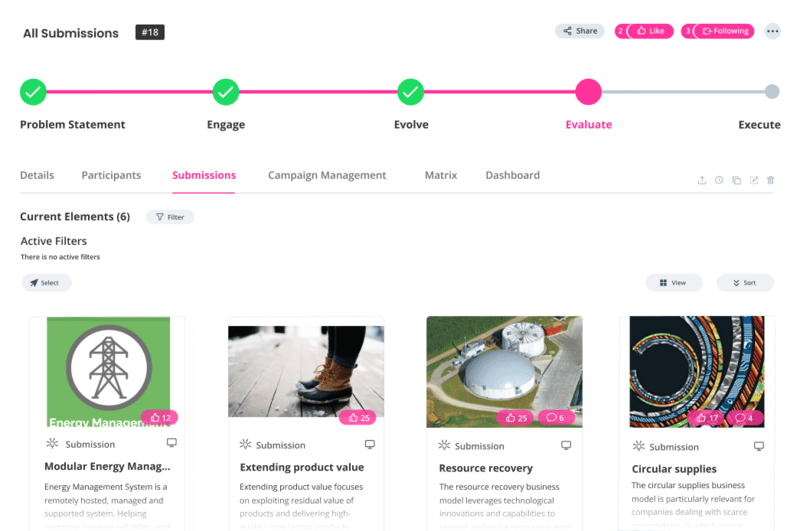 In this way, the organization uses departmental expertise to activate ideation campaigns. Different teams must examine how their departments may utilize the idea, the costs associated with implementation, the feasibility, and what patents must be filed to execute the idea.
3. Idea development detached from business priorities
Innovation managers and CIOs need to have a plan for what the incubating process will be for ideas. When ideas do not have a transparent process of evaluation, development, and execution, they can fall to the wayside, and other day-to-day matters end up taking precedence. Open innovation challenges and ideation campaigns require clear structure, motivated evaluators, and a well-communicated execution strategy. Organizations whose ideation challenges fail usually lack such a process.
---
Best practice example for business priority-based ideation
The European manufacturing giant decided to take a pragmatic approach to ensure that ideas stand the best chance of development: by positioning client needs as the necessary condition for idea development.
By capitalizing on the vast repository of actual client pain points and feedback archived by their sales and front-of-house teams, the organization can develop products and services that be applied to real-world scenarios, thereby increasing the chances that the best ideas are actually taken to market.
This approach is enhanced by the ITONICS OS, which provides a customizable phase-gate tool and data visualizations to monitor ideas and act decisively. Experts can enter the rating and evaluation process where their skills are most sought after, and after they have rated, the idea moves to the next round of analysis. If an idea moves through the entire process, it can be transferred to the ITONICS Portfolio management tool.
With roadmaps, milestones, KPI dashboards, and critical path analysis, ITONICS Portfolio enables the best idea to be effectively executed and for all organization members to understand their role.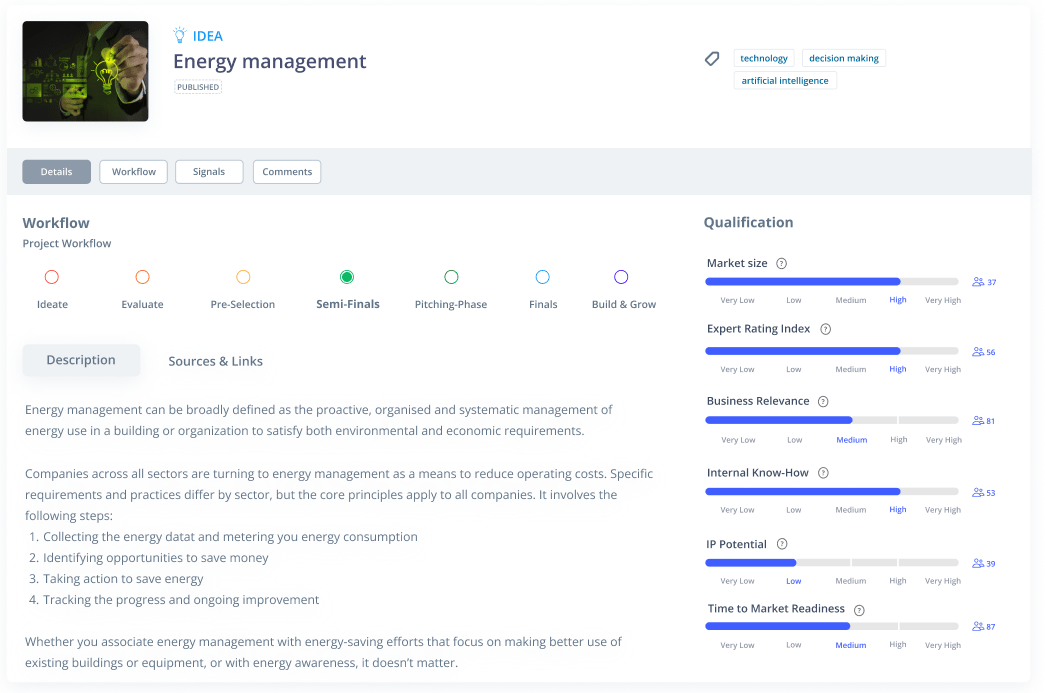 Solving challenges in ideation and idea management with ITONICS
ITONICS offers a comprehensive solution that empowers your ideation teams to overcome the challenges of collecting, nurturing, and acting on potentially game-changing ideas. With the ITONICS Innovation OS, organizations can activate collective intelligence to generate ideas and solve challenges, shortening the path from ideation to market. All in one platform. ITONICS can help you establish a systematic process for idea management, conducting foresight, and creating an ecosystem that hosts your portfolio of innovation assets.
Want to solve the biggest challenges facing in your ideation and idea management process and free yourself to focus on what truly matters? Get a free demo of ITONICS to find out how easy it can be!