New advances in Artificial Intelligence (AI) have deemed the impossible possible. Machines are progressively becoming smarter and can now mimic and perform tasks that until recently required human intelligence and complex processing — even extending to mastering creative processes or responding to human emotion. With the potential to significantly improve the innovation process, AI will reshape every aspect of the operational organization, including how innovation is managed and supported.
Today, the amount of data generated by both man and machine escapes humans' ability to comprehend, interpret, and make complex decisions based on that data. AI capabilities enable executives to reassess how information is integrated and analyzed. Through AI, data can be collected and analyzed more quickly to augment human intelligence and offer a competitive advantage.
As a result, the world's leading organizations have quickly realized that AI needs to be on their agenda. Moreover, AI-driven innovation is one of the emerging topics included in the Gartner® Hype Cycle™ for Innovation Management Techniques, 2021.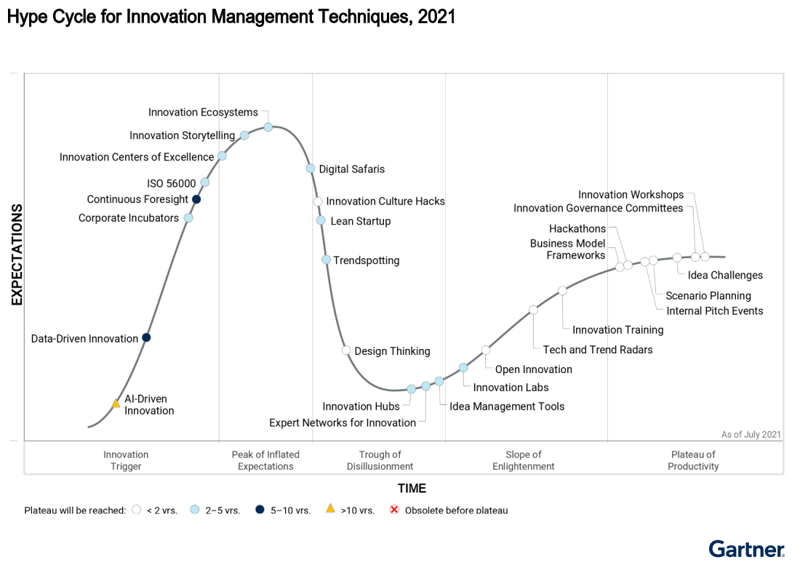 According to Gartner, "AI-driven innovation refers to the use of artificial intelligence technologies in the process of innovation." Positioned on the rise of an innovation trigger, we believe, AI-driven innovation is considered to hold potentially transformative means to "drive high-impact innovation at scale through the discovery of new ideas and rapid progress through the innovation pipeline". Gartner says, "this suggests that the innovation management technique will enable new ways of doing business across industries, resulting in significant shifts in industry dynamics.".
While the Gartner report predicts that AI-driven innovation will become mainstream in more than ten years, developments are still nascent and in the early phases of proof-of-concept. That said, organizations who hope to maintain market relevance and leapfrog competitors through improved innovation processes should keep the topic on their radar for two key reasons:
Innovation Process Optimization
Augmented Business Operations
Innovation Process Optimization

In reference to the Gartner report, "AI also has the potential to change the innovation process, making it more efficient, streamlined, data-driven, and responsive to changing market needs."
In light of this, we believe that developments in AI capabilities will have, both more immediate and long-term, impacts on the following areas of the innovation process:
Environmental Scanning
AI-based text mining and analysis enables always-on environmental scanning to help teams adapt in an ever-evolving and uncertain landscape. By applying such technologies, organizations can scan millions of verified sources in real-time to reveal competitive intelligence and automate environmental scanning. Topic modeling is increasingly being investigated and advanced to sort and analyze aggregated findings simply and quickly to reveal insights faster.
Continuous Foresight
Effective foresight management is dependent on developing continuous means to gather, analyze, and act on information about their future. Scenario development is a core foundation to foresight management in that the practice equips decision-makers to anticipate exposures appropriately, evaluate innovation opportunities, and act timeously. The immense processing power enabled by Artificial Intelligence can enhance scenario planning by considering multiple variable data trajectories simultaneously and calculating plausible future outcomes more accurately through deep learning.
Opportunity Discovery
In a recent NBER study investigating The Impact of Artificial Intelligence on Innovation, AI is considered "a new general-purpose 'method of invention' that can reshape the nature of the innovation process and the organization of R&D." Apart from automating horizon scanning, AI capabilities can be applied to advance trend, technology, and start-up scouting and compliment the ideation process. Neural networks—and more specifically, artificial neural networks (ANNs)—arrive at decisions through a set of algorithms and can search big data for previously unknown relationships. As a result, AI-driven innovation holds the potential to scale the discovery of new ideas and rapid development through the innovation pipeline.
Prototyping & Development
AI is transforming product development by empowering innovation teams with the insight required to optimize and accelerate the R&D process. At the same time, the use of Machine Learning (ML) algorithms, seamless testing, and data-backed decision-making has provided a new way to prototype solutions quickly and efficiently. In this way, AI can facilitate data-driven feedback loops that adopt agile, lean methodologies.
As Gartner states, this holds potential for innovators to produce "generative designs for the idea by iterating against user preferences by target customers." As a result, AI-driven Innovation thus shortens the time-to-market to provide a first-mover competitive advantage.
Augmented Business Operations


In addition, the Gartner report states that "advancements in the field of AI have the potential to directly influence both the creation and optimization of a wide range of products and services, with important implications for organizations through productivity, agility, workforce rebalancing and ability to outpace competition."
Productivity
Organizations can raise their level of productivity by leveraging AI and machine learning to establish systems that can test hundreds of mathematical models of production and outcome possibilities, capable of adapting to new information. Applied in the context of product & service development, such technologies can reduce production inefficiencies through predictive maintenance. Simultaneously, AI produces efficiencies through accurate demand forecasting, automated material procurement based on feedback, hyper-personalized product options, and optimized manufacturing processes.
Agility
Organizational agility relies on an organization's ability to comprehend, analyze, and adapt to external and internal changes based on insight. AI's predictive analytics skills combined with immense computing power significantly enhance agility by accelerating the speed and accuracy of decision-making. Unlike human effort, AI can guarantee consistent quality and can work continuously without dips in productivity. As machines possess the ability to process and make decisions based on previously accumulated data, AI removes human error and can identify and fix problems before they even begin to develop. This speed of accurate decision-making leads to quicker resolutions and greater agility in responding to market changes.
Workforce Rebalancing
As AI is increasingly incorporated into business operations and workplaces, it is poised to fundamentally alter how we allocate capital resources. According to the Harvard Business Review, approximately 2.5% of jobs include a high proportion of tasks suitable for machine learning. Rapid technological advances will undoubtedly remove some tasks as new tasks requiring different capabilities emerge. The research indicates that as technology reduces the cost of tasks that can be done in part by AI, the value employees contribute to the remaining tasks increases. Those tasks often require intellectual skill, empathy, and insight. As a result, the workforce can be rebalanced to more optimally employ talent to create new value.
Ability to Outpace Competition
According to Forbes, the amount of data generated in the last two years is more than 90 percent of the world's total data combined. For strategists and innovation professionals alike, making sense of all this data and information at a time of heightened complexity and uncertainty presents a critical business challenge. The ability to process and assess important insights from this data will be the competitive edge in the future. For innovators to take bold bets on the future, organizations need to analyze more and more data. The better the data and the analysis, the more precise and effective bold bets can be.
How ITONICS Supports AI-Driven Innovation
Working with global teams to innovate new products, services, and business models, ITONICS inspires, guides, and accompanies organizations on their innovation journey. With over 150 experts on four continents, we support innovation leaders such as adidas, Audi, CISCO, KPMG, Johnson & Johnson, Mondelez, and SAP.
Together with our clients, we shape the future by providing a systematic framework and single point of truth to steer innovation efforts. In doing so, we remain dedicated to staying at the forefront of innovation management, integrating emerging technologies and methodologies on the fringe of what's next into our offering to empower everyone to innovate.
Focused on data-driven innovation and powered by AI, our software helps companies connect trends and emerging technologies, arrive at new opportunities, make confident decisions, and drive actionable growth strategies for a brighter future.
As the world's leading Operating System for Innovation, ITONICS provides organizations the flexibility to radically upgrade the way they innovate. Be a first mover in your industry and leverage AI-driven innovation already today. Get started with your 30-day free trial or a free software demo.
---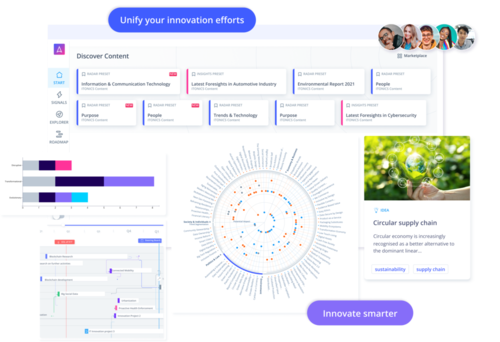 See the ITONICS Innovation OS in action
---
Have more time?
Disclaimer
Gartner, Hype Cycle for Innovation Management Techniques, 2021, 12 July 2021, Jackie Fenn et. Al.

GARTNER and Magic Quadrant are registered trademarks and service marks of Gartner, Inc. and/or its affiliates in the U.S. and internationally and are used herein with permission. All rights reserved.

This graphic was published by Gartner, Inc. as part of a larger research document and should be evaluated in the context of the entire document. The Gartner document is available upon request from [insert client name or reprint URL].

Gartner does not endorse any vendor, product or service depicted in its research publications and does not advise technology users to select only those vendors with the highest ratings or other designation. Gartner research publications consist of the opinions of Gartner's research organization and should not be construed as statements of fact. Gartner disclaims all warranties, expressed or implied, with respect to this research, including any warranties of merchantability or fitness for a particular purpose.