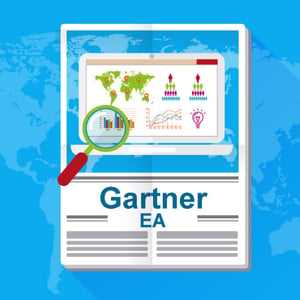 The recently published Hype Cycle for Enterprise Architecture 2018 by Gartner deals with various technology-enabled business models and solutions within today's enterprise architecture. Gartner considers four different phases: On the Rise (e.g. Trendspotting, Human-Centered Design, Customer Journey Analytics), At the Peak (e.g. Security Architecture, Design Thinking, Digital Twin), Sliding Into the Trough (e.g. Digital Business Transformation, Information Architecture, EA Governance) and Climbing the Slope (e.g. Architecture Roadmaps, EA Frameworks).
ITONICS is mentioned in the context of Continuous Planning and Architecture Roadmaps as software and solution provider. Gartner furthermore states that today's enterprise architecture is more about technology-enabled business models and solutions than individual technologies with continuous change being the overall pivotal point. If you are a current Gartner client, you can download the full report here.
In 2017, ITONICS was already mentioned in Gartner's "Market Guide for Innovation Management Tools".
About Gartner
Gartner is one of the world's leading research and advisory firms. Their market insights help companies to choose the right vendor for their specific use cases.