Driving Innovation & Sustainability Through Times Of Uncertainty
In an increasingly unpredictable world, innovation and sustainability are both engines and indicators of future success
Uncertainty often elicits reactionary behavior; it's our evolutionary lizard brain kicking into overdrive and causing us to seek safety at any cost. And it works much the same in organizations as they strive for steady ground and shift focus to immediate needs in the face of the unknown.
→ Free Download: Innovation & Sustainability 2030 Report
So when the coronavirus pandemic plunged us all into tumult, the carefully laid plans and established priorities of many organizations were quickly re-examined by business leaders. For some, the initial instinct may have been to put innovation pipelines and sustainability agendas on hold in lieu of protecting existing customers, workforce, and cashflow.
While this response is understandable in the context of a global health and economic crisis, losing sight of the big picture in terms of innovation and sustainability can leave a company and its customers far worse off in the long run.
No one ever achieved growth or inspired a following from a defensive crouch. Yes, an organization's survival and success are determined by its capacity to mitigate risks – but also to identify opportunities, mobilize the required resources for action, and innovate for the future.
So, in a landscape marred by uncertainty, how can an organization build resilience, establish a competitive advantage, and capture the true value of the sustainability imperative? We have a few suggestions:
Lean into Uncertainty
"Business as usual" is the easy path, free of unseen obstacles and blind corners. It's comfort and security and demands little input in return. Business as usual represents the high-emissions scenario and is what has led to the escalating climate crisis that threatens our planet. It also inhibits growth and vision; there are few opportunities to innovate along the path of the least resistance.
Alternatively, the most innovative companies of our time are those that embrace uncertainty and are unafraid to fail, defining and forging their own path forward. It's no coincidence that they also tend to be leaders in sustainability as they exhibit a culture of approaching constraints with creativity, questioning the status quo, and valuing new ideas. Here is where we see innovations going beyond compliance.
But before running headlong towards the unknown, a company must develop tactics to adequately protect its people and assets, build resilience, reduce exposure, and ensure that appropriate emergency budgets and securities are in place. It's not necessarily about knowing exactly what's around the corner, but creating the internal capabilities to confront uncertainty and uncover the opportunities therein.
Proactively Enforce ESG Compliance
Risk management is a core element of business planning. The ability to monitor, assess, and act on early signals and threats helps business leaders make timely and informed decisions in times of uncertainty.
Research from Morgan Stanley points to the link between ESG (environmental, social, and corporate governance) compliance, higher profitability, and lower risk during the pandemic. This is coinciding with a shift in viewing sustainability as a measurement of performance and social factors, such as injustice and inequality, as material risks.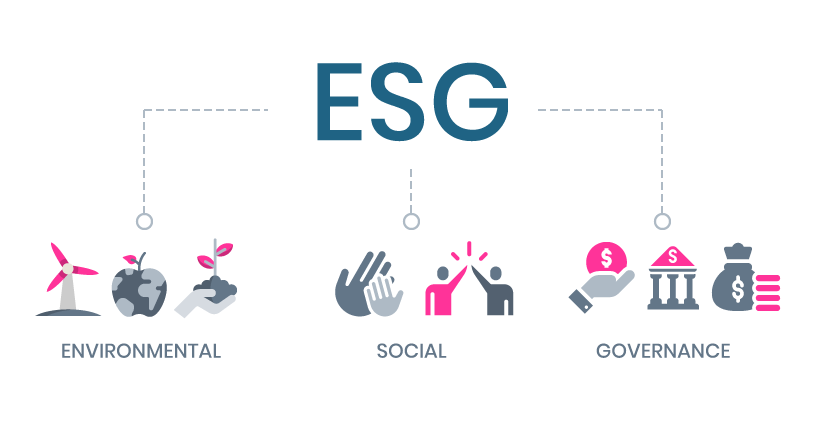 When business practices do not align with ESG goals, it can be a clear signal of risk – mismanagement, a dearth of innovation and insight into the zeitgeist, or even blatant disregard for government regulations. Whereas complying with ESG regulations prior to their enforcement may set organizations several design cycles ahead of others and produce a first-mover advantage.


Envision Alternative Pathways with Strategic Foresight
Strategic foresight is not a crystal ball but, when combined with industry knowledge and insights, it can be used to examine the interplay of not-so-distant realities.
In addition to better preparing organizations to deal with uncertainty, strategic foresight also acts as an enabler of a sustainable future.
In contrast to the worst-case, business-as-usual scenario, strategic foresight can provide a more dynamic view of the future through the "Shared Socioeconomic Pathways" (SSPs).
The narratives of the SSPs explore how societal choices (trends) and climate change (risks) are inextricably linked and therefore, represent how global sustainability ambitions can be met.
These scenarios present a baseline of what the world might look like in the absence of climate policy, and allow innovators to shift from reactive crisis management to proactive strategic planning. It is within these scenarios, where trends meet risks, that opportunity spaces are revealed for climate mitigation, adaptation, and innovation.


Build Resilience with Sustainable Value Chains
Making value chains more sustainable is a complex challenge. Organizations must consider every step and impact from cradle to grave, e.g. responsible sourcing and employment, shortened routes to market, the systemic recovery or recycling of products post use. So while many large corporations have made commitments, particularly in the FMCG sector, few have succeeded in meeting their targets.
Done right, however, it can transform the way businesses operate from the bottom up and help move the dial on the Sustainable Development Goals. Likewise, it represents both a source of resilience and an opportunity for innovative solutions such as the adoption of smart tracking technologies and blockchain to improve transparency.
When the pandemic struck, it quickly exposed some weaknesses in existing value chains. Overreliance on a single market or supplier and a lack of visibility spelled disaster for some businesses and industries.
Meanwhile, companies that proactively invest in building sustainable value chains will be better prepared to navigate an increasingly unpredictable future and better positioned to mitigate rising costs. Moreover, companies that demonstrate responsible practices through supply chain transparency are likely to win favor among consumers.


Integrate Systems Thinking into Decision Making
Sustainability issues are inherently systemic. Responding to them represents a complex adaptive challenge for businesses, full of unknowns and exacerbated by global drivers like climate change and the pandemic.
An integrated, holistic approach – resulting in changes in mindset, operating models, processes, and tools – is required to identify the full range of direct and indirect impacts that sustainability interventions may have, as well as the implications for innovation.
In order to plan and steer future developments and technologies in this space, a business must embed its sustainability strategy and build internal consensus.
Agile digital roadmaps help plan and steer future innovation while raising alignment, transparency, and ultimately collaboration at all levels.
By moving away from an opaque, incremental, and siloed project-by-project mentality, innovators transition to an integrated strategic paradigm where a new, more sustainable future is possible – not only from technological advances but also from cultural, political, social, and economic innovation.


Get Equipped with the Tools to Succeed
Having the right tools to manage innovations, technologies, projects, and opportunities is vital to acting on your organization's sustainability strategy in an increasingly uncertain world.
The ITONICS Innovation Cloud supports the end-to-end innovation management process, from environmental scanning and risk monitoring to scenario planning and innovation portfolio management. It facilitates internal consensus and collaboration at all levels by connecting projects to an agile digital roadmap, enabling business leaders to make better, informed decisions that support a more sustainable and prosperous future.
Get started by creating your own Trend, Technology, and Risk Radars, or explore the pre-filled ITONICS Sustainability Radar to identify the trends that are relevant to your organization, customers, and future development.