Definition of strategic portfolio management
In today's business environment, strategic portfolio management has become a crucial practice for companies seeking to execute their innovation strategy and achieve their long-term goals. It involves selecting, prioritizing, and managing a portfolio of programs and initiatives that align with the organization's overall strategies. By doing so, businesses can create a sustainable competitive advantage by maximizing opportunities for growth through resource optimization and improvements in their decision-making processes.
Strategic portfolio management connects the projects, programs, and initiatives that exist across an organization to its overall corporate strategy with the goal to optimize business outcomes while adapting to disruptions.
While project and program management deal with the day-to-day execution of specific initiatives, SPM takes a more holistic view and puts the emphasis on where best to focus the firm's finite resources to support larger strategic objectives. It involves unlocking intelligence about what is currently happening inside and outside the firm as well as fostering a rigorous implementation of corresponding action plans. In short, SPM is about aligning the firm toward doing the "right" things through a series of informed decisions.
This guide will provide an introduction to strategic portfolio management and its key principles.
Why is strategic portfolio management important?
All organizations need to regularly reflect and consider "How do we intend to create and capture value in the future?". With many initiatives taking place simultaneously, it is often difficult to maintain the overview, understand implications or determine which programs will truly make a difference - and when.
Strategic Portfolio Management (SPM) refers to the process by which an organization determines how to allocate its available resources across a portfolio of initiatives in order to achieve its strategic goals. This requires a regular evaluation of potential and existing activities where stakeholders can be confident they are in a position to make informed decisions to optimize the blend of initiatives to achieve the best possible outcome.
However, before you can start managing your portfolio, objectives need to be clearly articulated. What are you trying to achieve? What are your goals? What are your priorities? Once you've identified your objectives, you can start looking for ways to achieve them through your investments.
A critical component of any strategy cycle is the ability to continually monitor performance of the portfolio to assess if it is on track to meeting your objectives. This may require some patience and persistence as it can take some time for investments to bear fruit, but it's an essential part of effective portfolio management that cannot be overlooked.
Benefits of strategic portfolio management
The goal of strategic portfolio management is to ensure that each project and investment in the portfolio is aligned with the organization's goals. This heightened level of awareness delivers numerous advantages.
Clarity and focus: Every initiative contributes to the organization's success in a clear, measurable, and highly visible manner.
Efficiency improvements by avoiding duplication, lowering administrative efforts and focused resource allocation.
Increased confidence around decision-making due to greater awareness of context, scenarios, and implications.
Improved ROI as a result of managing large programs in a holistic and deliberate manner and focusing on those that show the greatest potential to deliver value.
4 steps for building a strategic portfolio plan
We believe there are four key components of strategic portfolio management: Review, opportunity assessment, decision making, and resource allocation.
Often overlooked, but the ability to review & adapt existing initiatives against the agreed objective sets the scene for all other steps; The portfolio and your resources have a limited capacity - if something goes in, something may have to come out.


Opportunity assessment involves identifying & exploring potential opportunities and assessing their viability in terms of expected returns and risks.


Decision-making requires not only selecting the most promising opportunities to pursue but agreeing on what to stop or amend, ensuring the portfolio continually evolves.


Resource allocation is critical to ensure that each program receives sufficient resources to ensure delivery on time with the appropriate level of quality.
Also see: 6 Best Practices to Drive Effective Strategic Portfolio Management
Techniques to monitor and manage your investments
Once you've created a strategic portfolio plan, the next step is to monitor and manage your assets. Here are some techniques that can help:
Establish strong governance structures: Clarify who is in a position to make decisions, when those decisions can be made, and how they are to be communicated across the organization.


Streamline processes: This simply helps make portfolio management more efficient. This includes using software like ITONICS to structure and aggregate portfolio data, automate reports, and monitor resources and timelines.


Leverage data: Business intelligence can help you make better decisions about which projects and investments to prioritize. This includes using analytics to identify trends and patterns in the data to determine opportunities for optimization.


Track progress: Tracking progress can help you understand how your portfolio is performing. This includes using metrics to assess the progress made and the impact of the portfolio on the organization.


Continuous monitoring of opportunities and risks: Always-on monitoring helps identify potential issues, flag opportunities, and provoke an appropriate response. This ensures that the portfolio remains contemporary and adjusts as internal and external factors evolve.


Adjust when necessary: Adjusting the portfolio as needed can help you ensure that the portfolio is optimized for maximum value. This includes making adjustments to the plan when needed and assessing the progress made.
How ITONICS can help with strategic portfolio management
There are multiple features on the ITONICS system that support strategic portfolio management on one single digital platform.
The ITONICS Innovation OS enables organizations to manage and prioritize innovation initiatives, identify bottlenecks, and helps you gain perspective on your entire innovation portfolio.
Collect, evaluate, prioritize, and monitor innovation initiatives in a systematic and data-driven manner in the following ways:
1. A centralized repository
ITONICS provides a centralized repository for innovation intelligence and execution within one single digital platform. This makes it easy to discover opportunities, harness the power of the hive through ideation, access, and review information, track progress, and identify gaps in the portfolio collaboratively and transparently.
Key features include:
Use ITONICS best practice templates to collect and structure information in a way that allows different global teams to access and use different data across departments. Connect different pieces of content in your system to quickly see relations and enhance decision-making.


Collective ratings enable particular teams, individuals, and experts to rate information such as trends, technologies, risks, companies, startups, opportunities, and projects to understand, for example, the likely impact, need for action, and internal know-how. Visualize results on matrix charts to easily process information and turn information into action.


Identify synergies and bottlenecks with Kanban Boards and act accordingly by having a clear and configurable view of what's happening inside your innovation portfolio.

Create repeatable patterns of action with workflows that assist in moving projects through various stages, from initiation to completion.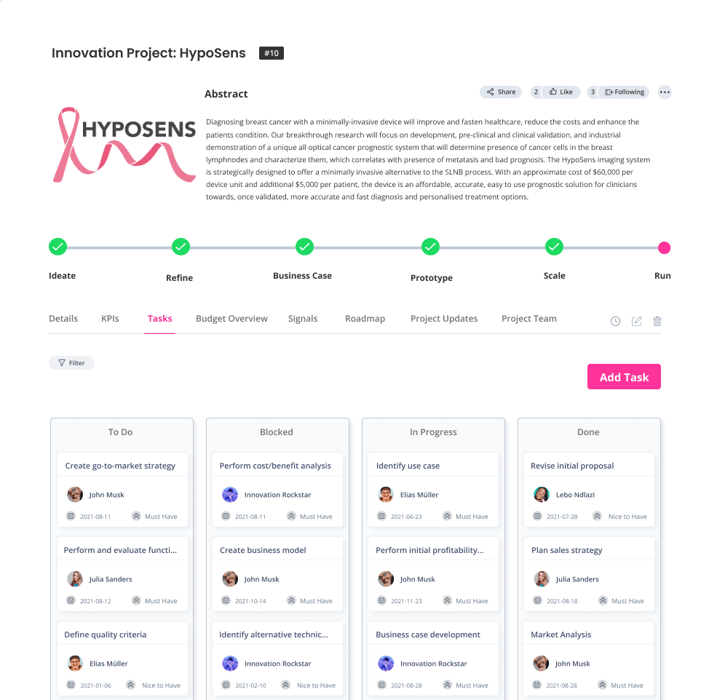 Visualize reporting with dashboards and get an overview of results at a glance. Use dashboards for easy reporting and get valuable insights that inform decision-making.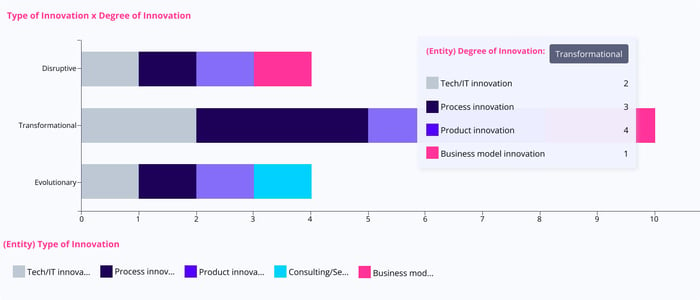 Also see:
2. Portfolio analysis
Analyze the portfolio of innovation initiatives and identify potential overlaps, gaps, and redundancies. This helps ensure that innovation investments are aligned with strategic objectives and investments are maximized.
Key features include:
Efficiently navigate through projects and programs with configurable Kanban boards and see what's what in one glance. Monitor progress and use board visualizations to easily identify areas that require action.


Make decisions on capacity and resources based on the information teams can quickly access via project and program kanban boards. Quickly see how many projects are in which stage of the workflow to inform where to invest more or less.


Get an overview of projects and programs, or dive deeper into specific initiatives straight from the Kanban board, where you can see, for example, KPIs and risks related to the project, a budget overview, and who's working on the project.
3. Performance tracking
Track the performance of innovation projects over time. Identify which projects are delivering the expected results and which ones need to be adjusted or discontinued.
Key features include:
Use Kanban boards to track the progress of initiatives, identify bottlenecks and delays, and ensure that projects are moving forward as planned. Use metrics and insights from Kanban boards to measure the performance of your innovation portfolio, for example, the success rate of projects and the financial impact of your innovation initiatives.


Dashboards provide a clear view of the progress of innovation initiatives, enabling teams to prioritize their resources and time more effectively. Use custom dashboards to keep track of progress and results and present to stakeholders using dashboards.


Ensure that resources are allocated appropriately to minimize risks by using roadmaps. A roadmap provides a framework for aligning an organization's innovation initiatives with its strategic goals. For example, a roadmap can help identify which projects are critical to achieving strategic goals and which ones can be deprioritized. It can also help identify potential risks and detect time inconsistencies and synergies in strategic planning early on.
Also see: How to Set Up Agile Innovation Portfolios Using ITONICS
Achieve success with strategic portfolio management
Strategy planning and strategic portfolio management are essential for organizations that want to maximize their investments and achieve their goals. The ITONICS Innovation OS helps teams actively manage and monitor their strategic portfolio to unlock potential and drive growth.
Access our free on-demand webinar, where we provide you with valuable practical insights and expert tips and tricks for effectively controlling, managing, and maximizing the potential of your innovation portfolio using ITONICS.
To learn more about the features and functionalities of the ITONICS Innovation OS to enhance your strategic portfolio management, get a free demo with one of our experts.