7 Steps To Nailing Your Next Ideation Challenge
The creative potential of a company's own employees, customers, and partners is among the most important sources of innovation. Leveraged properly, it can become a true driver of change in your organization.
Based on our long-term experience engaging world-class innovation leaders from a variety of industries, the following article highlights the dos and don'ts, success factors, different setups, and best practices in building outstanding ideation challenges.
What Is Ideation
Ideation is a creative and systematic method for generating valuable ideas and refining them further in a multi-stage process consisting of phases and gates. While the number of ideas decreases over the course of the process, the depth of content increases. Employees, test users, clients, experts, service providers, or external crowds can be involved in corporate ideation.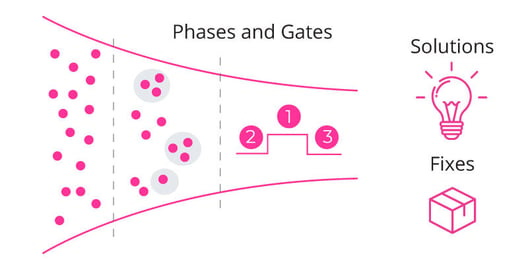 What Is an Ideation Challenge
Ideation is about activating and pooling creative forces, rather than wasting time on traditional brainstorming sessions or company suggestion systems where employees throw their ideas on a whiteboard and hope that something valuable will come out in the end. This is where ideation challenges come in. Depending on the context, ideation challenge can sometimes be referred to as an 'idea campaign', 'co-creation workshop', or 'innovation contest'. Regardless of the name, ideation challenges are in essence creative activities that involve a fixed or varying number of participants, contributors and/or experts coming together to submit innovative ideas on a specific need or problem, evaluating them among themselves and thus filtering out the best winning ideas. Ideation challenges provide an opportunity to focus on specific sub-goals of the innovation strategy. A poorly conceived and launched challenge can be quite a waste of time and create the complete opposite of innovation: stagnation.
How to Run an Ideation Challenge


Step 1: Where to Ideate
Conventional thought will often assure that innovation starts with ideas. However, at ITONICS, we see it a little differently. Before starting an ideation challenge, you should be able to answer a basic but critical question first: Where do we want to ideate, innovate, and grow? Those opportunity spaces define the areas in which future growth is possible or even necessary, and are the starting point for any ideation process.
Direction is usually set "top-down", i.e. employees are invited to submit creative solution proposals for a particular problem defined by the company management or strategy departments. Setting a clear search direction for your challenge participants can lead to desired success more quickly. By giving your participants a framework with a well-defined timeline, ideation projects become predictable and powerful new resources within the innovation process.

The bottom line: The best ideation challenges ensure harmony between the freedom of creative thinking and the right amount of clear processes and structures.


Step 2: Define the Setting of the Ideation Challenge
Answering the following questions before you start designing the challenge will help you find the right setting:
Target group: Who is the challenge for?
Phases and gates: What should the phase-gate process look like? What are the evaluation phases (e.g. Inspire, Ideate, Review, Implement)? Is there a community rating and/or expert rating? How long are the individual phases?
Evaluation criteria: What are the criteria of evaluation for the submitted ideas (e.g. internal know-how, need for action, implementation risk)?
Incentives: How can you make your employees participate?
Top-Down vs Bottom-Up
First, you should decide between two different ideation challenge settings: the narrow (top-down) or the broad (bottom-up) challenge. The narrow challenge focuses on solving a certain problem providing the advantage that more ideas will fall into the desired grid. At the same time, it might also limit the freedom of creativity of people submitting ideas. A broader ideation approach is recommended for increasing knowledge or randomly spotting ideas. This second approach provides greater creative latitude and always-open idea channels. It allows companies to generate a potentially larger number of ideas for which there is no defined topic.
Small Round of Experts vs the Whole Crew
Another crucial factor is the number of people involved in the ideation process. While a high number of participants means a larger knowledge base, it does not necessarily mean better outcomes. First, a high number of participants increases the complexity. Second, competitive pressure increases, which can lead to a reduction in the quality of ideas.
Open
vs Closed Innovation
Creative communities are the key to innovation. They can engage and motivate crowds ranging from a few experts to thousands of idea contributors in global challenges. The distinction between open and closed innovation is determined by the way in which the innovation is created. Ideas can originate within the company as closed innovations with full control or as open innovations involving external knowledge, ideas, and information from clients, suppliers, experts, or partners. Additionally, lead users can be involved in the ideation phase of the product development process. Examples include L'Oréal's collaboration with Renault to develop an electric "spa" concept car or the collaboration between automotive suppliers Delphi and Mobileye to develop an autonomous driving system. Many companies have found that such partnerships lead to cost savings and better creative insights.
The bottom line: More participants or more creative freedom does not necessarily mean better results!
TIP

Building Innovation Communities
In practice, very different players contribute to very different innovation management activities. The success of the open source movement (with Linux as the most prominent example) has proven that online communities can create, shape and disseminate technological innovations. Thus, innovation communities seem to be an attractive organizational approach to gain access to the necessary skills for the various activities in your innovation journey. You, too, should think about the stakeholders in your innovation community. Whether it's trend or technology scouts, analysts, researchers, or lead users - they all play a role in helping you integrate new ways of thinking or overcome time and resource constraints in innovation management.
Step 3: Create Effective Ideation Challenges (The Dos)
Align with the innovation strategy. The success of your challenge depends heavily on clearly communicated goals, timelines, and processes that align with the company's overall innovation strategy.
Invite the right people. Ideation challenges are usually not about mass ideation. Try to target your high-caliber idea generators and subject matter experts with appropriate topics to drive ideas to their maximum potential. You also increase the value of the outcome when you let people with different backgrounds, professions, or hierarchy levels share and recombine their knowledge.
Be transparent during a challenge. It's important for idea contributors to get feedback: What is actually happening with my idea? What is the status quo of the challenge? How long will the challenge run? What's in it for me?
Ensure a win-win situation. You increase awareness and participation when you reward those who submit ideas. Contributors invest time and effort in formulating their ideas and want to get something in return.
Use incentives to foster employee engagement. How about having the best idea generators present their proposals to senior management and then receive a budget to implement the idea or project?
Create a global go-to space. Ideas often emerge when we don't expect them. Establishing digital platforms and tools for collaboration can provide the right engine for capturing, structuring, evaluating, and selecting ideas at any time and in any environment.
Collaboration with ITONICS Campaigns
ITONICS Campaigns is a digital innovation software for running solution-oriented ideation challenges. Are you facing problems or questions you can't solve on your own? Bring together various internal and external experts on one platform to work on challenges within your innovation landscape. You can run for example time-bound or always-on ideation campaigns and engage colleagues, clients, partners and students to leverage game-changing ideas.

Get dedicated idea managers on board. Select a person or group of users who will support all stakeholders within a challenge and act as neutral facilitators. They could help with questions or make sure participants feel they are being treated fairly.
Involve affected departments. Make sure you involve the business units affected by the ideation challenge at an appropriate time. They will give you valuable recommendations on the feasibility of a challenge topic.
The bottom line: Always promote the quality of ideas, not the quantity!
Step 4: What Should Be Avoided (The Don'ts)
Unfair competition. Unfair competition occurs when changes are made to the structure or process of the challenge that result in advantages or disadvantages for certain user groups. Changing evaluation criteria during an active challenge or changing permissions of certain individuals or user groups can lead to a sense of unfair competition within your crowd. Another example: the submission or evaluation phase is actually over, but the technical system still allows the submission of further ideas.
Penalties for bad ideas or ideas that have not been implemented. Ideation challenges should always preserve the freedom of creativity and voluntary contributions. If participants decide to discard their ideas, that decision should be at their discretion. The same is true for perceived bad ideas. Each individual contribution should be acknowledged.
Force idea contributors to implement. Coworkers might not want to realize their own ideas in the end and hence hold these back. It should be clearly communicated from the outset that it is not expected that every idea submitted must also be implemented by force.
Create overly complex, lengthy processes. Try to avoid overly complex and convoluted structures and processes in challenges. The turnaround time of an idea is therefore crucial: turnaround time = receipt of idea to implementation. Make participants feel that something is happening with their submissions. There is nothing worse than a good idea that is only talked about and fizzles out.
Collect ideas "along the way". An unstructured approach with face-to-face brainstorming sessions, emails, Excel spreadsheets, or suggestion boxes with no clear goal may generate some buzz and ideas, but end up with little to no benefit and no meaningful projects worth pursuing.
The bottom line: Fair competition and clearly defined rules are the basis and the most important parameters of any ideation challenge.


Step 5: Communicate your Ideation Challenge
The execution of your challenge is what really separates the sheep from the goats. Here are some best practices you should follow to ensure lively participation:
Rely on storytelling. Label your challenge with a catchy title and a short description in which you explain to your participants what the goal, requirements, dates, and deadlines are. Round it all off with a concise call-to-action that makes it clear what is expected of the participants next. Underpin it all with info on relevant trends, target audiences, and real-life inspirations to create more context and spark the imagination.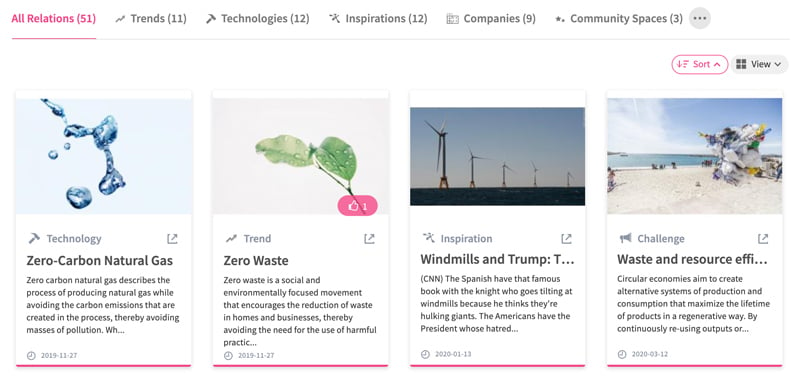 Develop a communication plan. A comprehensive communication plan can ensure that all stakeholders are informed and involved at the right time. You can distinguish the following types of communication:
Informational mailings: Each time a new ideation phase begins, you should inform the community about what will happen and what is expected of them. Based on your rights and roles concept, you can send different information to different groups of participants (e.g. contributors and evaluators).
Reminder mailings: Near the end of an ideation phase, participants should be asked to take action (e.g., submit or rate ideas) if they have not already done so.
Motivational mailings: Participation and engagement are not as high as expected? Try using incentives and motivators to encourage the community again for each action (e.g., through a bonus or scoring system). Changes to the rules of the game can also increase participation, provided the odds remain fair for all involved members.
Connect your participants.
Kick-off event: A joint kick-off event can have a much greater impact than a simple email. Secure management support and show the community that the ideation challenge is relevant and meaningful to the entire organization.
Awards ceremony: What better way to show appreciation than by publicly recognizing the winners at the end of the challenge? Organize an awards ceremony where you introduce the winners and their projects and give them the stage they deserve.
The bottom line: Communication around your challenge should cover the following topics: information, reminder, motivation.
Step 6: Engage the Crowd in the Long Term
By tapping into users' basic wants and needs around status and achievement, gamification offers an opportunity to spark employee engagement. There are many different approaches you can take to motivate your ideation community:
One way to ensure employee engagement and create a sense of prestige is to offer a scoring system or create a sporting competition through ranking systems. Another effective way is to immediately reward users while they interact on the platform through a reward mechanism.
The incentive system can be designed in a variety of ways, focusing on intrinsic motivation rather than financial incentives: For example, by submitting or rating an idea, points can be awarded to the respective user. The points can expire over time to encourage continued use. The accumulated points can be redeemed by users on an ongoing basis in an internal points store (possible rewards include continuing education or an informal discussion with a member of the board). In one of our client projects, we have developed an investment system that allows users to bet on ideas and invest tokens if they believe in the potential of a project.
The bottom line: Don't just use gamification elements as an incentive system; use them as a powerful tool to build a sense of community.


Step 7: Measure the Success of your Ideation Challenge
When discussions focus on immediate financial impact, even the most robust innovation management activities are quickly undone. Financial impact only unfolds in the future, so that justifying and steering innovation activities towards desired future goals ask for a specific type of metrics: actionable innovation metrics.
Actionable innovation metrics need to be relative (input/output) and time-bound to discover actual progress. They should relate to specific goals that define the directions of the innovation activities. By these characteristics, actionable KPIs reveal possible directions for change. That means either implementing activities to increase participation engagement or to improve the process efficiency and effectiveness. KPIs can be captured in a dashboard:



Ideation engagement KPIs can include:
Metrics that help to assess the motivation and participation of people to contribute to ideation challenges
% of employees participated
# of submitted ideas
# of contributors
# of comments
Likes
Engagement rate
Ideation efficiency and effectiveness KPIs can include:
Metrics that help to assess how well ideas transform into innovations and whether the right ideas are selected
Time-to-innovation
Idea-to-margin ratio
Idea-to-innovation ratio
The bottom line: Use actionable innovation metrics to measure the impact of your ideation challenge.
Best Practice: The Cisco Innovate Everywhere Challenge
In 2015, Cisco kicked off its first and unique company-wide Innovate Everywhere Challenge. The goal was to drive global disruptive thinking, capture game-changing innovation opportunities from Cisco employees, help them grow and enhance employee experience, empowerment, and collaboration across all functions. Along the lines of "Team up, Disrupt, and Innovate". The outcome: Half of all Cisco employees, or 36,600 people, took part in the challenge and collectively submitted around 770 ideas.
Cisco established the Innovate Everywhere Challenge as a vehicle to shape its future growth. Supported by ITONICS collaborative innovation software, the Innovate Everywhere Challenge is now a best practice for innovation management at Cisco.
Have more Time?