Technology Radar: Your Go-To Platform For Technology Management
THE WHAT
A Technology Radar maps the technology direction of an organization; the identified, selected and evaluated technologies can serve as threats or opportunities for the future of the company. The Technology Radar is the company's go-to tool for informed technology management and strategic decision-making on which technology direction to pursue and which one to avoid.
The Technology Radar is a visualization of a company's technology portfolio that maps the evaluated existing and emerging technologies.
THE WHY
Why does a company need to have it's own Technology Radar?
For any company, be it a manufacturing giant or a midsized retailer, it's essential to continuously keep track of the latest technological innovations and their applications in a company's respective industry. In order not to lose their competitive edge, the companies scout and monitor novel technologies and trends constantly.

The Technology Radar aims to help companies in the following areas:
educe the complexity of deriving insights from your technological landscape: the Technology Radar is an early warning platform to identify relevant technologies due to intuitive data visualizations.
void risks of functioning inside a technological bubble: a Technology Radar is a cutting-edge diagnostic tool that is regularly being updated with recent technology intelligence.

efine opportunity spaces for strategic technology planning: the Technology Radar depicts the opportunity areas for future research and consideration.
nalyze a large scale data on technology trends, patents, publications, and startups more effectively: with only two or three clicks, find the most important technologies in your search area.
eport the relevant technologies: for frequent refinements publish the Technology Radar on a quarterly or biannual basis via an automatically generated newsletter, PDF or a dashboard file.
THE HOW
Evaluated technologies are plotted on the radar with overlays and iconography to communicate vital information on each technology.
The Technology Radar comprises of various technologies, including programming languages, frameworks, patterns, software tools, platforms, that are relevant to the business units, market, products, strategic technology direction of the company. Therefore, the Radar should be individually tailored for each company – focused on emerging technologies relevant to the corporate landscape of the given company.
Some important aspects to consider when creating a Technology Radar.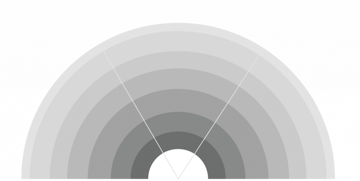 Radar Segment Themes
Define the strategic/major technology fields of your corporate ecosystem, business model or product portfolio. For example, for the automotive industry, this could be an autonomous drive, AI, connectivity, etc.

Iconography
Pick easy-to-understand icons and colors to quickly convey meaningful data about these
technologies.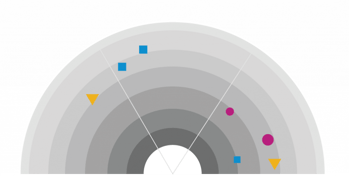 Element Mapping
Set up the Radar features according to different factors impacting your business. The elements in the Radar should mean a specific color, size, shape and a certain distance to the center.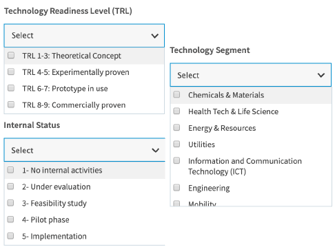 Filtering Options
Set up relevant filters to narrow down the scope
of interest via few clicks.
Case Study: Cisco
Cisco customized its own Cisco Technology Radar to provide decision-makers with the intelligence they need to stay on top of the technology landscape and make strategic decisions.
Cisco's vision for technology is displayed in the following Technology Radar, which serves as
a global "go-to space" for technology management
a collaborative platform fully tailored to Cisco's workflows and needs
a network of 150+ technology scouts worldwide tracking over 200+ technologies, 20+ trends and 300+ companies
a quarterly report as a single source of reference for deriving technology intelligence and running internal and external innovation programs.
Wrap Up
Adapt the segment and classification: create a Technology Radar adapted to your market pains and gains, corporate strategy, and potential impact scenarios. There is not one Technology Radar setup that fits all.
Use it as a guide: use it as a guide to make more informed and better-aligned decisions and to assess make-or-buy technology decisions.
Update regularly: sustain the agility of the Technology Portfolio by regularly updating the recent market intelligence and revising the existing technologies mapped on the Radar.
Report the insights: communicate the insights of the Radar to the stakeholders concerned. One way to go is to publish quarterly or biannual automatically generated Technology Radar reports.
Further Reading: