In this blog article, we guide you through the Why, What, and How of technology radars as a powerful tool for technology foresight.
What is a technology radar?
A technology radar is a graphic representation of the technologies that can impact your organization's strategy. It serves as a company's go-to tool for informed technology management and strategic decision-making on which technologies to pursue and which ones to avoid. A team can collaboratively evaluate technologies and then visualize their combined assessments on the radar. Each dot on the radar represents a technology. Its position and visual appearance convey its rated values. Distance from the center, for instance, often indicates importance or urgency.
Why use a technology radar?
Every company faces the challenge of keeping up with technological changes, whether they're a manufacturing giant or a midsized retailer. In order not to lose their competitive edge, companies must monitor novel technologies to recognize threats or opportunities for the future of the company.
The ITONICS Radar provides one collaborative platform for your team to evaluate and make sense of technologies. Team members can rate straight from the radar, adding their opinion on criteria such as potential impact, need for action, and internal know-how.
The ITONICS Radar helps companies in the following areas:
educe the effort it takes to make important decisions about the technological landscape of your business. The radar's intuitive visualization of data makes it an effective early detection tool for significant technologies.


void the risk of functioning inside a bubble: draw on the technologies curated by ITONICS analysts, then assemble your own diverse team to rate each technology's relevance to your business.

iscover innovation opportunities and align your organization with a shared view of the future.



nalyze a large amount of technologies more effectively: with only two clicks, highlight the technologies most relevant to your industry.




eport on relevant technologies in a way everyone can understand and buy into: our export and embed functionalities makes it easy to integrate radars throughout your organization.
How to use a technology radar
To create your technology radar quickly and get the most out of it, follow these steps:
1. Import technology content
A quick way to populate your technology radar is to use the content from the ITONICS Showroom. Select from the analyst-curated technologies that come as part of the ITONICS software and import them to your own workspace.
Alternatively, you can create your own technology elements from existing content you have already. Simply go to your workspace and click the blue 'Create' button.
The third option is to search in ITONICS Insights, find an interesting signal, then click 'Create Element from Signal' to turn it into a technology element that can appear on your radar.
2. Rate the technologies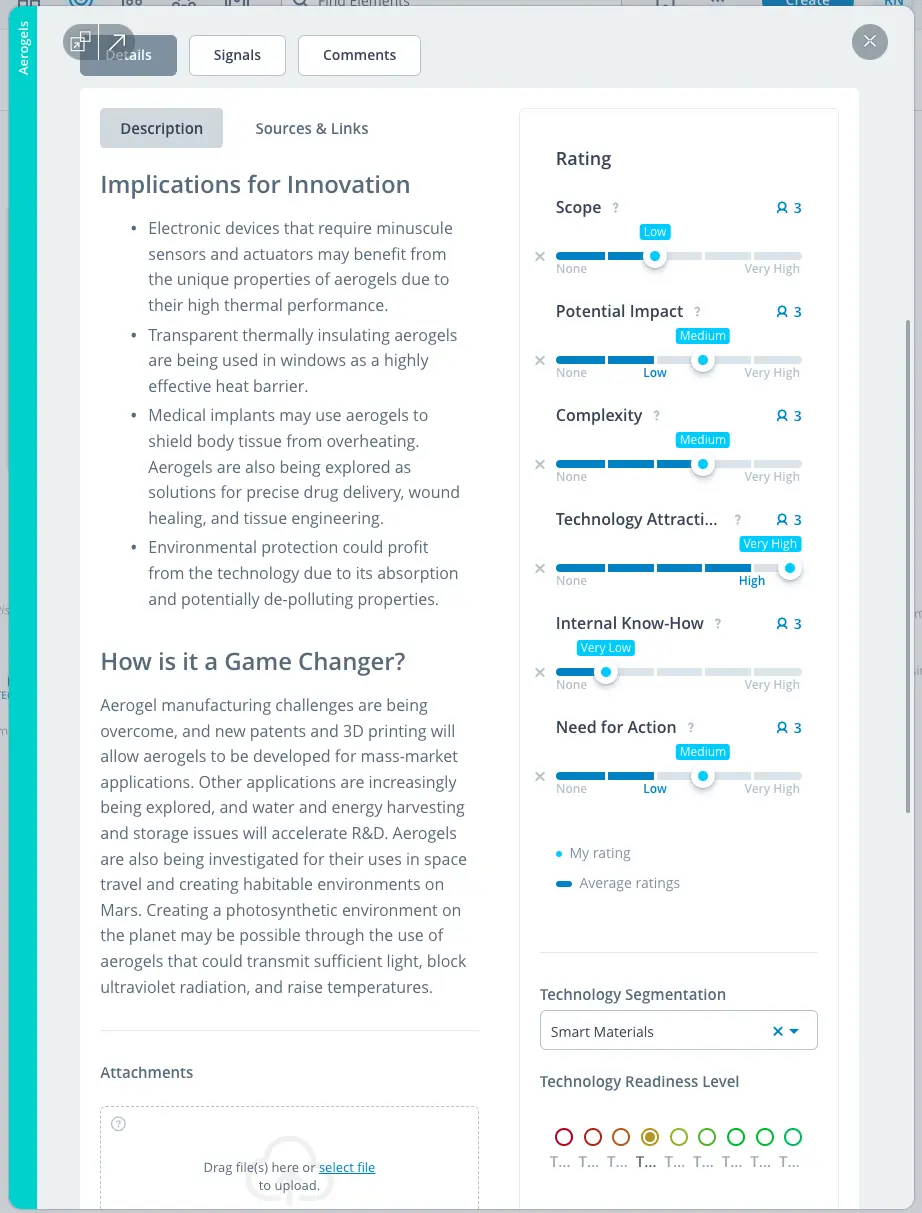 Make the technology radar meaningful to your organization by rating the elements as a team. Rating criteria such as Business Potential and Internal Know-How are often subjective. By aggregating various people's perspectives, you can reduce bias and build collective intelligence. To rate an element, navigate to the "Ratings" section of the element and use the rating sliders to assess it. To gauge your confidence in a rating, you can see the number of users who have added a rating for each criterion. Over time, as more and more opinions are collected, the collective view of your organization becomes clearer.
3. Customize the radar
Technology elements appear as dots on the radar. Different dimensions, such as the position, color, or shape of the dot, show you the ratings of that technology. In this way, the ITONICS Radar makes it possible for you to compare technologies according to multiple dimensions. For instance, you can set the dot's distance from the center to indicate Potential Impact, the color Need for Action, and the dot's size to show its Complexity rating.
Configure the radar to your needs, and emphasize what you want to evaluate and communicate. Once you have a radar configuration that suits your needs and conveys a useful message (such as highlighting technologies rated as high Potential Impact and Internal Know-How), save it as a custom radar view so you and your team can return to it and establish a unified perspective of relevant technologies.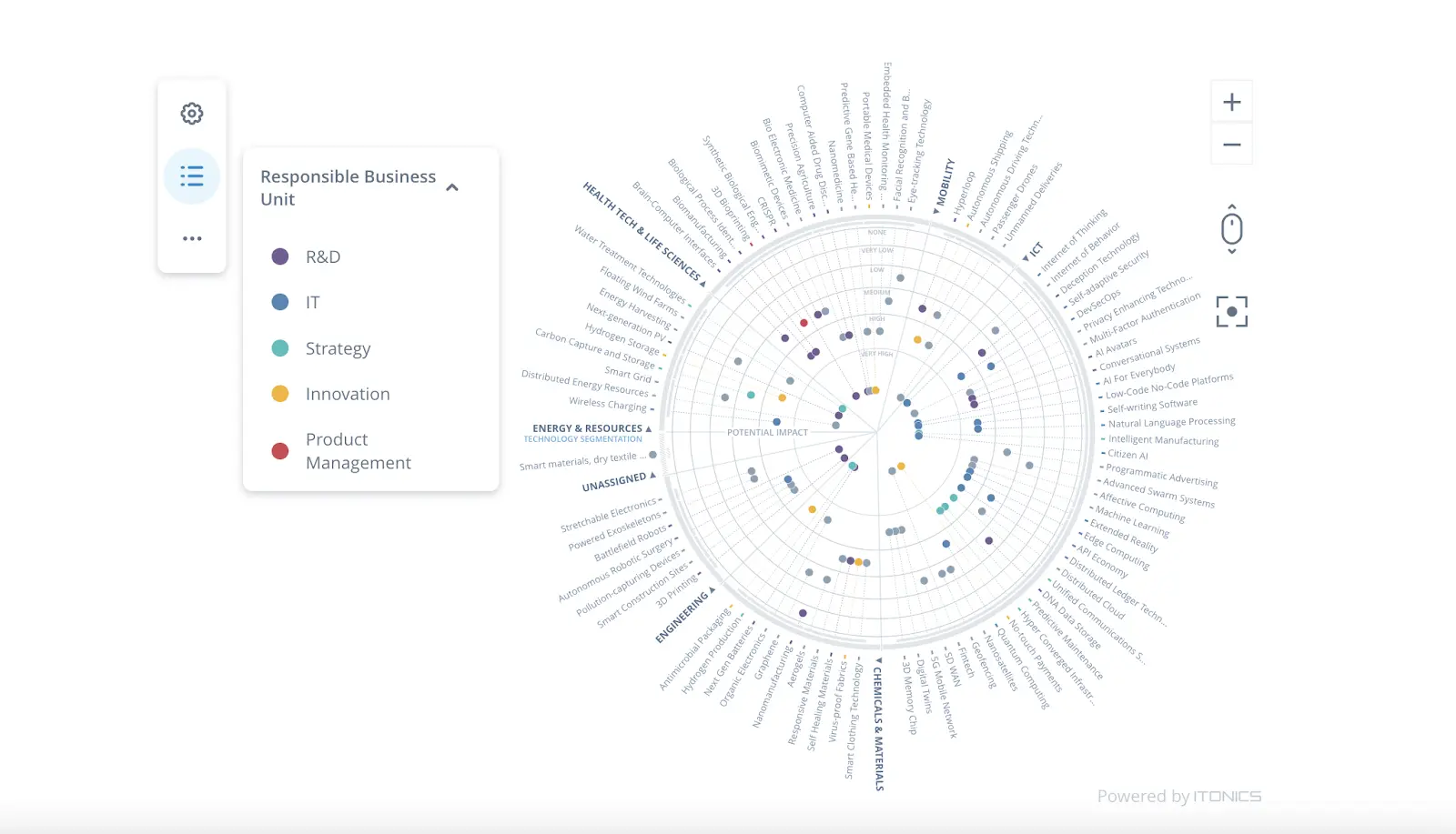 Best practice example: Cisco's Technology Radar to accelerate technology foresight
Cisco customized its own Cisco Technology Radar to provide decision-makers with the intelligence they need to stay on top of the technology landscape and make strategic decisions.
It became Cisco's global "go-to space" for technology management:
a collaborative platform fully tailored to Cisco's workflows and needs
a network of 150+ technology scouts worldwide tracking over 200+ technologies, 20+ trends and 300+ companies
a quarterly report as a single source of reference for deriving technology intelligence and running internal and external innovation programs.
Read the full Cisco success story here.
3 tips for technology radars
Refine with filtering: a good way to declutter the radar and reduce the number of elements is to use the advanced filtering functionality in the side panel.
Share the perspective: communicate your team's collective technology assessment to your organization and key stakeholders. One way to is to embed the radar on an intranet or public webpage to boost engagement.
Update continuously: maintain the relevance and accuracy of your technology radar by regularly updating the elements with recent market intelligence and revisiting the ratings as your organization's context changes.
The ITONICS Radar tool is built to organize complex information so that you can use it to make strategic decisions that benefit your business.
Experience it for yourself by trying our Innovation OS 30 days for free.
---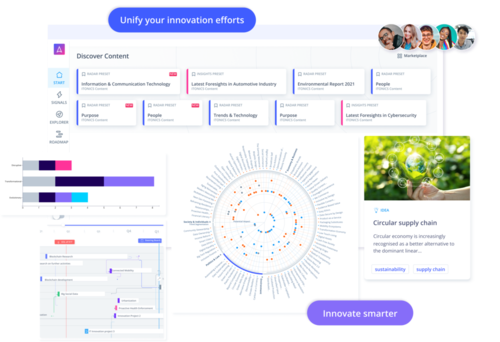 See the ITONICS Innovation OS in action
---
Have more time?