The ITONICS Showroom aims to provide you with access to relevant and impactful Trends and Emerging Technologies that have been rigorously researched and rated.
1. What is the ITONICS Trend and Emerging Technology Update?
ITONICS supports a holistic end2end innovation management process, from Environmental Scanning, Trend Management, Technology & Resource Management, Strategic Foresight, and Ideation to Innovation Roadmapping. This Big Picture approach covers three strategic questions: Where to Play, How to Win and What to Execute.

The ITONICS Trend and Emerging Technologies update utilize Environmental Scanning processes using machine and human intelligence to extrapolate current and future trends as part of the Where to Play phase. This provides innovation architects with a 360° view on competitive developments to better prospect opportunities and plan their future competitive positioning.

The ITONICS 185+ Trends and Emerging Technologies have been collected, analyzed, interrogated and synthesized to identify new preferences, behavior, and mindsets, as well as identify which Emerging Technologies will impact markets in the coming years.

The ITONICS Environmental Scanning approach is founded on years of partnering with a multitude of clients in their innovation journeys. Our approach employs AI-enabled weak signal collection and scouting, combined with analyst knowledge and experience, filtered through a multidisciplinary ITONICS methodology.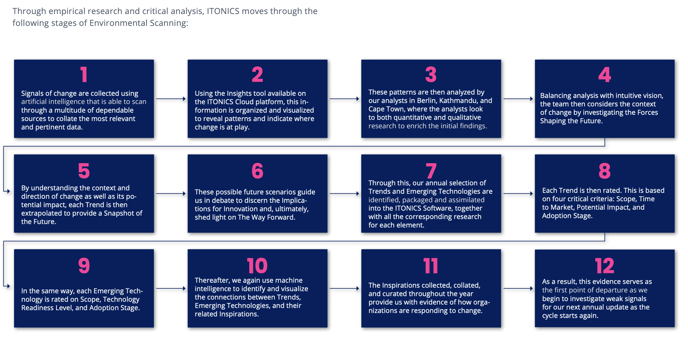 2. How often does the update happen?
The ITONICS Trends and Emerging Technologies update happens annually on the ITONICS platform. All Inspirations on the platform are continuously updated to remain up-to-date and maintain 7000 Inspirations at any given point.
3. How to Use ITONICS Radar & Ratings to Identify Relevant Trends and Technologies
The ITONICS Radar graphically represents your corporate environment and shows blind spots, fields of action, and strategic options. It enables you to build up an overview of how different trends, technologies, or startups can impact your company's strategy. The ITONICS Showroom Radars have been preconfigured to provide segmentation according to the STEEP analysis framework for the Trends Radar, and according to Industries for the Technology Radar. However, you are also able to change the Radar views.

Trends from the ITONICS Showroom will have varying degrees of impact on your organization, and our 4P (People, Purpose, Process, Product) tagging methodology will help identify where individual trends might have the most impact in the short to medium term. How trends impact industries, geographies, and individual organizations depend on various internal and external factors. And although this can be a complex process, leveraging your organizations' internal expertise can reliably identify which trends to pay particular attention to.
💡 TIP: Use Industry Tags to quickly establish which Trends and Emerging Technologies are most relevant for your organization.

Use the different Radar views to help identify which particular Trends and Emerging Technologies might be most relevant for your organization. Importing these to your own Workspace will allow further analysis by using the Ratings function.
Learn More:
[VIDEO] Discover Radar: Part 1 - The Basics
[VIDEO] Discover Radar: Part 2 - Configuration
[VIDEO] Discover Radar: Part 3 - Tips & Tricks
How do I use Tags to filter Elements?
How to Bulk Import Elements to Your Own Workspace:
Select Elements
To perform actions on a group of Elements, you can select the relevant Elements in the card or list view in Explorer. There are two options to do this:
Select all Elements that match your filter at once by ticking the checkmark at the top left of the card or list view of Elements.
Manually select or deselect individual Elements by ticking the checkmark that appears when hovering over an Element.
Perform actions on selected Elements
When you select one or multiple Elements, you can perform different actions on them that are displayed in the grid and list view's header. You can use action Smart Copy to Another Workspace to copy Elements from the ITONICS Showroom to your own Workspace.

Rating criteria can rank Trends and Emerging Technologies against relevance and prominence within an industry or for a particular organization. Using review and rating tools that incorporate both quantitative and qualitative data as well as internal organizational knowledge assists teams in guarding against internal biases. Quantitative and qualitative rating criteria also ensure that trends and technologies are ranked and evaluated consistently and from a holistic perspective.

Ratings have to consider predefined data sets, and organizations must determine which criteria to use when evaluating. Time periods, industry or geography penetration, sustainability criteria, and immediate and periphery environment impact are all essential criteria to help narrow down individual trends and technology relevancy.
Learn More:
Discover How ITONICS Derive our Ratings
[PDF] Rating Guide for ITONICS Trends and Technologies
---
📌 Trends and Emerging Technologies may share some of the same Rating criteria. Although due to their differing forces on the market (i.e., trends = pull; technologies = push), it may be necessary to consider their Ratings separately. A Trend gains its relevance from measuring how pervasive and impactful its influence has become. While a Technology is evaluated by its complexity and how far it has been developed.
---

Assigning rating tasks to specific user groups can drive the relevancy identification process as it employs collective expertise. Rating functionalities can be utilized not only across the organization but can also include external stakeholders and experts. External rating participants can be invited to collaborate with specific user groups.
💡 TIP: Consider who internally and externally would be most suited to provide ratings on different Rating criteria.
4. How Can Visualizations Help Identify Relevant Trends and Emerging Technologies
The ability to easily compare and filter Trends and Emerging Technologies allows organizations to focus their attention and identify what would be most relevant to their strategic goals. By understanding what the ITONICS Ratings convey and undertaking a process of internal rating, organizations can determine what to prioritize.

A Radar can then be set up with different views based on a specific Rating criterion and scores. For instance, if an organization wants to view only those Emerging Technologies that it has collaboratively rated with a high Need for Action, the Radar can be set to this view. Additionally, users can save this view as a Filter that can be shared and used for future decision-making.