The thought of missing a great idea or simply letting an opportunity-rich concept slip through the cracks too early on in the innovation process is one that keeps innovators everywhere awake at night. Effective idea management offers a systematic and structured approach to remedy these concerns. Learn more about how to implement effective idea management in your organization based on three fundamental pillars.
When applied appropriately, the practice of idea management works to verify and validate concepts so that those that hold the most potential are nurtured and protected. As defined by Gartner, idea management is "a structured process of generating, capturing, discussing and improving, organizing, evaluating and prioritizing valuable insight or alternative thinking that would otherwise not have emerged through normal processes." This definition connects well to the general notion of 'ideation' which revolves around collecting insights and novel ideas which are then evaluated collaboratively.
In our own interpretation of idea management, however, we emphasize that idea management refers to the structured process of generating, assessing, and improving ideas that contribute to an organization's innovation strategy. We believe this link to be essential in that it offers a guiding light for systematic assessment and decision-making as ideas are moved through various stages and gates.
To build on this definition, this article aims to outline the "Why", "What", and "How" of Idea Management for practical use for organizations of any innovation maturity level.
Why Effective Idea Management Is Essential to Innovation Management
In essence, innovation management seeks to create new value for organizations. This is achieved by uncovering growth opportunities and identifying means to improve performance through innovation in products, services, processes, and business models.
At ITONICS, we have defined an innovation model covering all aspects from strategy to execution. Within this, the three main stages are Where to Play, How to Win, and How to Execute. Every stage is crucial for sustainable innovation performance:
Understanding trends and emerging technologies to discover and define opportunities for growth.
Creating the right concepts in order to solve specific challenges.
Executing a balanced innovation portfolio between quick wins and moonshots.
The ITONICS Big Picture
ITONICS supports the holistic end2end innovation management process, from environmental scanning, strategic foresight, and ideation to innovation roadmapping.

We believe that successful innovation management requires a structured innovation strategy that nurtures innovation culture and enables efficient process flows to make sense of and manage the ever-increasing amount of data at every stage of innovation and strategic planning and execution.

Through our Big Picture, the ITONICS model provides a focus for the design of a holistic end2end innovation management process and covers three strategic questions from Where to Play to How to Win and What to Execute.

Where to Play
How to Win
How to Execute

This stage leverages Foresight
& Strategy as well as Organisational capabilities to identify weak signals, Trends, Emerging Technologies, and related Startup activities that influence innovation objectives.

By considering the relevance, and associated Impact related to this information as well as the interconnections between data points, teams are empowered to derive fresh opportunity spaces.


This stage employs Organisational as well as Engagement & Transformation capabilities to align people, processes, and objectives and establish innovation-friendly conditions for targeted idea development.

By collaboratively engaging with teams to evaluate opportunity spaces and generate qualified concepts, teams are enabled to identify promising courses of action and selectively pursue the right ones.


This stage catalyzes Engagement & Transformation as well as Growth capabilities to establish a balanced innovation portfolio and execute innovation activities throughout the process with excellence.

By executing against a balanced innovation portfolio, mapping and monitoring strategic projects to shared roadmaps, teams are able to unify information and successfully operationalize innovation activities with transparency.
Vital to this innovation model, effective idea management reveals How to Win by connecting the strategic imperatives identified in the Where to Play phase of innovation management to the What to Execute phase which focuses on implementation.
Effective idea management bridges this gap in 2 ways:
By providing a structured process of generating, assessing, and improving ideas effective idea management exploits the identified opportunities.
By prioritizing and moving qualified ideas into strategic planning, effective idea management ensures that concepts are adequately supported with the resources required to realize them successfully as in-market.
Consequently, effective idea management not only fuels growth but looks to maximize the new value created through innovation management. And, in this way, effective idea management offers organizations the possibility to:
Strategically link ideation efforts to viable future business opportunities.
Support a unified vision of organizational strategy.
Harness the power of collective intelligence.
Better inform resource allocation and investment decisions.
Respond to market needs timeously.
→ Product Fact Sheet: ITONICS Campaigns for Successful Idea Management

3 Fundamental Pillars of Effective Idea Management
As expressed through the ITONICS definition, we believe effective idea management to be a systematic process. To support this view, we believe there are three fundamental pillars that support effective idea management:
Definition
Ideation
Value Realization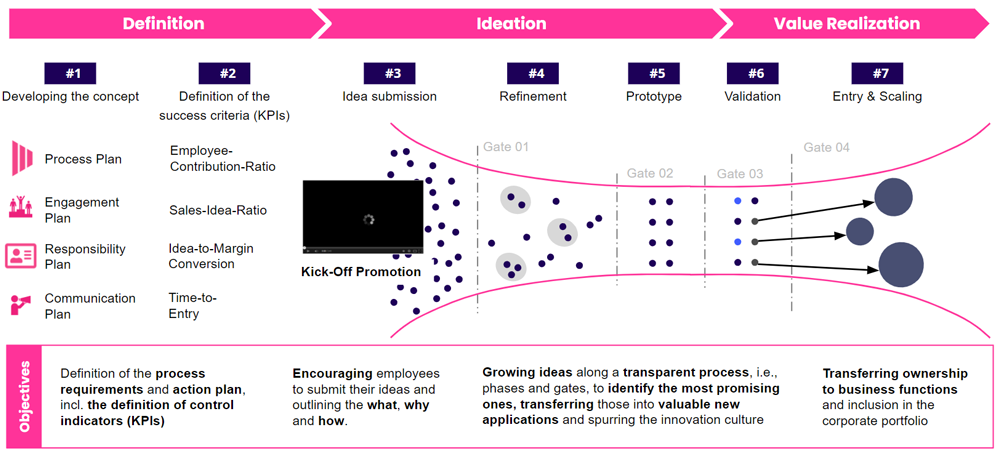 1. Definition
The objective of this pillar is to define the requirements, action plan, and control indicators (KPIs) of the idea management process.
By laying the groundwork before the start of an ideation process, innovation teams are best equipped to communicate with transparency. This ensures a high level of continued engagement from participants. In turn, this increases the probability of identifying rewarding ideas that meet innovation objectives.
This pillar relies on the definition of the following critical considerations:
Process Workflows
This involves defining the parameters and objectives of phases and gates that form the total idea management process.
Phases represent the periods of time in the idea management ideators work on and contribute additional inputs to their ideas.

Gates represent a point in the idea management process; here teams assess the requirements in phases in order to arrive at definitive decisions that take qualified ideas forward.




To orientate ideation teams on expectations, and allow for comparability across input streams, each phase should have specific requirements.

By meeting these requirements, definitive decisions can be made objectively and transparently at the gates.

To provide guidance for decision-making, each gate should have clear assessment criteria.

By rating ideas on variable aspects such as quality, costs, and time, teams are empowered to decide which ideas should be rejected, held, recycled, or proceeded with.
Common Phase Requirements


Common Rating and Evaluation Criteria

Roles and Responsibilities
This involves defining the roles and responsibilities of participants involved in the idea management process.
Throughout the idea management and ideation process, the aim is to involve as many people as possible. By leveraging a diverse spectrum of specific competencies, the value potential of single ideas and the whole process is significantly increased.


Common Roles and Responsibilities in the Idea Management Process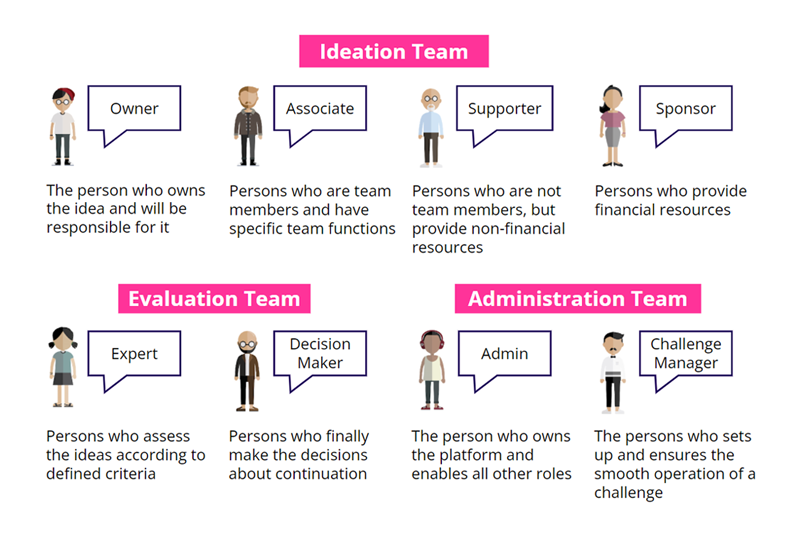 Engagement Tactics
This involves defining the tactics and activities within the idea mangement process that inspire participants to sustain engagement throughout the process as they create and contribute to ideas.
As an evolution from the traditional suggestions box, ideation and idea management now more than ever seeks to harness the collective wisdom of those who know the business best. The 2008 financial crash and subsequent economic slump instilled a healthy fear of disruption in large enterprises, spurring a genuine interest to invest in structured programs that accelerate change and innovation. However, to truly unleash the creative potential of the users, employees, partners, and experts involved in the ideation process, it is necessary to sustain engagement throughout the process.
To meet this need, we advocate the following engagement tactics as a means to captivate participants' attention and inspire them to collaborate without reserve:
Align with Purpose. Connect efforts to a greater organizational purpose.
Emphasize Organizational Values. Uphold core values throughout the idea management process.
Encourage growth. Provide opportunities for personal and career growth.
Acknowledge and appreciate. Recognize contributions and reward winning ideas.
Communicate openly and frequently. Promote transparency throughout the idea management process.
Build on ideas. Allow for candid and constructive feedback.
Empower ownership. Instill a sense of accountability.
Foster creativity. Provide digital and/or physical spaces that inspire creative participation


Communication Management
This involves defining the management of communication activities and channels within the idea management process to promote the overall campaign, its objectives and outcomes.
The success of an organization's idea management process is wholly reliant on its participants. As a means to disrupt the status quo and break out of conventional thinking, implementing an idea management process requires openness to change. With this comes inevitable resistance and therefore, requires visionary leadership and the communication of a clear reason why individuals should embrace such an approach.
To gain support from and align all stakeholders within the process, a clear communication plan is critical. It is essential to build a communications plan, irrespective of the scale of the project, to ensure everyone is aligned on the purpose, various activities, and expectations within the process.
A comprehensive communication plan should outline what, when, and how the information will be shared with specific audiences at key intervals in the process. We recommend that a communication plan should detail the following information:
Stakeholder or Audience: Who are we addressing?
Message or Topic: What is the key message we would like to convey?
Communicator: Who would be best to relay this information?
Schedule or Frequency: When or how often should we communicate with the various audiences?
Delivery Method: What channels would be most effective to deliver the information?
Feedback: How can we gather additional inputs and feedback to ensure a dialogue?

2. Ideation
The objective of this pillar is to encourage participants, including employees and/or external influencers, to submit and elaborate on their ideas by outlining the "what, why, and how".
Ideation is the stage of the innovation process in which new ideas and concepts are generated. Generating ideas in collaboration with employees, clients and partners helps to identify and create new products, services, and business models, and harnessing the creative potential of a crowd can be crucial to success. Usually, ideas are explored in answer to a specific question, or as a solution to a certain problem. Often, the ideas generated are based on the wishes or expectations for a product.
We highlight the following approaches to ideation that can be repurposed according to business requirements or innovation objectives at the time:
Closed innovation. This approach describes the conventional methodology used to develop ideas and spur innovation exclusively within the company itself. This includes the generation of ideas for products, services, or business models, to concept creation and development.


Open innovation. This approach goes beyond the boundaries of conventional or closed innovation processes to integrate the innovation potential of external stakeholders in order to gain rich and diverse insights, crowdsource input and build on internal capabilities.


Design thinking. This approach describes a process for developing new concepts based on user insights. The design thinking process is underpinned by five steps: empathize, define, ideate, prototype, and test.


Ideation workshops. This approach relies on working sessions focused exclusively on the development of new ideas, with the main objective of driving innovation. It usually involves stakeholders from different teams and departments and promotes cross-functional collaboration and innovation. What makes idea workshops special is that they take place in a different environment than the normal workspace to foster creativity.


Ideation challenges. This approach is sometimes referred to as "idea campaigns", "innovation challenges", or "ideation contests". Regardless of the name, ideation challenges are in essence creative activities that involve a fixed or varying number of—either internal or external—participants, contributors, and/or experts coming together to submit innovative ideas in response to a specific need or problem. Ideas are evaluated and filtered out to arrive at the best winning ideas and reward their originators accordingly.
Also see: Ideation In Innovation - The Ultimate Guide

3. Value Realization
The objective of this pillar is to enrich and grow ideas to transfer those that are most promising into valuable new applications and assign ownership to business functions with the necessary resources needed to realize them.
Value Realization involves the refinement, prototyping, and validation of ideas. This relies on monitoring and measuring KPIs to inform iterations of improvement and a clear understanding of the next steps. To apply KPIs, you need to start with collecting the right data. This includes collecting data about internal operations and external opinions on your innovation activities. To do so, there are different approaches to data collection that have particular strengths:
A/B-Testing. Most frequently used for customer acceptance testing, A/B-Testing allows you to compare two or more identical versions with one variation per version that you want to test. The goal is to identify the version that maximizes your outcome of interest. You can also use variance in test groups to identify differences in customer behavior.


Approximations. Besides measuring existing data, approximations, such as Sales Forecasting or Total Addressable Market estimations, build on logical arguments to estimate complex, often unknowable concepts. Approximations deductively collect different data, providing initial guesses for belief justification that can then later be tested.


User Journey Observations. The idea of User Journey Observations is to map the various steps a person takes in order to achieve a desired outcome or meet a particular need. Understanding such journeys is powerful to collect unobvious pain points and attitudes. Those qualitative data enrich quantitative information and inform innovators of areas that are effective and others that can be improved through innovation.


Prototyping, or testing Minimum Viable Products (MVPs), strips your solutions to the bone, i.e., core functionalities for customer preference testing. This helps you to collect data quickly and more cost-effectively. You need to decide what the core value of a solution is and whether this value proposition solves customers' jobs.


Statistical evidence collection. The purest form of collecting data is to count occurrences, e.g., number of successful experiments, incoming revenue, or money spent. This includes cardinal as well as ordinary data that provide the basis for steering developments over time.
How to Win
Organizations are best equipped to successfully implement an effective idea management process by not only following best practice principles but having it supported operationally. In light of this, we believe that "How to Win" lies at the intersection of:
developing and nurturing innovation capabilities and culture,
establishing a well-considered process adapted to your specific innovation objectives,
and, supporting this with the use of flexible innovation management software.
ITONICS Campaigns is our idea management software tool supporting collaborative workflows and streamlining the whole process from ideas to projects.
To find out more about how ITONICS can help you to unlock the power of ideas and collaboration, get in touch with one of our experts and schedule a demo today.

Have More Time?