Constantly changing consumer expectations and demands, along with enormous competitive pressure, puts innovation management at the top of every strategic plan.
Innovation is necessary in a fast-changing world, and organizations must cultivate quick response times and a proactive approach to remain competitive.
Organizing innovation entails steering change, managing uncertainty, and developing capabilities. Using a systematic innovation framework stimulates a team's capacity to innovate continuously while methodically organizing processes.
The ITONICS Control Objectives for Innovation Management (COFIM) framework provides clear guidance on managing innovation across strategic and operative objectives, with key performance indicators to support effective and controlled innovation.
→ Free Download: The Innovation Framework
Even the most successful brands have to keep up with the rapid pace of change to ensure that more dynamic and aggressive companies do not displace them. Innovation is driven by various factors, including new and changing customer needs, technological advancements, changes in policies and laws, and societal changes. It can prove an insurmountable task to monitor, analyze, and manage vast amounts of data from employees, partners, publications, patents, papers, and other internal and external sources. As a result, many companies react too late to these critical shifts.
The increasing speed of progressive technologies, products, and services demands that organizations cultivate quick response times and a proactive approach to remain competitive. Dynamic decision-making and response to signals of change should initiate rapid innovation processes that shape robust organizational architecture. But where do you start when the necessary structures in the company are not yet in place? How do you become a fast responder or a first mover?
Fast and appropriate responses to changing markets require strategic innovation management processes. Some of the basic components for successful innovation management are logical thought flow structures, collaborative efforts aligned to landscape changes and business objectives, rigorous planning, and implementation and monitoring of innovation activities. Steering systematic developments and innovation activities are at the core of innovation management.
In support, ITONICS has developed an approach that stimulates and organizes end-to-end innovation—backed by long-standing work with international innovation leaders and proven insights.
Our holistic approach from environmental scanning to strategy, ideation, innovation portfolios and roadmapping sustainably increases the innovation performance of our clients. The deep integration of best-in-class methodology and software is unique in this respect. We are proud to be recognized again in 2021 as one of the best innovation companies in Germany.

- Dr. Christian Mühlroth, CEO ITONICS



Enhance your Innovation Management Capabilities through these 6 Principles
Each organization needs a systematic innovation management framework.
Innovation management is a company-wide activity spanning business units and functions with specific yet conflicting objectives. The systematic approach details the capabilities needed to coordinate and maximize the overall value.
Each organization needs a tailored innovation management framework.
Since every business field follows specific rules and conditions, corporate innovation management must be adapted to particular circumstances. The same amount of leveraging innovation capabilities will lead to different results in different industries. The outcome depends partly on industry and corporate conditions.
Each organization needs a dynamic innovation management framework.
Over time, business fields and organizations develop. As such, corporate innovation management needs to be constantly updated and aligned to changing conditions. It is an evolutionary system.
Each organization needs a holistic innovation management framework.
Innovation management is a system consisting of interlinked capabilities. As such, changes in one element will spark changes in other elements. This interplay needs to be understood and well-designed to ensure positive changes.
Each organization needs a measurable innovation management framework.
Organizations need to create an enabling environment and, essentially, a foundation upon which innovation capabilities can be built. As such, sufficient measures need to be in place to detect weaknesses and monitor progress over time.
Each organization needs an integrated innovation management framework.
Innovation management—i.e., preparing for the future—often conflicts with actual operations. As such, innovation management needs to be interlinked with current processes, explicating the value added by changes and continuity.


End-to-end Innovation through Identifying Where to play, How to win, and What to execute

ITONICS approaches innovation management by first establishing Where to play. This includes identifying trends, technologies or startups that impact the corporate environment. Considering the threats and opportunities associated with this information and forming interlinkages helps us derive opportunity spaces.
The How to win stage addresses targeted idea development—from ideation to an evaluated innovation portfolio. We link defined fields of innovation to strategic orientation and development to form qualified ideas.
The What to execute section deals with developing high-potential ideas further and constructing them into precise business models.
Once the foundations have been laid for target-oriented innovation management, a software solution can support each individual process and step along the journey. Digitization in innovation management is becoming increasingly essential.
Enabled by the ITONICS digital solution, our distinct COFIM innovation framework and KPI's leverage innovation capabilities. This consists of several components that integrate a big-picture approach into a structured strategy, stimulating an innovation culture and efficient process flow. The innovation journey involves generating, selecting, accepting, and, eventually, implementing ideas. low.
Strategy and continuous foresight, in response to disruptive forces (technology or otherwise), is the future state of a successfully digitally transformed organization.
Control Objectives for Innovation Management



Organizing innovation entails steering change, managing uncertainty, and developing capabilities. Challenges in innovation management often relate to being well-established in business structures but ill-equipped for rapid change. Innovation, for some, represents losing focus and expending valuable efforts on non-business-related developments. For this reason, organizations often use familiar structures, capabilities, and metrics that have proven productive in the past to try to create success for the future—only to find this creates the same results, the same obstacles, and little adaptive resilience or advantage. And so ultimately, organizations must adapt some approaches and competencies alongside situational shifts.
Using a systematic innovation framework stimulates a team's capacity to innovate continuously while methodically organizing processes. As a response to these requirements, ITONICS has developed a framework that is built on scientific rigor and years of experience in innovation management. The ITONICS Control Objectives for Innovation Management (COFIM) provides clear guidance on managing innovation across strategic and operative objectives, with key performance indicators to support effective and controlled innovation.

Fundamentals of Innovation Management
Our innovation framework will help you assess, develop, and steer corporate innovation capabilities. This must be an organization-wide activity to ensure measurable success. Without systematic all-around collaboration, innovation capabilities, focus, and value are often nebulous and impede innovation efforts. Employing our innovation framework will lead to four primary outcomes:
Comprehensive transparency by eliciting the most critical components and the actual situation
Strategic guidance by revealing directions for improvement
Process optimization by aligning different functions
Benefit realization by measuring the concrete outcomes of activities



Foresight and Strategy
The framework considers the innovation capabilities and KPIs through a methodical process starting with sensing, prospecting, and planning potential futures by establishing a 360° view on competitive developments. To inform strategy, you need to define probable competitive advantages through the processes of trend scouting and environmental scanning that create an awareness of different scenarios with relevance to your organization's future success. Large data volumes are needed to enable the identification of emerging trends, technologies, or upcoming competitors. This can be a needle-in-the-haystack challenge, but with digital software that allows AI-driven environmental scanning and data visualization, this process can easily collect and connect this data.
Scenario-based strategizing and stress testing based on identified emerging patterns should happen in collaborative processes where all participants can contribute towards a strategic map. This roadmap becomes the foundation for specified actions that will help an organization respond to change. The dissemination of innovation roadmaps is an important step in getting a cross-company commitment for change. Capturing, managing, displaying, and prioritizing ideas can now be seamlessly integrated with a digital solution.
Organization
Ensuring strategic fit by aligning people, processes and objectives paves the way for efficient innovation. Evaluating resources and creating transparent channels helps to initiate activities where individuals and teams have clarity on their assigned roles and responsibilities. Establishing milestones and monitoring mechanisms allows for innovation progress to be continuously supervised using individually configured digital solution systems.
Engagement and Transformation
To nurture a culture of innovation, continuous engagement is needed with the entire organizational ecosystem. Conducive conditions for a constructive innovation culture are established by strengthening capabilities and engaging internal and external networks. Organizational innovation endurance will be reinforced by communicating strategic innovation activities clearly and efficiently, clarifying common purpose, and providing ongoing support. A sustainable way to achieve this is through a software-based approach that delivers integrated systems that can quickly respond through flexible adaptation.
Growth
Operational capacity will play a big part in the implementation of innovation projects. Innovation operations need to be purposefully designed to propel rapid detection of relevant environmental developments, create effective market-ready solutions and appropriate financial value. Maximizing innovation effectiveness and efficiency through scaling and adoption processes will pave the way for follow-on innovations.
Actionable KPIs are another essential tool to help steer successful innovation. Organizations sometimes fear using innovation KPIs as they believe this will limit creativity. In reality, actionable metrics provide specific guidance around innovation activities and act as a stable control mechanism.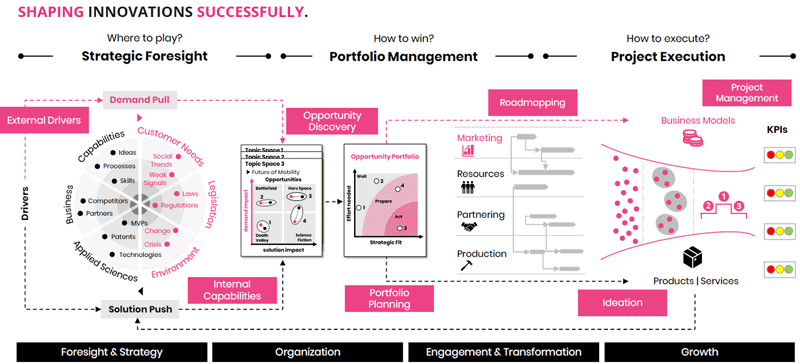 Using a pragmatic innovation management framework helps you understand your current situation, move through activities and build capacity for achieving your innovation goals. Since conditions change, it is important to adjust your objectives and stabilize your activities continuously. Using a digital innovation toolbox could benefit these efforts significantly.
Systematically moving from foresight and strategy to growth integrates the stages of identification, connection, mapping and targeting, and implementation. Although there is no one-size-fits-all innovation recipe, a solid framework can guide you in approaching your innovation journey and, more importantly, managing and coordinating efforts effectively. Collaboration will be key and using tools that enable and encourage collaboration will go a long way in driving innovation.




Have more Time?