ITONICS has been mentioned the second time in a row in the recently published Gartner 2023 report, "Getting Started with Trendspotting".
Renowned for its exhaustive blueprint on establishing trendspotting capabilities and teams, the report also casts a spotlight on trailblazing firms that are leading the charge in innovation and technological advancement in this sphere. Once again, ITONICS, a pioneer in providing enterprise innovation software solutions, has distinguished itself as a standout performer in the trendspotting ecosystem.
According to Gartner, "Enterprise architecture and technology innovation leaders, including CTOs, are challenged to predict how trends and disruptions might affect their organization's business model in the future. Organizations need to be deliberate about scouting for trends beyond just emerging technology trends."
In a world where the business landscape is constantly evolving, decision-makers and innovation architects recognize that a solid understanding of these shifts is vital for building resilient, future-proof organizations. Trendspotting is no longer a luxury; it has become a strategic necessity for keeping organizations one step ahead.
The 2023 Gartner report provides an in-depth exploration of trendspotting, which is the practice of identifying emerging trends and seamlessly integrating them into strategic planning and decision-making processes. In this crucial arena, ITONICS's Innovation OS has set a new industry standard.
For more information on how ITONICS's innovation management software can accelerate your trendspotting journey, contact us today.
About ITONICS
ITONICS provides the #1 innovation operating system for organizations seeking to operationalize innovation and drive growth systematically. Unlike traditional innovation management solutions, the ITONICS Innovation OS seamlessly connects foresight, ideation, and portfolio management activities with your strategic goals in a single collaborative system. Centralize your innovation intelligence, unify efforts, and steer decision-making to move from strategy to execution with speed and agility.
---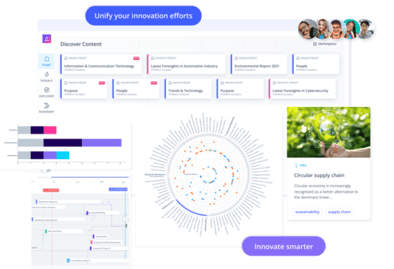 See the ITONICS Innovation OS in action
---