As many as one hundred children were delighted about the donations they received this week in the framework of a charity activity organized by our colleagues in Nepal. The only downside: Again, ITONICS's customers will go empty-handed in terms of Christmas cards because these savings, too, will be used to fund our aid projects in Nepal.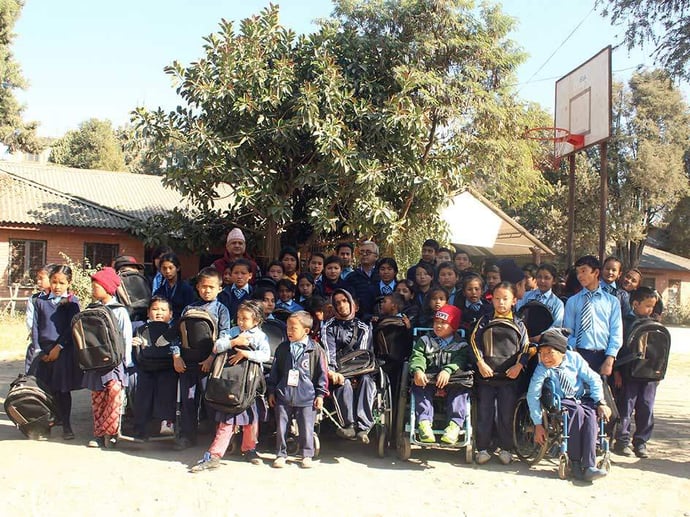 Two of these bright child eyes belong to Ganga Rana (9) who is in third grade. He dreams of becoming a doctor to heal people. In school, his favorite subjects are Natural Sciences and Maths. Tossing one's school bag into a corner like many kids do after school in Germany is inconceivable for Ganga and his classmates at the Khagendra New Life Special Secondary School in Jorpati, Nepal. They carry their brand-new school bags with great pride and almost with reverence. Until now, none of the 100 boys and girls has ever had a school bag on their own and all course materials, as well as the valuable textbooks, had to be carried in plastic bags at best. "Our students come from a very poor economic background, most of them are from out of the valley, and it is very hard for them to buy even small stationery items. The bags and stationery items will be of great help to them," states school director Nandan Sapkota explaining the significance of the donation. As the school is in particular dedicated to educating children with physical disabilities or from economically disadvantaged families, the parents don't have to pay tuition. In many cases, however, they don't have the money to pay for notebooks, pens or rulers which is why the school bags came filled with atlases, fountain pens, various pencils, geometry sets, and notebooks. On top, the school also offered a presentation of scientific experiments where more equipment could be won – to the great delight of the schoolchildren.
The neediness of this school caught the attention of Sijan Shrestha, General Manager at ITONICS Nepal. Together with the colleagues from Nepal, he is continuously organizing various charity activities. Back in February, for example, 100 schoolchildren had already been provided with new school bags and stationary and relief supplies were distributed to flood victims. With this active commitment of the ITONICS team in Nepal, Sijan Shrestha hopes to also encourage other companies to make donations: "However, the true value we receive from our ongoing initiatives is that of social good will – we believe that setting a good example is the greatest benefit in that we inspire other organizations, companies, and individuals to 'up their game' when it comes to social responsibility, which in turn encourages further inspiration in the community leading to a more enlightened perspective on how to run one's business or lead one's life."

Just like in the present case, the funding is provided by ITONICS whereby one hundred percent of the donations are used for the good cause without any deductions or administrative expenses.

ITONICS is proud of the initiative shown by its colleagues from Nepal: "Education has the power to make the world a better place. My wish is that all children around the world have access to good education thereby laying the foundations for a positive future", says Dr. Carolin Durst, Scientific Director at ITONICS, explaining her motivation to donate.

But much more still remains to be done. Many children are still lacking warm clothes, textbooks, and stationery. With the support of the colleagues from Nepal, ITONICS would like to initiate further projects in the future, like for example dental hygiene training, eyesight tests and the stocking of the school library. The school building itself is still under construction and in some cases classes take place in rooms separated by bamboo or plastic tarpaulin.

To be able to comply with these wishes in a rapid and uncomplicated way, ITONICS will this year not send out any Christmas cards. We hope for your understanding and, perhaps, even for your active support. If you wish to directly participate in our aid project in Nepal, please contact:

Dr. Carolin Durst
ITONICS GmbH
Telephone: +49 911 600 60 553
E-Mail: carolin.durst@itonics.de


Thank you and Merry Christmas to everyone!