Innovation Roundtable Summit (IRS) wrapped a week ago, and wow – it was our best ever. We were part of the IRS in Copenhagen as a sponsor and exhibitor for the third year in a row. This year we spent 3 interactive days attending stimulating presentations, labs, roundtable discussions and introducing a client case with Cisco. More than 700 innovation executives and leaders across industries from 250 companies and research institutions, such as Cisco, Spotify, Airbus, P&G, Siemens, IKEA, Ericsson, Shell, UC Berkeley, London Business School, came together to network and exchange insights.
It was great seeing what themes emerge during the conference – it gives a snapshot of the current state of corporate innovation across industries. Based on that, we have compiled some of the emergent themes and our insights into a few key takeaways.
Data is more like Sand, than Gold
Innovative approaches were discussed to turn data into actual business value. This process might require a deeper understanding of the context of the data, and, of course, an ability to link it to a business value proposition. Is data the next gold? Daniel Cho, from Philips Healthcare, would not agree. He thinks data is more like sand, too much supply, too little use. The data needs to pass through a digital refinery process to turn into gold. Bernd Blumoser, from Siemens AI Lab, shared how setting up a lab and leveraging agile sprints helped them to identify use cases for AI across the business units of Siemens. The new setup created an ecosystem of innovation with strong links to academia and startups. Read more about what role Big Data and Machine Learning play in Innovation Management.
Employees are CEOs of Their Ideas
Imagine if a company-funded every single new product idea coming from employees, without asking any questions. It seems unlikely, right? Adobe did exactly that as an experiment. It all starts from a shiny red box; that contains money, maps, and instructions to start the journey. Where you will go is entirely up to you. The company just gives you the time and the resources for exploration. This employee innovation program – Kickbox, engaged over 1000 international partners, who came up with various creative projects, such as apps, Adobe product enhancements, etc. According to Mark Randall, Adobe VP of Creativity, this process allows employees to become the CEO of their idea. Because innovation is not someone else's job, it's everybody's job.
Experiment Your Way Forward
Marcin Floryan, the Director of Engineering at Spotify, asked the audience to reflect at which level their company really is at transparency and if they knew on which areas their leaders are working on. He went on to tell how Spotify puts a big focus on the customer experience by driving innovation of formats and delivering content accessible to everyone. According to him, when it comes to adopting agile, you should think less of specific practices and more of principles and organizational context.
Hendrik Esser, from Ericsson, outlined the company's agile journey – shifting away from manufacturing consumer electronics to developing software solutions. This required a key shift in culture and mindset, application of complex systems thinking and training in agility frameworks. According to him, large scale agile transformation also means that leaders should not assume a helicopter view but get on the ground level to tailor solutions.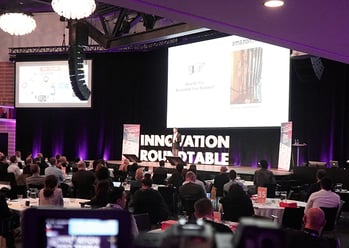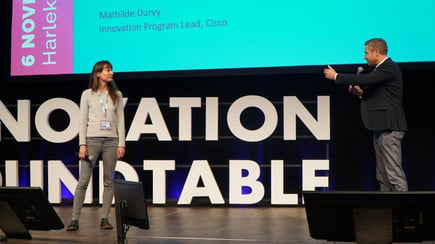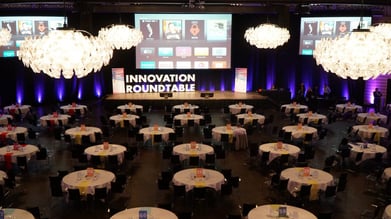 Define your North Star Metric
According to Nabeela Ixtabalan, the Head of Digital Transformation at IKEA, the rate of change has never been this fast and will never be this slow again. To keep up with changes and be an organization fit for the 21st century, companies must become digital, inclusive, and focused on sustainability and circular economy. Not only is IKEA building a new operating model with the digital at its core but it is transforming itself to close the sustainability and digitalization loop.
Benjamin Rohé, from GERMANTECH, shared some key metrics that prove it's high time to actively shape the digital transformation. While 74% of executives say their company has a digital strategy, only 15% believe that their company has the skills and capabilities to implement that strategy. Among many contributing factors he highlighted the importance of defining your North Star Metric – a single metric that best shows the core value that your product or service delivers to customers. Optimizing your efforts and business units to grow this metric is essential to accelerating growth across your full customer base.
Put Failure to Work
Mark Coopersmith from UC Berkeley, talked about how successful leaders driving innovation are more failure-savvy and have a more productive relationship with failure. He believes there are parts of the business where you even need to encourage failure, for example for new product development or marketing campaigns. Failure is a natural outgrowth of trying to innovate, change and evolve. His research focused on taking the lessons from Silicon Valley startups and apply them more broadly. They interviewed hundreds of executives across disciplines to understand how failure plays a role in driving innovation and growth. Out of that, several patterns emerged and they outlined 7 key stages – the Failure Value Cycle.
Respect and accept that failure happens a lot
Rehearse for failure: improve your reflexes when failure happens
Recognize signals of failure by putting in place automated diagnostics to buy time
React quickly and effectively to minimize damage
Reflect on failures to derive learnings
Rebound to shape the new operations for the strategy: move from defense to offense
Remember that failure happens and strengthen workplace culture
Build Your Innovation Ecosystem
Mathidle Durvy, Innovation Program Lead from Cisco, shared how the company created and nurtured the right skills, mindsets, and culture to continuously drive innovation for today's and tomorrow's markets.
Cisco ignited a company-wide startup culture by running an award-winning innovation competition to create a sustainable innovation ecosystem. Cisco's Innovate Everywhere Initiative, powered by ITONICS, became a world-wide community engagement platform to drive new innovations at scale. Cisco's journey towards creating a sustainable innovation ecosystem resulted in having a company-wide cultural change and created an interconnected network of innovators. Cisco's case serves as an industry best practice for other companies to get inspired and drive innovation through engagement and collaboration.