by Jens Pöppelbuß and Carolin Durst
The connection of physical objects and cyber things through a wireless network provides us with immediate access to information about the physical world and the objects in it. This information is the basis for new and innovative service offerings. Services that aggregate and analyze data through intelligent technical systems or platforms to create customer value are called smart services. They support the customers' daily routines by providing context-aware and automated functionalities. The rapid growth of smart devices pushes the development of smart services in various industries, such as healthcare, education, information and communication technology (ICT), mechanical engineering, automotive, and logistics. Based on prior research covering frameworks for the technical design of smart services and the value proposition canvas, we present the Smart Service Canvas that offers a holistic instrument to describe, discuss, and develop smart services.
→ Free Download: Product & Service Design Toolkit
Smart Service Canvas
The Smart Service Canvas looks at smart services from four different angles:
Value Perspective
Customer Perspective
Ecosystem Perspective
Fit
The fit between the customer and the value proposed is a necessary condition for the acceptance and the value delivery of a smart service.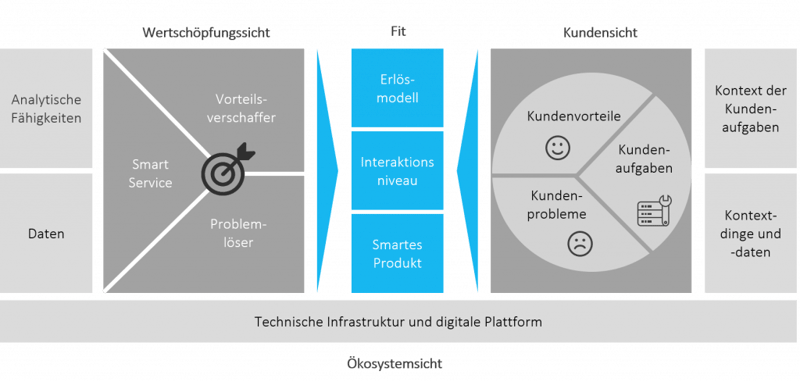 Value Perspective

This perspective describes the data and the respective analytics a smart service is built upon. Furthermore, it presents the generic problems that the service is supposed to solve and the value it creates. Data is produced by contextual things and the smart device itself, e.g., log files including location data, usage data, trajectory data, or social interactions. The first step is the acquisition of relevant raw data from the different context sources. Second, the Analytical Capability comprising methods such as event processing or reasoning algorithms have to encode context information to identify situations and trigger events. This data analytics architecture is crucial for the overall performance of the smart service. The section Smart Service describes what the service is effectively doing and the sections Solve Problems and Create Value highlight the areas where the service offers benefits to the target customer and solutions to his problems.
Customer Perspective

This perspective provides us with a deep understanding of a customer's routines and jobs and the resulting problems (pains) a smart service should solve. Studying a smart service in a customer-centric way uncovers hidden needs and possibilities to not only offer solutions to a customer's problem but to exceed all customer expectations by offering additional features (gains) as well. Service design thinking methods are useful tools to design a service from a customer's point of view. The Context of the Customer's Routines and Jobs as well as other Contextual Things and Data also provide a data source for the Analytical Capability on the left as they are accessible through a joint Technical Infrastructure and Digital Platform.
Ecosystem Perspective

Smart service ecosystems include all players necessary for the delivery of the smart service and has a joint Technical Infrastructure and Digital Platform that connects the relevant actors of the smart service ecosystem. With the emergence of standardized interfaces and cloud computing services, more and more businesses can be involved in the joint production of a service and create the business ecosystem.
Fit

The fit between the perceived benefit of the customer and the service offer is the necessary condition for the success of a smart service. The provider's Revenue Model has to be attractive to the customer and at the same time sustainable on the long run. The service provider has to find out which Interaction Level is requested and appreciated by the customer and feasible from a technological point of view. Depending on the interaction between service provider and service customer we distinguish self-services, machine-to-machine services, provider active services and interactive services. Finally, the right choice of the Smart Device that provides the technical basis for the service is highly depending on the technical skills and competencies of the target group.
Smart Service Canvas workshops
We implement innovation workshops for our clients from various industries. Due to having an experience of running such workshops, we managed to develop the canvas and compiled extensive guidelines, use cases, and success stories that can serve as innovation initiatives in practice as a ready-to-use toolkit that is easy to adopt.
---
Dr. Jens Pöppelbuß is Professor of Industrial Sales and Service Engineering at the Ruhr-Universität Bochum. His research interests focus on service and innovation management topics in business-to-business settings. He combines technical and business issues in the context of an increasing digitization, networking, customer orientation and tertiarization of industrial value creation.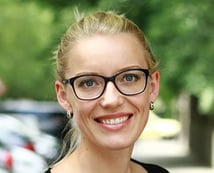 Prof. Dr. Carolin Durst is Associate Professor at the Chair of Information Systems in the Service Industries of the Friedrich-Alexander University (FAU) Erlangen-Nuremberg. In her research, she focuses on the analysis and design of computer-supported collaborative work systems and in particular on the digitization of innovation methods. As Scientific Director of ITONICS GmbH, Caro accompanies the development of methods and products from a scientific angle.
---
Further Reading
Allmendinger, G. and Lombreglia, R. (2005), "Four strategies for the age of smart services",

Harvard Business Review

, Vol. 83 No. 10, doi:10.1225/R0510J.

Bandyopadhyay, D. and Sen, J. (2011), "Internet of things: Applications and challenges in technology and standardization",

Wireless Personal Communications

, Vol. 58 No. 1, pp. 49–69.

Lee, J.Y., Kim, M.K., La, H.J. and Kim, S.D. (2012), "A software framework for enabling smart services",

Proceedings – 2012 5th IEEE International Conference on Service-Oriented Computing and Applications, SOCA 2012

, doi:10.1109/SOCA.2012.6449443.

Osterwalder, A. and Pigneur, Y. (2010),

Business Model Generation: A Handbook for Visionaries, Game Changers, and Challengers

, John Wiley & Sons.

Osterwalder, A., Pigneur, Y., Bernarda, G., Smith, A. and Papadakos, T. (2014),

Value Proposition Design: How to Create Products and Services Customers Want

, John Wiley & Sons, 1. Edition., available at: http://www.businessmodelgeneration.com/canvas/vpc.
Rong, K., Hu, G., Lin, Y., Shi, Y. and Guo, L. (2015), "Understanding business ecosystem using a 6C framework in Internet-of-Things-based sectors",

International Journal of Production Economics

, Elsevier, Vol. 159, pp. 41–55.
Stickdorn, M. and Schneider, J. (2012),

This Is Service Design Thinking: Basics, Tools, Cases

, BIS Publishers.
Wunderlich, N. V., Wangenheim, F. V. and Bitner, M.J. (2012), "High Tech and High Touch: A Framework for Understanding User Attitudes and Behaviors Related to Smart Interactive Services",

Journal of Service Research

, Vol. 16 No. 1, pp. 3–20.


---
---
About ITONICS:
The ITONICS Innovation Software helps organizations to take their innovation management to the next level. If you want to learn more, visit our product overview or get a free trial of our software.