In the recently published study by ISG Provider Lens – Digital Transformation Services & Solutions 2018, ITONICS' innovation management solution is listed twice as a "High Product Challenger" in the area of Accelerated Innovation (Information & Transformation) among other industry leaders. The market segment focuses on the holistic approach and integration of interdisciplinary innovation management and processes in companies. It furthermore examines the digital transformation of processes: from theoretical to data-driven, from incremental to disruptive decision processes.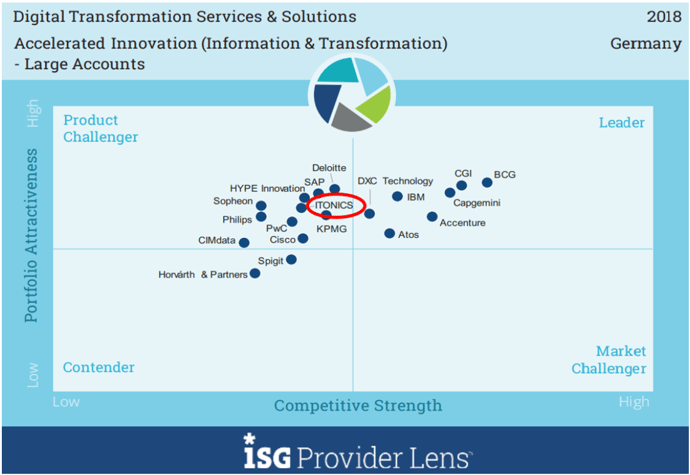 As a leading provider of software solutions and services for strategic and end-to-end innovation management, we support companies in collecting, linking, and evaluating relevant trends, technologies, ideas, and inspirations. From environmental scanning, trend, technology, and start-up scouting to idea management and innovation roadmapping, the entire innovation process is shaped and controlled. ISG Provider Lens comes to the conclusion that ITONICS acts both as a relevant provider within the target group of multinational customers as well as medium-sized companies.

ISG is one of the leading market research and consulting firms in the information technology segment and helps customers worldwide to achieve operational excellence.