The key drivers of change influencing healthcare & pharmaceutical, much like in other industries, are not necessarily new. But they have manifested in new ways and seen rapid acceleration over the past two years.
COVID-19 has had the effect of intensifying demands and advancing the development of solutions. It's this intersection of necessity and opportunity that holds the greatest potential for progress and innovation. Take, for instance, the 38X increase in telehealth use from the pre-pandemic baseline. Or the unprecedented speed at which the coronavirus vaccine was developed—within a year—along with the establishment of mRNA vaccines—a possible revolution for vaccinology.
Indeed, trends and technologies are evolving quickly in the healthcare & pharmaceutical industry. The upshot of which is a gradual shift from fragmented, opaque, and one-size-fits-all health systems to integrative data-driven health ecosystems—a better quality of treatment for a greater number of people.
In this blog, we'll present some of the forces shaping the future of the healthcare & pharmaceutical industry, along with key trends, game-changing technologies, and practical industry applications, highlighting how organizations are finding and leveraging innovative opportunities.
Forces shaping the future of the healthcare & pharma industry
1. The COVID-19 crisis
The healthcare & pharmaceutical industry has seen massive changes during the pandemic, some progressive—like the rapid vaccine development and increased virtual care—and many others adverse. Hospitals, healthcare workers, and both the physical and mental health of the general population are all taking the strain. In the US alone, nearly half a million healthcare workers have left their jobs since early 2020 (The Wall Street Journal, 2022), creating staffing shortages that further exacerbate the problem.
The past two years have exposed gaps in public health systems and demonstrated the need to shift from treating disease to preventing ill health in all its forms. Proactive Health Enforcement represents a movement toward identifying and preemptively addressing the underlying causes of ill health in society.
Meanwhile, there is a renewed focus on the role of science, although conversely, for some, medical mistrust is high, particularly regarding the COVID-19 vaccine. While healthcare & pharmaceutical is built on the premise of Evidence-Based Value, transparency, expert advice, and verifiable claims—made easily accessible to consumers—is increasingly important for healthcare & pharmaceutical products and services.
2. Proactive patients
People are increasingly advocating for healthcare on their own terms. Along with the pandemic, this trend has fuelled the adoption and advancement of Responsible Telehealth and Emerging FemTech. Leveraging mobile video conferencing, IoT, and advanced analytics, telehealth is a cost-effective alternative or supplement to traditional care. Online pharmacies are also gaining popularity, offering greater value, choice, and on-demand delivery options.
The pervasiveness of Quantified Self and connected self-tracking devices will further accelerate the field of remote patient monitoring, diagnostics, and treatment. There are several advancements in sensor technology, produced using Nanomedince approaches and incorporated into smart textiles, other wearables, and Embedded Health Monitoring Sensors.
As a result of these shifts, big tech disruptors and startups are vying for market share while incumbents scramble to meet new patient expectations. With more health service provider options available to them, consumers gain greater control, and with that, the demand for Data Ownership and Data Ethics is likely to rise. Currently, medical records and health information can often be exchanged without a person's knowledge or consent. While this data is vital in disease diagnostics and drug research, consumers want, at least, transparency, assurance of their privacy, and the ability to opt out.
3. Digital health solutions
Advancements in predictive analytics and artificial intelligence enable medical professionals and scientists to make decisions with greater speed and acuity. AI platforms connect data and insights across an often-fragmented landscape, facilitating optimized workflows like precision treatment, diagnostic medical imaging, and drug discovery. While the industry has been progressively adopting digital solutions for the last several years, the pandemic pushed digital transformation from an opportunity to an imperative.
Now, digital health ecosystems are emerging that integrate networks of health service and technology providers. These new ecosystems are rich with opportunities, and cross-industry players, including big tech, banks, telco companies, and retail conglomerates, are all looking to compete.
Pharmaceutical companies are also infusing digital solutions throughout their workflows, leveraging artificial intelligence (particularly deep learning) to support Computer-Aided Drug Discovery. These same companies are investing resources in researching quantum mechanics capable of accelerating drug discovery to previously unimaginable levels.
4. Holistic approaches
The shift from mainstream, Western medicine towards holistic health has been underway for many years. Only more recently, however, have health service providers started integrating this thinking into their practices. A new, more holistic picture of health is emerging, comprising physical, mental, social, and environmental determinants. Notably, mental and behavioral health has come into stark focus during the pandemic, especially in kids and young adults.
In response, there has been a greater acknowledgment of the interconnectedness of emotional needs and factors such as sleep, nutrition, exercise, and work-life balance. This speaks to trends like Mental Balance, Recentered Living, Digital Fitness Frontiers, and Sustainable Nourishment—all of which play a role in holistic health outlooks.
This shift has dovetailed with the rise in alternative channels and forms of treatment, including telemedicine, meditation apps, CBD products, and psychedelics. Psychedelics, in particular, are in the midst of a research renaissance that will continue to spark interest from experienced investors, tech billionaires, and startups. The New Psyche market is projected to reach USD 11.82 billion by 2029.
5. Global health
Many global health indicators are improving—life expectancy is rising, child and maternal mortality are down, and medical science is advancing rapidly. But even in developed nations and with increased prosperity, not all trends are positive. Chronic diseases like obesity, diabetes, and cardiovascular disease have been rising over the past 30 years (The Lancet, 2020). These comorbidities, in turn, have left afflicted adults more vulnerable to COVID-19 and exposed public health failures in tackling many of these preventable and treatable critical risk factors. Add to this an aging global population, and the increasing demand for public health services will call for more funding, strong political commitment, and better data and technology.
Combating the internal and external effects of aging has long been a focus of health and wellness industries. While the field of biotechnology focuses on ways to slow cell death and replace dying cells, society is embracing Aging Reinvented, disrupting the stereotypical expectations that are typically attributed to older generations.
This desire to realize the body's potential is related to the trend of Human Optimization. R&D and investment in technologies, products, and procedures are advancing this field. Ranging from restorative surgeries and Bioelectronic Medicine to Synthetic Biological Engineering and CRISPR gene-editing therapies, these developments serve to augment human capabilities and improve not only longevity but also the quality of life.
6. Health equity
The pandemic deepened long-standing inequalities in access to healthcare based on social determinants such as race, gender, economic stability, and health literacy. Issues of health equity have come to the fore along with the underlying drivers, including structural flaws in the health system and systemic and unintentional bias. These biases can wind up encoded in data models and analytics tools when left undetected, thereby perpetuating existing health inequities. Artificial intelligence models used in augmenting decision-making must be trained on more diverse image and data sets to promote equity and result in fair, consistent outcomes.
A lack of medical hardware often impacts remote or underdeveloped areas. Portable Medical Devices are a critical solution for rapid, point-of-care diagnostics and treatment. Better access to medical technologies like this supports the decentralization of healthcare, which has the potential to increase equity in healthcare if implemented alongside local-level prioritization and community involvement.
Healthcare & pharmaceutical organizations must strive to advance health equity, beginning with internal change and promoting diversity and inclusion within their own workforce. Designing for equity and inclusivity and acting as advocates for systemic change in the communities they serve are also key actions required by industry leaders.
Finding innovation opportunities in the healthcare & pharma industry
Applying an industry lens to the process of environmental scanning helps your foresight teams direct their focus and resources more optimally. By gaining an understanding of the technological developments and trends that may present future opportunities in your industry, you can equip yourself with the foresight intelligence needed to take decisive, strategic action and, ultimately, gain a competitive advantage.
Get started by exploring the ITONICS Trend Radar and Technology Radar for the healthcare & pharmaceutical industry. These analyst-curated radars display the drivers of change that are most relevant and impactful for the industry.
If you want to evaluate further the impact and relevance of these trends and technologies for your business, kick-start your innovation journey on the ITONICS Innovation OS today.
---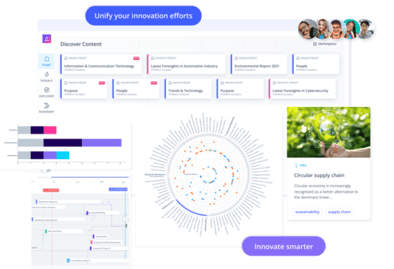 Get started with the ITONICS Innovation OS
---
Have more time?